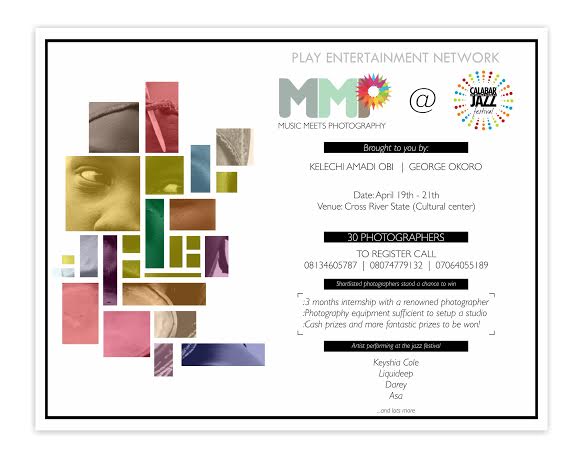 Calling all Nigeria-based creative professionals and amateur photographers to the Music Meets Photography 2014 (MMP2014)challenge!
The event, which will take place during The Calabar International Jazz Festival happening this April, will create an opportunity for creative persons – professionals and photographers, to exhibit their work and talent to a wide audience. This will also help expose their work to the world and subsequently gain recognition across the nation and beyond.
The participants will engage in a photography workshop and also enter into a competition. What will they win? The winners of this challenge will leave with a set of photography gear and an internship programme with a renowned professional photographer in Nigeria.
The images of the competition will be featured in the MMP magazine and the winner will make the cover page; plus other amazing prizes to be revealed.
Date: Saturday 19th – Monday 21st April 2014
Interested? Call 08134605787, 08074779132 or 07064055189 to register and 30 photographers will be shortlisted to participate at the event.
For sponsorship enquires please call : George on 07064055280 | Charles on 08074779132 | Data on 08134605787 | Send an email to [email protected]
_________________________________________________________________________________________
Sponsored Content