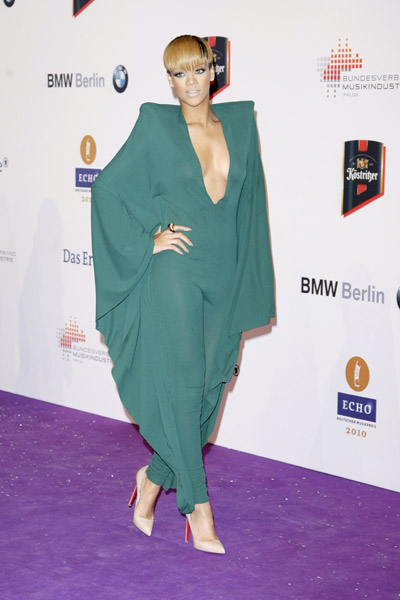 We all know Rihanna says it like she means it on Twitter and Instagram (which was taken down due to racy images posted).
Bad Gal Riri is being called a cyber bully by a 16-year-old fan of hers.
For a Hollywood themed prom party, Alexis wanted to be the centre of attention, so she chose to wear a jumpsuit inspired by a piece Rihanna rocked on the red carpet in 2010.
She tells Fox Baltimore, "I was like, 'Oh my God, I love this outfit, I wanna go with this outfit let me go show my mom,' and I was like, 'Mom, mom, mom, I wanna wear this, it's cool, I love it, oh my god.'"
A family friend help recreate the stylish piece with a plunging neckline and wing-like attachments for the teenager.
Alexis said that everyone at the prom loved it, but unfortunately the next day, photos of her in the outfit began to spread like wildfire on social media – Twitter, with the hashtag #PromBrat.
Her idol also tweeted a photo with a sad smiley and a panorama image of herself with Alexis in the outfit. She called hers IG (Instagram) and Alexis' (Real Life).
In another post, Rihanna compared Alexis to bat-like logo
— Rihanna (@rihanna) May 9, 2014
She gets it pic.twitter.com/DCqsvPXAjk

— Rihanna (@rihanna) May 9, 2014
An unhappy Carter tells the news agency, "I was very offended. Why throw shade on it when you had on the exact same thing. The poses was different but the outfit wasn't."
"She don't love her fans like she says she does", finished Alexis, who says she is afraid to show her face as she is now a victim of cyber bullying.
More memes of Alexis have been trending on Twitter. Here are a few.
Then this will finish the job RT @KidFury We just saw #PromBat. I almost passed out. pic.twitter.com/0Bq675WNMs

— Yeroc Ydoom (@CdoT_Says) May 9, 2014
Prom Date pic.twitter.com/UjA5m1F1fB

— B. Hirt.™ (@Chf_BoyarB) May 9, 2014