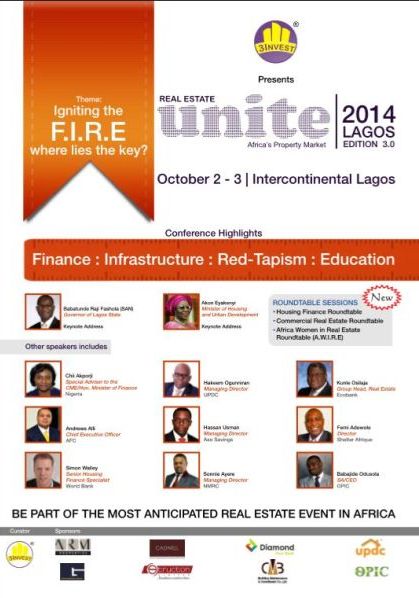 Women empowerment and developing the healthcare real estate industry will make highlights at the 3rd edition of Real Estate Unite Summit to hold on Thursday 2nd to Friday 3rd October 2014 at the Intercontinental Hotel, Lagos.
Joined by real estate brands, 3INVEST will host the largest gathering of real estate professionals to find the key to unlocking the potentials of the real estate market in Nigeria.
This years theme "Igniting the F.I.R.E – Where lies the Keys?"; will see real estate leaders discuss the major issues circled around the F.I.R.E which represents Finance, Infrastructure, Red Tapism and Education. Speaking at the press conference, Chief Executive, 3Invest, Ruth Obih said these factors have been identified as having the power to drive immense growth in the real estate industry.
Watch Ruth Obi's Press Statement Below!

With over 25 confirmed speakers and Conference Keynote address to be delivered by His Excellency Governor Babatunde Raji Fashola, Real Estate Unite Summit is billed to be the event of the year.
As a platform responsive to the growing trends in the real estate space, 3Invest created the Healthcare Real Estate Roundtable in response to the Ebola outbreak in West Africa. This roundtable will address the process of developing structural spaces, systems, networks and technologies for the provision of quality care; and will be the first of its kind because it will tackle healthcare issues from the viewpoint of the real estate sector.

The launch of the African Women in Real Estate A.W.I.R.E will seek to address factors that affect women's participation in the business of real estate and property development; and identify steps towards creating a strategic plan to assist women in leveraging existing tools and resources and promote shared prosperity for all.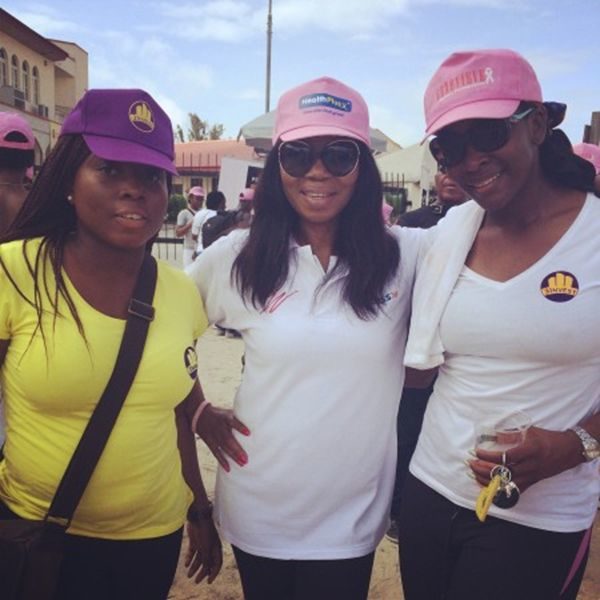 Building momentum towards the new focus at Real Estate Unite 2014, 3Invest joined the Genevieve Pink Ball Foundation's "Walk/Run/Cycle For The Cure" to benefit breast cancer research and speaking at the event, Ruth said, "This year, Real Estate Unite is three years old. One new focus for us is women. We are launching the African Women in Real Estate (A.W.I.R.E) as well as introducing a roundtable on Healthcare Real Estate. Thus, we knew it was imperative that we show our support for the Pink ball Foundation because its cause marries two issues that will be under spotlight at Real Estate Unite 2014: Women and Health."
Watch the event trailer below!
Real Estate Unite is an annual gathering of real estate professionals to explore untapped opportunities within the sector by bringing together all stakeholders for a two-day event that includes an awards ceremony, an exhibition and a conference. The awards in twelve categories celebrate excellence in the industry; the exhibition showcases the latest products, services and innovations from businesses; and the conference is an opportunity to benefit from and network with experienced professionals many of whom operate in the policy, public and private sectors that influence real estate.
Over 50 exhibitors will showcase to attendees numbering in the thousands who will explore products and services which could result in them walking away with a key to their first property or financing for their first development project.
Real Estate Unite 2014's top major event sponsors include Diamond Bank PropertyMart, Haven Homes, ARM Properties, Gran Imperio Group, Cadwell, Structon Limited, UPDC, CMB Building Maintenance & Investment, QUO Courier & Logistics and Ogun State Property Investment Company.
Confirmed 2014 Exhibitors include TAF homes, IPDC, Eko Pearl, Sage homes, Rainbow Town PH, Sujimoto Construction, Lekki Gardens, HFP Engineering, Leather World, Global Properties & Facilities Internatioal Ltd, Alan Caray, ASO Savings, Afriland Properties, Broll, Locks & Switches, Shelter Afrique, Orange Island, Sage Homes, Atlantic Spring, Trollope and Churchgate.
Registration is still underway for delegates who wish to attend Real Estate Unite and potential attendees are urged to take advantage of the limited spaces available.
To become an exhibitor, please click here.
To become a Delegate, please click here.
Click here to register for AWIRE.
Click here to register as a visitor for free.
To find out more about 3INVEST Ltd, please call +234 809 999 1603 / 1803 | Send an e-mail to [email protected] OR [email protected] | Visit their website: www.realestateunite.com | Follow the Hashtag: #REUNITE2014
_____________________________________________________________________
Bellanaija is  Media Partner with 3Invests Real Estate Unite & A.W.I.R.E