You need a microwave that can do more than just reheat you and your loved ones' food?!
With the all-in-one Samsung Smart Microwave Oven, you can now enjoy a clean, safe and spacious cooking area with less cooking gadgets littered all around!
Now everyone can cook, fry, bake, make yoghurt and even enjoy our Nigerian menus with just a touch of a button. How amazing is that? Did we hear you say WOW! This is real quick and easy cooking for modern living!!!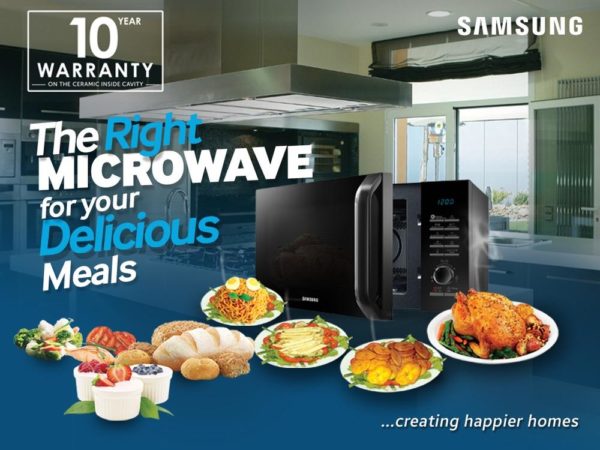 Check out Samsung's Smart Microwave Ovens' array of innovative features designed especially for your enjoyment and convenience:
Smart Sensor Technology: Cook food with more precision- Samsung Smart Microwave Ovens' Smart Multi-Sensor reads your food's surface temperature every second to determine whether cooking stages are completed. This way, your meals are never over-done or under-cooked.
Smart Omni Sense: Samsung Smart Microwave Oven boasts a weight sensor, Smart Omni Sense, that is linked to the product's turntable to detect the weight of each food item before the cooking process.
Smart Moisture Sensor: The Oven's Smart Moisture Sensor detects the humidity within the food during the cooking process and then automatically adjusts cooking time and mode accordingly.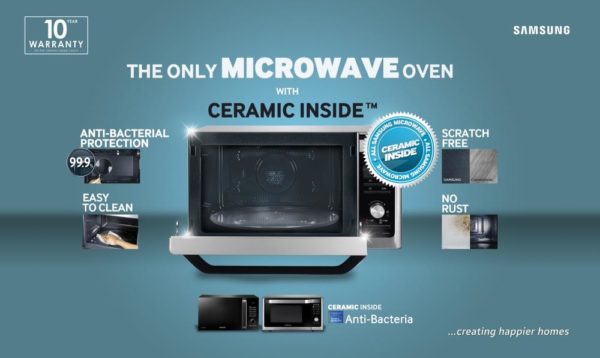 What's more? Samsung's Smart Microwave Oven's Ceramic Inside comes with a 10-year Warranty to give you peace of mind with every cooking experience!
Their Oven's Ceramic Inside have four distinct features that are designed to make your cooking experience heavenly!
Ceramic Inside – Highly Scratch Resistant: Samsung's Smart Microwave Ovens feature a Ceramic Enamel that is seven times more scratch and rust-resistant than most microwave interiors. So, you can enjoy the same new interior even after long use. 
Easy to Clean: The interior is fully coated with Ceramic Enamel that offers you a solid surface that never scratches or cracks. In addition, the Ceramic Inside prevents the growth of bacteria and the smooth surface is easy to clean too.
With 99.9% Anti-Bacterial Protection, the Samsung Microwave Oven Ceramic Enamel Interior has achieved hygienic approval from Hohenstein Institute in Germany. Its durable surface prevents the growth of bacteria.
No Discoloration! High cooking temperatures and animal protein can cause severe discoloration and cleaning issues with your standard microwave oven. But the Ceramic Enamel Interior of Samsung's Smart Microwave Oven prevents all of these.
More still!
Slim Fry: Fried food without a deep fryer or oil? It's a reality with Samsung's Smart Microwave Oven's Slim Fry technology. By combining a grill with warm air circulation, your food comes out of the oven cooked and crispy inside and out!
Quick Recipes: Enjoy over 20 auto-cooked menus with just a touch of your finger. The pre-programmed recipes means you can cook popular dishes worldwide, including fresh and frozen foods.
Eco Mode: Samsung microwave oven has the world's lowest standby power consumption. You can save 40% on Standby Energy, which means you enjoy huge power savings…WOW!
Steam Clean: The unique surface inside of the microwave is made of ceramic enamel; a non-stick and highly scratch-resistant surface that also features an anti-bacterial coating. This feature, in conjunction with its Steam Clean system, ensures that bacteria and food particles are wiped away easily.
Triple Distribution System (T.D.S): TDS, an innovative technology for Samsung Microwave Ovens, has a unique wave distribution system that cooks food more evenly, thoroughly, and deliciously by distributing even microwave heat throughout the oven.
See for yourself and learn more about their microwave ovens on their YouTube Channel.
The next generation Samsung Smart Microwave Oven will help you conquer any culinary challenge!
You can rest assured of the friendliest microwave experience, with innovative touches that offer you more than you could imagine.
_____________________________________________________
Advertorial – Sponsored Content