Happy Monday!
Tinuke Olopoenia & Femi Odukoya's wedding blew us away.
From their heartfelt wedding vows (scroll down for the video!) to the spectacular custom made dress by Veluz Reyes.
Enjoy and be inspired by the wedding planned by 2706 Events!
~ Pre Wedding Photos – Symplx Studio
Our "How We Met" story is a pretty long one so I'll give the short version of it…lol
by Tinuke, the bride
Femi and I actually met twice but I didn't remember our first encounter 'till he reminded me of it the second time we met, and then it all came rushing back. The first time we met was July 4th weekend 2010. He attended a concert that some of my friends and I helped coordinate with a mutual friend of ours Bamidele. When they arrived, I had their tickets waiting for them and Dele made the introductions. When he introduced us, I immediately noticed Femi's interest (He tried several times to corner me but if you ask him now, he'll deny it lol) but I was in another relationship so I didn't pay him any mind and that was the end of that.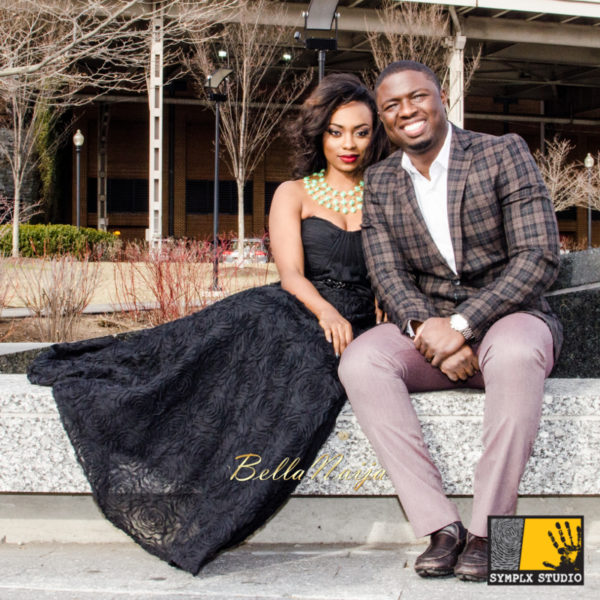 Fast forward to the Spring 2011. My dad had been bugging my sisters and I to attend The Fountain of Life Church in the US as we had attended Fountain Nigeria all our lives. He wanted us in an atmosphere that reminded us of home so he was quite adamant about it. Coupled with the fact that Pastor John Odukoya (Pastor of TFOLGS) was a very good friend of his. So in March 2011, my sisters and I headed to Fountain of Life Grace Springs Church. Femi came over to (re) introduce himself after the service and we became fast friends.
A couple of months went by and I was newly single and I knew without a doubt Femi would make his move. I was prepared to turn him down at every opportunity because I needed breathing space and time for myself. I was sincerely deceiving myself, I never stood a chance…lol Femi came in guns blazing! The toasting was deeeeeep! I mean he did it all. We would spend endless nights on the phone just talking and getting to know each other. He genuinely just wanted to get to know me; it was such a refreshing feeling. We did everything together but the highlight of our relationship was our time with God together. Like I said in my vows, because of Femi I learned to walk with my Savior again. Not as a child who was raised in the church but as a woman who knew the true meaning of building a solid relationship with God. We prayed about it for a week and we both knew without a doubt that this was where we were supposed to be… So on August 29th 2011 he asked me out officially and very publicly too…(Femi is the KING of senrenre and drama… lol) I had reached my bus stop and I had no plans of going back!
How I Know He's The One
Femi is without a doubt the most amazing man in the whole world. He completely changed my life, from the moment I connected with him; my life has sincerely never been the same. He showed me a completely different type of love, a love deeper than what my physical eyes could see. Because Femi is a man after God's own heart, he was able to love me in a way I had never been loved before. A type of love I didn't know even existed. Femi loved me with the love of God. Because he loved God so much, he was able to honor me like no other person could. I honestly believe I am the most cherished woman ever. The weeks flew into months and months into years. It has honestly been an amazing ride. Yes, we have had our fare share of challenges but because we knew how right this was, we always stuck it out. I love him more than I can ever say; he is my King, the apple of my eyes and the crown of my head. I would never trade this man for anything and if I could do it all over again, it would always be him.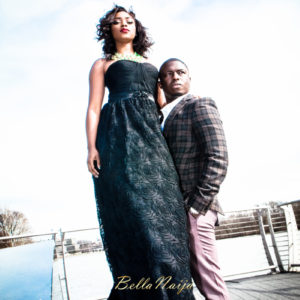 Our Love Story
From the groom, Femi
Tinuke and I were always meant to be together. We just happened to go through some detours before finding GOD'S Will for our lives. I knew early on that I was going to marry Tinuke. In fact, I was immediately drawn to her from the moment I saw her walking towards us that July 4th weekend wearing that infamous blue dress.
It was September 2012 and I really began to project and figure out the next few years of my life. I felt and sensed that it was time for me to take the next step and commit my life and my everything this beautiful woman. I decided on September 28th, days before the actual proposal to find the perfect ring. I knew her style so well so finding the perfect ring wasn't an issue for me. I have always been so last minute about everything and this was no different. I knew I wanted the proposal to be sincere and intimate and something she would always remember. She and I belonged to the same ministry both in Nigeria and America and so I figured what better way to express my love to her than in front of GOD and all our friends and loved ones.
I set it up like a testimony with everyone knowing except for her. Imagine being in a Church service where everyone knows a proposal is going to happen and the most important person was completely oblivious. When the time came for me to talk, I had already planned with all of her closest friends and sisters that they would begin dropping rose petals around the alter of the Church while the keyboardist played "All My Life" by KC and Jojo.
As I began talking, I was so nervous because on one level, I was trying to give a sincere testimony about how this woman had been such an important part of my life, but on another level I was trying to set up the exact words leading to the proposal. It was truly a GOD thing because I didn't know how the words would come out considering that this was my first time doing something like this….lol. Her reaction was epic. In her typical way of not wanting to be the center of attention, when I asked her to come up to the front of the Church, she started backing away and had to be pushed by one of her ushers in order to finally make it to the front. As she came, with the music playing and her friends dropping rose petals all around, it finally began to dawn on her that she was getting proposed to. By this time, the church was in such an uproar with claps and screams coming from everywhere. I don't think she could hear me with all the noise, but I had to go through with everything. I got down on one knee, said the words I would never forget and asked Tinuke Olopoenia to become Tinuke Odukoya. By now she was bawling and crying her eyes out. In the midst of all the noise, I heard her say the words I would never forget, she said "Yes".
It has been the most rewarding and amazing journey with her. She truly is my rock and my best friend. I cannot go more than a few hours without connecting with her some way. Regardless of where we both are in the world, I always have to feel connected and in tune with her. She understands me on levels that nobody else in this world will ever know. She gives me strength in difficult times and hope when things appear bleak. She truly is bone of bone and flesh of my flesh, but not on some superficial and surface level; she is part of the core of who I am. The very beat of my heart is for her. GOD loves me so much that in HIS Infinite Grace and Mercy and Favor, blessed me with a wonderful woman like Tinuke. I will love her deeply and passionately, every single day for the rest of our lives.
Advice for Other Couples
"PRAYER – I cannot stress the importance of prayer through out the process of planning your wedding. Nothing is too big or too small to pray about trust me, from the very beginning of your planning process to the end of your wedding reception. Please stay prayed up. Femi and I fasted every Thursday for a year leading up to our wedding day. We prayed that God would send us the right people to make our day a smooth one. We committed every single person that would play a role in our day into God's hands, which included all vendors, guests, family and friends.

Most importantly, we would pray for our marriage. Wedding would come and go but what would remain? Our Marriage. We prayed that through the process of planning, God would continue to strengthen our bond and continue to help us build a solid foundation for our marriage to rest upon.

STAY CALM – I promised myself I would not be a bridezilla…lol and so I went ahead to surround myself with people that would keep me calm on my big day. My sisters and best friends came through for me like never before. They never left my side through this whole process. I value them now more than ever before.

GET A PLANNER – To keep your sanity, you need a planner and a good one at that especially if you're planning a wedding from a different continent. Someone you can properly communicate with and you're confident in his or her competency and skills. Deola from 2706 Events held me down on this front.

MAKE TIME – Make time for your significant other in the process so they don't feel left out or neglected. I made sure Femi was involved in certain aspects of the wedding plans so he wouldn't feel like I was planning MY wedding and not OUR big day.

BUDGET and SAVE – As hard as it may seem to have a budget for your wedding, please try. This is necessary in order relieve yourself and your family of last minute stress and expenses. Make a budget and make sure all parties contributing are aware of it and the roles they will be playing. If possible, please get it in writing as well to avoid disappointments and arguments down the line.

ENJOY YOUR DAY – Femi and I made the decision to let the professionals do their jobs. We relinquished all responsibilities to them on our big day and just had fun. We couldn't have been bothered about the mishaps to be honest because we thoroughly wanted to enjoy ourselves and just get lost in each other.

DANCE DANCE DANCE! – Anyone who attended our wedding will tell you that Femi and I danced like no one was watching. We danced! Shout out to the best train in the world! They really held us down on the dance floor!"
***
Wedding Video by Leye Olumide
Warning: This video might just induce tears! The bride and groom's wedding vows were so moving! From young friends to elderly relatives there wasn't a dry eye in the house.
The wedding party's choreographed dances were also so much fun!
~ White Wedding – Jide Odukoya Photography
"I wanted the wedding to be shades of blush and pinks. My bridesmaids' dresses, Aso Ebi and the decor reflected that. The colours at the wedding reception were truly beautiful."
"The Dress!
I came across Veluz Reyes work in 2012 and I was blown away. She sketched my dress in our first meeting and it was absolutely everything I wanted it to be. I was involved in everything down to the selection of fabrics and embellishments. The embroidery and beadwork was all done by hand! Veluz' attention to detail is impeccable! The first time I tried my dress on, my sisters couldn't stop crying…lol"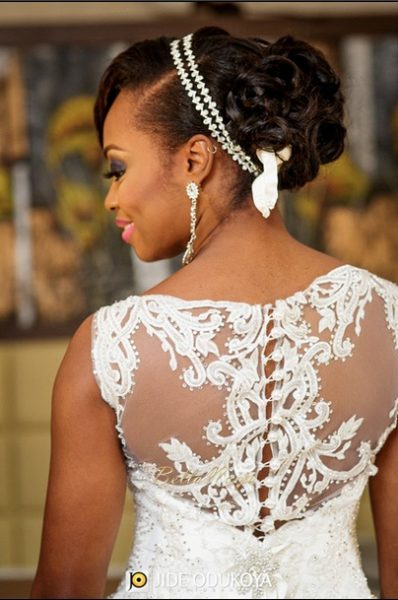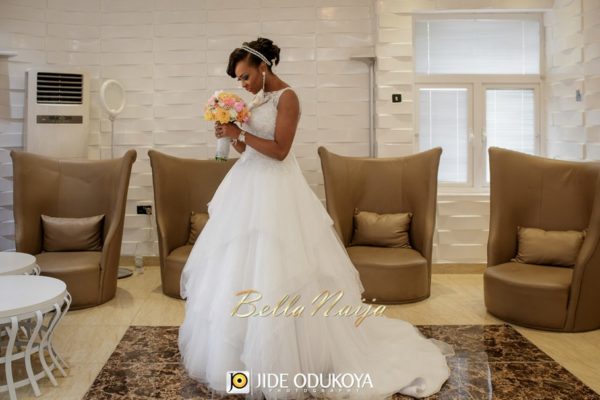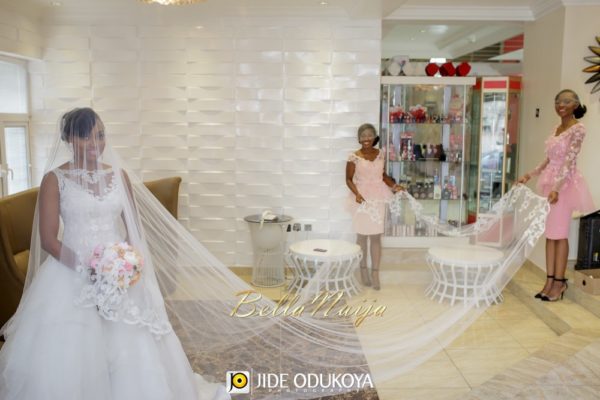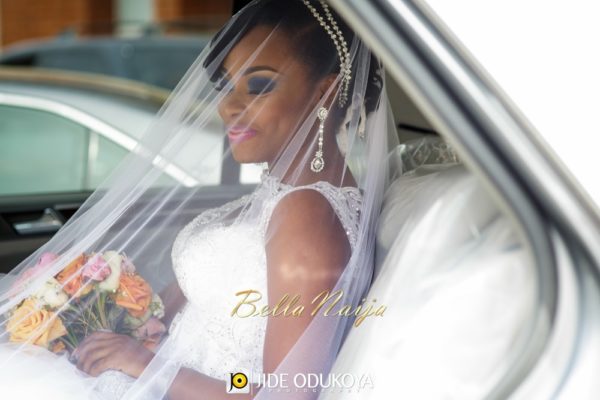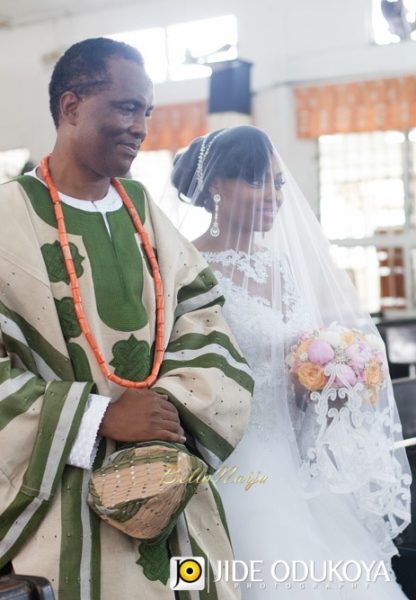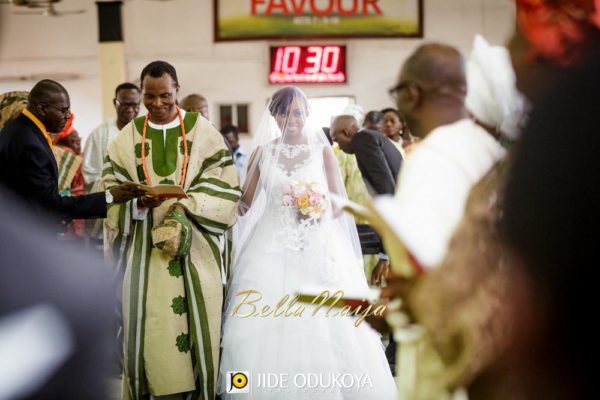 "Walking down the aisle was really important to me as well. I had a little moment with Daddy before we started walking down the aisle and I will never forget how loved I felt in that moment. I looked into his eyes and I saw the love and pride shining through the tears in them.
He whispered that I would always be his little girl no matter what but that it was time for me to meet my husband.
We down the aisle to the instrumentals of "A Thousand Years – Christina Perri", I picked this song because it signified the love that I have for the two most important men in my life, I have loved them for a thousand years and I would love them for a thousand more."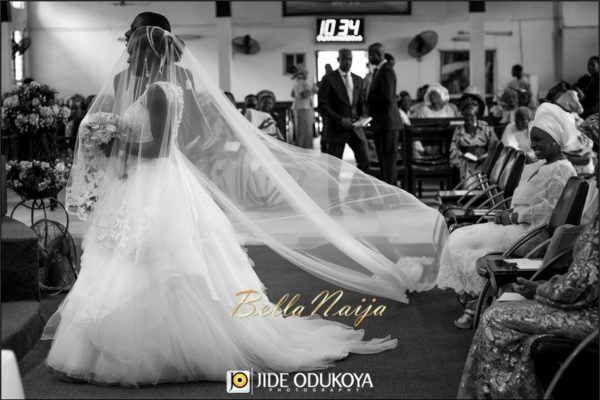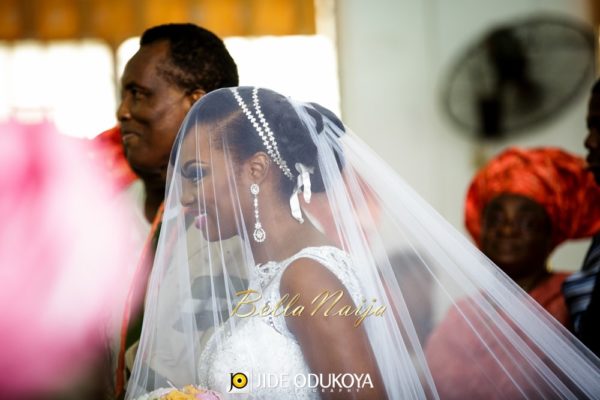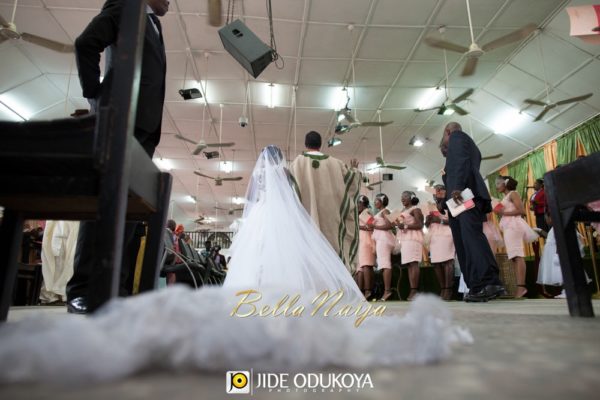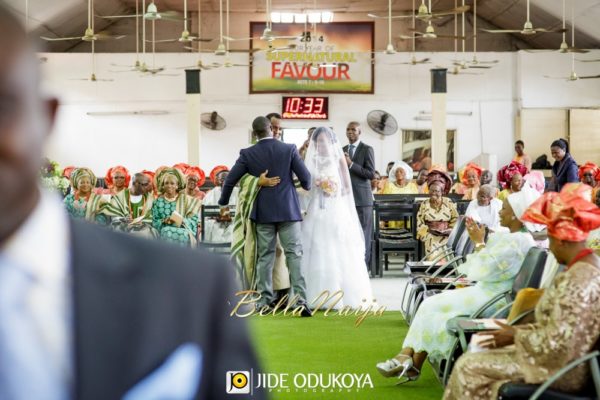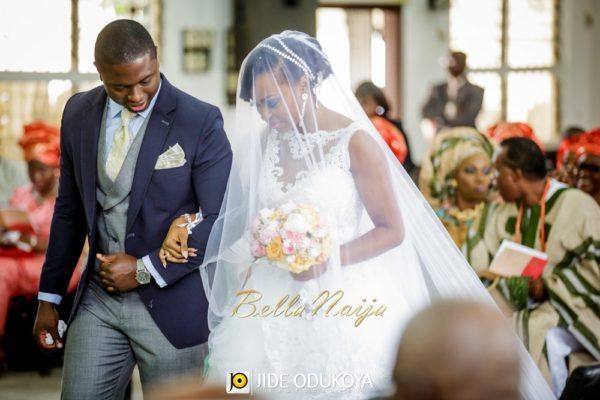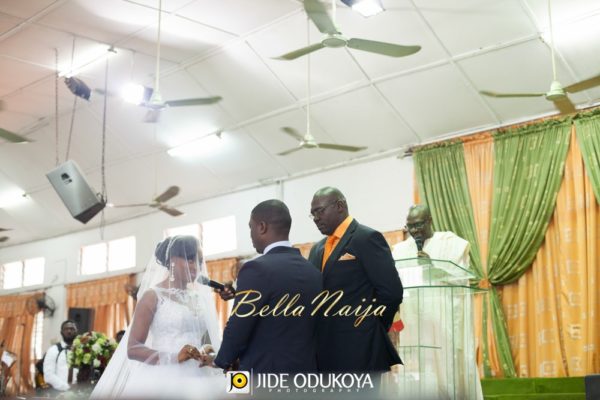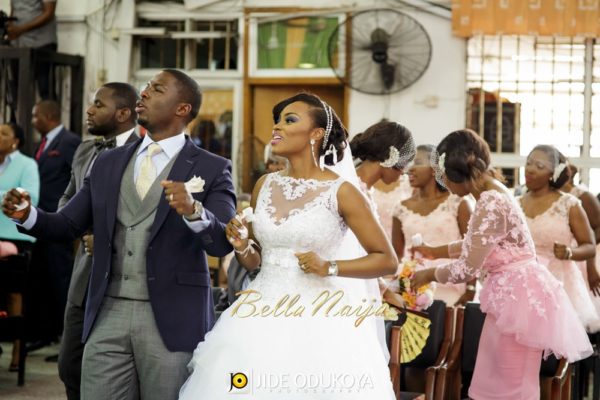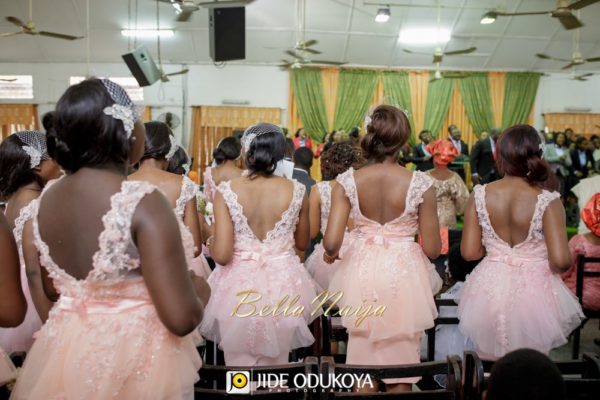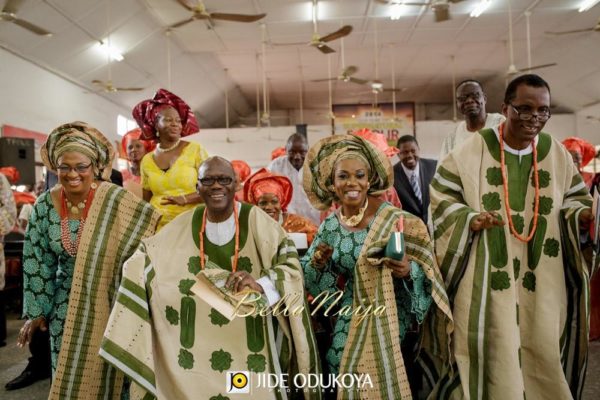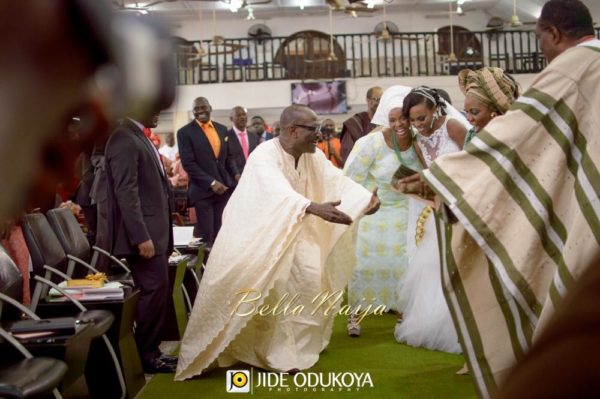 "The highlight of our day was our vows. There was no way we weren't sharing our personal vows. I came prepared and ready to fight if they told us we couldn't do it. Femi honestly had to calm me down because I would ask him every single second during our wedding service if it was time. The church actually broke protocol for us (Thank you TFOLC!) It had never been done before and we were truly honoured. Femi took care of it and I didn't have to fight anyone… lol
I wanted the whole world to know just how much I love this man and nothing was going to stop me. It was so amazing! As I read through my vows and looked into Femi's eyes I felt so complete. There wasn't a dry eye in the church including my husband's. And when the time came for his vows, he once again blew me away with the depths of his love for me. Needless to say, I had to re-apply my make up because I was a bag of tears! lol!"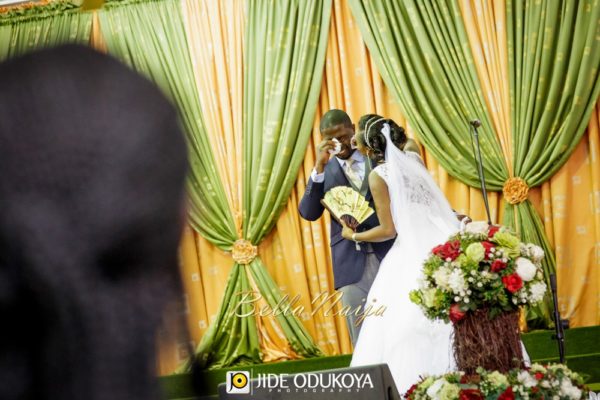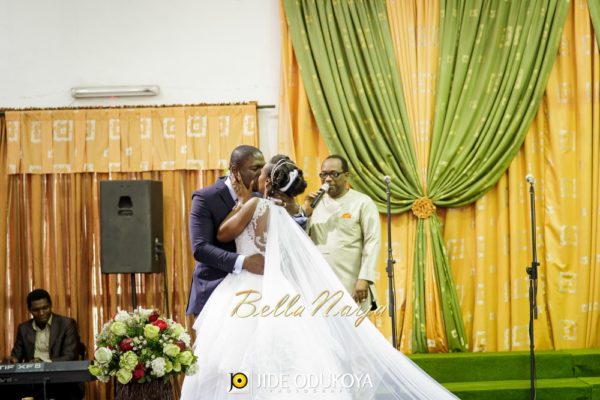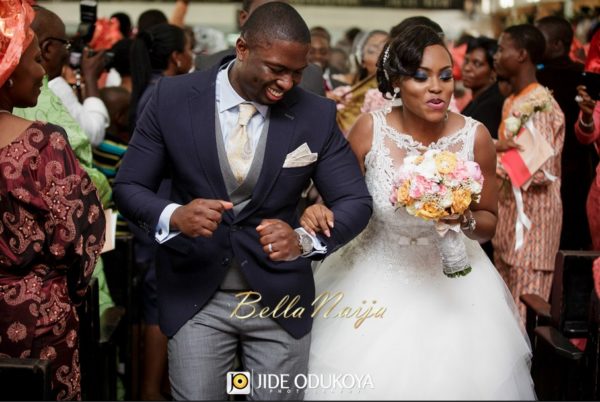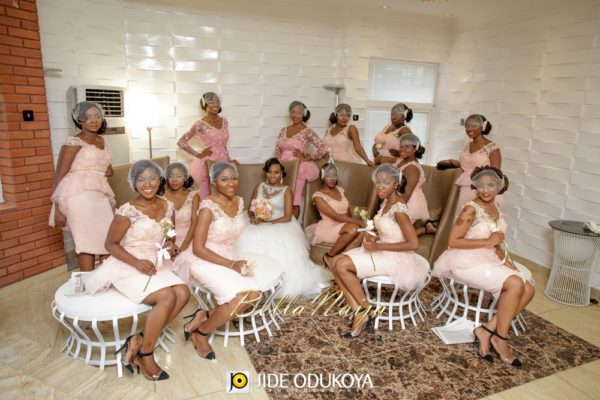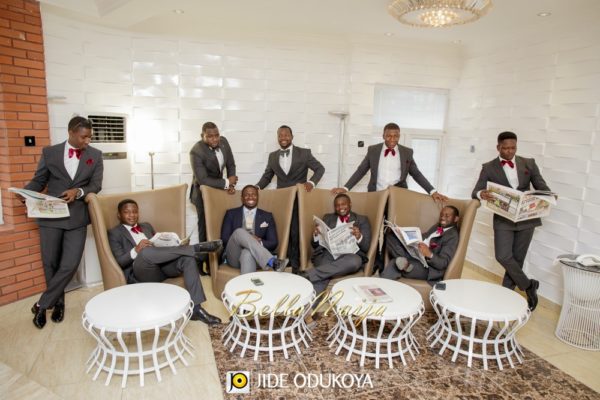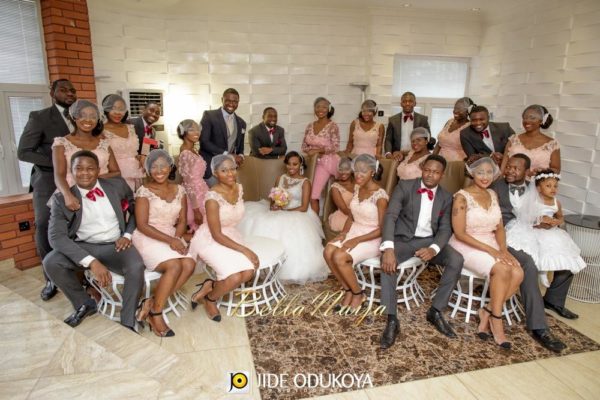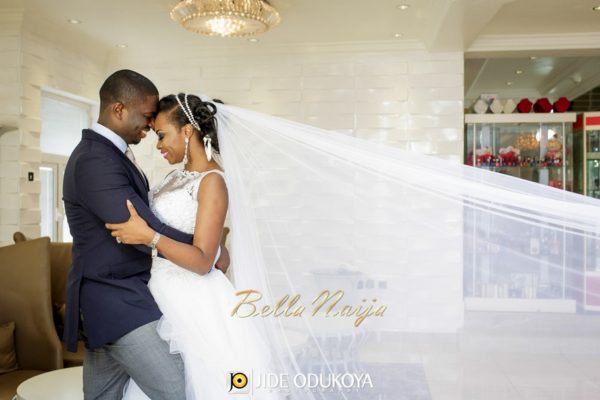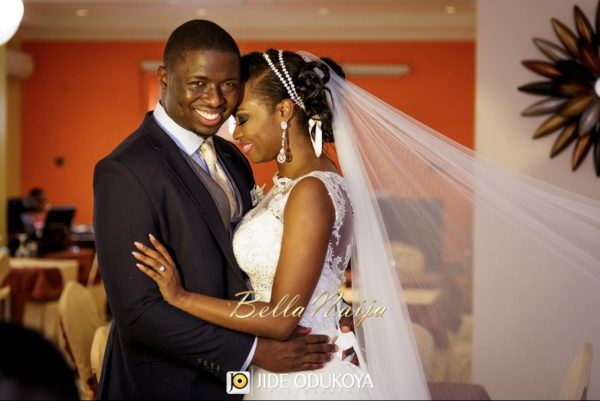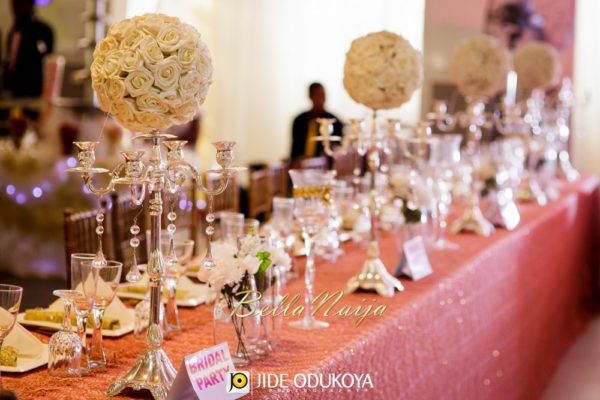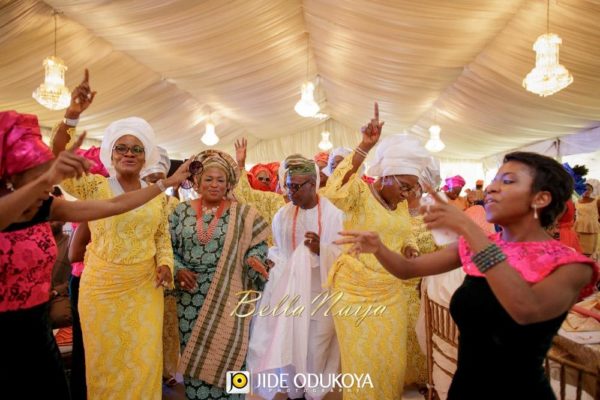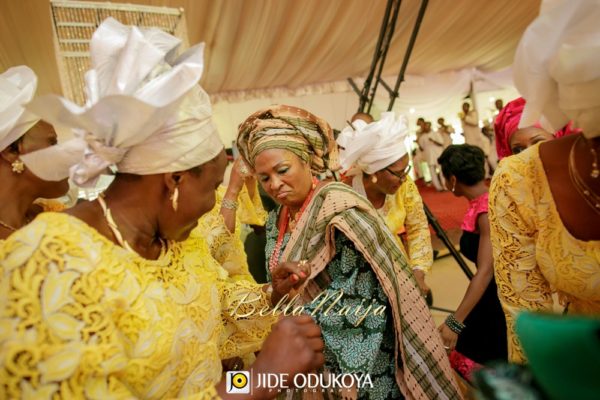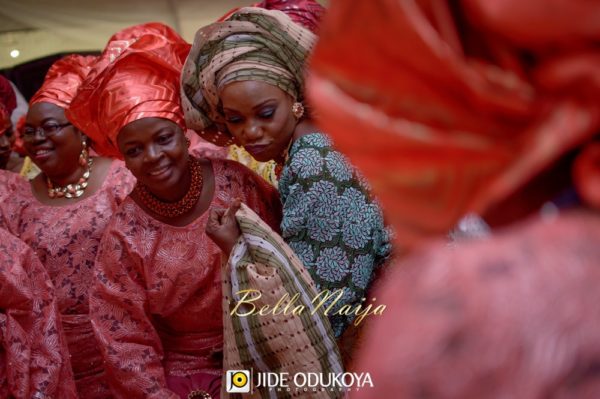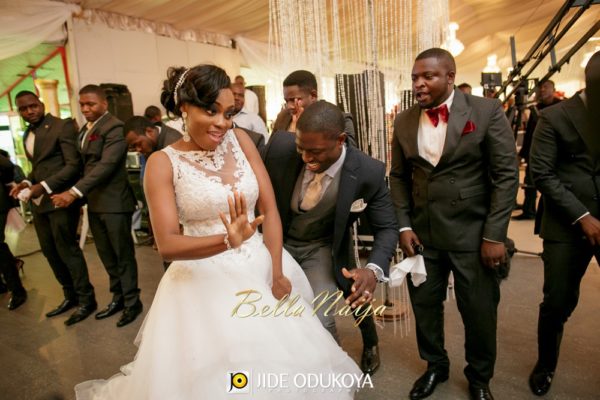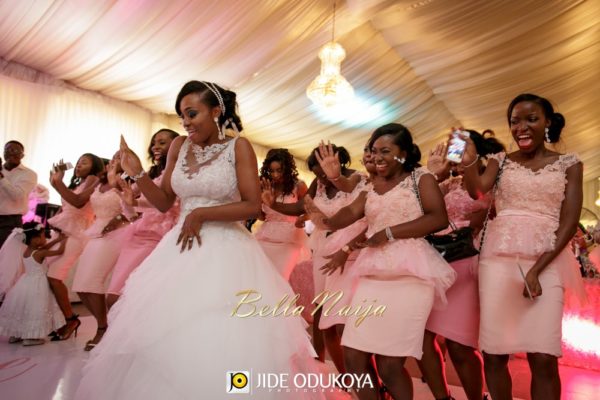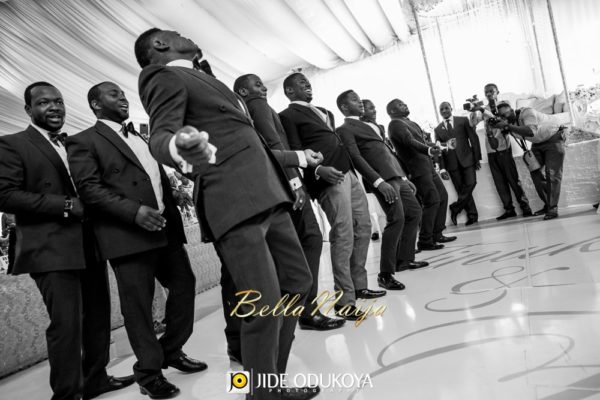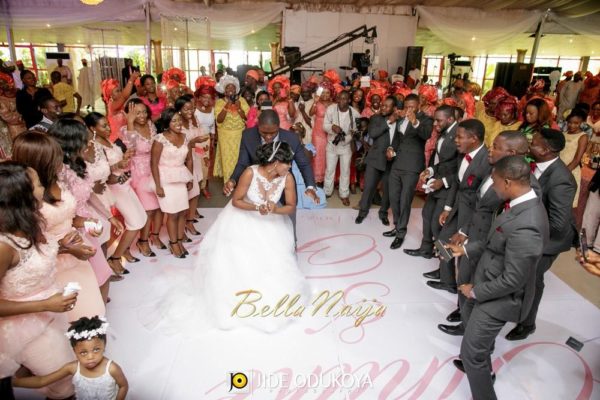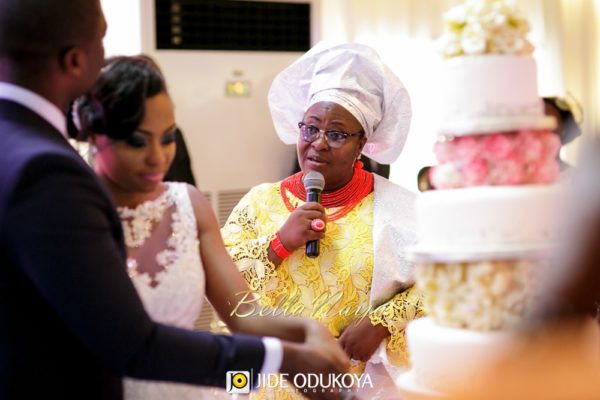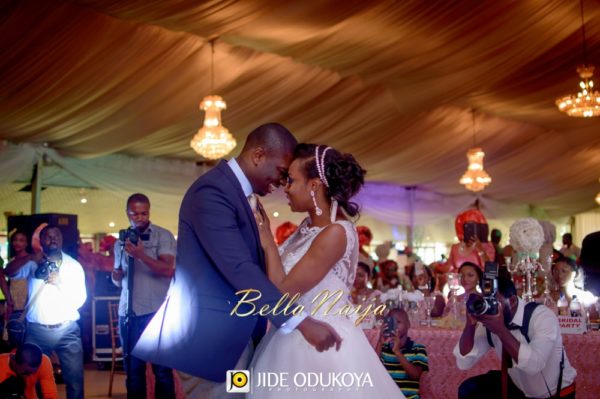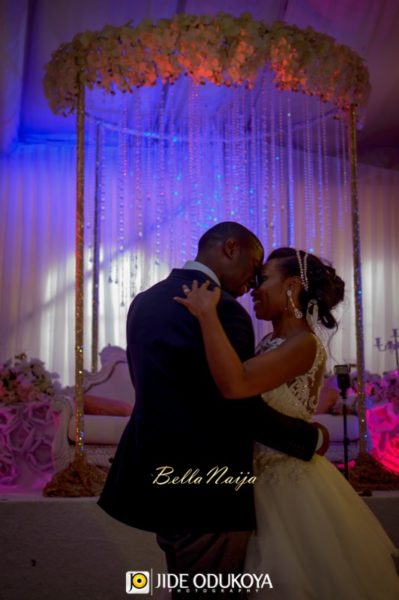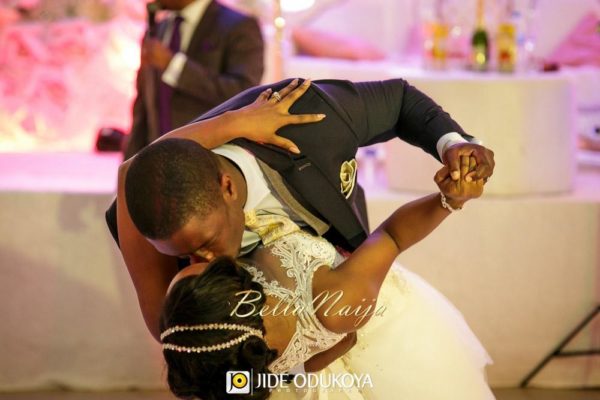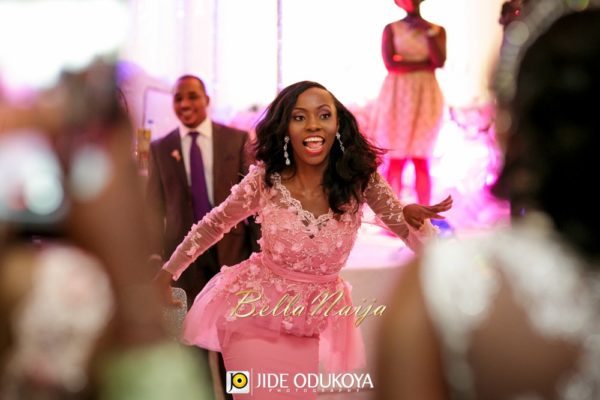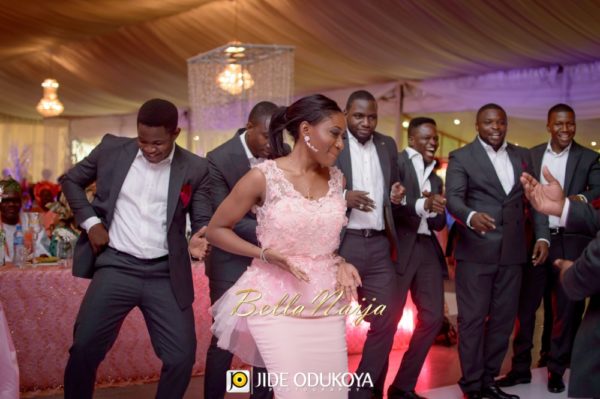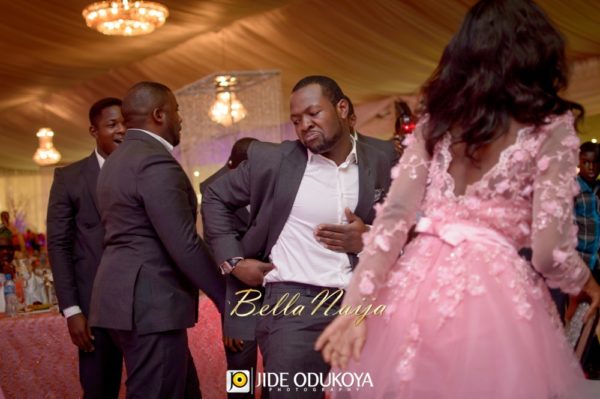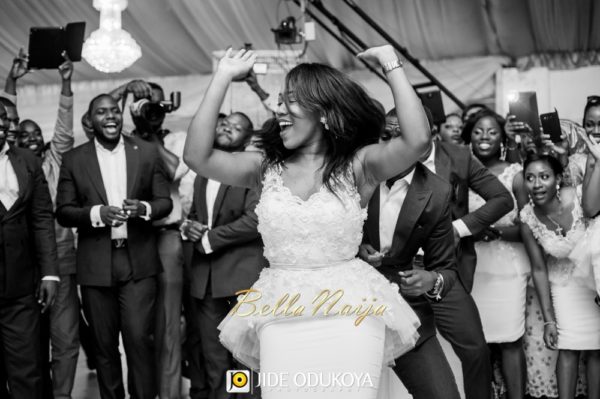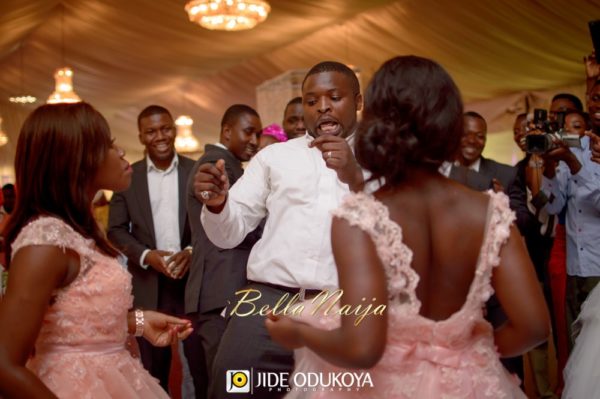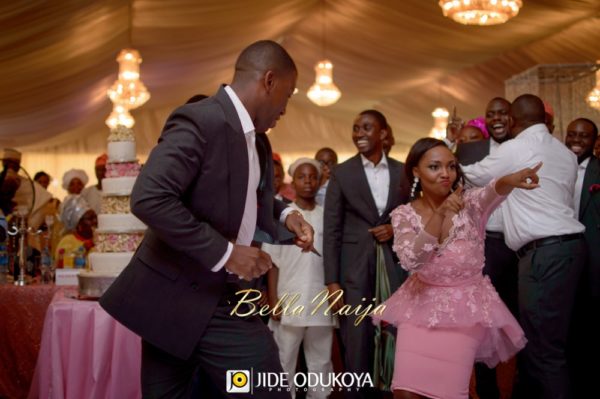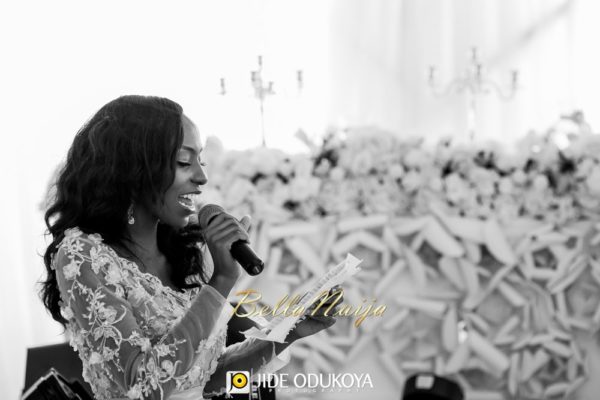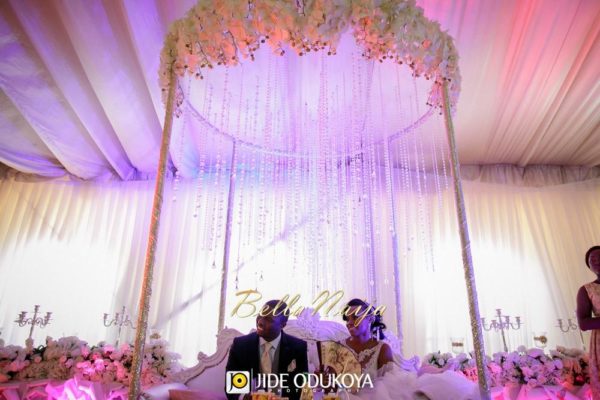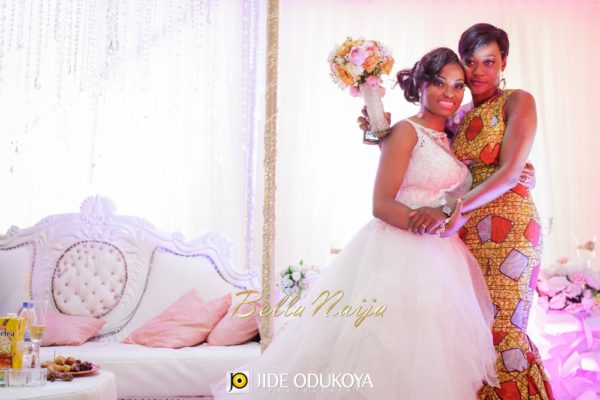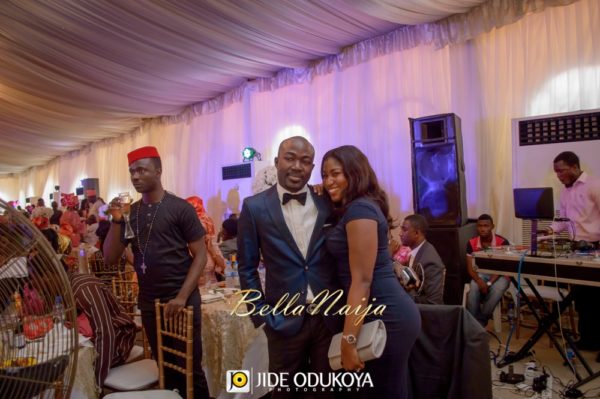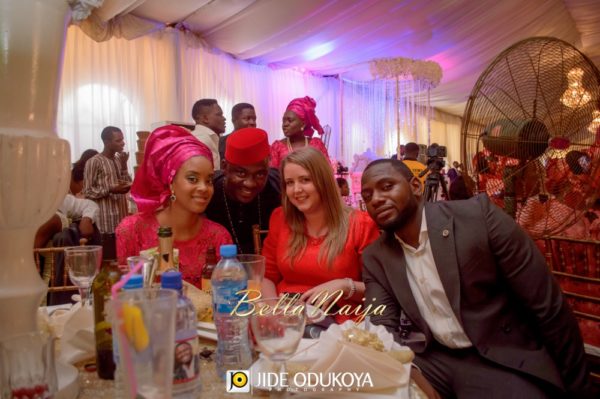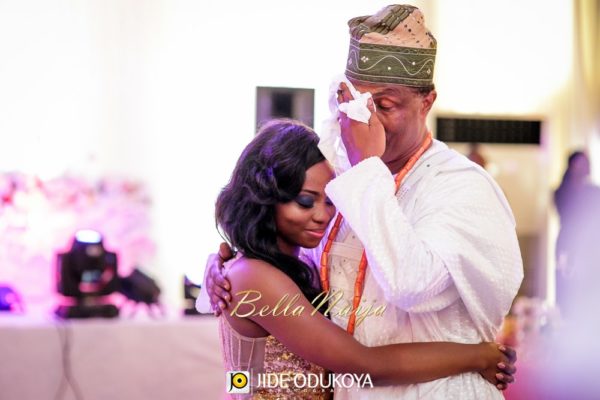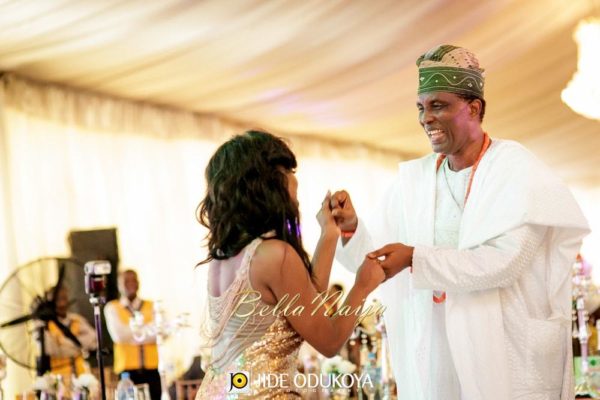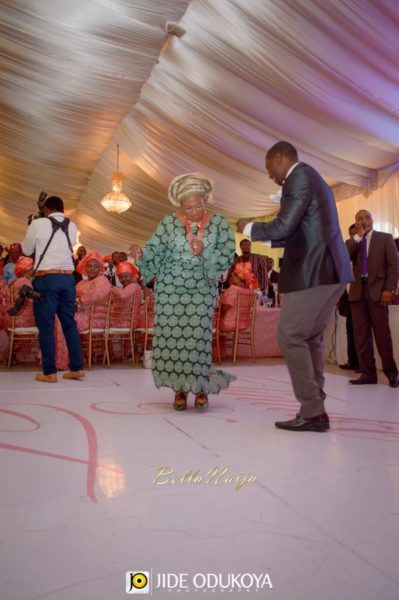 "Brides by Nona made my second dress! Nneka was such a blessing and Godsend. I sent her a picture and she told me to relax and she would take care of it (while making my bridesmaids dresses!). I never had a fitting but when it arrived it was perfect!"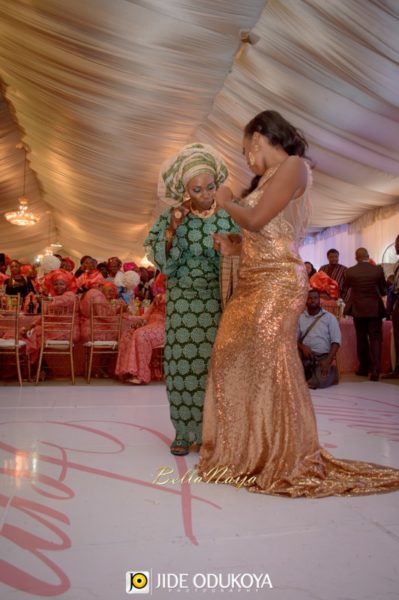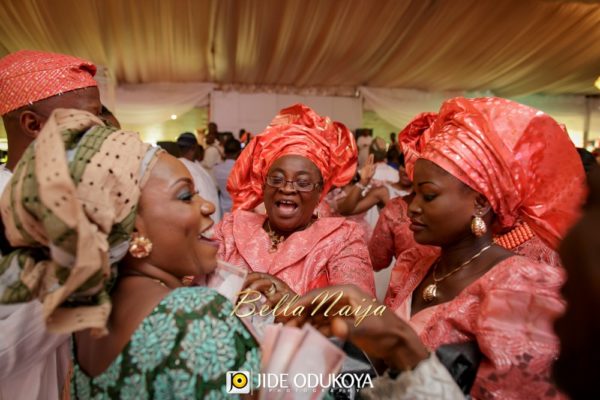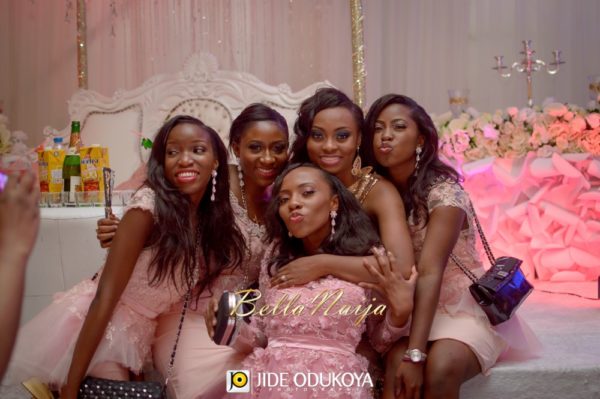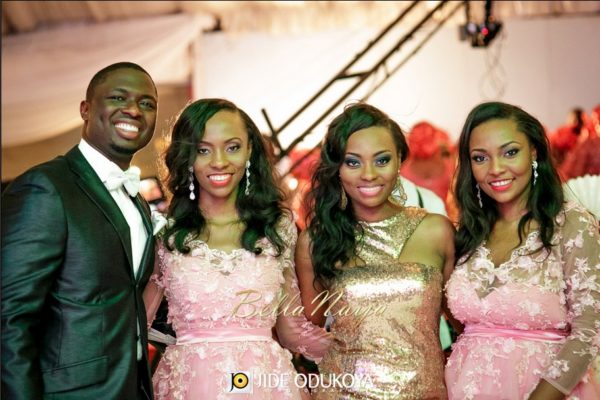 ~ Traditional Engagement – Jide Odukoya Photography
***
Wedding Photography: Jide Odukoya | info (at) jideodukoya.com | 08033999286 | instagram.com/jideodukoyaphotography
Pre Wedding Photography: Symplx Studio
Wedding Video: Leye Olumide
Wedding Info
Dates, Venues & Colours
Traditional: 12th June 2014 | Darlington Hall, Ilupeju | Mint and Gold
White: 14th June 2014 | Church: The Fountain of Life Church, Ilupeju | Reception: 10 Degrees Event Centre, Ikeja | Blush, Coral and Champagne Gold
Bride's Makeup (both events): Shomya | instagram.com/shomya_lag
Bride's Wedding Dress: Veluz Reyes | instagram.com/veluzbride
Bride's Hair: Debbie – 080331886722
Bouquet: Rume Florals – 09093261991
Bride's 2nd Dress: Brides by Nona | instagram.com/bridesbynona
Groom & Groomsmen: Custom Made
Bridesmaids Dresses: Brides by Nona | instagram.com/bridesbynona
Traditional
All Aso Ebi: Sunbby Textiles – 08028437516, 08094629601
Beads: Vivian Kordi – 08023202116
Vendors
Wedding Planner: Deola of 2706 Events | instagram.com/2706events | Bride's Review: "Deola and her team did their thing! She honestly kept me sane and calm through this process. She was thorough and extremely professional through it all. It doesn't hurt that made a great gist partner too! She's definitely a padi of mine till date."
Wedding Cakes: Kravins
Traditional Decor: Ball Decor Concept – 08023571434 | Bride's Review: "I wanted the traditional wedding to reflect our Yoruba culture in every way most especially the decor. Bisoye from Ball Concepts did an amazing job! I enjoyed our consultations! When I explained my ideas to her, I believe she was even more excited than I was. She definitely brought my vision to life! Love you Bisoye!"
Wedding Decor: Aquarian Touch – 08024011221
DJ: DJ Lami – 08023603179
MC: Tee A
Band: Ayo Balogun
BBQ and small chops: Ola Items 7 – 07034945263
Food 1: Koriander Catering – 08059469864
Food 2: Majesty – 08033014400
Drinks 1: Praisemart – 08023131790
Drink 2: Source of Life – 08034037747
Desserts 1: Heladio Delicia – 08098314304
Desserts 2: Sweet Cravings – 08033360261
Cocktails: Elles Ice Box – 08034713309
Security: Solutions – 08099800710