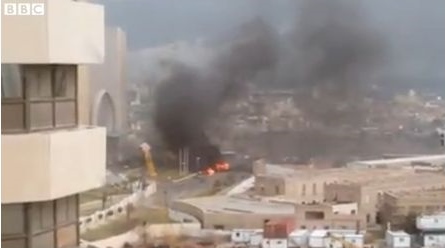 At least 10 people were killed as individuals believed to be militants attacked the luxurious Corinthia Hotel in Tripoli, Libya, on Tuesday.
The gunmen detonated a car bomb in the hotel's parking lot, then proceeded to shoot sporadically as they entered the hotel.
It is suspected that the attackers were Libyans, CNN reports.
The casualties include five Libyans and five foreigners – three from Tajikistan, one American, and a French citizen.
An online ISIS-affiliated group claims the attack was executed in the name of Abu Anas al-Libi, a suspected al Qaeda operative who was said to be involved in the bombing of U.S. embassies in Africa.
Al-Libi died at a US hospital earlier this month.