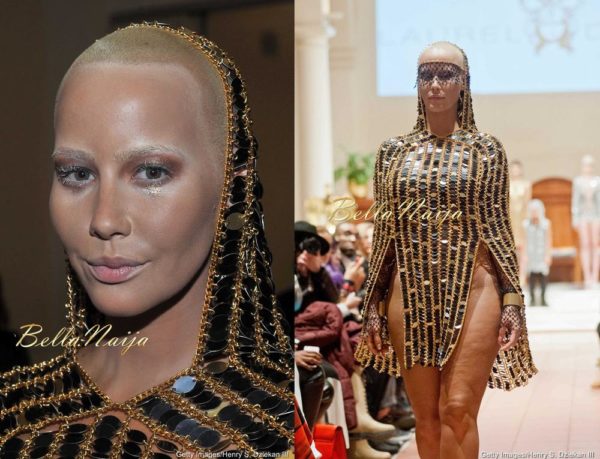 Double slits and a fishnet mask.
Amber Rose definitely got people talking when she walked the show for Laurel DeWitt at NYFW.
It wasn't just the double slits and seeming lack of underwear – Amber Rose had her skin covered in foundation that concealed her brows, her eyelashes in white mascara and her eyes accentuated with heavy, copper-coloured make-up while her lips were painted into a light pink pout.
It is a look that the 31-year-old actress/model seems to like though as she posted on Instagram 'Slay Muva Slaaaaaay'.
She walked the runway wearing a chainmail style dress with its hood up; Amber's eyes were covered by a fishnet mask, half of her shaven head still on show. The look was completed by gold heels, matching wrist cuffs and fingerless net gloves.
Her fans have been reacting to the look all day with a lot of mixed comments.
What do you make of it?
Photo Credit: Getty Images/Henry S. Dziekan III