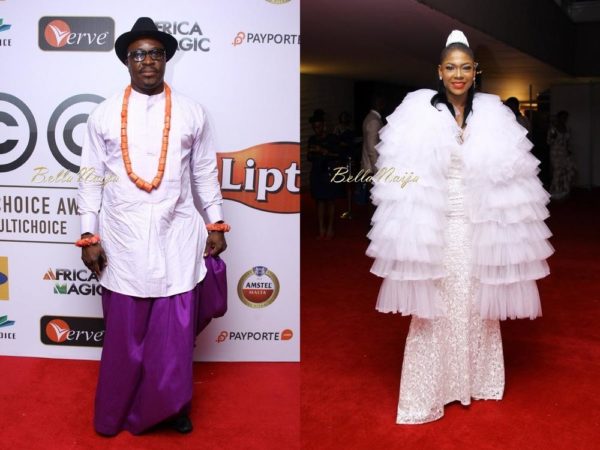 The Africa Magic Viewers' Choice Awards is all everyone has been able to talk about for the past few days and a lot of outfits have got people talking all the more.
From the controversial looks to the unique interpretations of the dress code, stars like Susan Peters, Denrele Edun and Ali Baba got quite a number of comments about their outfits.
They have however, via social media, commented on the reason for their outfit choices as well as on reactions to their outfit.
Susan Peters:
They thought they could bury us,they didnt know we are seeds…#Doroisityourmoney? I AM NOT CREATED TO BLEND IN… I AM CREATED TO STAND OUT!!! IF THE KITCHEN IS TOO HOT MBOK EXIT THE BUILDING.Only people with High Fashion Sense Can Understand. Still thanking my glam squad @tiannahsplacempire @bibyonce@ugomakeme God go bless una plenty … to everyone supporting the ministry GGMYABIJN Amen. Who can hurt those who have God's covering? None at all…
Ali Baba:
Trust you had a great weekend. I did. And had been looking forward to sharing something with you. So, I have also Been looking for a clear picture of me that was taken at the #AMVCA … The closest I could come upon is this courtesy @NET… But it's not about the picture itself. It was about someone who claims to be a Fashion Critic…… who made a comment that I thought I should harp on. She said, "Bros, didn't you get the invite? It said 'black tie' "… herself and a few of her fashion buffs had a laugh at my expense. So I let the laugh settle down and I asked, did you read the part that said "black tie or Glamorous?" I then saw one of them quickly bring her card holder invite holder out, read the dress code portion and shoved it back in the case. The dumbest of the four, who is also on television, said something like, but this is not glamorous. So I pointed at Kunle Afolayan, who was decked in AGBADA. And she was sucked in to my trick. "Eheeeeen! That is glamorous." Her cronies agreed. So I dropped my joker. 'Really? So it's only the traditional attire from the YORUBA or Hausa speaking part of Nigeria that is glamorous? Is that what you were taught in school? Or is that the position of your media house? Or is that all your knowledge about fashion availed you? May be you are TRIBALISTIC. May be you think AFRICANS must look like a white man to be glamorous! May be you have no values! By the way, I thought this was an AFRICAN magic viewers' choice awards (notice the capital letters)? At this point, 2 of them started that line that signals they had gotten the message… "Bros you are correct, but you know we were just teasing you. HABA! Can't you take a joke?" My point was made and I walked off. The problem we have in this country is not totally our government's failures. It is also the failure of many of us to know what is important to us as AFRICANS and what we should value in our culture. ATTIRE for journalist WEY no recognize glamorous ATTIRE. As for any journalist that thinks dressing in my traditional outfit meant for special occasions is not glamorous, please check a dictionary and revert! #broadcasters #fashionPolice#AfricanCulture #UrhoboAttire
Denrele Edun:
It is 24-carat gold and I just looked at it and I said to myself, 'why not strut out something that reeks of the statuette?' and I wanted to look like a statuette tonight. I know I went a bit overboard with it. I mean my back is all in the open and I am hot. I do not know how you ladies do it. My back is so sweaty that I had to tell everyone who wants to hug me to put their hand on my butt instead of my back. It is quite difficult to maneuver as well but this is what I'm going to rock the after party with.
Photo Credit: Insigna Media