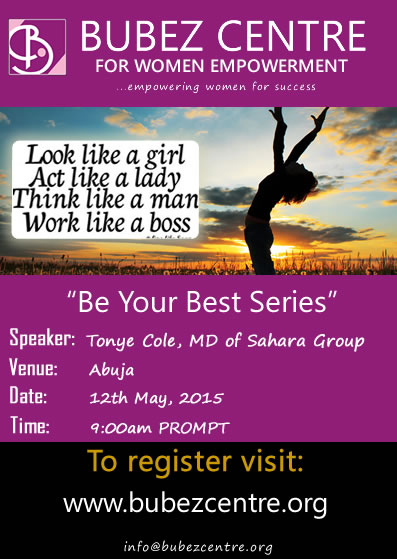 Against the backdrop of the increasing economic imbalance in the world it has become imperative for women, alongside the men, to be empowered with information and skills to enable them face the challenges and promote socio-economic development in the society. Having identified this gap, Bubez Centre for Women Empowerment has put together the 'Be Your Best Series' with Tonye Cole, MD, Sahara Group featuring as the keynote speaker.
The vision of the organizers is: to Enligthten, Inspire and Empower young women to be achievers in their chosen fields.
Date: Tuesday 12th May, 2015
Time: 9 AM
Venue: Abuja
To register, visit www.bubezcentre.org to join the community and attend our upcoming event.
Registration is free!
_____________________________________________________________________________________________________
Sponsored Content