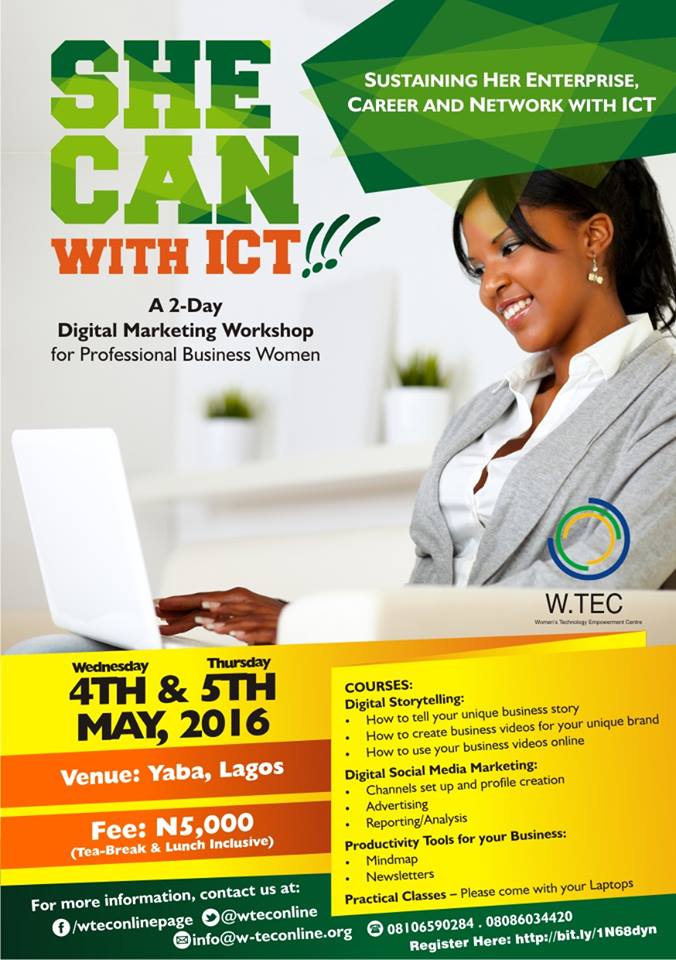 The W.TEC Digital Marketing Workshop will give you the opportunity to learn, how to drive online traffic to your business and also learn, how to attract the attention of desired organizations to your work experience.
In a world where current Women Entrepreneurs, Aspiring Entrepreneurs and Prospective Employee Entrepreneur need to create a unique system of Marketing that approaches the Customer from a complete service point of view that enables their businesses or service/product offering remain relevant in the minds of their current and future customers…
Using the tools of Digital Story Telling, Digital Media Channels such as Facebook, YouTube and Twitter including Business Productivity Tools can be a game changer for so many women out there seeking opportunities to retain current customers and expand further to accommodate new customers..
Learn this at the Women Technology Empowerment Centre Digital Marketing Workshop for Professional Business Women, Aspiring Entrepreneurs and Employee-Entrepreneurs.
The best knowledge in Digital and Social Media Marketing will be espoused at this workshop.
The workshop is scheduled as follows:
Date: May 4th & 5th 2016
Venue: Sabo, Yaba
Time: 9:00 am
To register , click on this link: http://bit.ly/1SbYVQp
Registration Fee is N5,000 (Covers Feeding, Learning Materials and Certificate for the two days)
Deadline for registration and payment confirmation:  Monday, May 2nd, 2016
Call or email W.TEC for further information: 08086034420, [email protected]
Please pass along information to other women in your Network!
__________________________________________________________________
This Content has been published for free as part of BellaNaija's commitment to youth, education, healthcare and community development. This is a key part of our ethos and Corporate Social Responsibility Programme.