Abdulahi Olatoyan has been described by Yahoo! News As "Social Media's Latest Success Story" and CNN as a "Dapper Wind Screen Washer" since a photo of him cleaning windscreens in a suit went viral a few days ago.
When asked why he made that choice, Abdulahi said "I didn't want to be wandering the streets doing nothing", adding he wanted to make sure people knew he was serious about his work.
"He is the first suited windscreen cleaner I have ever seen", says photographer Daniel Sync, who took the photos that went viral. "We need more innovative citizens like Abdulahi in Nigeria", he added.
According to Daniel, he spotted Abdulahi on his way to work in Abeokuta, Ogun State and rushed to the office to pick up his camera.
Now the first of many opportunities have opened up for Abdulahi and he has been offered a job at Nigerian clothing line OUCH. When the label's designer Uche Nnaji saw the photos, he posted on Instagram that Olatoyan could come work at his company, and even went as far as listing seven reasons why Abdulahi deserves the job. He then asked his followers to help track down the elegant squeegee man and track him they did.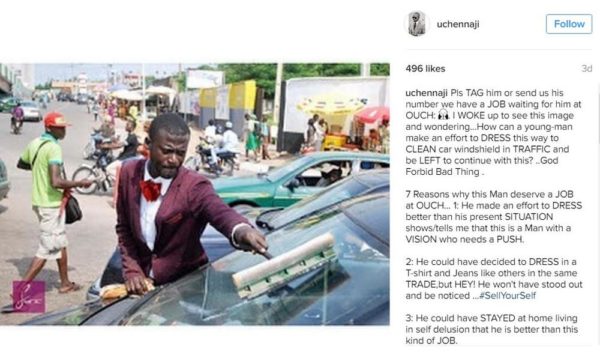 Olatoyan has now been offered a position as 'style doctor' at the menswear brand. "I have a team of young people that I call style doctors," says Nnaji, "when I saw him I thought this person is someone that likes looking good and can style others. I saw attitude in him and thought if this man is doing this just to go and wash cars, he is someone that will work with a different mindset even if he's doing the least popular job in the company" he added.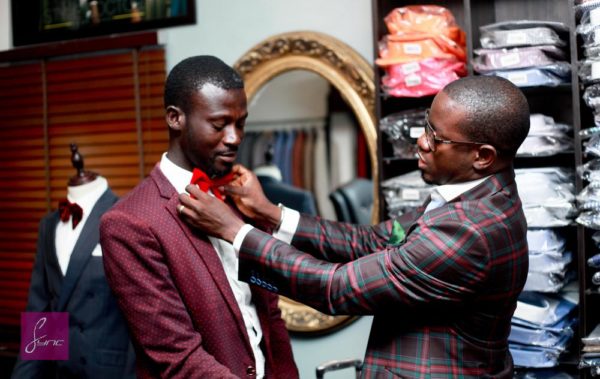 To be a part of Abdulahi's success story send a mail to [email protected] | Instagram: abudulahiOlatoyan | Twitter: iamrealabdulahi | Facebook: Abdulahi Olatoyan
Photo Credit:Daniel Sync –Sync Media House | Instagram/Uche Nnaji Twitter/CNN