If you missed Red Carpet Photos from the 2016 MTV VMAs, you can catch up here.
The 2016 MTV VMAs stage was totally on fire (Literally and figuratively) last night as all the stars brought their A-Game!
Rihanna won the Michael Jackson Video Vanguard award and even though Drake already rented a giant billboard to congratulate her, he did it again on the stage with his Introduction speech. Jidenna also performed his hit summer track, 'Little bit more' on the VMAs stage.
Here are some of the high points from the night:
Drake's Heartwarming Introduction speech for his Day one Crush, Rihanna:
The first time I met Robyn Fenty, it was 2005. She was shooting a music video at a restaurant called Avocado in Toronto called 'Pon De Replay' and the director of the video was Little X. I was introduced to her as a kid who played background music at a restaurant as people ate their dinner. It's hard to believe that 11 years later, that all three of us would come together to create visuals for a song called Work'. Today, the world knows Little X as Director X, they know me as Drake and not the kid singing while you order pasta. But 11 years later, they still all know Rihanna as the one and only Rihanna.

Captivating from day one, the iconic being that is Rihanna was already at a place that most artists only dream of going. For them that is often the peak, but for her that was the starting point that she has kept to ascending to an untouchable level ever since. When it comes to music she relentlessly takes over the charts with every release. When it comes to performances, they swarm in masses just to be in her presence, obviously. And when it comes to fashion and style, she makes it seem so effortless, until you try and do it yourself, which is when it gets a little awkward. What's most impressive isn't the endlessness of stats, awards, and accomplishments. What's most impressive is the person. Some artistes need to play a character to achieve success; some need to downplay their own natural instincts to blend in. She succeeds by doing something no one in this industry does, which is being herself. This woman has surpassed all competition while still being the same girl from Barbados surrounded by the same friends, speaking with the same accent and never missing a Crop Over unless it's to come perform at OVO Fest. We love the music, which can change styles from album to album. We love the videos, which change their artistic vision from year to year year. But most of all, we love the woman who hasn't changed since day one. She's someone…she's someone I've been in love with since I was 22 years old, she's one of my best friends in the world. All my adult life, I've looked up to her even though she's younger than me. She's a living, breathing legend in our industry.
Once he finished and gave the award to her (and tried to kiss her), Rihanna accepted the VMA.
Watch it here:

With a lot of humility and love to Barbados, Rihanna's acceptance speech was another highlight of the night:
Read her speech:
[joking about her mic height] Does that mean I'm shorter than Drake? MTV, this is such an amazing night. It's such an amazing moment in my career. When I think about the Vanguard Award and receiving this tonight, all I could think of was my country. They're going to be so proud. This is the first Vanguard to land anywhere close to my country. And so you know, my success, it started as my dream. But now my success is not my own. It's my family's. It's my fan's. It's the Caribbean's as a whole. It's women's, it's black women's. So many people feel like their little piece is such a major part of this puzzle, and I have to thank you all for supporting me over and over. Thank you to every director who has taken a chance on me and a chance with my crazy ideas.

There's so much growth that has happened over the last 11 years. I can't believe I'm receiving the Michael Jackson Vanguard Award at 28 years old. It is crazy! I have so many people to thank. I mean, from the very beginning: Evan and Carl from SRP [Music Group]. You guys have believed in me. You brought me straight to Jay-Z's office, met Jay, L.A. Reid, Jay Brown, my publicity team. So many people ride with me every day. My best friends never left me. They actually followed my ass here to America, getting on my damn nerves. They're here right now, witnessing this. This is a big moment. Thank you, Drake, for that amazing speech. Thank you, MTV. I had so much fun! Good night!
Watch her speak here:
Beyonce bringing 4 Mothers who lost their sons to Police or Gun Violence onto the Red Carpet
Four women, all of whom have lost children to gun violence or police killings, were among Beyoncé's entourage. Lezley McSpadden, Gwen Carr, Wanda Johnson and Sybrina Fulton — the mothers of the late Michael Brown, Eric Garner, Oscar Grant, and Trayvon Martin respectively — were decked out in their red-carpet best, making a statement with their presence.
These women, along with five others, have become household names for many as the Mothers of the Movement. The deaths of their children have become political fodder in a presidential year; all four have endorsed Hillary Clinton, and they all appeared in Philadelphia last month at the Democratic National Convention. "I am an unwilling participant in this movement," Fulton said to the Democratic delegates about the 2012 shooting death of her teenage son, Trayvon Martin. "I would not have signed up for this. None of us would have."
Kanye West's Shout to Amber Rose and his Surprising premiere of his 'Fade' Music Video: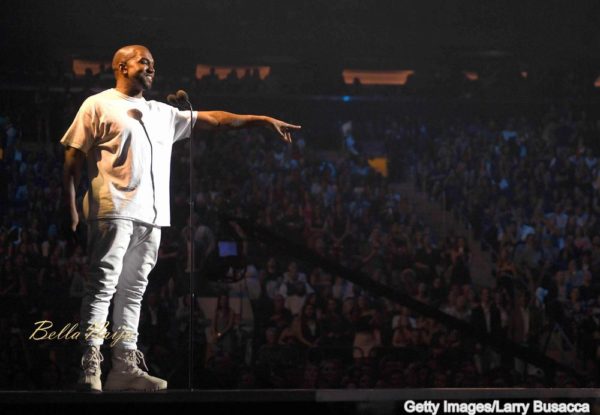 At the 2015 MTV VMAs, Kanye West declared that he was going to run for President in 2020. Everyone held their breathe last night while waiting to hear what Kanye had to say and he sure had plenty.
Here's his full speech:
I am Kanye West, and that feels especially great to say this year. I came here to present my new video, but before I do that, I'mma talk. Now, later tonight, 'Famous' might lose to Beyoncé, but I can't be mad. I'm always wishing for Beyoncé to win, so.

But for people to understand just how blessed we are… It was an expression of our now, our fame right now, us on the inside of the TV. You know, just to put… the audacity to put Anna Wintour right next to Donald Trump. I mean, like, I put Ray J in it, bro. This is fame, bro! Like, I see you Amber. My wife is a G. Not a lot of peoples' wives would let them say that right there. We came over in the same boat. Now we all in the same bed. Well, maybe different boats, but uh.

But if you think about last week, there were 22 people murdered in Chicago. You know, like, people come up to me like, 'Yeah, that's right! Take Taylor!' But bro, like, I love all y'all. That's why I called her.

So I was speaking at the Art Institute last year, and a kid came up to me and said 'Three of my friends died, and I don't know if I'm gonna be the next.' And it has to, you know you have to think, like, when you're a senior and it's the last month and you just don't feel like doing any more work. If you feel like you seeing people dying right next to you, you might feel like, what's the point? You know like life could be like, starting to feel worthless in a way. I know times for me, I sit down and talk to older, like, like, rich people. You know, a.k.a. white, you know. And they tell me, 'Don't compare yourself to Steve Jobs. Don't compare yourself to Walt Disney,' and my friend Zekiah [sp?] told me… they tell me, 'Don't compare yourself to these people, right.' My friend Zekiah [sp?] told me there's three keys to keeping people impoverished: that's taking away their esteem, taking away their resources, and taking away their role models. My role models are artists, merchants. There's less than ten that I can name in history. Truman. Ford. Hughes. Disney. Jobs. West.

Bro. Bro! Tonight, we here to have fun. I'm standing in front of my idol, Puff Daddy. I'm standing in front of my wife, Kim Kardashian West. I'm standing in front of the future: Chance the Rapper, 2 Chainz, Jaden Smith. Bro, we are undeniably the influence, the thought leaders. I'm gonna play y'all a piece of my art, and I just hope y'all have a good time. Play that.
Watch his entire speech here:
Beyonce's Super-Amazing Performance!
Queen Bey reigned supreme at the VMAs! She took home an award in the Best Breakthrough Long Form Video category for her visual album Lemonade and then she launched a medley of some of the album's strongest songs.
The album visuals centered on black women and her VMA performance was no different. She was introduced by Serena Williams and she began with 'Pray You Catch Me'. Beyoncé was then joined by dancers who wore different costumes for each song. She wove a brief dance breakdown into 'Hold Up' — then she pulled out Hot Sauce and smashed the MTV camera to the ground. Beyoncé closed, of course, with "Formation." Her dancers fell to the ground around her, doing synchronized moves while lying on their backs. By the time the camera panned away from the stage, they'd formed the Venus symbol — a visual shorthand for femininity, and a nod to Beyoncé's ongoing celebration of black women.
Watch her performance here:
Britney Spear's VMAs Comeback/ Throwback to 2000:
Seventeen years ago, a baby-faced Britney Spears made her VMA debut with a performance of her breakthrough hit "…Baby One More Time." The following year, she took the stage by storm, delivering her first truly iconic performance with "Oops! …I Did It Again" — all while wearing a controversial nude ensemble. In 2001, she cemented her place as one of pop music's most daring divas when she belly-danced across the VMA stage with an albino burmese python casually draped around her shoulders for an electrifying performance of "I'm a Slave 4 U." Then, in 2003, she kissed Madonna while performing "Like a Virgin." And although she stumbled through her 2007 "comeback" performance of "Gimme More," Spears showed up to the 2016 VMAs ready to prove the naysayers wrong.
Spears took to the 2016 VMAs stage with rapper G-Eazy to perform the lead single off her latest album, Glory, and it was a mix of old Brit (sparkly nude bodysuit!) and new. Britney Spears did what she does best: She served us slinky dance moves and lots of personality.
Watch her performance:

See some of the Talked-About Music Performances of the night here:
Rihanna Performing Stay/Love on the Brain/Diamonds…
Ariana grande performing "side to side" with Nicki Minaj:
Jidenna Performing 'Little Bit More':
Photo Credit: Getty Images/ John Shearer/Jason Kempin/Larry Busacca