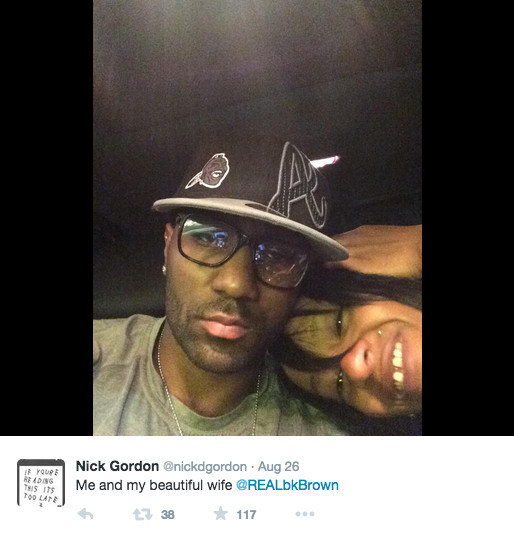 Nick Gordon had been found guilty of wrong doing in Bobbi Kristina Brown's death on Friday, after he did not show up for his civil lawsuit hearing filed against him by the estate.
In August 2015, Bobbi Kristina's Estate conservator, Bedelia Hargrove, filed a $10 million wrongful death civil suit, alleging that Gordon physically abused and stole thousands of dollars from her. In an amendment to that suit, it is also alleged that Gordon gave Brown a "toxic cocktail, rendering her unconscious and then put her face down in a tub of cold water causing her to suffer brain damage."
Bobbi Brown was found face down in a bathtub in her Georgia home on Jan. 31, 2015 and after spending nearly six months in a coma, she died in hospice care on July 26th 2015 at the age of 22.
In response to the judgment, Fulton County District Attorney Paul L. Howard, Jr. issued a statement to ET.
"As we have stated on numerous occasions and we will repeat again today, this case remains under active investigation by our Office. Our investigation will encompass all relevant facts and circumstances, including the body and content of the civil action holding Nick Gordon civilly responsible for the death of Bobbi Kristina Brown."
Bobbi Kristina's aunt, Leolah Brown, also spoke outside of the court room in Fulton County, Georgia, on Friday.
"It's been a long time. Bobbi Kristina has been dead for how long? It's been a long time, hasn't it? … He should have been arrested. I'm angry because I want to see some justice."
#BreakingNews Nick Gordon is now responsible for the wrongful death of #BobbyKristina #11Alive @jleslie11alive pic.twitter.com/rxBwJkIg7A

— Mike Nicolas (@11AliveMike) September 16, 2016
Bobbi Kristina's father, Bobby Brown also spoke in a statement:
"I am pleased with the outcome of today's court proceedings. All I ever wanted was answers relating to who and what caused my daughter's death. Today's judgment tells me it was Nick Gordon. Now I need to process all the emotions I have and lean on God to get me and my family through this."
No criminal charges have been filed against Gordon.