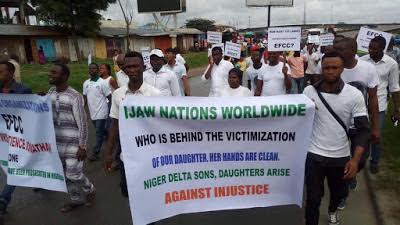 Some individuals staged a protest at the Port Harcourt office of the Economic and Financial Crimes Commission (EFCC), to demand the unfreezing of former First Lady, Patience Jonathan's dollar accounts.
The  group of placard-carrying protesters under the aegis of 'Coalition of Civil Rights Organisations, Concerned Youths and the Ijaw Nation Worldwide,' were led by Sukubo Sara-Igbe Sukubo, a self acclaimed ambassador.
Some of the placards they carried read: 'Patience is Innocent', 'How Many First Ladies have Been Tried in Nigeria', 'Mrs Patience Jonathan Deserves Respect, Stop Embarrassing Her', 'EFCC Stop Victimizing Niger Delta People', 'EFCC How many corrupt Nigerians have been prosecuted and jailed?'
Sukubo who submitted a letter of protest, said they were in the Commission to express their unhappiness and  what he called the 'ill-treatment of the former first Lady'.
"We, as coalition of Niger Delta Civil Rights Organisation, Concerned youths and Ijaw Nation World Wide, hereby, demand that the EFCC should stay off Mrs. Patience Goodluck Jonathan, as there is no established legal or political precedent for what EFCC is currently doing to Mrs Patience Jonathan," he said.
Patience Jonathan herself has sought legal help to unfreeze her  personal accounts and four others owned by companies she controlled by proxy. In all the accounts was found about $31.4 million.
The former First Lady recently instituted an action against the EFCC claiming that the money placed on 'Post-No-Debit Category' in the accounts of four companies currently being prosecuted on money laundering charge by the Commission, belonged to her.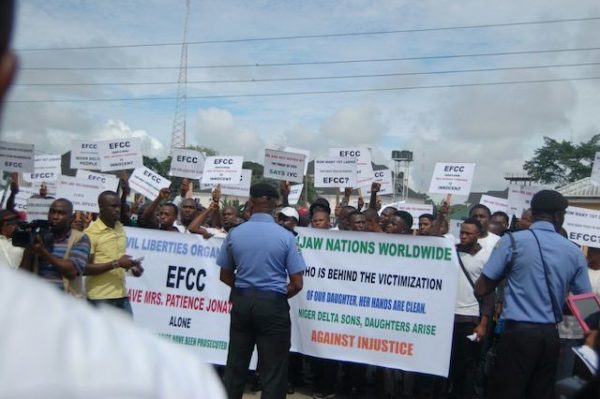 Watch: