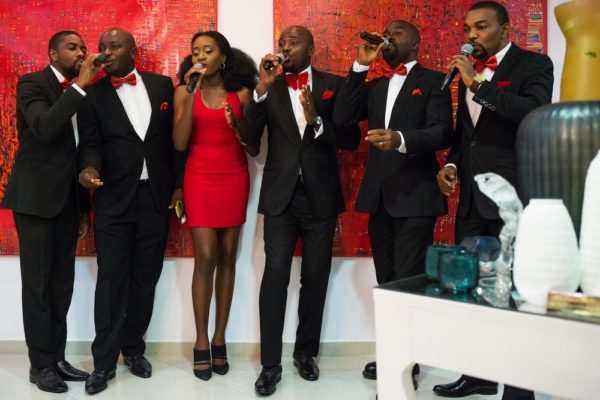 On Saturday December 3rd 2016, Temple Muse hosted their annual Christmas Party, playfully themed, 'Sugar, Spice & All things Nice'.
The store was transformed into a candied wonderland with red & white stripes adorning the walls from head to toe to resemble an old-fashioned sweet shop complete with candy carts laden with 'I Love Candy' sweets and beautiful giftware for all the family.
The newly opened Christmas Shop boasted classic trimmings for any household, from Christmas crackers and sparkling baubles to glistening wreaths, ornaments and ceramics. A new addition this year was the unveiling of deliciously scented cinnamon ornaments: an immediate crowd pleaser!
The partner for the evening, Moet & Chandon, kept guests merry with chilled coupes of Brut & Nectar Rose Champagnes accompanied by the concept stores signature toasty tumblers of eggnog & mulled wine and delectable turkey-cranberry puffs and minced pie canapés.
On the fashion floor, designers didn't disappoint, rails were dripping with new occasion wear from local designers Lisa Folawiyo and Tiffany Amber, a perfect kick-start for the fashion crowds curation of their festive seasonal wardrobe.
Temple Muse's newcomers Style Temple & Roksanda Ilincic delivered their much awaited SS17 collections which were received with great success. When afternoon turned to evening, and the party was in full flow, the best treat of the day appeared in the shape & sound of famed acapella quintet, 'In His Image'.
The crowd were whipped into good cheer with their renditions of favourite Christmas classics 'Rocking Around the Christmas Tree', 'Santa Baby' & a final group sing-along of 'We Wish you a Merry Christmas'.
The finale of the evening was delivered by party guest Kaline Akinkugbe who surprised everyone by belting out a soulful 'O Come All Ye Faithful' supported by the barbershop singers. Temple Muse will be open till 5pm on the 24th of December and from 12pm-4pm on all Sundays leading up to Christmas.
See Photos below:
The Party!
Photo Credit: Leke Alabi-Isama