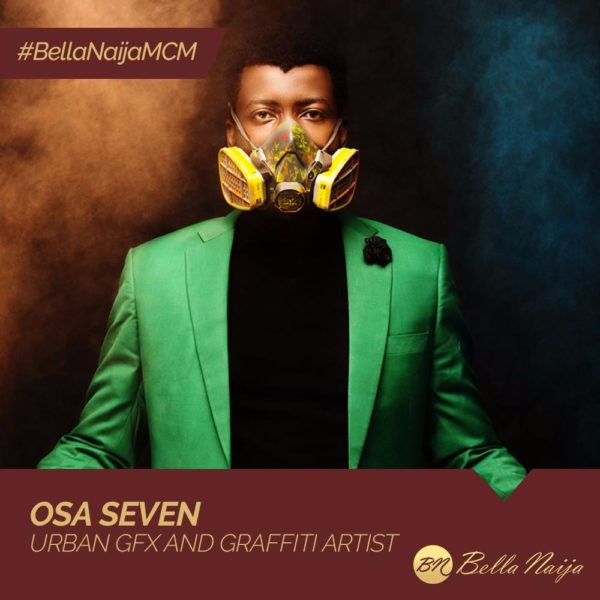 For this week's #BellaNaijaMCM and #BellaNaijaWCW, we'll be celebrating visual artists who are helping to tell Nigerian and African stories through their works.
**
Osa Okunkpolo popularly known as Osa Seven, is an Urban GFX and Graffiti Artist, with a passion for telling stories using contemporary art.
Back in the day, graffiti was seen as a something miscreants who had nothing else to do engaged in. They were seen as nuisances who defaced prized properties. But Osa Seven is changing that narrative.
His work ranges from portraits of iconic characters to scenic images, brand designs, abstract art, and tribal art designs that appeal to the human emotions.
Armed with his stencils, spray paint, epoxy, varnish, paper, and boards, he disrupts spaces that allow him express his creativity.
Osa Seven is a cofounder at Socially Africa, which runs "Art For A Cause" initiative that uses Art to inspire children.
Art For A Cause is a platform to inspire and educate the public using Art as a medium of communication.
Osa Seven has taught classes at British Council and Goethe Institute workshops.
Inspired by the worldwide appeal of graffiti artists like Banksy, Osa Seven set up the 7th Element initiative to help artists in Nigeria publicize, commercialize and monetize their work.
In 2016, Osa Seven was featured on CNN African Voices where he shared his story.
Osa Seven was a nominee in the 2016 The Future Awards Africa Arts and Culture category.
Osa Seven has created art for Multinationals like Guinness Nigeria, Kia, Globacom, MTVBase, Diageo, Chicken Republic, Live Mechanic, and Empire Mates Entertainment, Jameson, Absolut Vodka, Pernod Ricard, HP Africa, Guinness, Smirnoff, Heineken, The Federal Government of Nigeria, and more recently, the Lagos State Government for the #EkoTag project.