Top UK based makeup artist, Brenda of @Breelliantmua got proposed to in the most special way. Her husband-to-be, Ranti planned a surprise proposal for her and Enitan Photography was present to capture all the amazing moments. Her reaction was totally priceless!
BellaNaija Weddings wishes the couple a lifetime of love and happiness together! See their proposal photos and Brenda's account of the special day below.
Counting down to #TheAnobas18!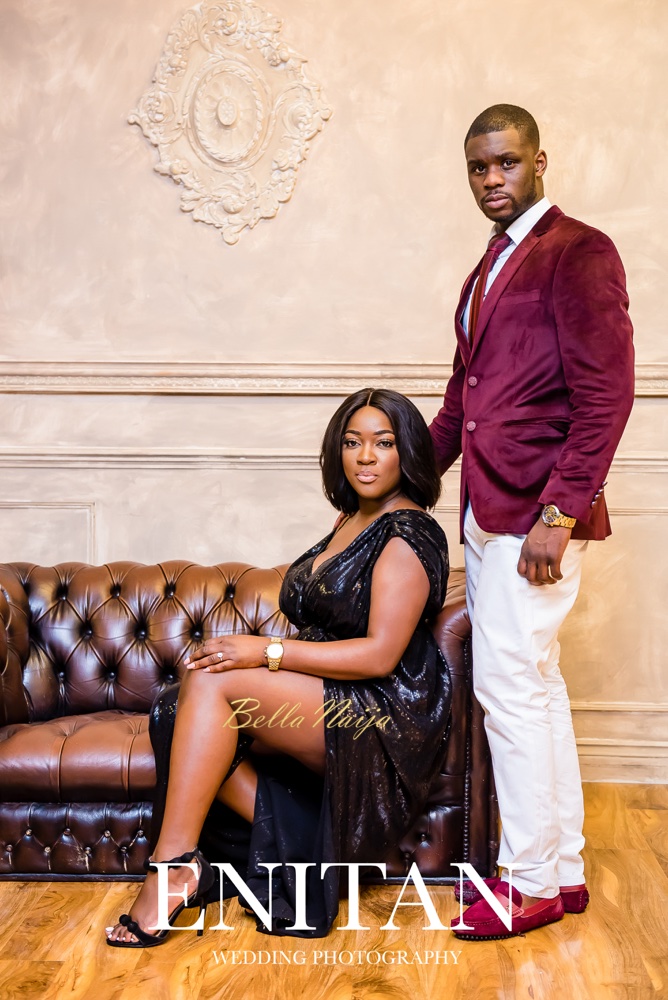 The Proposal
By the Bride-to-be, Brenda

Can you imagine my excitement when Black Beauty and Hair magazine got in touch with my best friend Paloma and invited us both to a two-page spread photo shoot with us? Sharing our experiences as makeup artists and also to expose black MUAs in the UK.
Paloma knows how passionate I am about makeup and I was happy she chose me to come on the shoot with her.
We prayed and even considered fasting because we wanted this two-page spread photo shoot to be life-changing. As we got closer to the date, she related all the information back to me via email. The email included a call sheet, the time, location and outfits.
We were asked to dress casually for the first part of the photo shoot, the second half of the shoot is where we would be interviewed, so Black Beauty and Hair magazine asked us to dress elegantly in a nice evening wear which suited the scene.
When I got the shoot I was warmly welcomed by the studio owner, he took me straight upstairs to the first studio where I made myself comfortable and rehearsed my answers for the questions we would be asked in the interview, I was nervous whilst I patiently waited for Paloma to arrive.
As soon as she walked in we started getting ready, she did my makeup and we got dressed ready for the photographer. I was shocked when he asked to take shots of me first!
In my head I was thinking, oh no this is Paloma's photo shoot but I went along with it and it was a wrap for the first half. We had 10mins to get changed into our evening wear for the interview which was in the studio downstairs, we fixed our hair and makeup, told each other we looked lit! And we were ready to go!
The photographer led us downstairs to the next room and as we got there Paloma stood behind me and nudged me to open the door.
As I opened the door I heard my favourite love song playing in the background and I stood frozen in utter amazement and surprise. I stood at the bottom of a candle lit trail that led to a big heart full of red and gold rose petals with the love of my life Ranti, standing in the middle of it waiting for me to walk into his arms.
I began to walk towards him with tears in my eyes. As I got closer to him he stretched his arms out to hold me and we danced and lost ourselves in the moment as he told me he wants to spend the rest of his life with me before getting on one knee and asking me to marry him!!!
That was the only question I was asked that day Lol as there was no Black Beauty and Hair magazine interview!! Ranti set the WHOLE thing up!! And wait… It didn't end there. He said he wanted the two of us to have a private romantic dinner.
As we got to the restaurant I walked into a room full with family and friends screaming SURPRISE while holding cameras and phones up, of course, I burst into tears again!! Tears of joy! THE BEST DAY OF MY LIFE!
Credits
Bride: Brenda | @breelliantmua
Groom: Ranti | @omoanoba
Brenda's Best Friend and Her Makeup Artist: Paloma | @muapaloma
Photographer: Enitan Photography |@enitan_photography