Newly-elected senator for Osun-West Senatorial District, Ademola Adeleke on Wednesday took oath office to replace the late Isiaka Adeleke who died on April 23.
The oath was administered on him by the Clerk of the Senate, Nelson Ayewoh, during plenary.
Adeleke won the senatorial bye-election held on Saturday, defeating his closest opponent, Mudashiru Hussein of the All Progressives Congress (APC).
The new senator is a younger brother to the deceased Isiaka Adeleke.
Congratulating the new lawmaker, Deputy Minority Leader, Emmanuel Bwacha, said "I want to tell Nigerians that God loves Nigerians. The giant, the Peoples Democratic Party (PDP), is awake."
"The development is an indication that Nigeria is going to move forward. I congratulate you. There is no winner, no vanquish. All our sons who are in Diaspora should come home so that we can re-position this party for a better Nigeria. This can only be possible if we are serious to change the change'."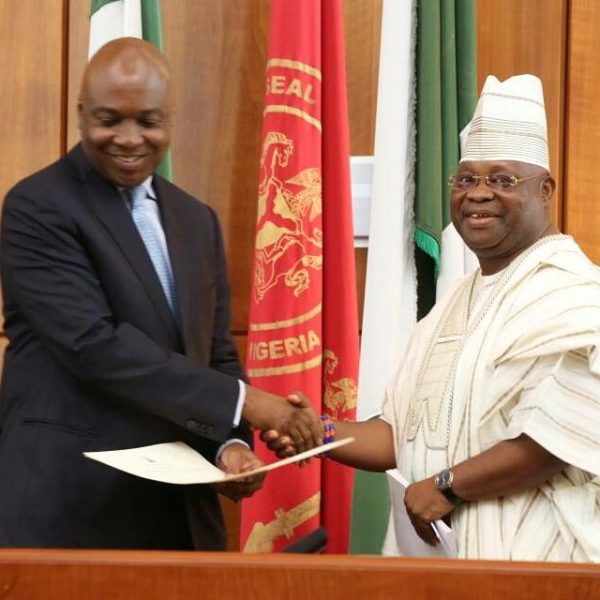 In his remarks, the President of the Senate, Dr Bukola Saraki, said that in line with Senate rules, there could not be further debate, adding that "we take note of Senator Bwacha's comments."
However in a statement published on Twitter, Saraki said that he was filled with emotions as he swore in the senator, adding that his "only sadness is that Senator Ademola Adeleke is not coming in as an APC member".
He said that he hopes his win serves as an eye opener to the party, adding that he won as a result of "mishandling of the pre-election matters by" APC.
Welcoming Senator Ademola Adeleke to the Red Chamber pic.twitter.com/ZafLyEnDQB

— Bukola Saraki (@bukolasaraki) July 12, 2017
With the inauguration of Adeleke, PDP now has 43 lawmakers while the APC has 65.
Photo Credit: Twitter – @bukolasaraki