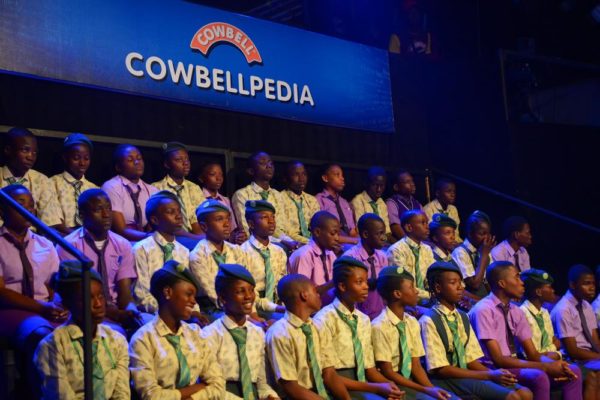 Students and 'potential inventors' who are participating in the on-going 2017 Cowbellpedia Secondary School Mathematics Television Quiz Show sponsored by Cowbell, the flagship brand from Promasidor Nigeria Limited, have disclosed their "secrets" for success in Mathematics.
The phobia for Mathematics has turned the subject into a nightmare for many students. Majority of Nigerian school children dread Mathematics and consider it difficult, complex and abstract. Except as a requirement for admission into institutions of higher learning, most students do not see any other need for learning Mathematics.The Mathematical Association of Nigeria has expressed concern over the continual poor performance of candidates in Mathematics in the Senior Secondary School Examinations.
These examinations are those conducted by West African Examinations Council, National Examination Council, National Business and Technical Examination Board, and Joint Admissions Matriculation Board.
The Association observed that quite a number of Mathematics teachers, especially at the secondary school level, were weak in knowledge content and pedagogy. It further called on Mathematics teachers to be proactive by developing themselves academically for self-reliance.
However, Oluwanifise Onafowokan, a student of The Ambassador College, Ota, Ogun State revealed that long hours of work and practice are the factors responsible for her deep knowledge of Mathematics.
Oluwanifise Onafowokan explained that the subject, which scares majority of students, comes naturally to her because of the devotion she pays to it.
"I love solving Mathematical problems until I get tired.  It has become a part of me. It is fun taking my Mathematics textbook and my workbook; it relieves my stress. I just love my Mathematics," she stated.
Another contestant, Michael Paul, a 15-year-old student of Excel grace Academy, Gboko, Benue State traced his success in Mathematics to his boldness in confronting the phobia that has killed the interest of many students in the subject.
Paul, a Senior Secondary 2 student disclosed that he "attacks Mathematics and devours it like a lion." Nicknamed rat by his friends because of his small stature, Paul added that the Mathematics phobia dissolves like ice in hot water if you develop the boldness to confront it.
"There is no magic. My father, a civil engineer, told me to be bold and that the fear I initially had for the subject will flee from me. The advice has worked perfectly for me. Since then, I put on the heart of a lion anytime I want to solve Mathematics questions," he revealed.
On her own part, Tamunokuro Braide, a Junior Secondary School student of Graceland International School, Port Harcourt, RiversState attributed her mastery of Mathematics to the comic style her tutor adopts when teaching the subject.
Braide said she fell in love with the subject because of the lively manner with which her teacher handles Mathematics lessons. "My teacher takes the pain and fear out of Mathematics. When he is in the class teaching us, he adds some comic relief that arrest our attention and ignites our interest and passion," she said.
She observed that many students do not like Mathematics because "they feel it is hard, while most teachers are not patient with the students". Braide also disclosed that she spends three hours studying Mathematics every day.
The ultimate prize for the quiz show in the Senior and Junior categories is N1 million each and an all-expense-paid educational excursion outside the country. The first and second runners-up for each category will go home with N750, 000 and N500, 000 respectively.
Each teacher of the 2017 champions will be awarded N400, 000, while those of the first and second runners-up will receive N300, 000 and N200,000 respectively. Also, the winning schools will be rewarded with mathematics textbooks, desktop computers and printers.
The 2017 Cowbellpedia Secondary Schools Mathematics TV quiz continues this weekend. It will be aired to millions of viewers on DStv Africa Magic Family Channel, AIT Network and other six television stations across the country.
Parents and stakeholders in the education sector have also lauded Promasidor Nigeria for bankrolling the initiative which is aimed at discovering as well as celebrating young scientists and future inventors in the country.
Follow us on Instagram, Twitter, and Facebook.
#Cowbellpediachampions #Cowbellpedia
————————————————————————————————————————————Sponsored Content