Winners emerge from the Guinness #BeAFrontRowFan National Consumer Promo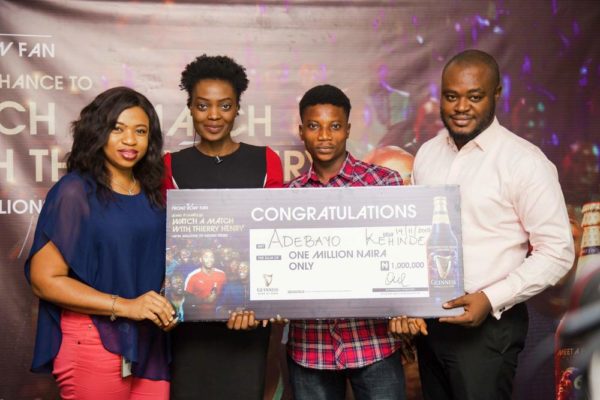 Over 135 thousand winners have emerged from the Guinness "#BeAFrontRowFan" National Consumer promo which was launched on Monday, October 23rd, 2017.
Among the winners are Yakubu Olumide and Adebayo Kehinde who won One Million Naira each from the "Be A Front Row Fan" promotion. Winners were selected during the weekly draw that was held on Tuesday, November 7th, 2017.  Over one thousand consumers have also been rewarded with Five Thousand Naira (N5,000) cash prizes and airtime worth millions have also been given away to consumers  since the kick off of the promo.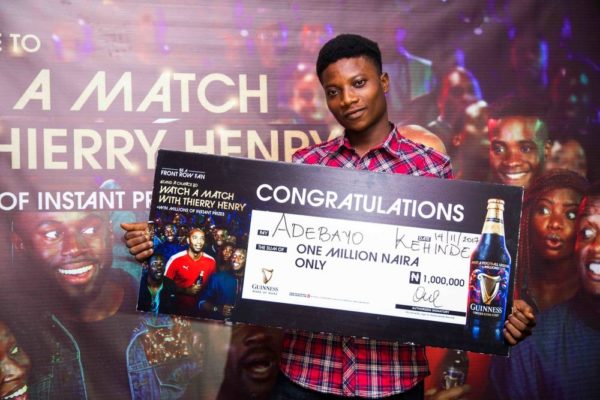 The #BeAFrontRowFan promo which will run for Fourteen (14) weeks, will give Fourteen (14) lucky consumers a chance to win One (1) Million Naira each. Thousands of people also stand a chance to win Five Thousand Naira (N5, 000) and Millions in Airtime.
Yakubu Olumide, a Twenty-Seven year old student of Ambrose-Alli University  couldn't believe his luck when he was informed of his win. He said, "I am very excited for this prize money. I am grateful to Guinness for this. I am a huge fan of Thierry Henry and I am excited that I will have an opportunity to watch a match with him live".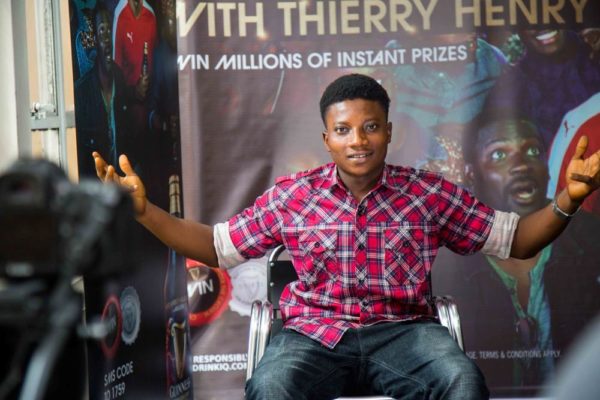 For Adebayo Kehinde, another winner of One Million Naira (N1, 000,000), the prize money couldn't have come at a better time "I wasn't expecting to win this wonderful prize, but I'm so grateful for it. I am into photography and I have been looking for funds to buy more equipment, this money will go a long way in providing for that."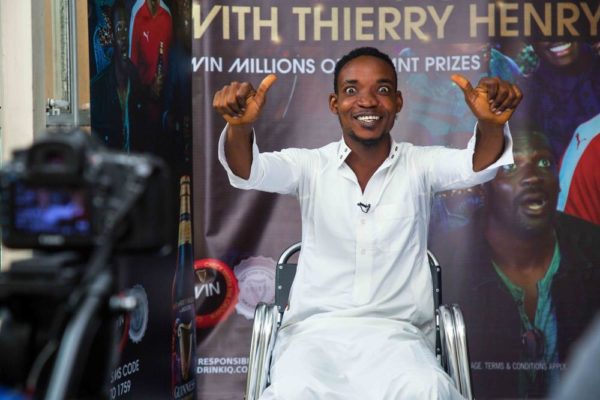 Speaking on the National Consumer Promo, Nike Adebola, Marketing Director, Guinness said that; we are very happy that the first two weeks of the draws have been concluded and the first Two Millionaires (2) have been rewarded. At the launch of the promo, we announced that every week, one lucky winner will win One Million Naira (N1, 000,000). Furthermore, consumers will stand a chance to win Five Thousand Naira (N5, 000) coach, plus airtime worth millions of Naira daily.
"Also,  fourteen (14) lucky consumers of Guinness Foreign Extra Stout will stand a chance to watch a game with international football icon, Thierry Henry when he visits in Nigerian on December 17th and 18th.
Also speaking at the draw, Afam Ojeh, representative from the National Lottery Regulatory Commission said "The Guinness "#BeAFrontRowFan" Promotion draws passed through all approval process and that is why we are here today.  I am glad to report that the commission is satisfied with the transparency of the process."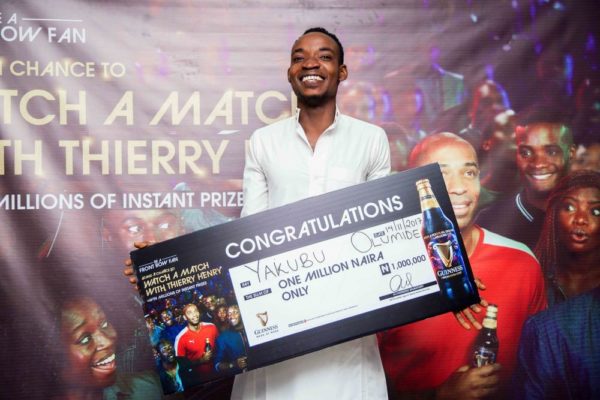 To participate in the promo, Consumers only need to buy a bottle of Guinness Foreign Extra Stout, open the crown cork to reveal a code; SMS the code to 1759 e.g.: SMS T8R7KYU7 to 1759.
#BeAFrontRowFan promo will run from October 23 2017 to January 31 2018, winners will be selected weekly from all over Nigeria.
For Further details on the promo, follow @GuinnessNGR on Twitter and Instagram and Like the Guinness Facebook page @GuinnessNigeria.
—————————————————————————————————————-Sponsored Content