AXA Mansard HMO partners with African Women's Entrepreneurship Program to fight against Breast Cancer | February 23rd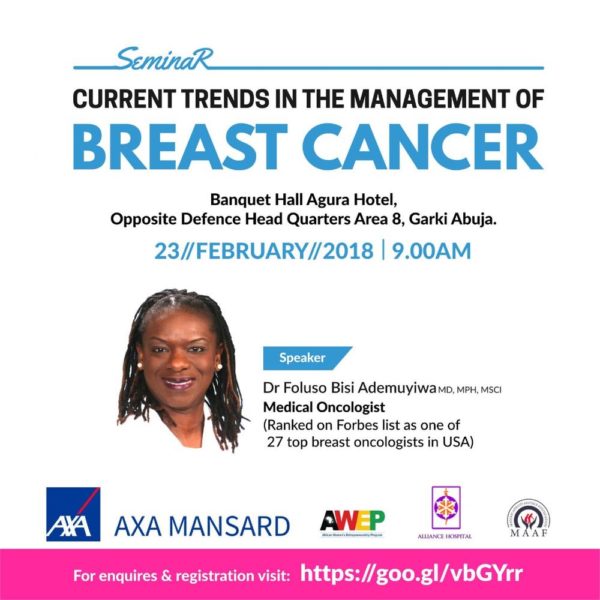 AXA Mansard, a member of the AXA Group, the worldwide leader in insurance and asset management, will again be showing its unending commitment and support to the continuous fight against cancer. Alongside the African Women's Entrepreneurship Program (AWEP), the company will be holding a breast cancer seminar in Abuja on February 23, 2018.
Dr. Bisi Ademuyiwa, an associate professor of medicine and a leading breast cancer oncologist (one of Forbes list top 27 breast cancer oncologists in the US) will be hosted at the private event. There will also be an interactive session where she will be speaking about threats and emerging new global trends on breast cancer. In addition to this, she will also be consulting with 40 breast cancer patients.
Date: Friday, February 23rd, 2017.
Time: 9.00 am.
Venue: Banquet Hall, Agural Hotel, Opposite Defence Headquarters Area 8, Garki, Abuja.
Speaking on the initiative, Tope Adeniyi, the Chief Executive Officer at AXA Mansard noted that "the importance of increasing awareness of the menace of breast cancer cannot be over-emphasized. We have identified the need to enlighten the public as a major part of driving this awareness and are taking this step to ultimately contribute to the fight against breast cancer."
Breast cancer is one of the most common forms of cancer in Nigeria and it is estimated that one in every 25 Nigerian women will develop breast cancer in her lifetime. The survival rate of patients of breast cancer in Nigeria is estimated to be between 10% and 25%, and this is very low when compared to survival rates of 70% to 90% in Western Europe and North America. This relatively low survival rate is attributable to the fact that most breast cancer cases in Nigeria are diagnosed at advanced stages when there are very limited options for treatment. Early detection and awareness, therefore, have a huge role to play in the battle against breast cancer.
Tope Adeniyi concluded, "At AXA Mansard, we will continue to be at the forefront of health improvement and look forward to making a difference in the lives of many women at this event on the 23rd of February as we join them in the fight against breast cancer. This is our way as a leading insurer, of throwing our weight behind the heroes who battle every day to improve the lives of women and the society at large. We remain resolute in making the world a healthier place."
——————————————————————————————————————–
Sponsored Content