Samantha Markle, sister of Meghan Markle is calling out the Duchess of Sussex on Twitter for "ignoring" her father while "gallivanting around paying tribute" to others.
This is coming days after their dad Thomas Markle said he feels his daughter is terrified. Thomas had said:
My thing about my daughter right now is that I think she is terrified. I see it in her eyes, I see it in her face and I see it in her smile. I've seen her smile for years. I know her smile. I don't like the one I'm seeing now.

This one isn't even a stage smile – this is a pained smile. That might be just having a couple of bad days. I don't know. It really worries me. I think she's under too much pressure.

There's a high price to pay to be married to that family.
Samantha was reacting to a report about Meghan and Prince Harry paying tribute to Nelson Mandela's 100th anniversary by visiting the Nelson Mandela Centenary Exhibition at Southbank Centre's Queen Elizabeth Hall.
"Enough is Enough. Act like a humanitarian. Act like a woman. If our father dies I'm holding you responsible, Meg," Samantha said.
She continued: "My father is not an embarrassment for loving his daughter. The Royals are an embarrassment for being so cold. You should be ashamed of yourselves @KensingtonRoyal".
See the tweets below: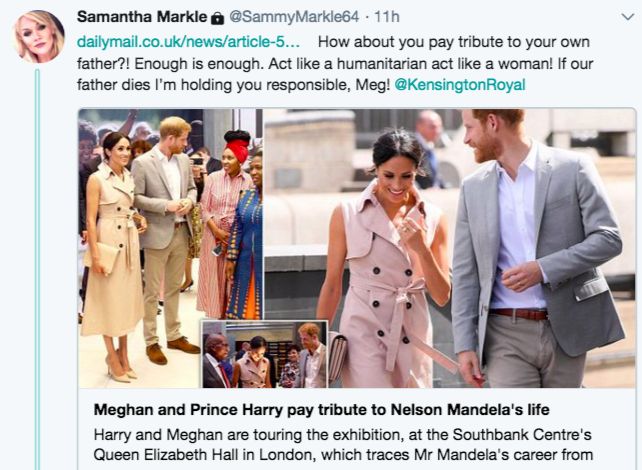 Photo Credit: Chris Jackson/Getty Images