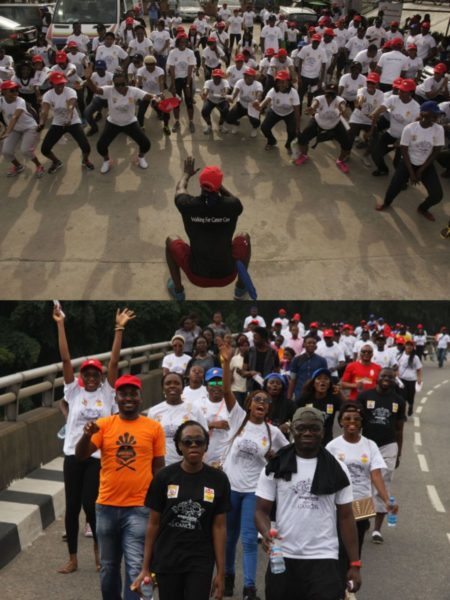 Sahara Foundation, Chapel Hill Denham, Chicken Republic, Zaron, Cast of Lekki Wives and more walked against cancer at the 4th Exquisite Magazine Against Cancer Walk (EMAC) on Saturday 6th September 2014 in Lagos.
The EMAC was held to increase the awareness for cervical, breast and prostate cancer and also provided FREE Screening on that day.
Hundreds of men and women turned up to walk against cancer and it gave Exquisite Magazine and it's partners the opportunity to screen many Nigerians free of charge helping detect people who have early stages of cervical cancer. The walk also highlighted the importance of early detection and treatment.
Tewa Onasanya (Editor-in-Chief, Exquisite Magazine) said "we are always so happy that our goal to raise awareness and get more and more people screened was fulfilled today. We aim to continue to raise more awareness for these cancers and highlight the importance of early detection via regular screening". Free screenings are currently being done at partner clinics in Surulere, Alagbado, Ajah, Ikeja and Yaba.
If you missed the walk and would like to get screened for free you can do so on Friday 26th September 2014 in Surulere . Call 07038001097 for more details.
The EMAC Walk Abuja was powered by Sahara Foundation and supported by Chapel Hill Denham, GSK, WOW media, Optimal Cancer Care Foundation, Trends Kitchen, X-pression Hair, Zaron Cosmetics, Chicken Republic, World PR. Media partners are Cool FM, Wazobia FM, Nigeria Info, Bella Naija, Nokia, Coldstone Creamery, Snap Wafers.
_________________________________________________________________
Sponsored Content