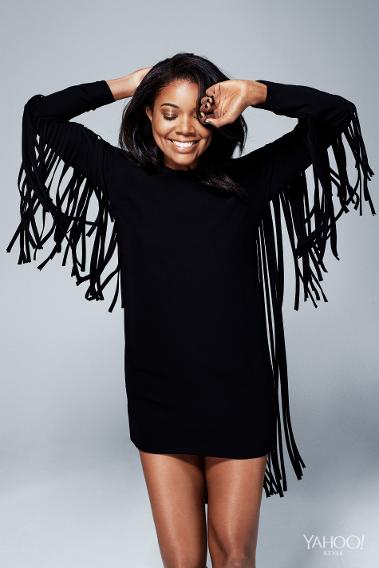 Hollywood actress Gabrielle Union is chic and laidback for a style feature in Yahoo Style!
The 42-year-old actress however takes her interview to other aspects of her life with her talking about a pre-nup with basket baller husband Dwyane Wade, racism in Hollywood, domestic violence and much more.
Read excerpts from her interview below!
On asking, husband, Dwyane Wade to sign a pre-nup: "For women in Hollywood, when they're coupling, everything is about the brand. Everything is about latching on to a rising star, so you can kick your heels up. That's never been my story, ever. I make sure to let people know all of the hard work that's gone into my career. I want people to know the work that it took to get through UCLA, that I had student loans and worked. I was eating Top Ramen and lived well below my means. Now that it's time to get married to a man who happens to play basketball and has done well for himself, I want to make it clear that I have in no way hitched my wagon to his star. I have my own wagon and star."
Her feelings on, co-star, Chris Rock's recent article about how few black women there are in movies and television: "I think it was part of a larger conversation about a lack of real inclusion in the casting process. They say, "We just went with the best candidate," but if you're never considered, you never have a chance. I don't think people won't tune in to True Detective if I was Colin Farrell's wife, or if it was Eva Mendes or Viola Davis. He was pointing out if you look at the biggest films and television shows, there's not a lot of diversity. The fact that there's a massive controversy about [the new Star Wars having] a black Stormtrooper is crazy. It's a made-up world. But in movies, even if you're in an outer-space community, there's no diversity. Damn, that says a lot".
On actors and athletes becoming more vocal and political: "People have always had their own personal views, but they weren't challenged. I don't think there's any footage from back then where Michael Jordan was asked about an issue. I've known Michael for a long time, and I couldn't tell you what his views are. It's not something that comes up. He's from before there was social media. In this day, there's a news story about celebrities every second. People are demanding a lot more. The fact that I can do a press junket for a movie and people ask me what's happening in my uterus says a lot. They want 110 percent of what you have to offer. But now that I've been given a voice, I'm going to use it."
On the NFL and domestic violence in the United States: "The biggest thing is that the NFL is a business. It's professional sports, and there are 55 guys on a team. If there's one guy out of 55 who's done something horrible, you can't taint the other 54 with the same brush. But in the sense that a guy committing domestic violence received a less harsh penalty than players did for smoking weed, in that regard [NFL commissioner] Roger Goodell has failed miserably in bringing the NFL to a more enlightened time. If he'd talked to his customers, they'd much rather have Cheech and Chong on the field than the villain in a Tyler Perry movie. The NFL is a microcosm of all industries. Domestic violence affects Wall Street, teachers, and policemen. We have a lot of work to do as a league, but we also have a lot of work to do as a society".
For more on Gabrielle, visit Yahoo.com!