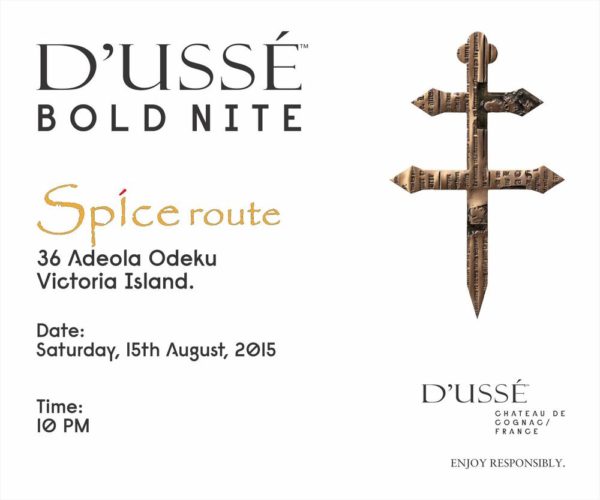 It was a well-attended launch of D'Ussé Cognac on the 6th of June, 2015, with a roll call of several VIP guests including Tuface, M.I, Basketmouth, Illbliss, DJ Xclusive and Uti Nwachukwu, Bryan Okwara, Bovi, Sound Sultan, Tee A and a host of others, who enjoyed bottles of D'Ussé VSOP Cognac at their tables.
Lagos is about to experience yet another distinctively D'Ussé Bold Nite this Saturday!
Date: Saturday, 15th August, 2015
Venue: Spice Route Restaurant and Bar at 36 Adeola Odeku, Victoria Island, Lagos
It will be a Bold Nite of taste, style and grace that distinguishes, with special guest performances and music by DJ Big N.  Save the date!
D'Ussé, which is masterfully crafted by Michel Casavecchia, Maitre de Chais of Chateau de Cognac is born out of Michel's vision to create a bold and distinctively new cognac.
D'Ussé, a bold new Expression of Cognac! 
Drink Responsibly, 18+
_________________________________________________________________________________________________
Sponsored Content