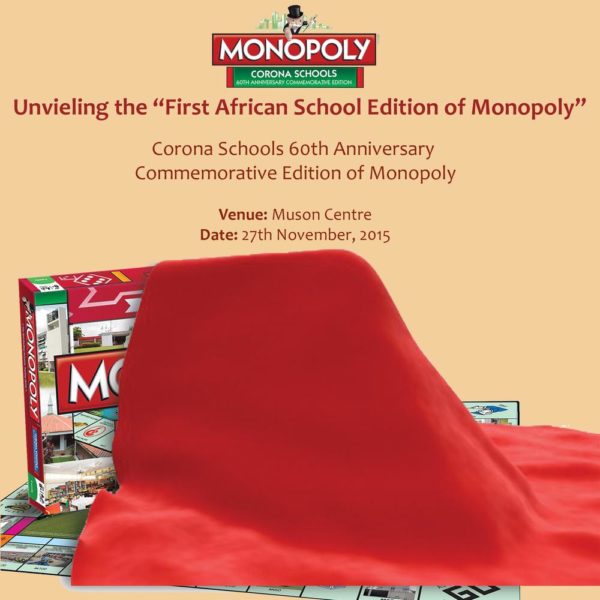 The Corona Schools invite all past and present students to the launch of its Commemorative Edition of Monopoly Game coming up at the Muson Center on the 27th of November, 2015. The event is billed to have in attendance top dignitaries from the educational sector, top government officials and Corona alumni past and present students and teachers.
There has been lots of pre-awareness engagement amongst Corona alumni, current students and teachers on social media and print media. This seeks to celebrate the iconic Corona brand at 60.
Last week, Bimbo Joseph, Chair 60th anniversary committee and 3 teachers from selected Corona Secondary Schools were at the Beat FM to discuss plans for the First African School Edition and inform other Corona Alumni on how to be a part of this historic project. There are ongoing engagements on the official social media pages where the public can also get involved and guess what notable landmarks and buildings they would love to see on the Corona Schools' edition.
For information on how to be part of this ground breaking project and also how to get an exclusive invite, please visit www.facebook.com/MonopolyCoronaSchoolsEdition.
The Pre order portal is still open. Order now for only N10, 000 and stand a chance to win the following prizes through a lucky dip at the launch of the game:
$100 Amazon Voucher
The all new Apple iPhone 6s
Dinner for two at a top end restaurant in Lagos
An exciting weekend stay for two at picturesque Epe Resort
A bundle of lovely Daviva Fabric bundle
Visit www.bestmangames.com/corona – or any Corona School in Lagos to order yours.
For more information about the Bestman Games and Corona Schools Customized commemorative edition, please visit www.bestmangames.com/corona and www.coronaschool.org.
________________________________________________________________________________________________
Sponsored Content