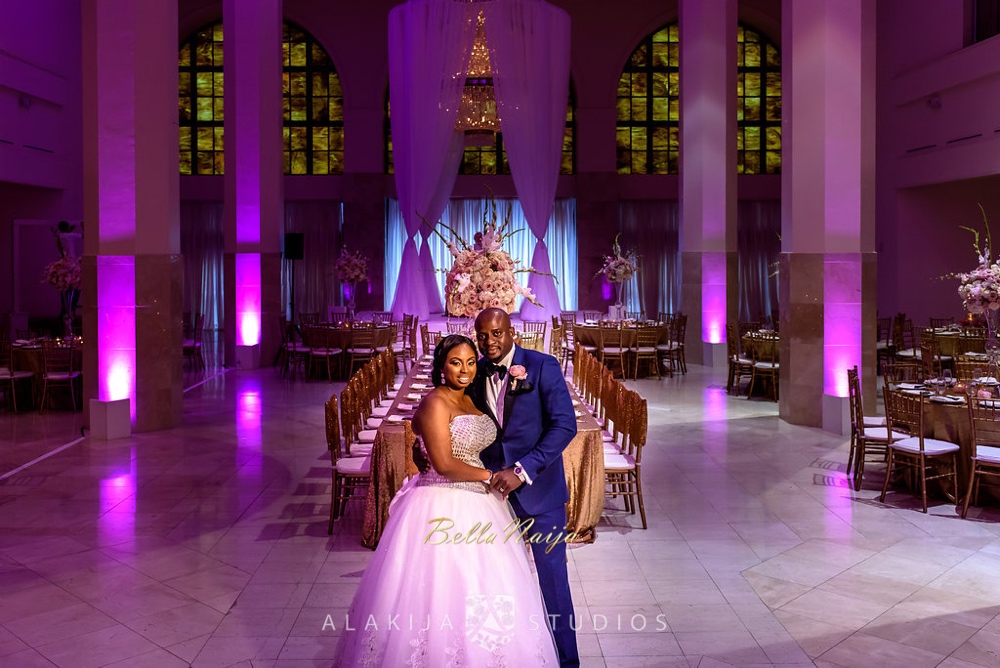 Dami Olowoyo and Ayo Romiluyi are every parents' dream – the doctor bride and petroleum engineer groom met when the bride was in medical school.
Although Ayo immediately caught Dami's eye, it took him years to capture her heart.
Dami was all about her books, even when he wanted to go all out with grand gestures, she was satisfied with just friendship.
Persistence eventually paid when she was in her final semester at med school, so she took a chance and went with him on a date. Ayo's charm and humor completely won Dami over, and she then realized the amazing man and love she had been missing out on.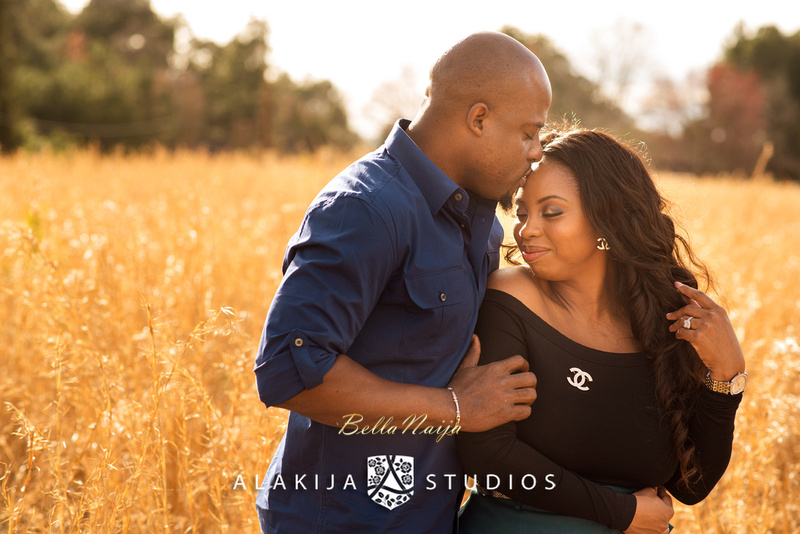 Three years later, he proposed with an amazing surprise – the bride recounts it with such humor! – and they walked down the aisle as man and wife in 2015.
Here's their love story, lush and jubilant Atlanta wedding, captured by photo genius Jide Alakija of Alakija Studios.
The couple has this advice for intending couples on wedding planning and building a solid foundation –
Please put GOD first in your relationship. I cannot emphasize how much pre-marriage counseling is important to build a good foundation for your marriage. It has helped us a lot as we are navigating life together.
Communication is key. Ladies – he cannot read your mind ! Open dialogue is key in avoiding a lot of arguments down the road.
Regarding planning – set a budget (then add 30% more money!) It is soo easy to go past your budget. You have to stay organized. If you cannot keep track of your budget and vendors please invest in a good wedding planner. It pays off in the end.
BellaNaija Weddings wishes Dami and Ayo a blessed and beautiful life as One.
***
~ Photography: Alakija Studios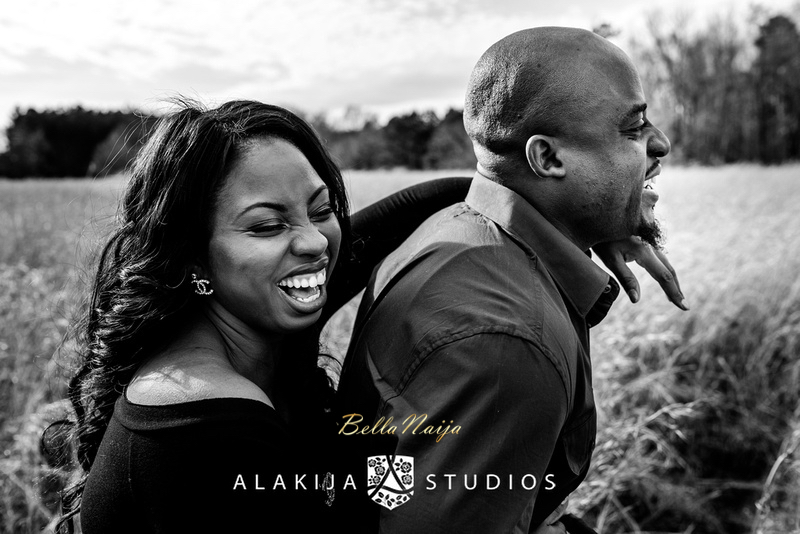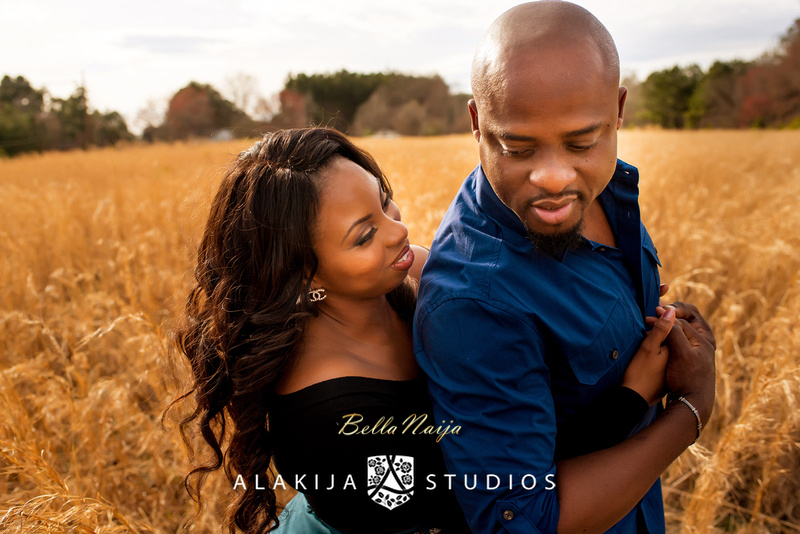 How We Met
from Dami, the bride
Hmmm… where do I begin this epic story of ours so many years in the making! I would love to say immediately I met Ayo my heart stopped and it was love at first sight – Ha! In fact from our first meeting I would never have guessed we would be on the way to the altar many years later. So rewind to 2007 a mutual friend of ours was visiting from Nigeria and was staying at Ayo's place in Atlanta. Prior to this Ayo and I had never met even though we lived in Atlanta for many years. So that night I decided to link up with this mutual friend of ours at a restaurant just to hang out and catch up.Ayo came along and we all met at the restaurant.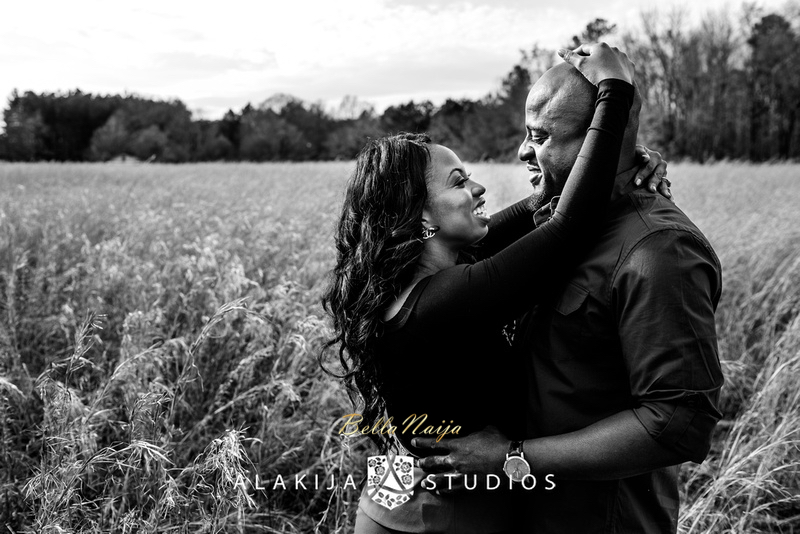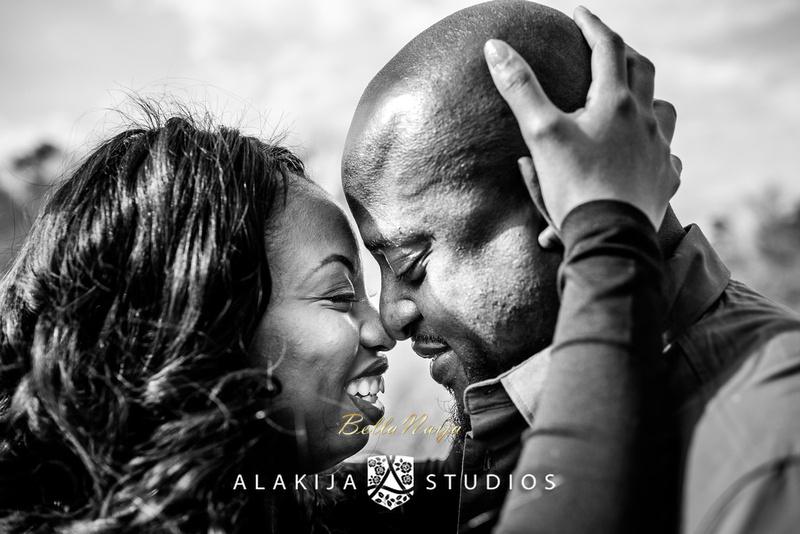 I have to say I didn't really think much of our meeting, we chatted a little exchanged numbers and that was it. I really was not expecting him to keep in touch. During that period I was smack in the middle of medical school. I barely had time for anything except reading! I have to give it to my darling Ayo – he was persistent! He used to call all the time to check up on me and try to hang out but I really didn't give him any room. Infact there was a time I was in Miami for my clinical rotations and he called because he wanted to come visit. I gave one excuse or the other and avoided any sort of commitment.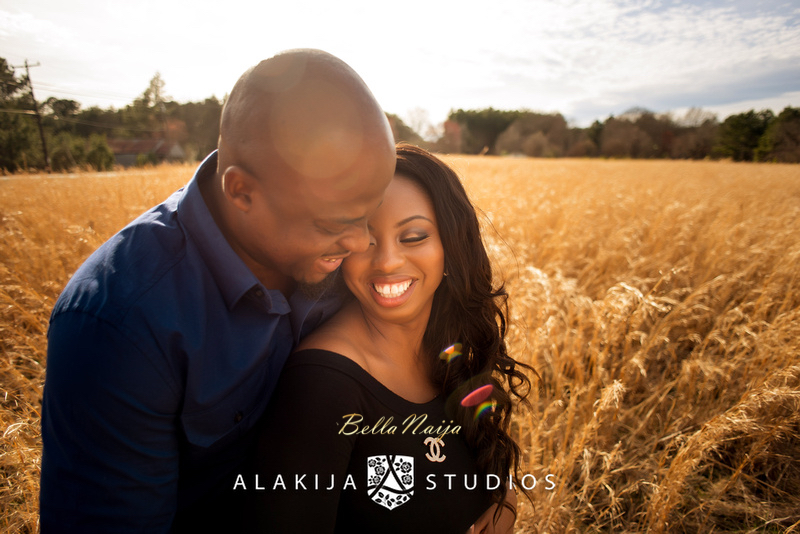 Fast forward to early 2010 I was wrapping up med school. I only had a few more months and I was back in Atlanta. My persistent Ayo called me again to hang out. At that point I was like you know what let me go out with this boy so he would stop disturbing me (I know I was terrible!) So we finally went on our "first date" and I was totally caught off guard. We went out for dinner and I was so surprised how funny Ayo was! He was so easy to talk to and he kept me laughing all night! I felt like we had been dating for years at the end of the night. Ayo was a perfect gentleman during our date and I had begun to see his true personality and I was very impressed. This was a big lesson of never judge a book by its cover! By 2010 this boy had totally worked his juju (magic) on me! We officially started dating then and the rest they say is history …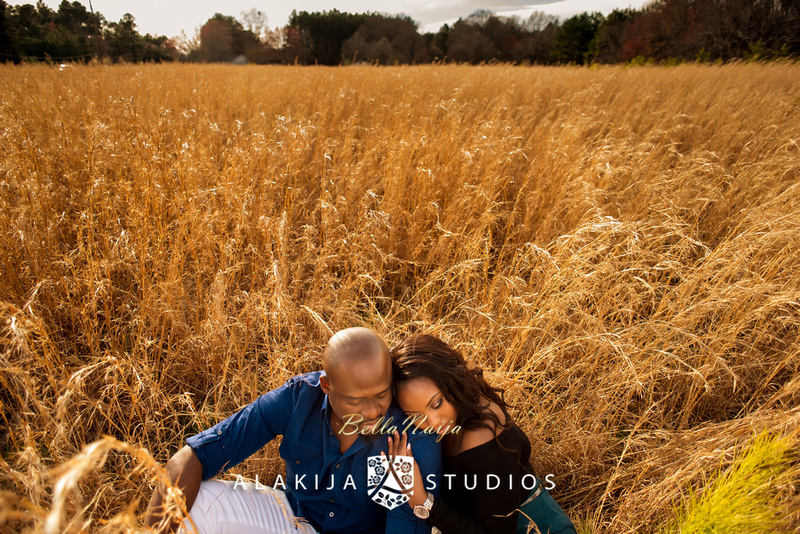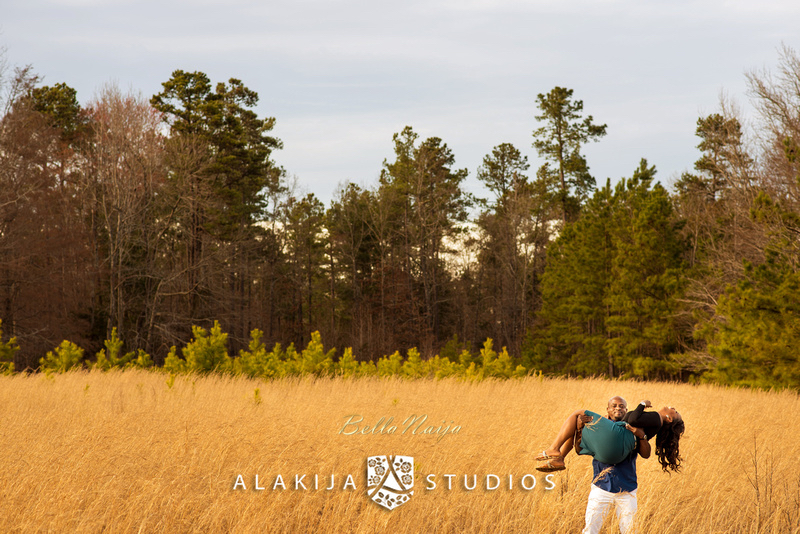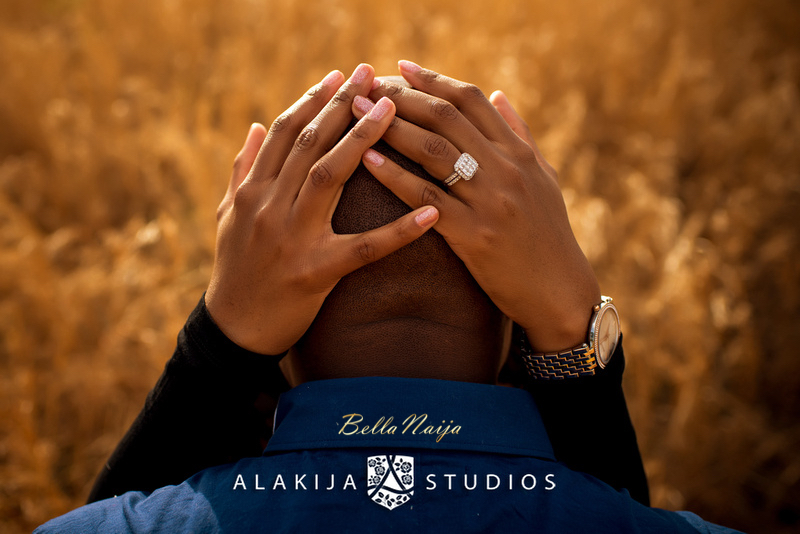 The Proposal
December 2013 we decided to take a trip to Puerto rico to celebrate my birthday. I didn't suspect a thing since I pretty much planned the trip. So my birthday rolls around, that morning Ayo gave me a gift before we left the hotel to do the usual touristy stuff. The funny thing was a good friend of mine called for the usual birthday greeting and jokingly she mentioned, "ah Dami I can see you coming back with a ring oh." I just laughed and didn't think much of it.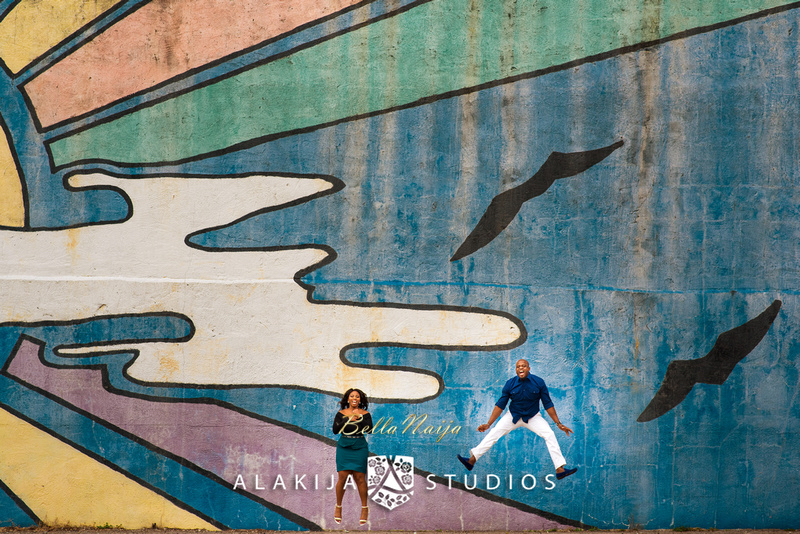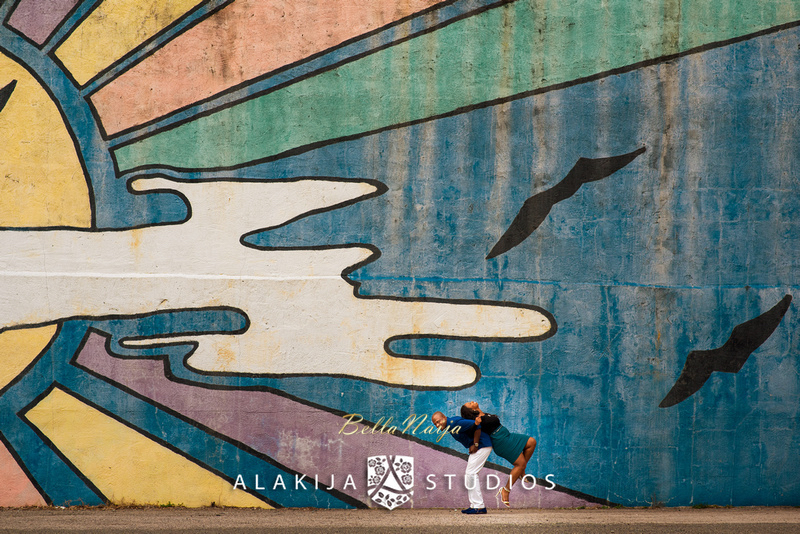 I actually jokingly mentioned it to Ayo and we both laughed and moved on. I usually am able to guess if Ayo is hiding something from me but I didn't get any vibe of that sort at all!
So evening comes around and Ayo said he wanted to take me for dinner. I was like – okay, nice way to round up the evening. Birthday dinner here I come ! I started getting ready. I put on this sexy black dress. I told my darling oga to help me zip up. Next thing I knew Ayo broke my zip ! Arghhhhh ! I was pissed off ! The dress I had been dreaming of rocking since. SMH. Anyhow I was like okay fine its still my birthday I got over it quickly. But I had to settle to wear some random dress. So we went off to the restaurant, when we arrived I was very impressed.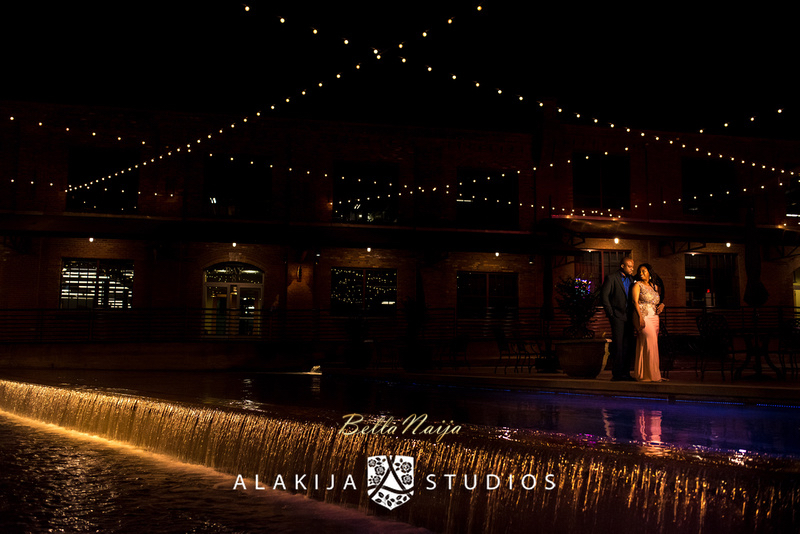 The location was beautiful – on the beach, it was like we had our own little island to ourselves. Throughout our meal Ayo kept talking about how we met and our journey throughout the years. Honestly I wasn't really listening. I was soooo interested in the food. Kai that food was to die for ! I even requested to meet the chef. (I know am a grub) The staff was so attentive, the chef even came out to say hi to me. So time for desert, next thing I knew I heard a Naija song playing in the restaurant – "I love you" by Praiz (it's the first song on our website 🙂 I was like what in the world is going on here – a Nigerian song in PR ??
Next thing Mr Ayo was kneeling in front of me with a ring. I almost passed out. I couldn't even hear what he was saying. I burst into tears ! He put the ring on and the whole restaurant burst into applause…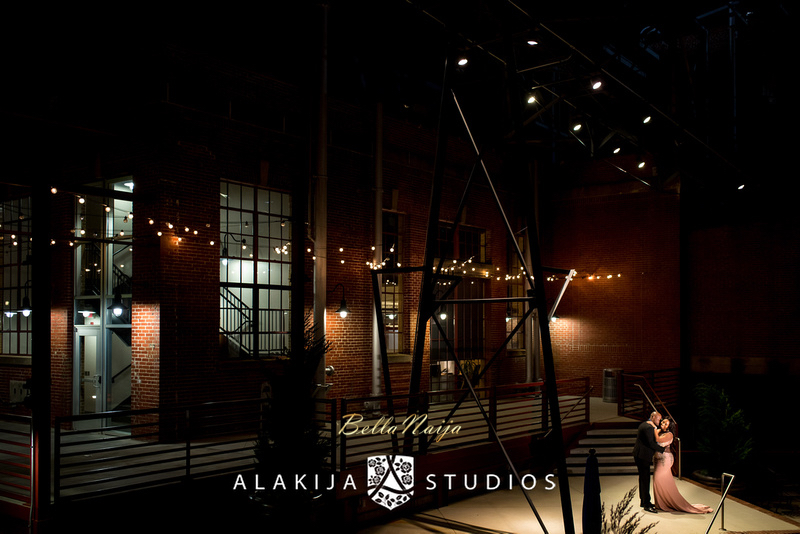 White Wedding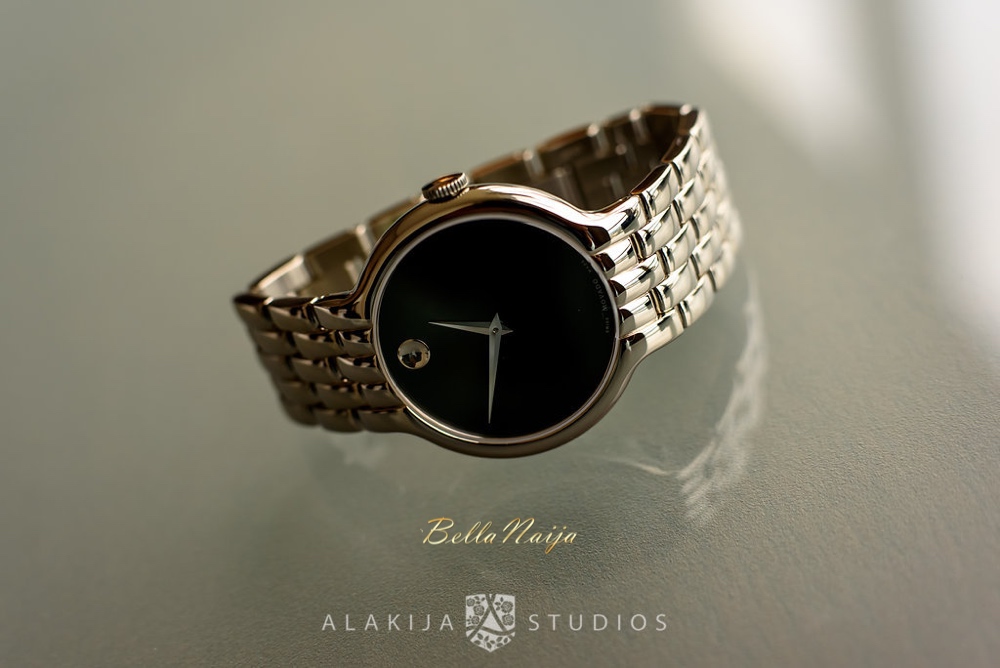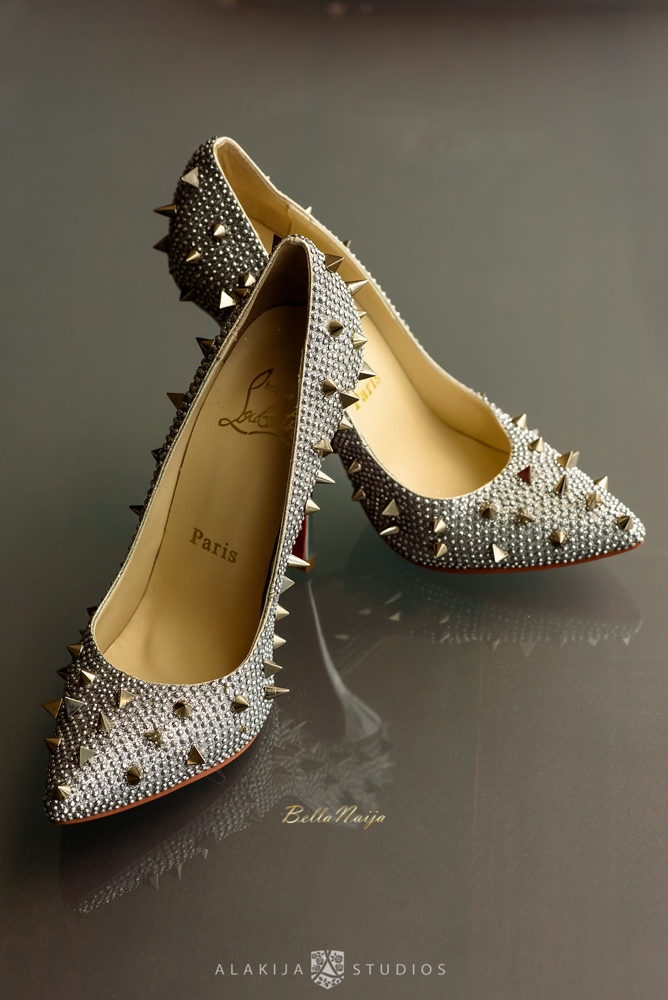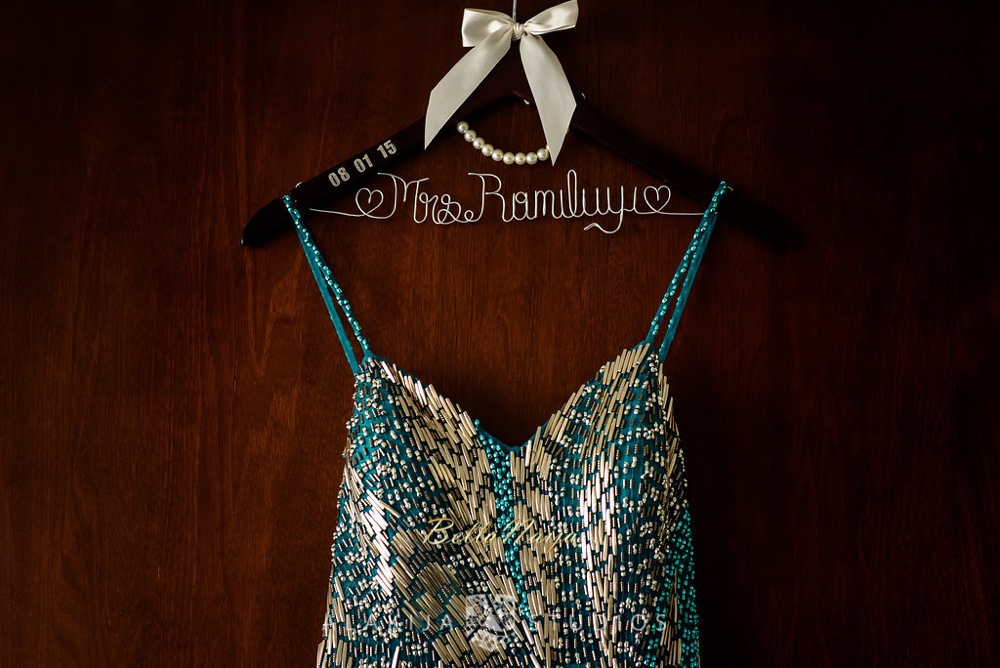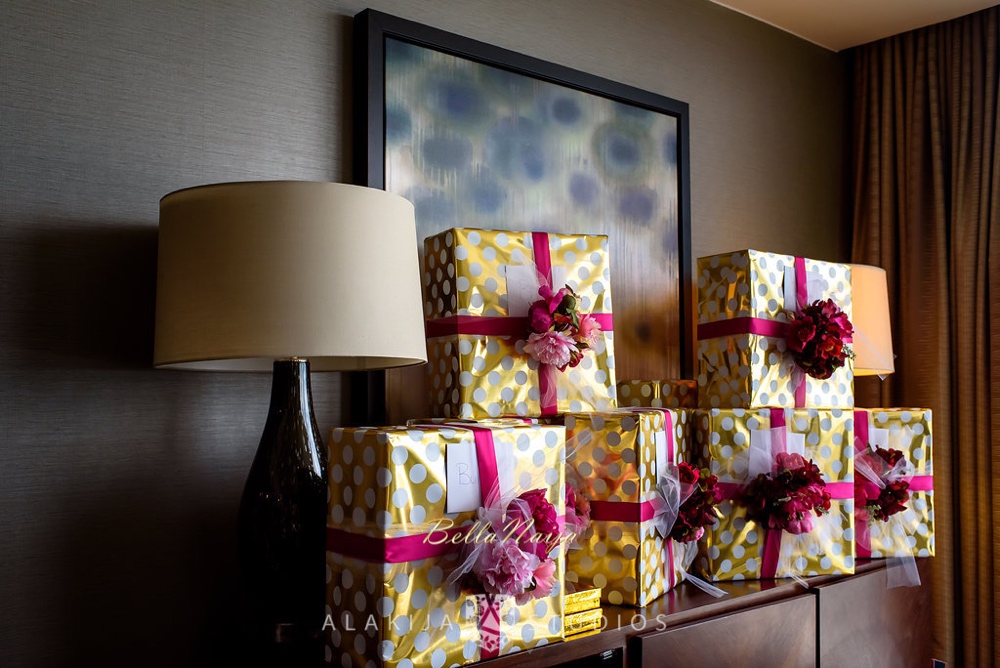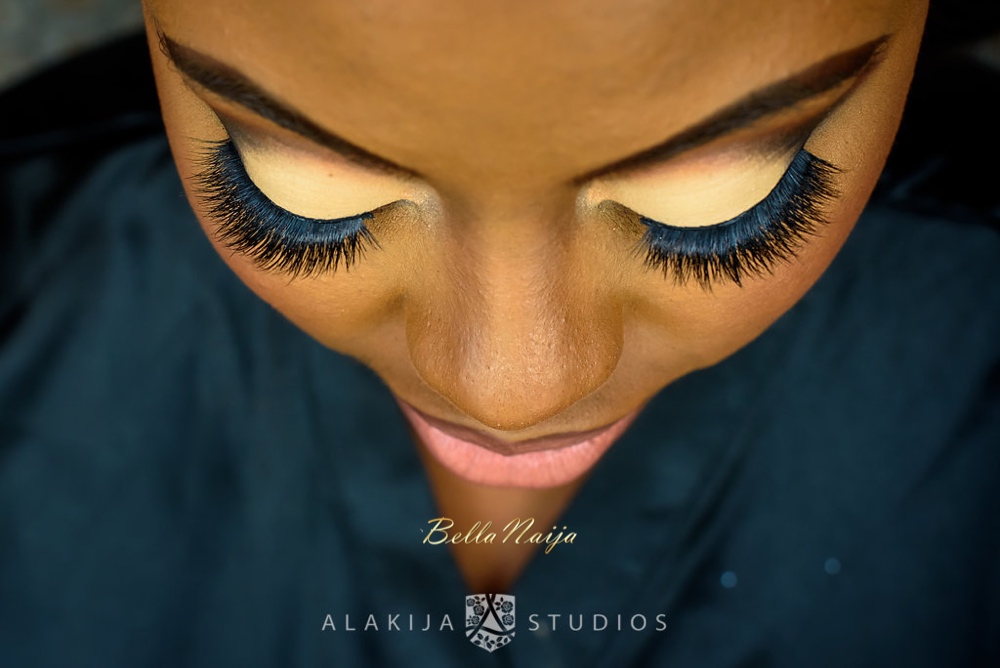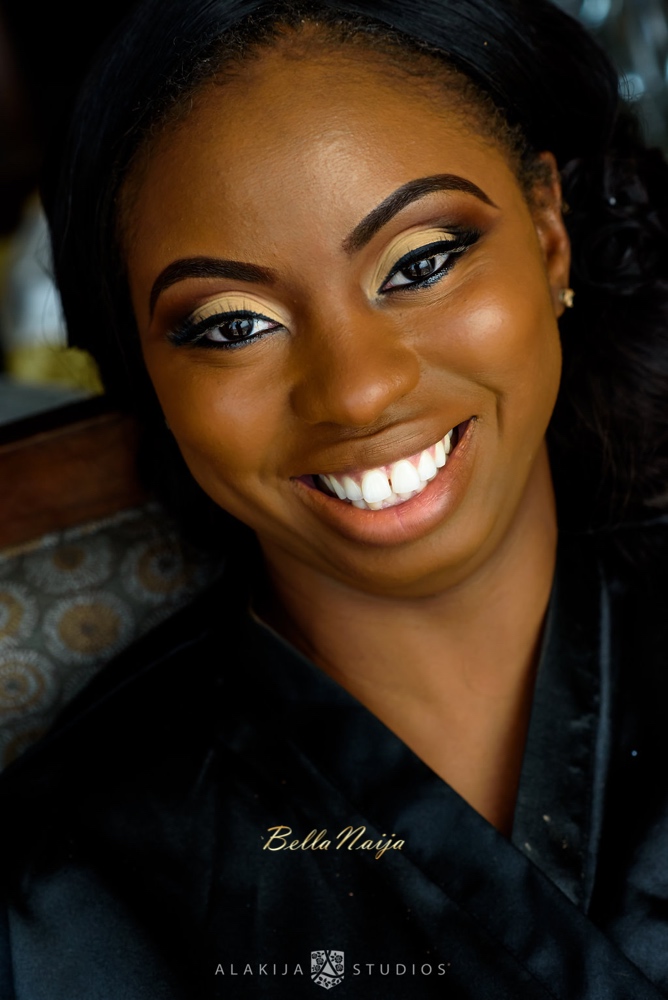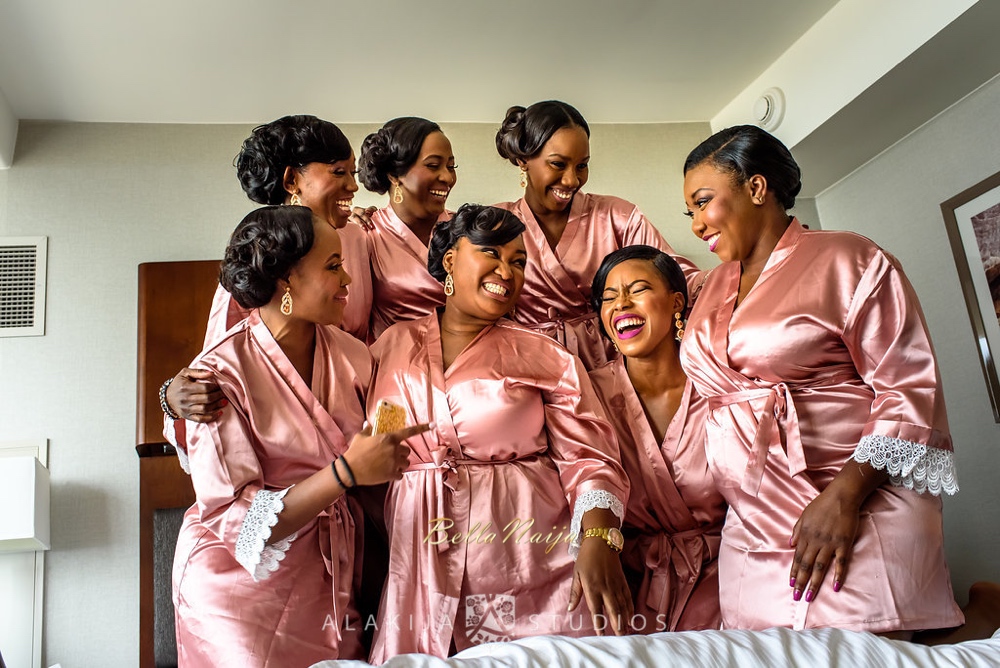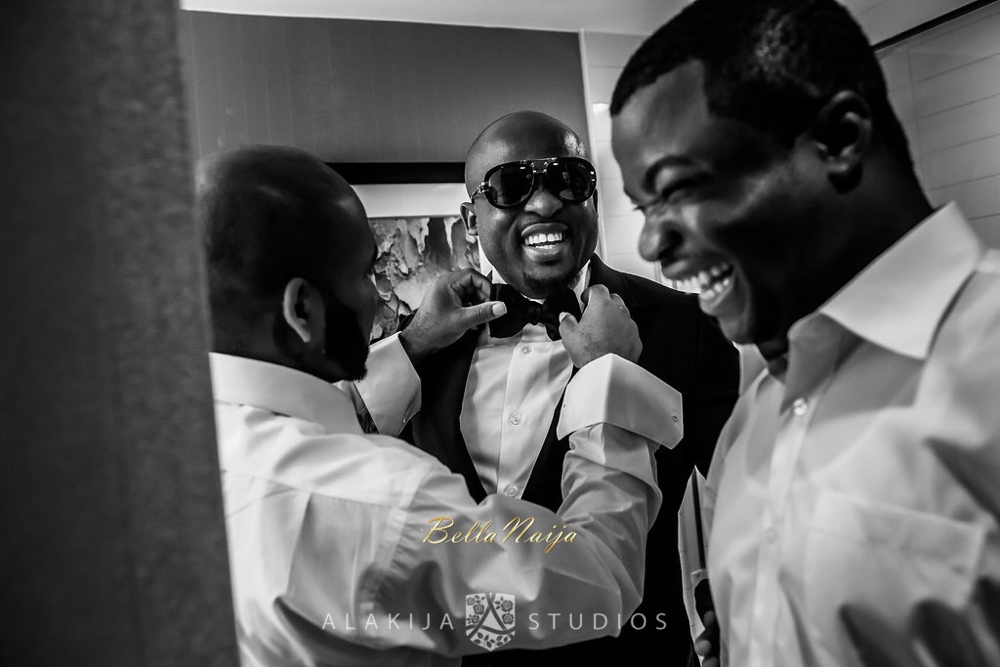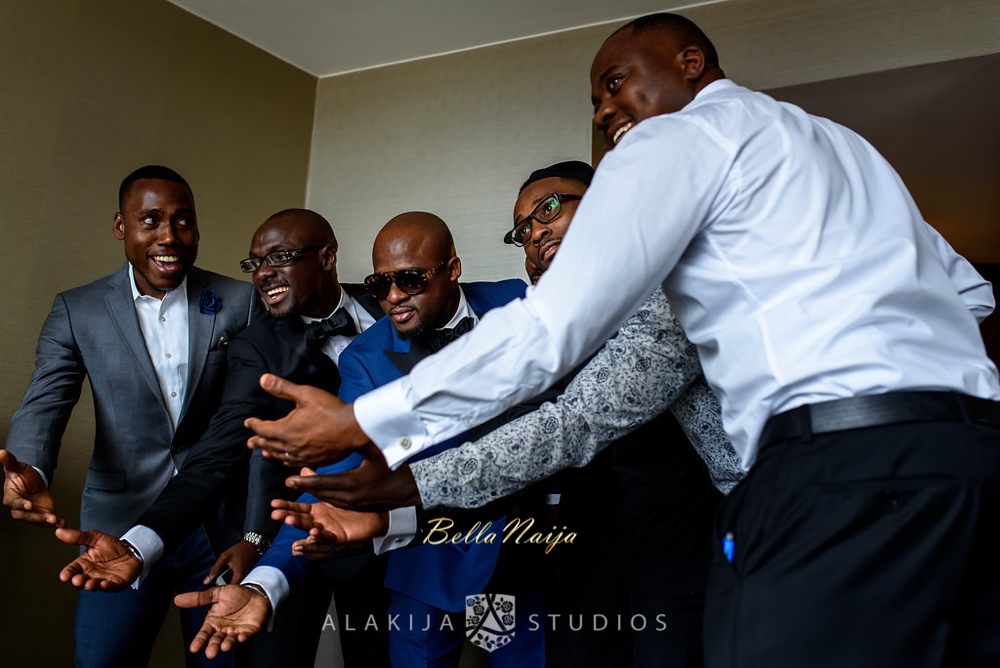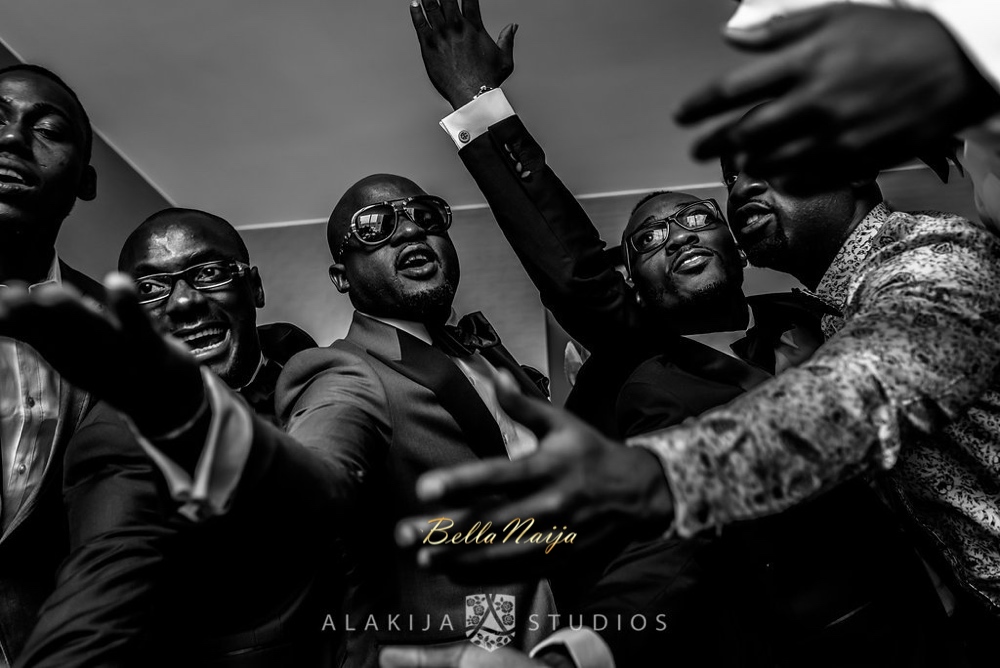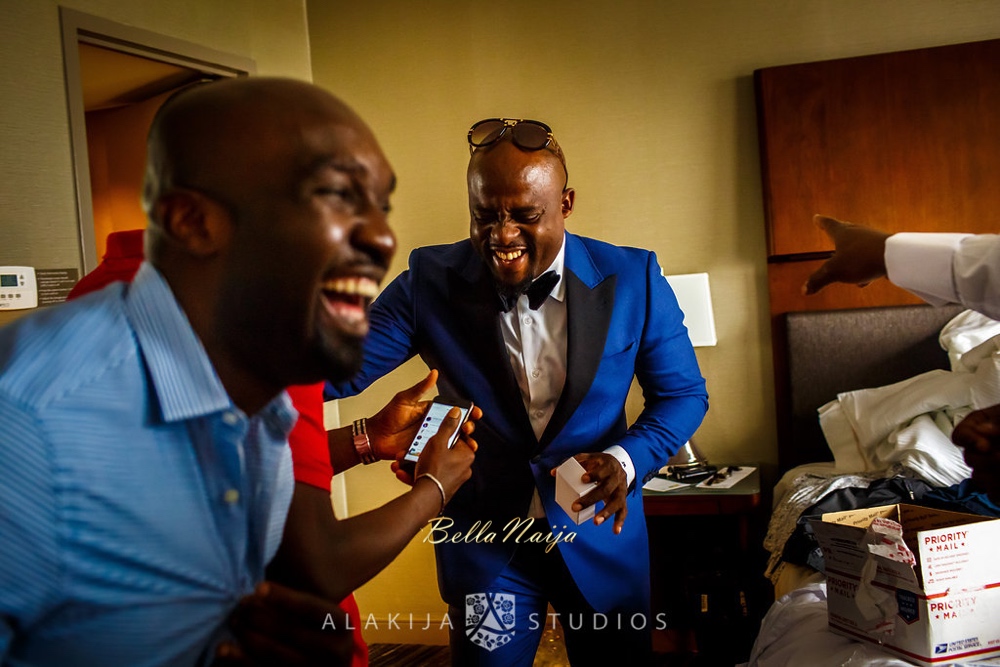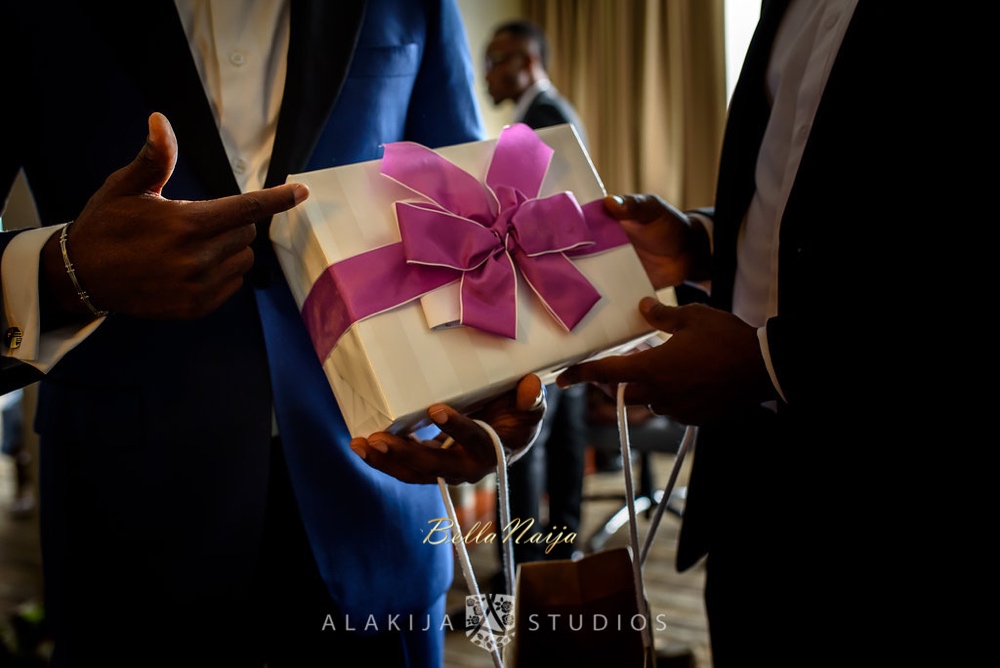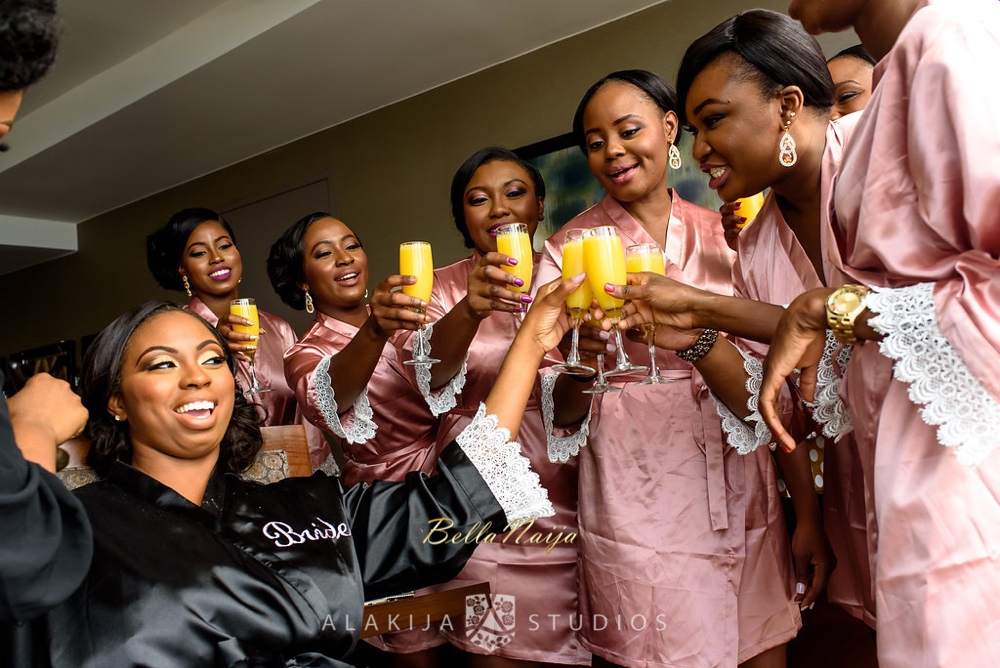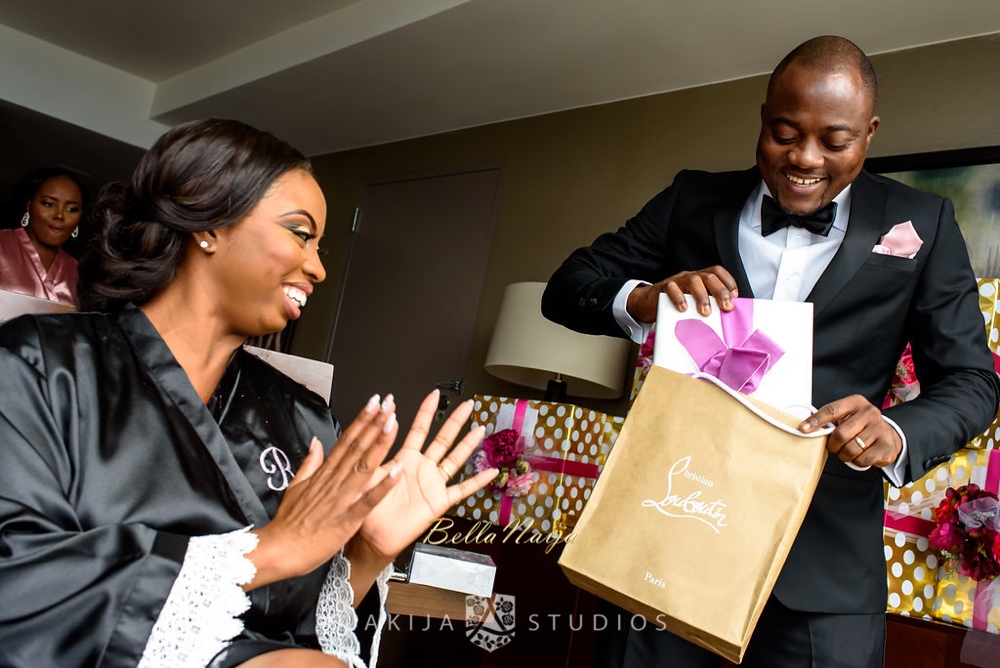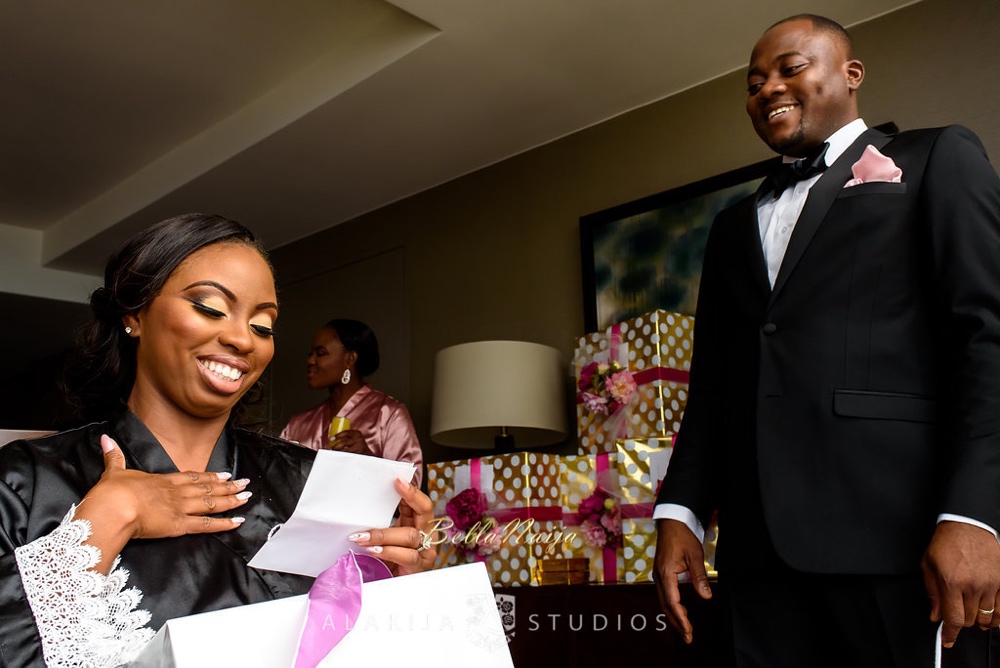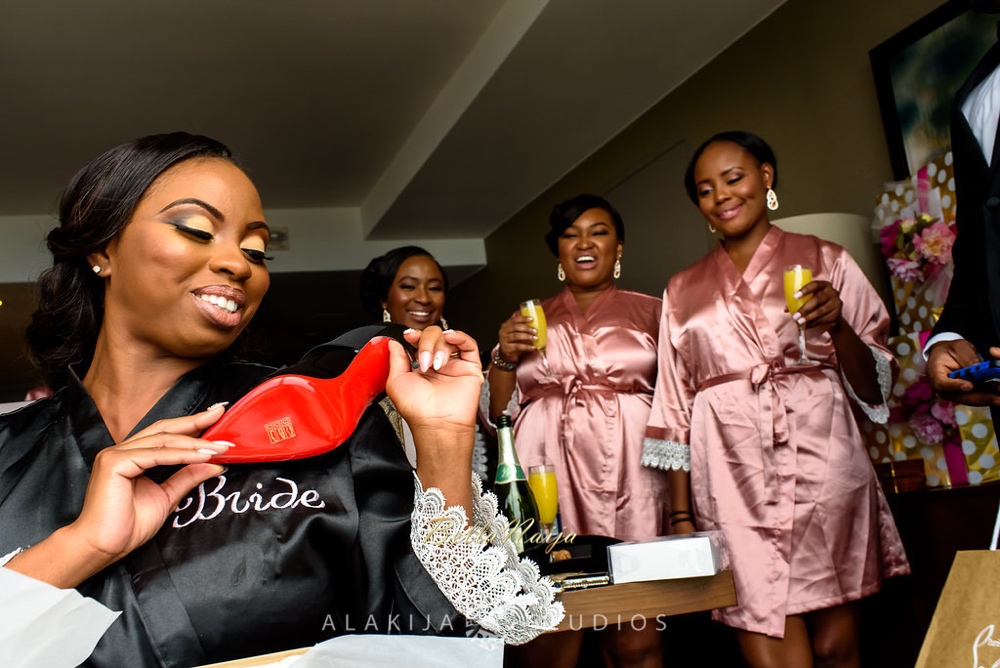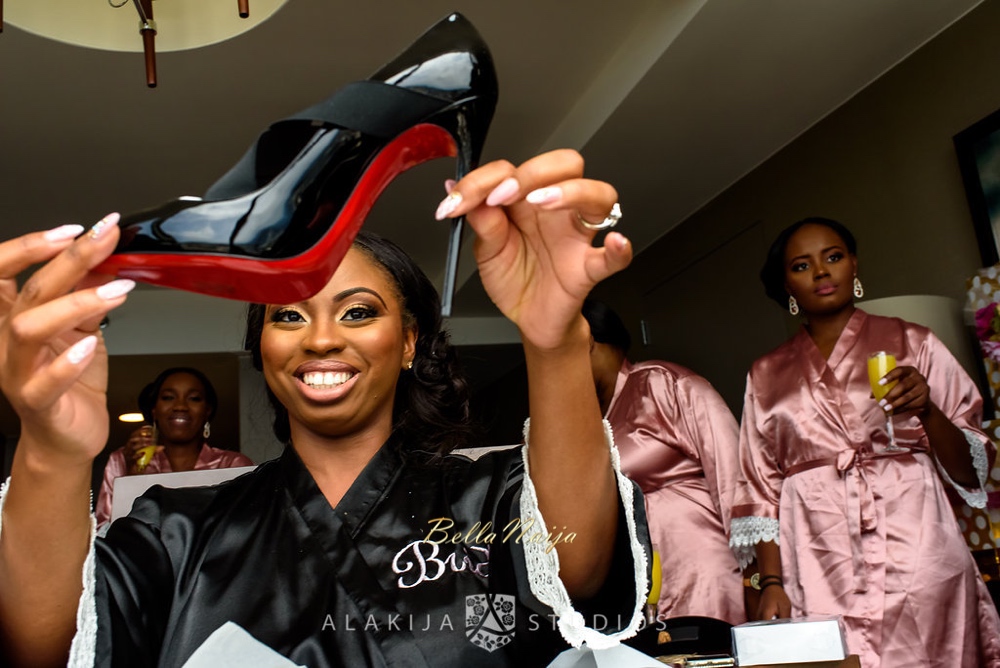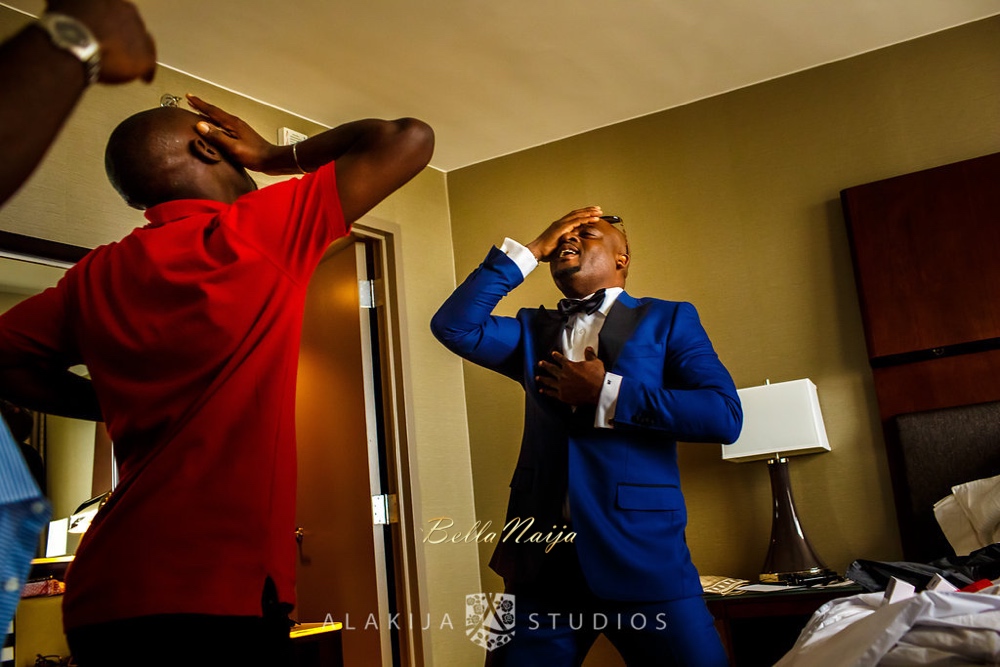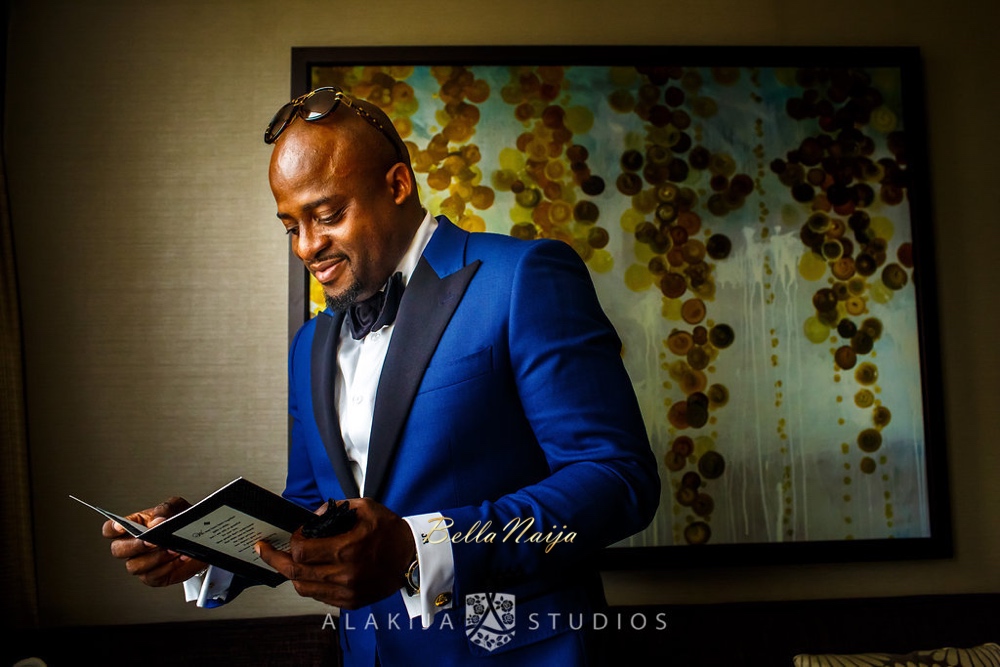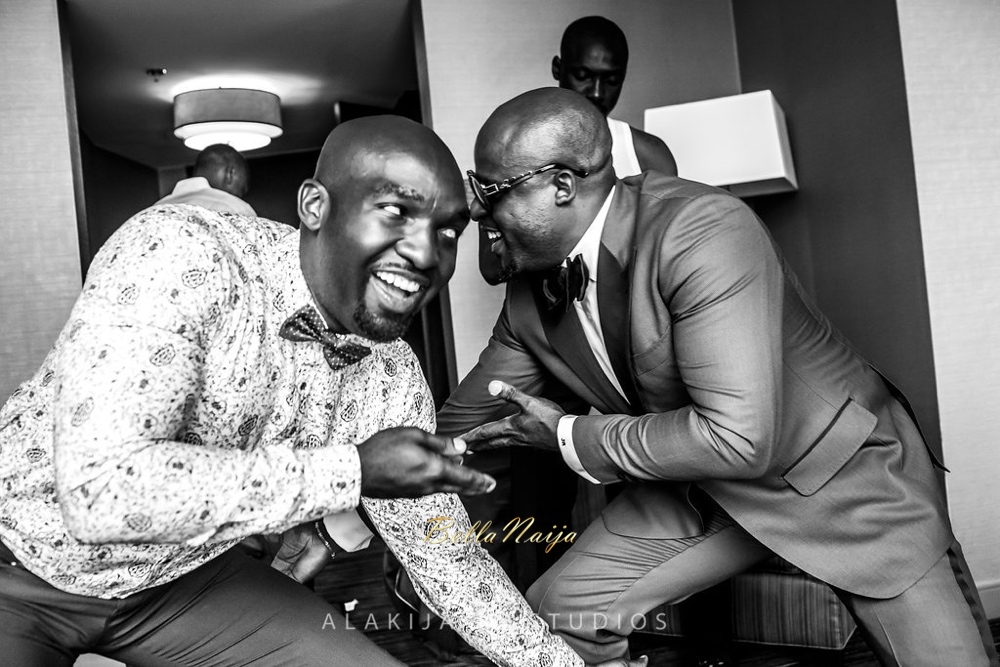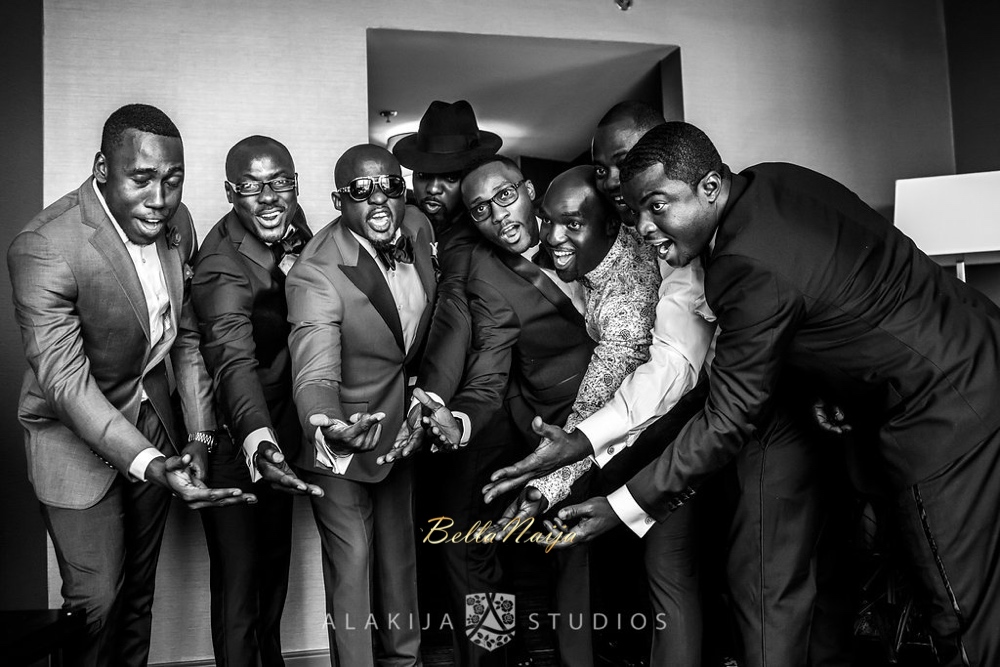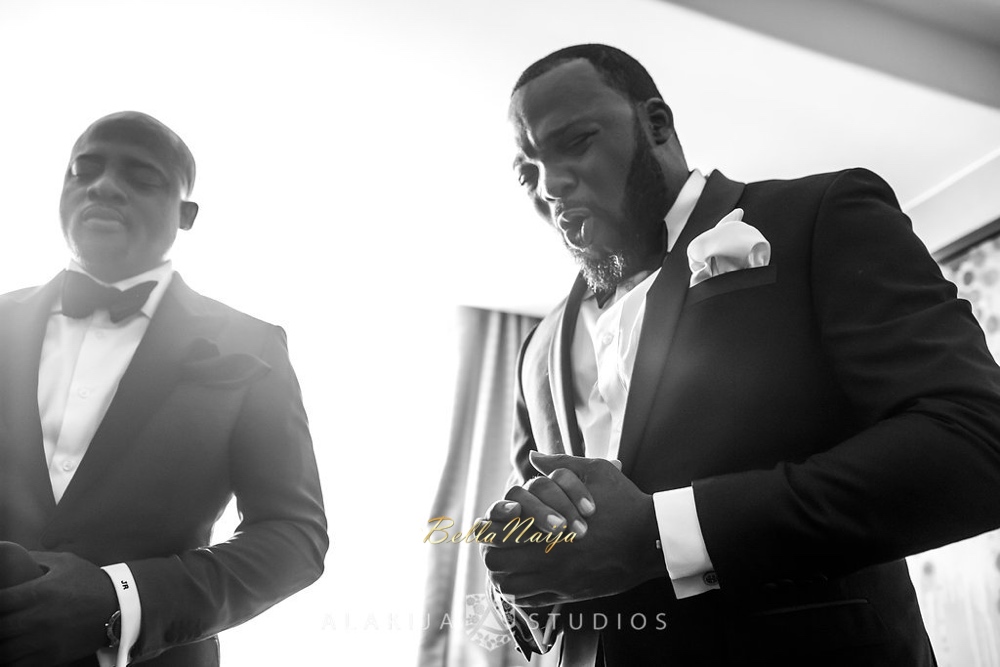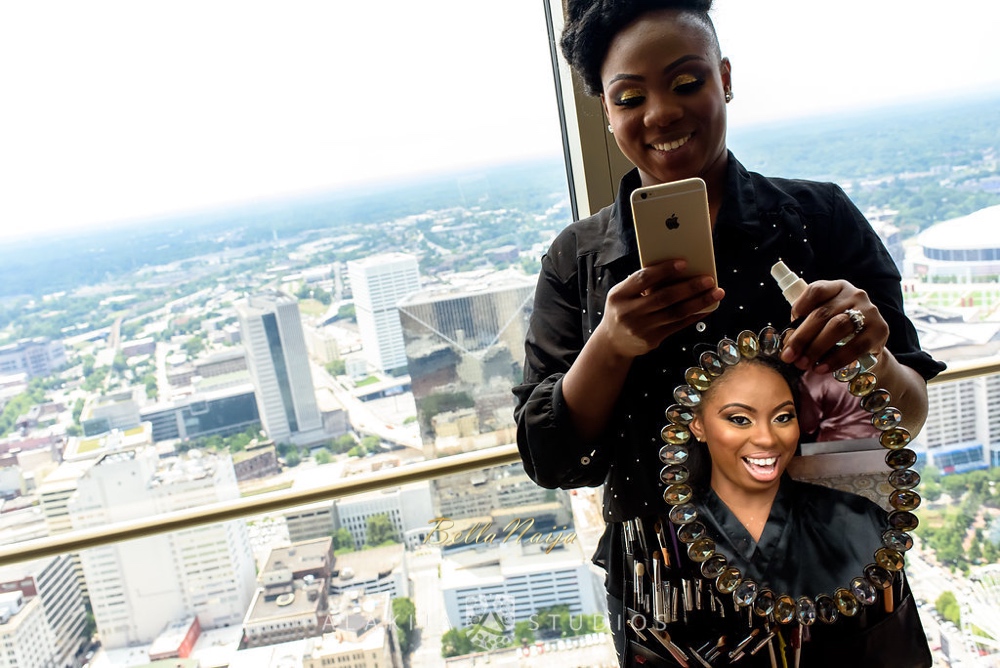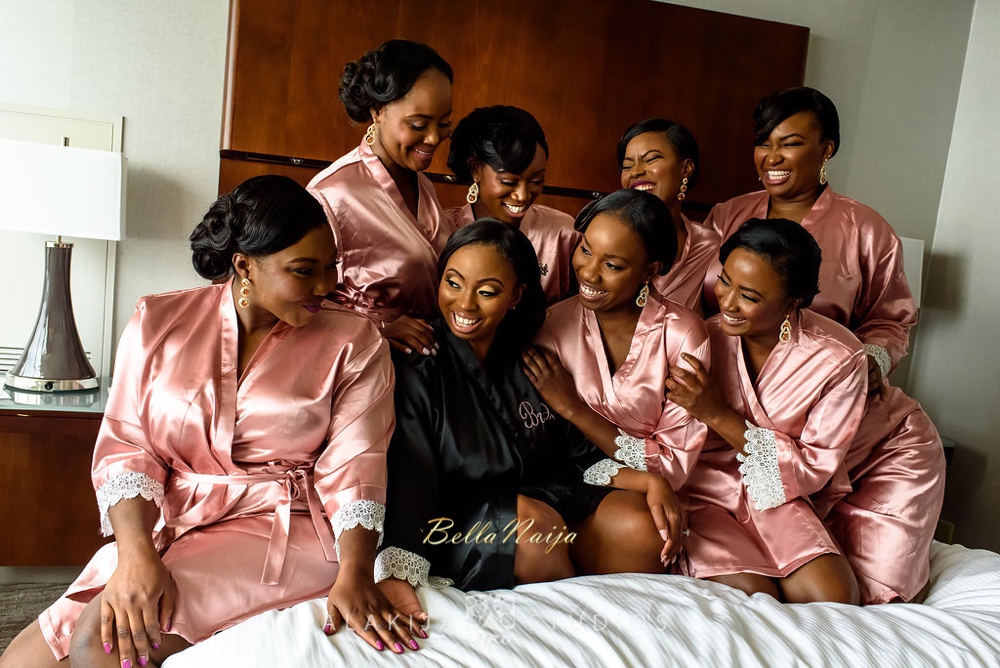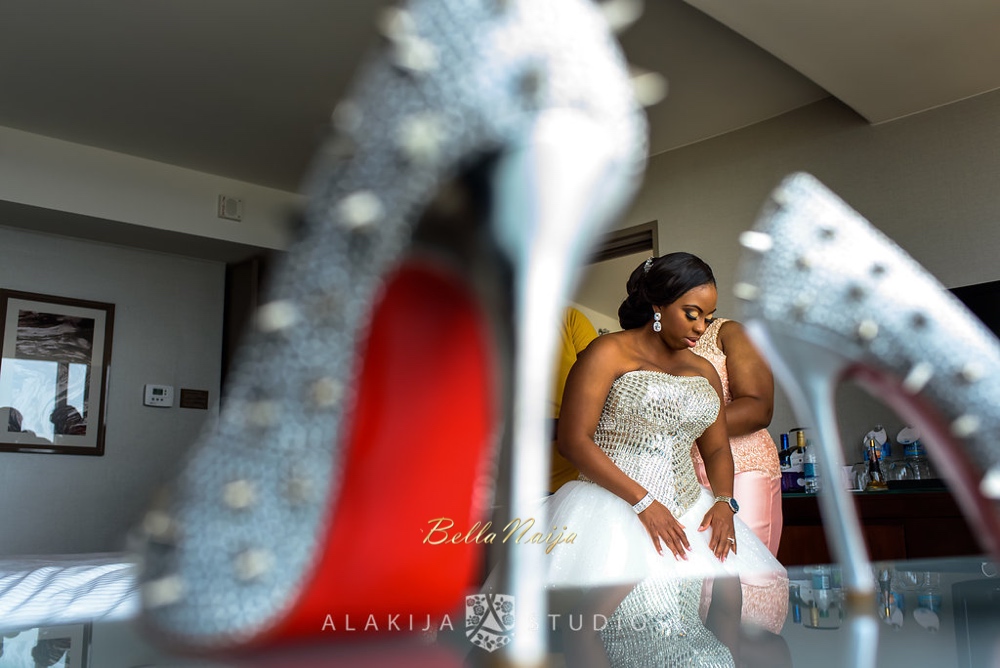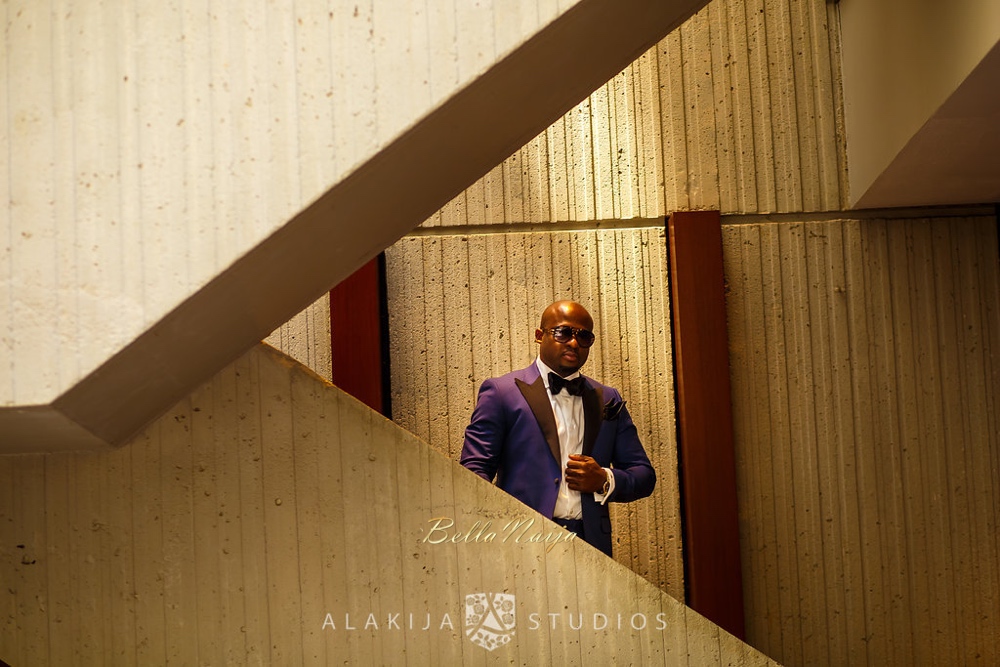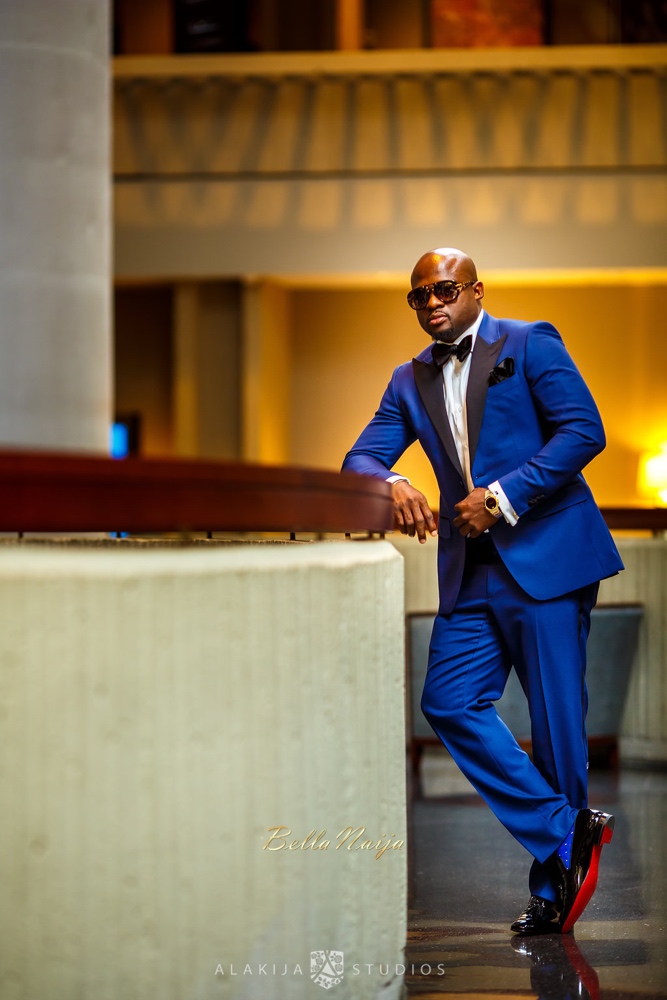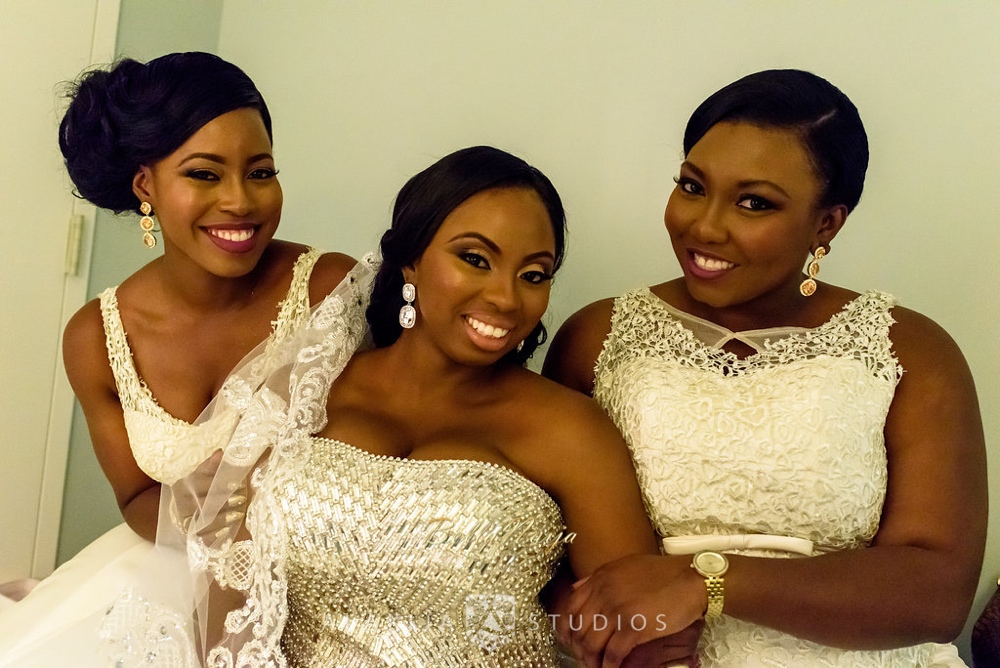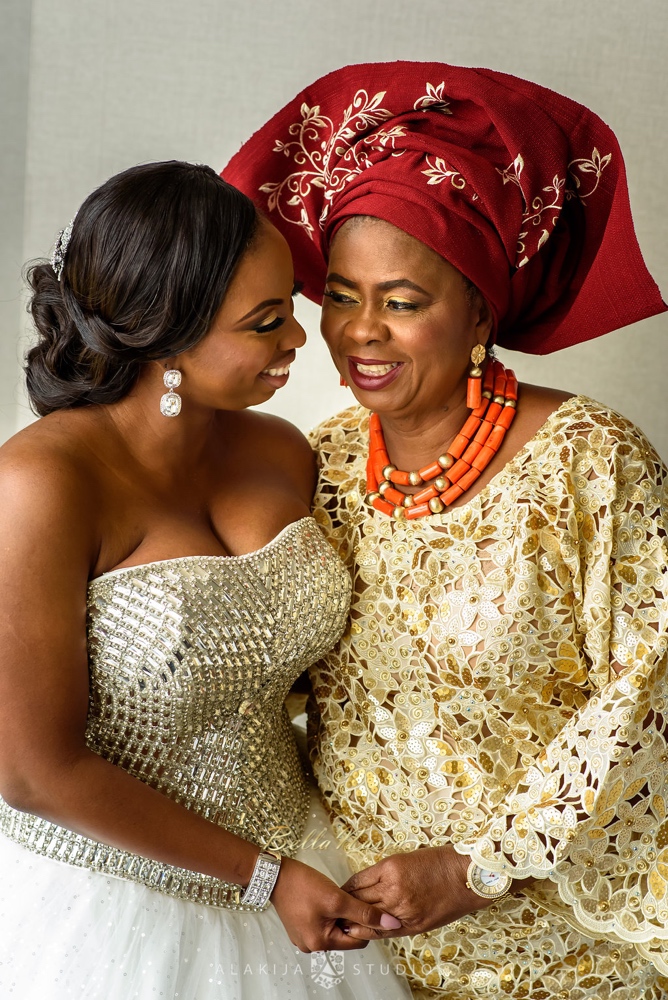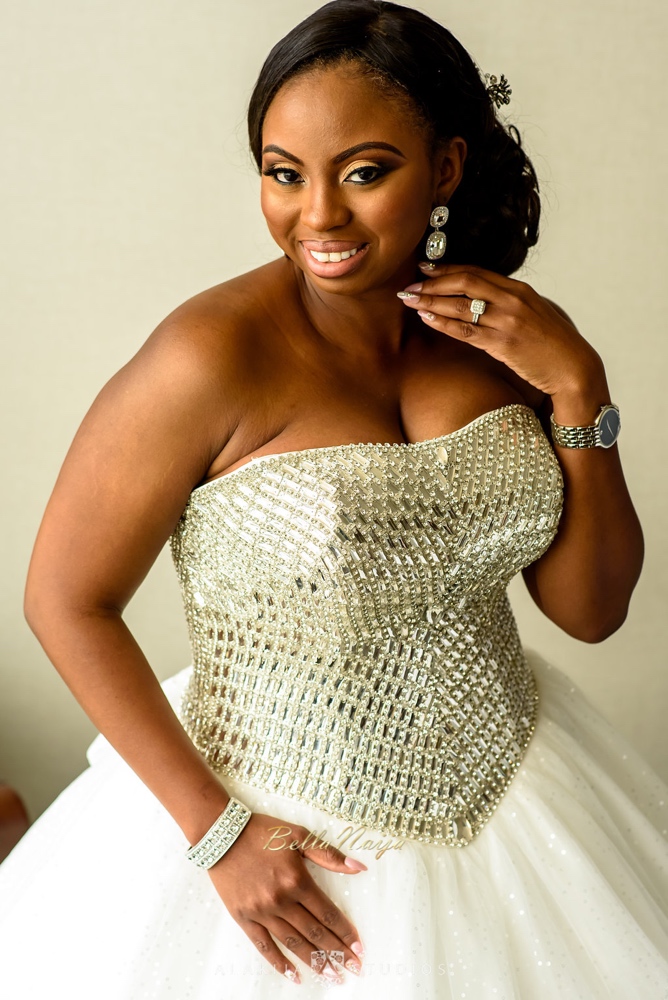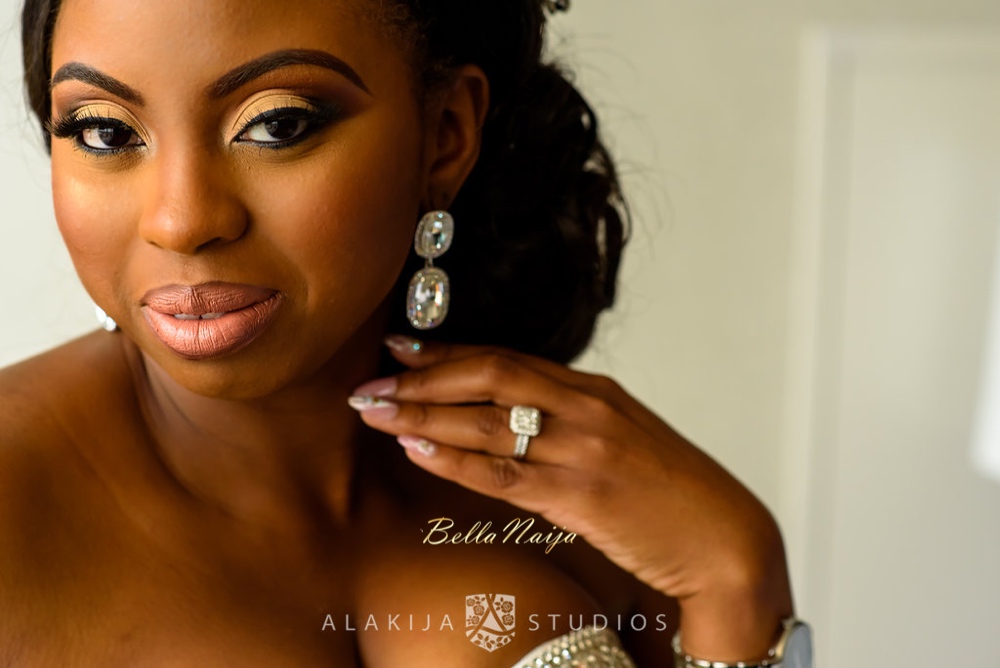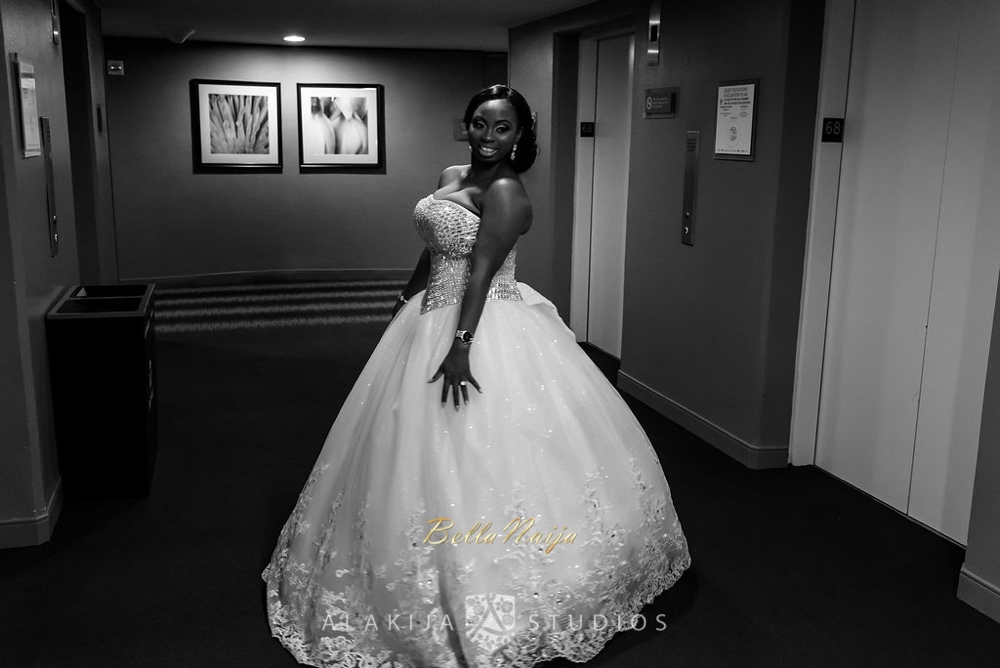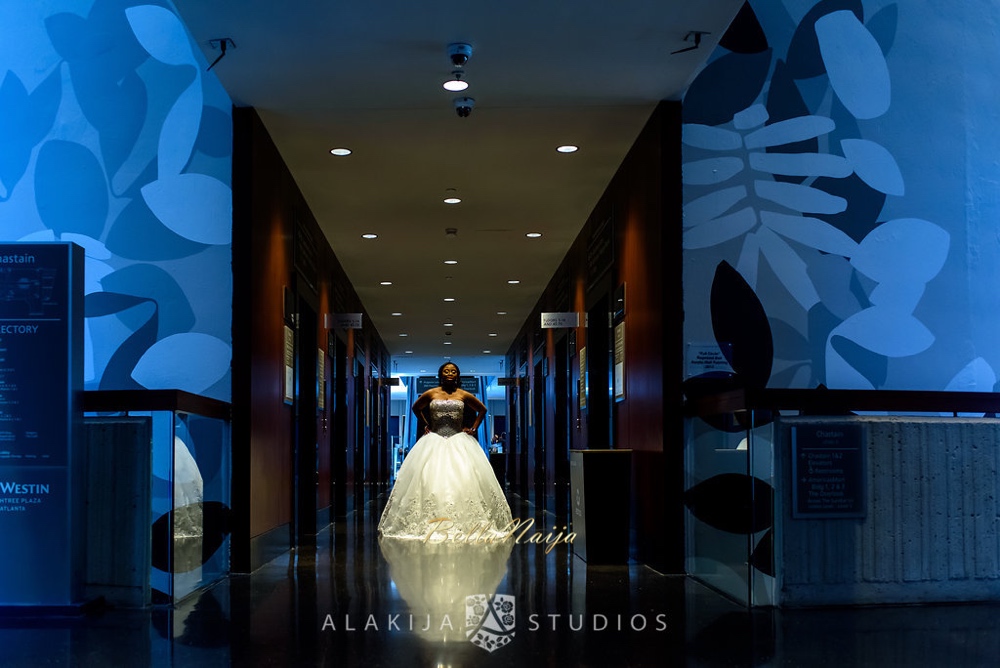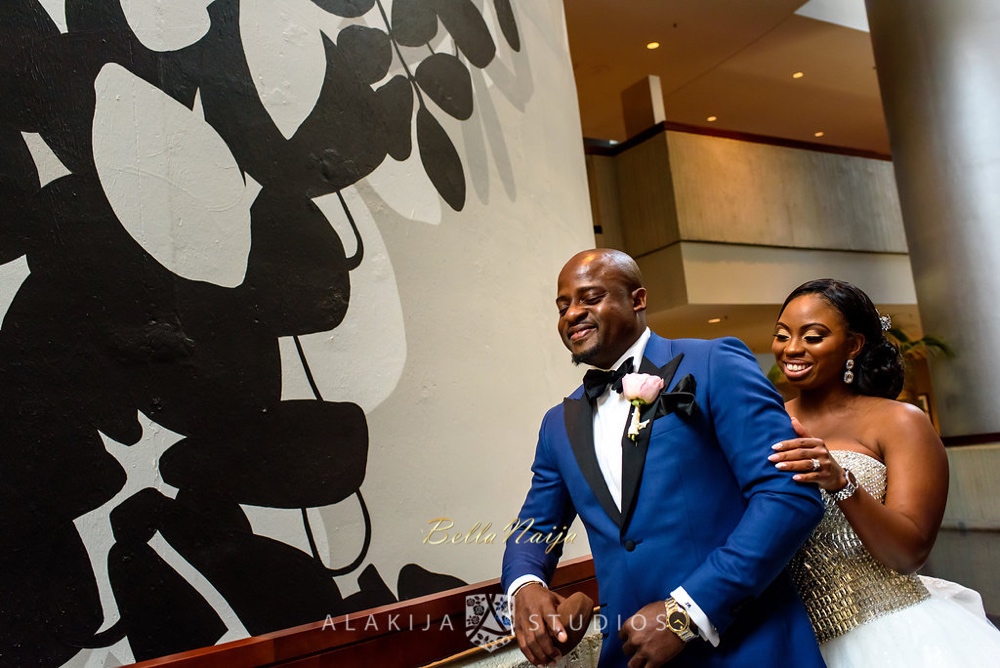 Dami – "This was one of our best moments – we went back and forth about deciding to do a first look. I really wanted one but Ayo didn't. I finally convinced him to do one!
I am so happy we did it. We had time before the ceremony to enjoy each other's company and have a little alone time before the ceremony. Plus more time to take more amazing pictures !
I definitely recommend having a first look."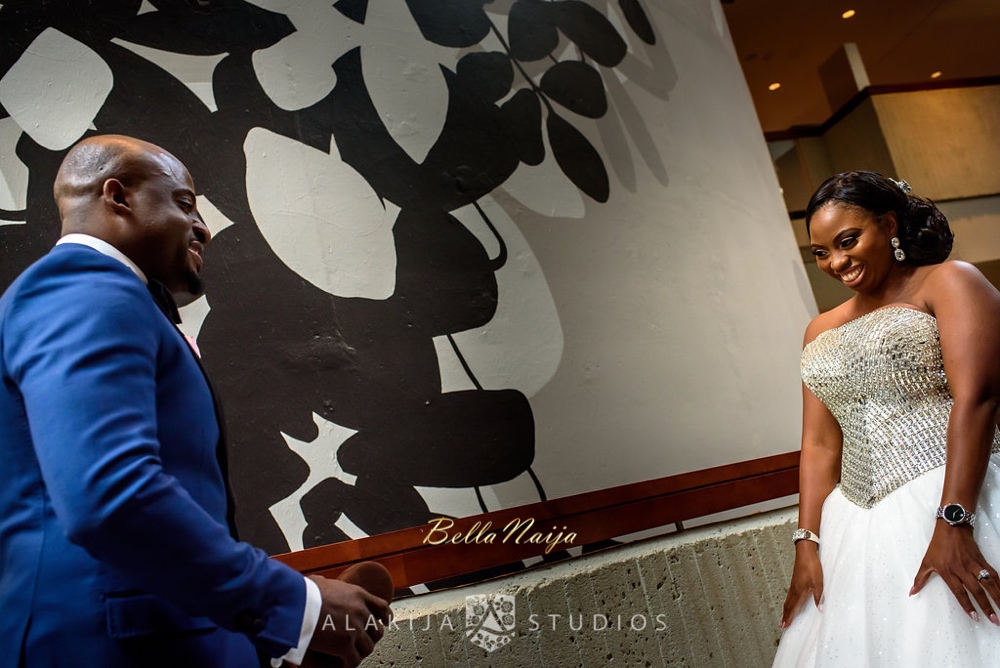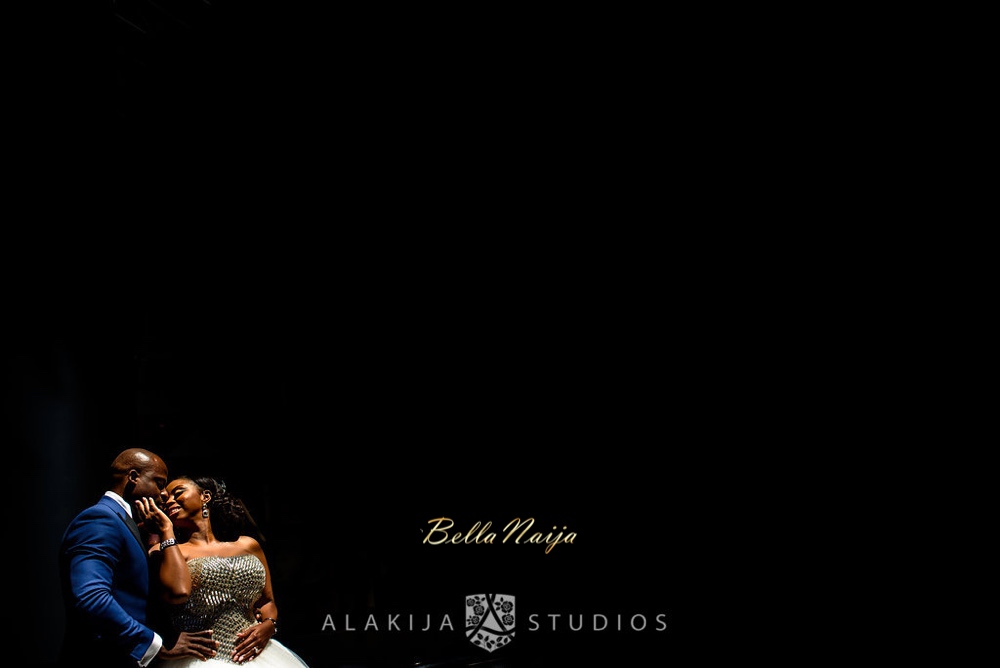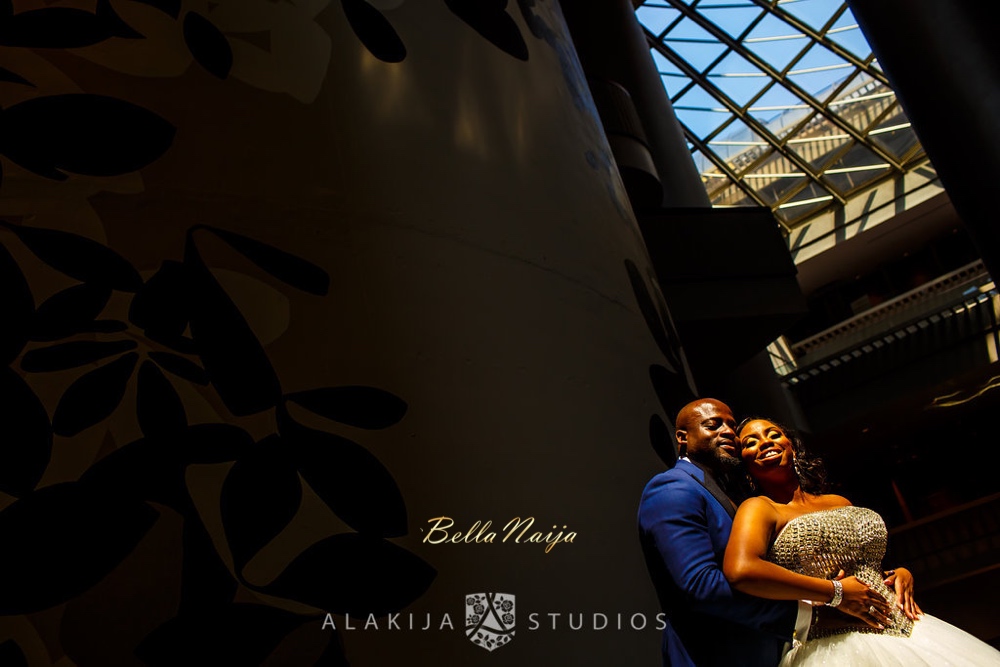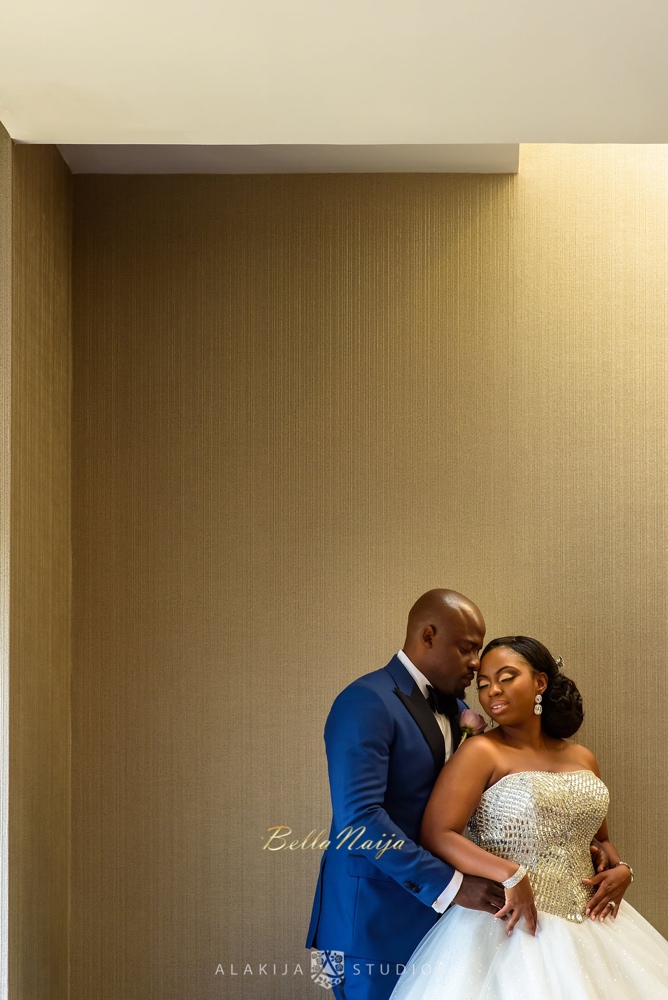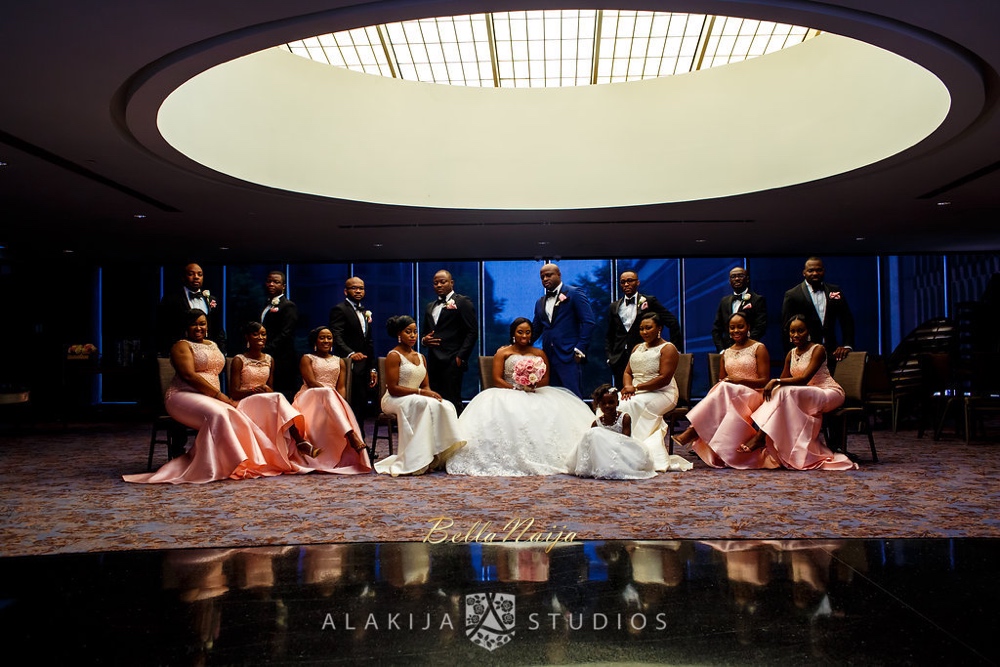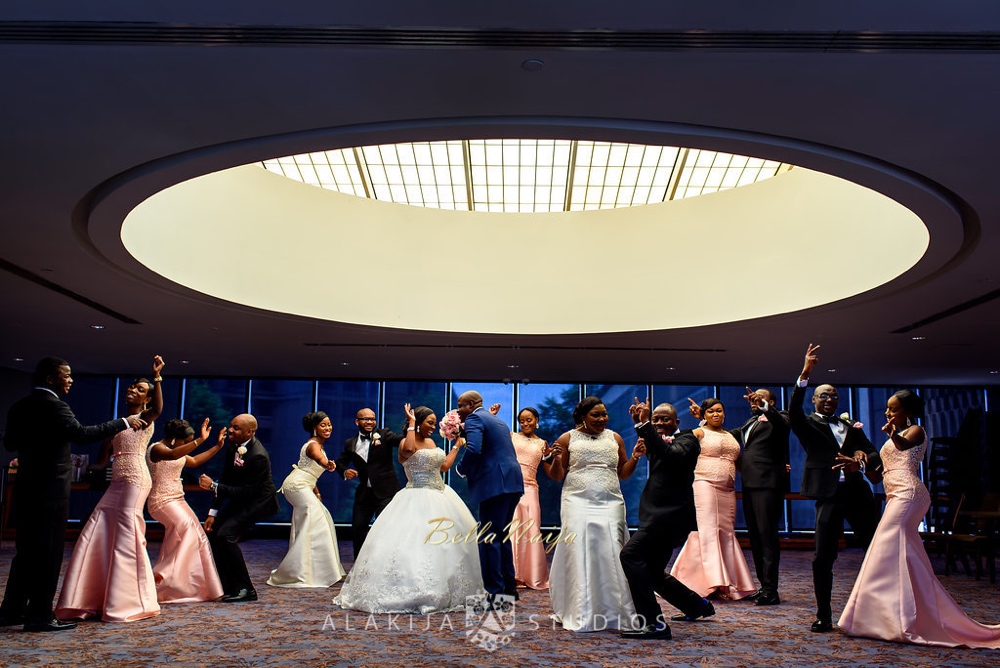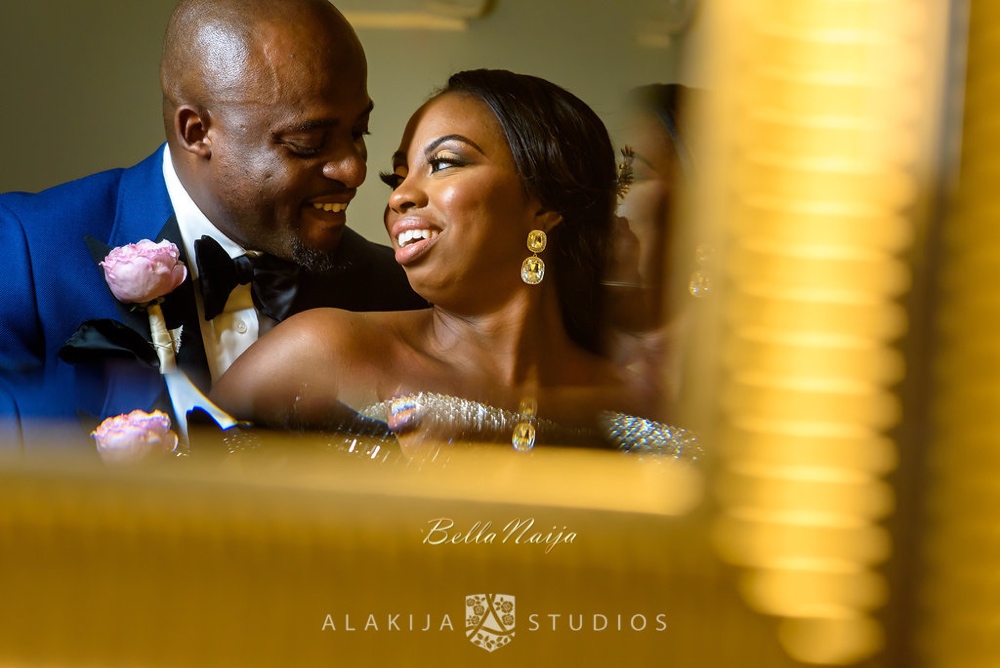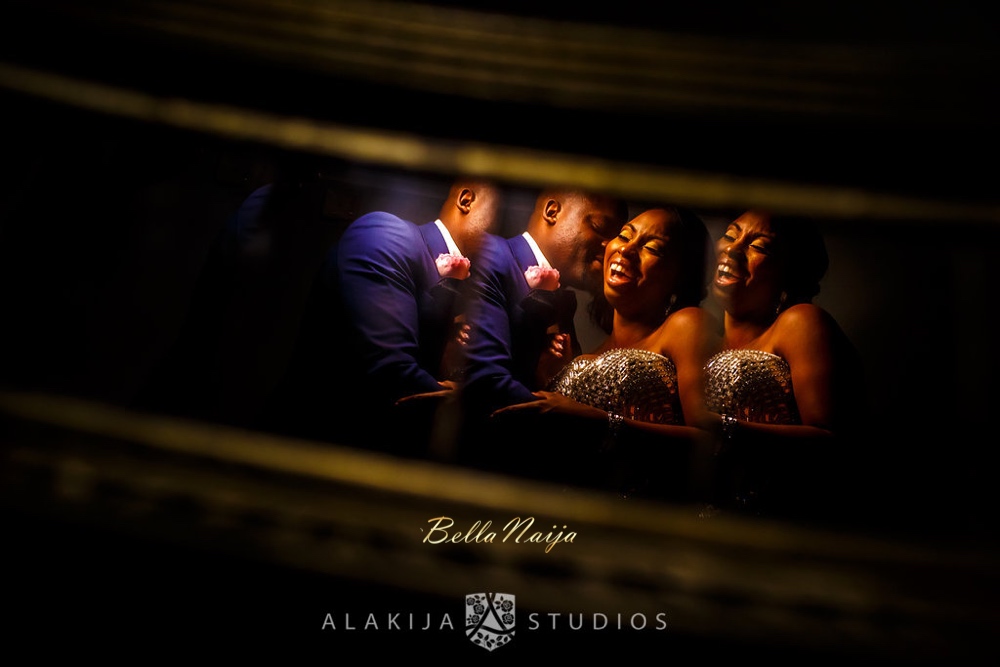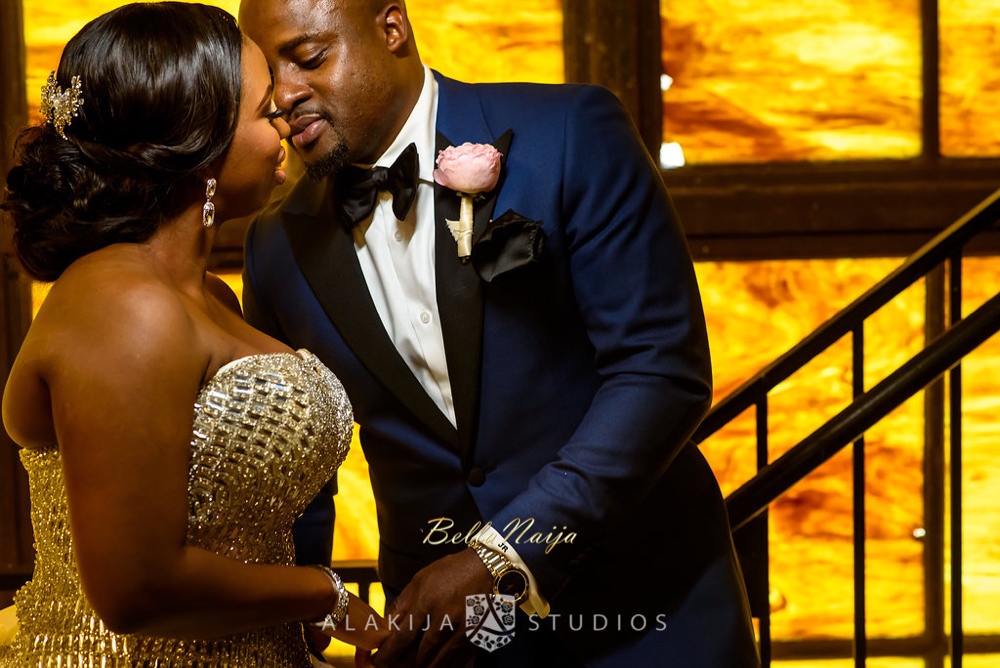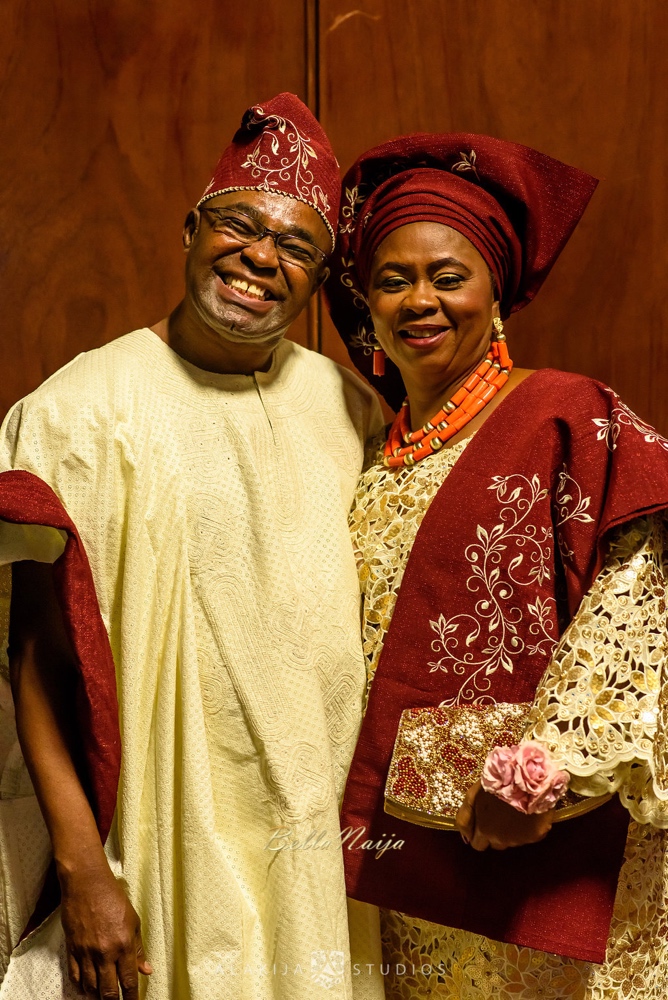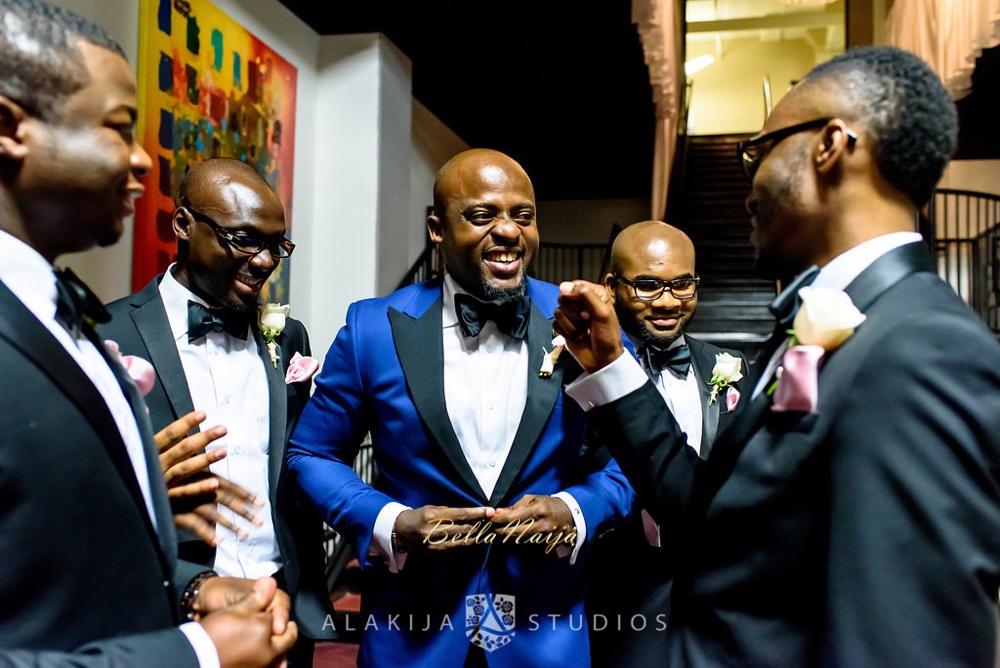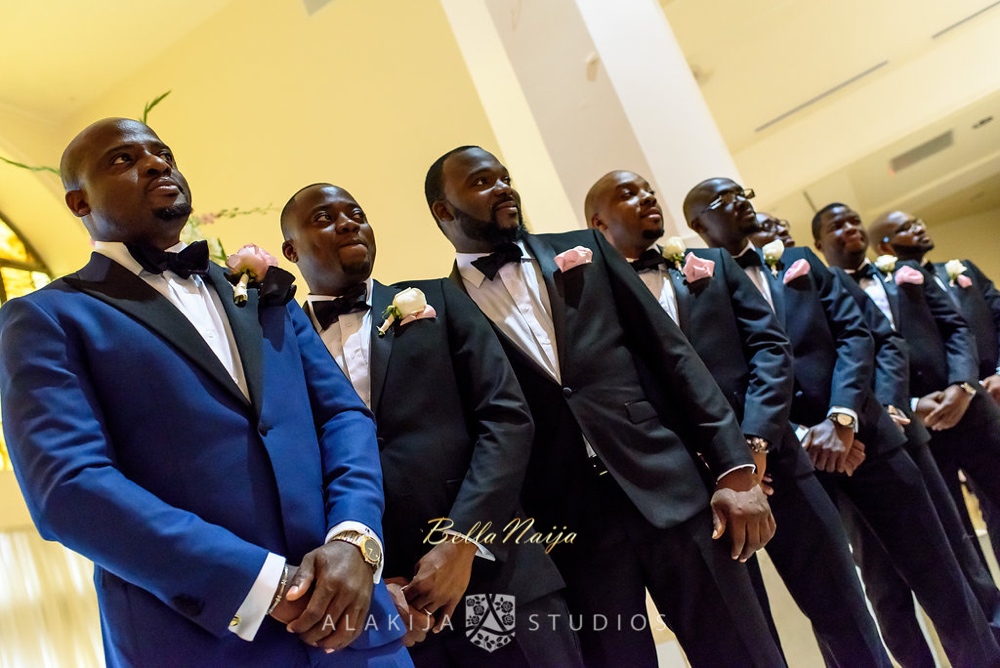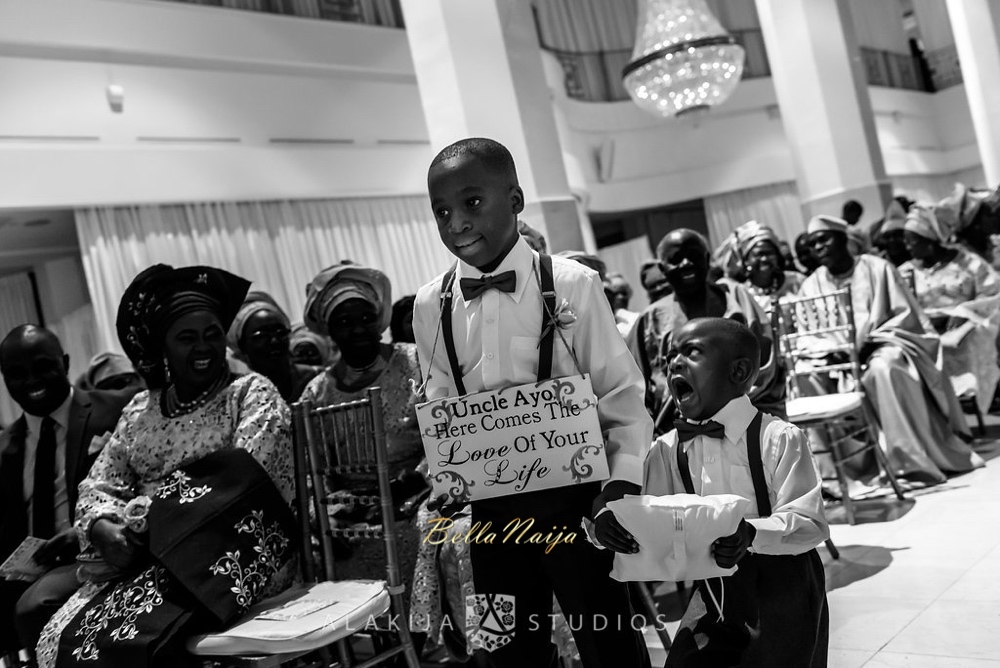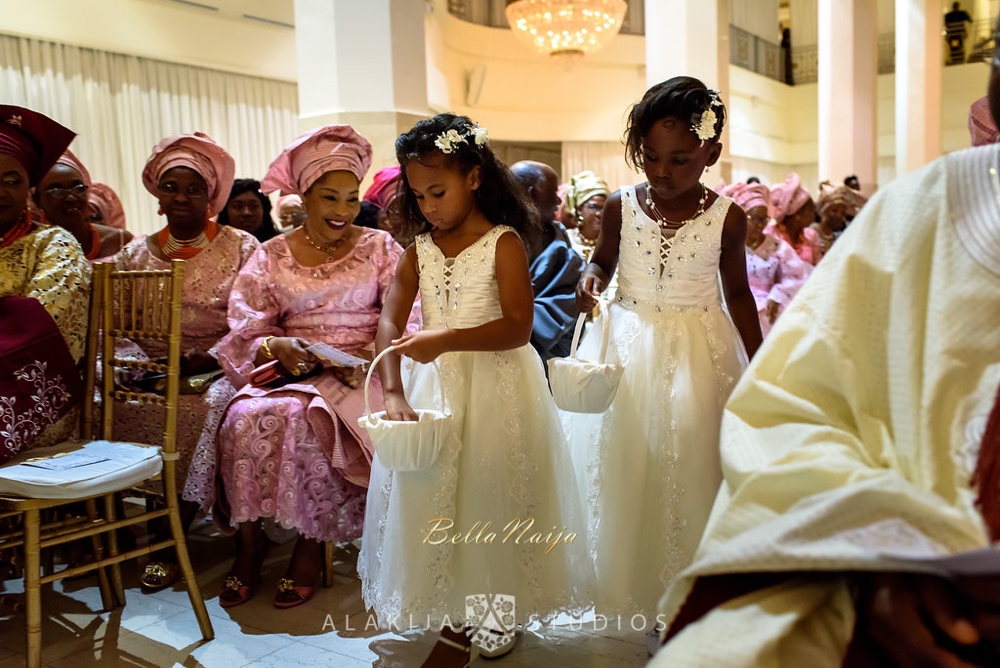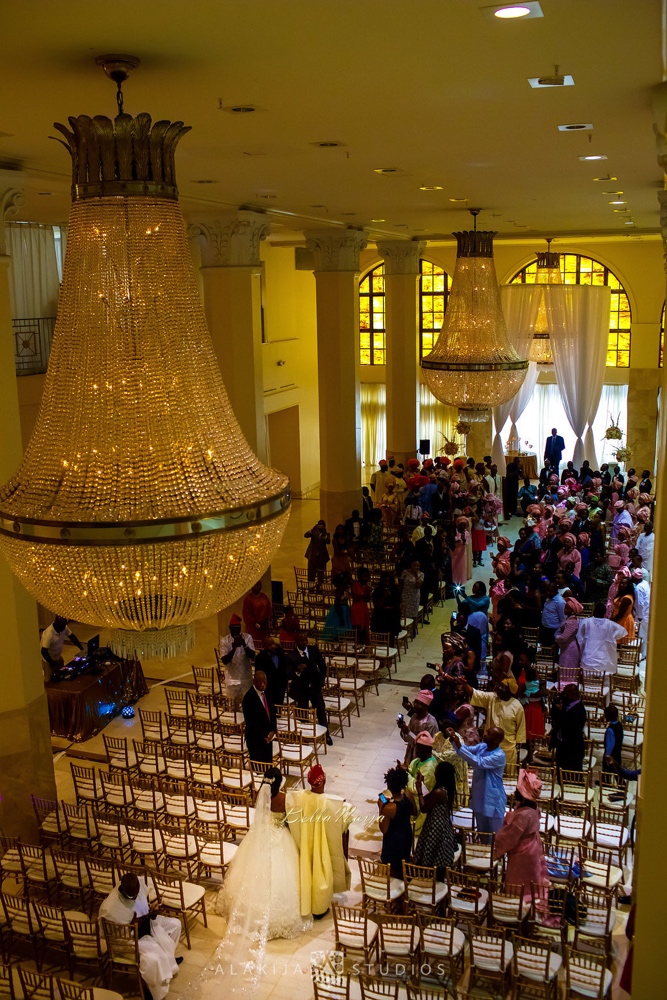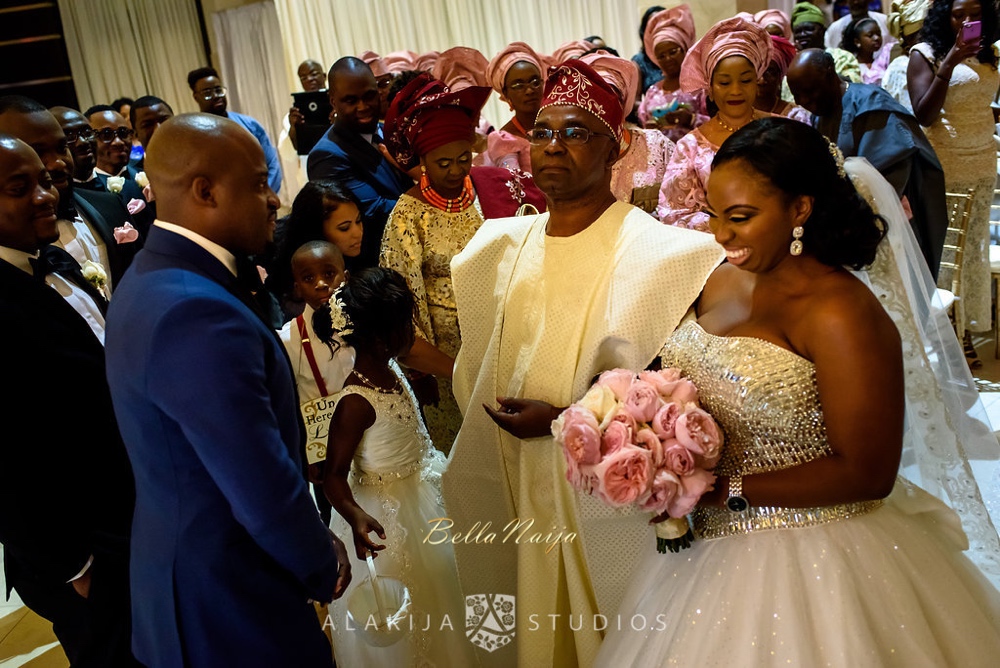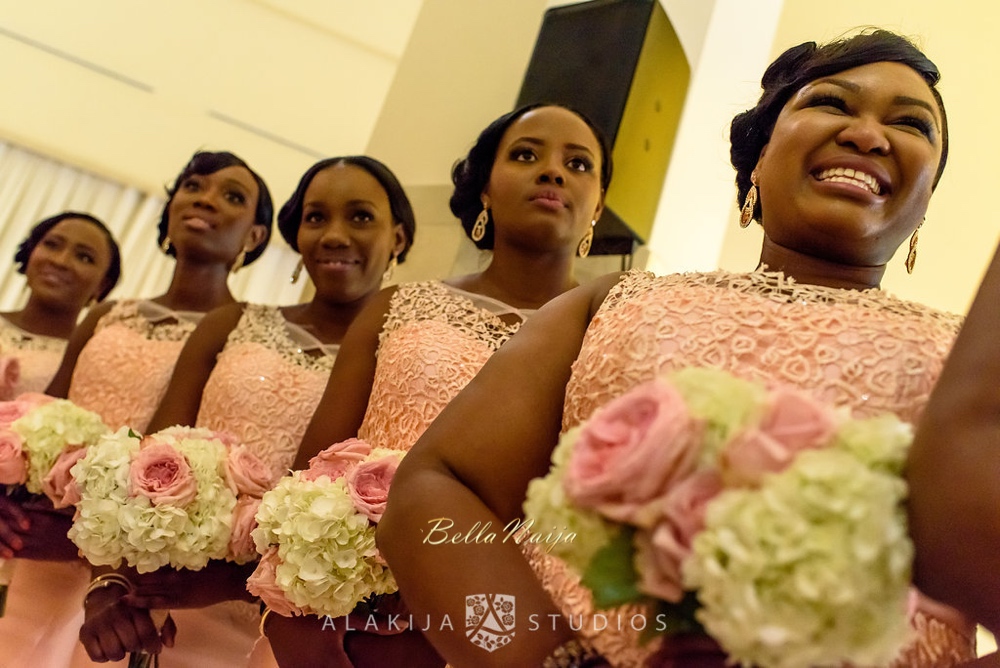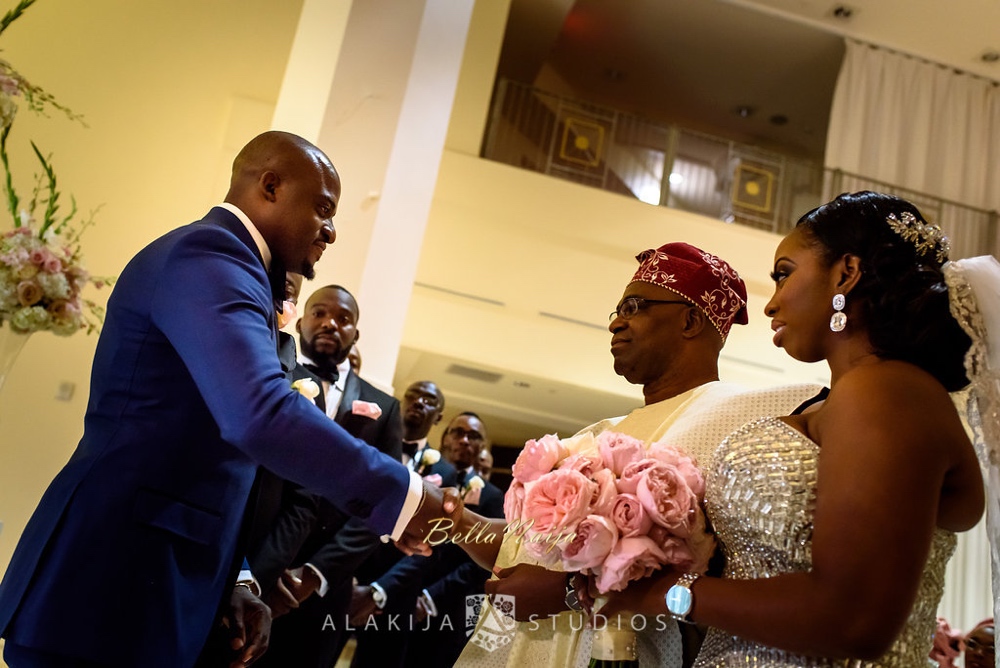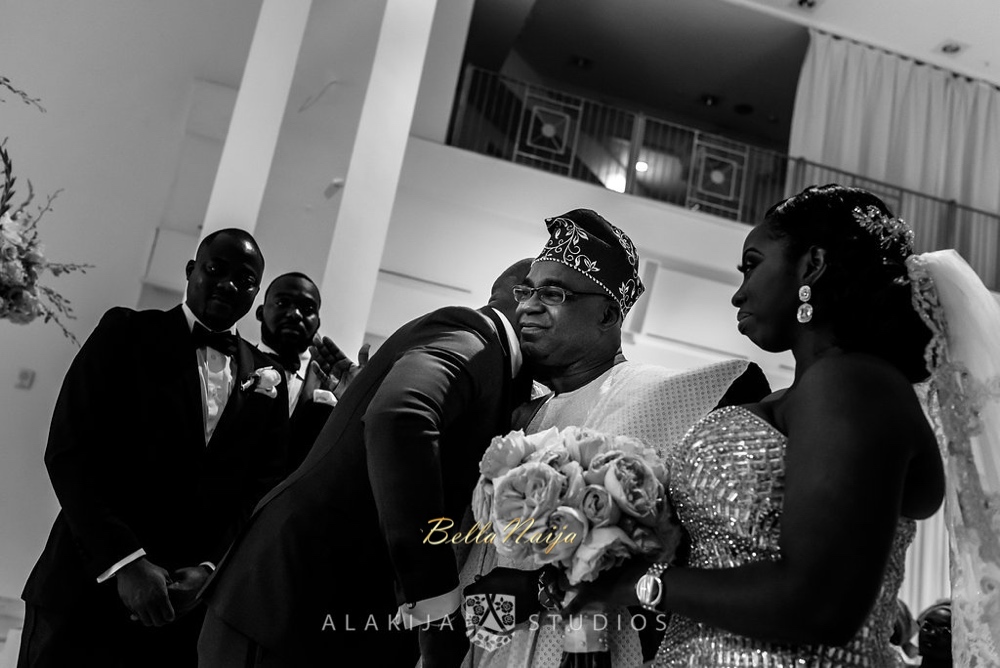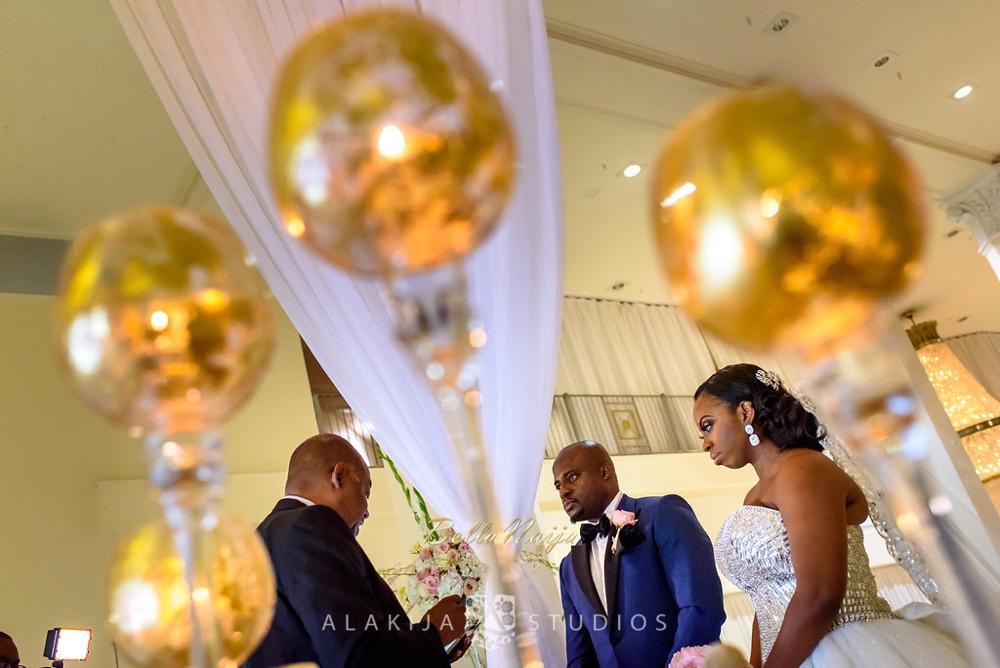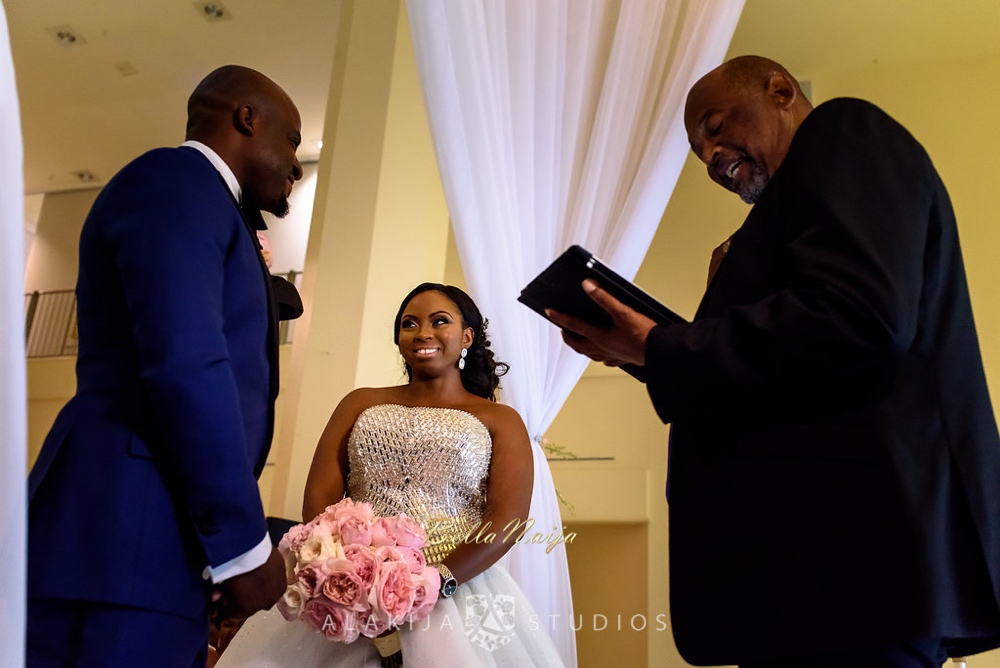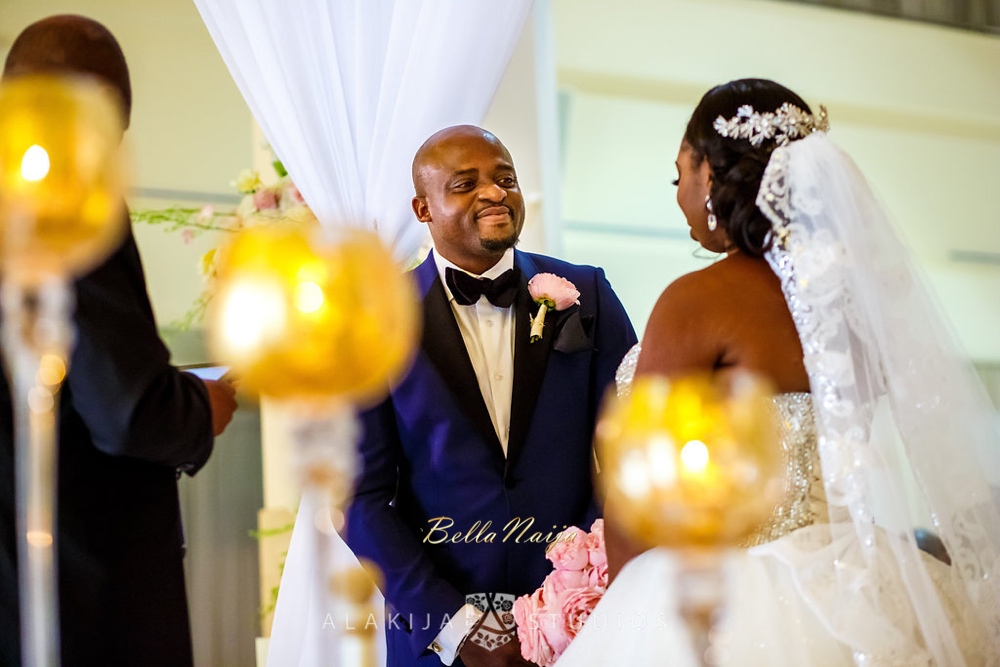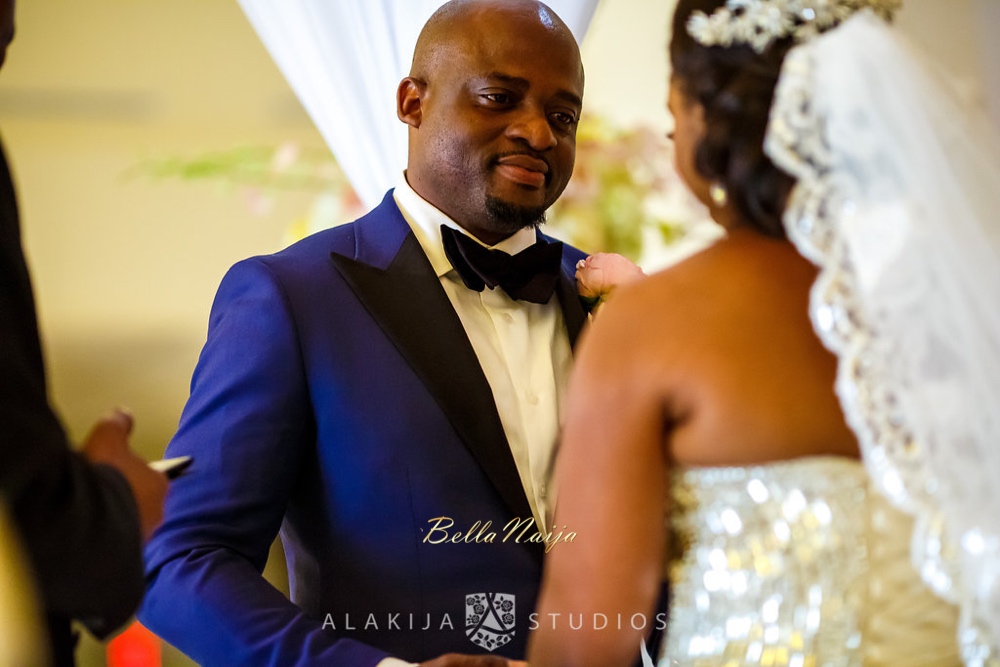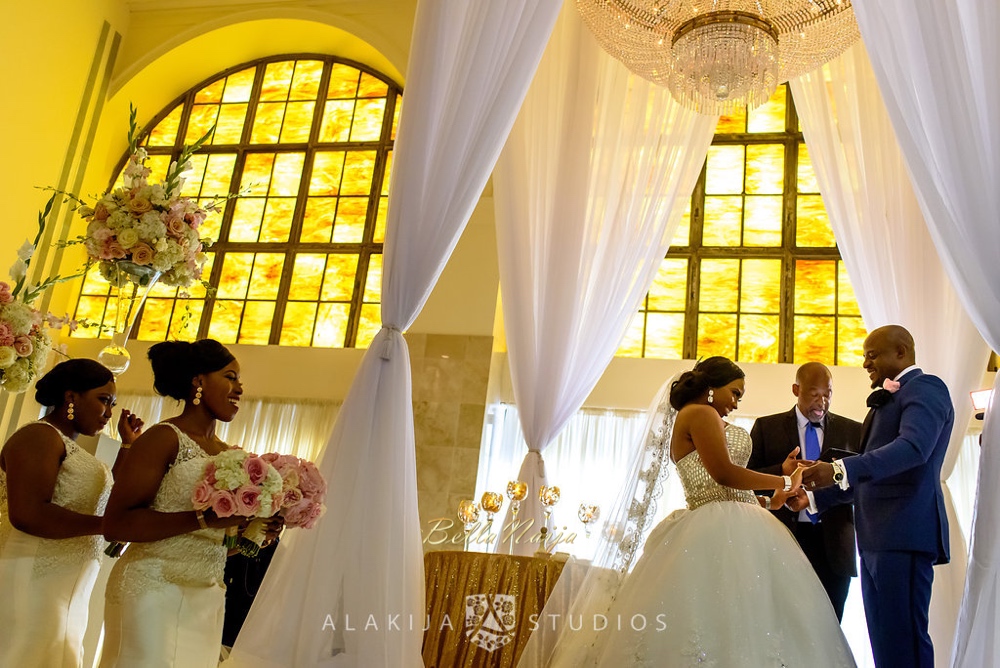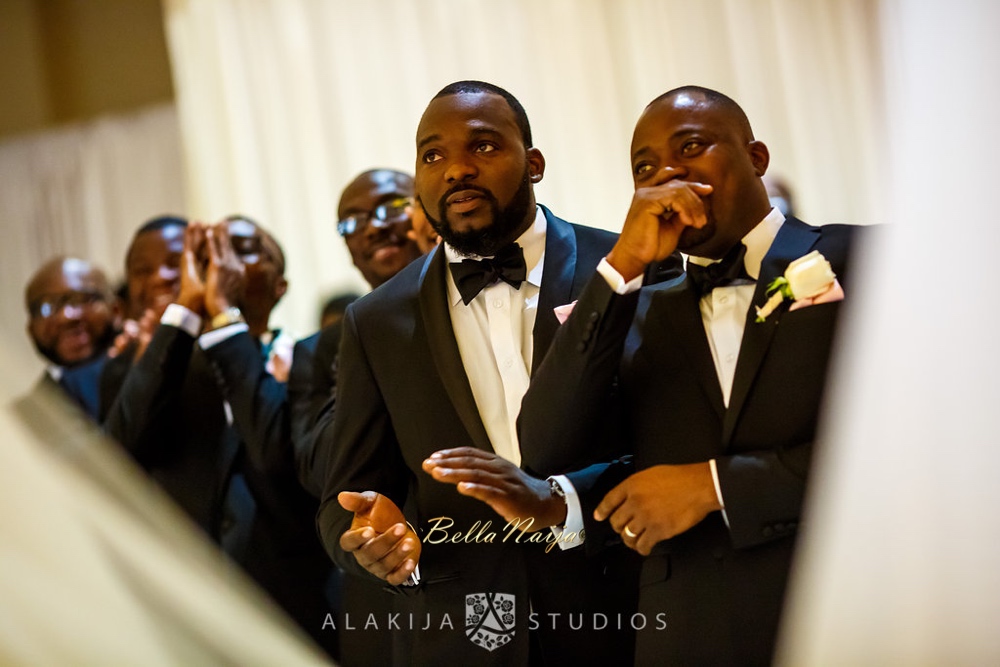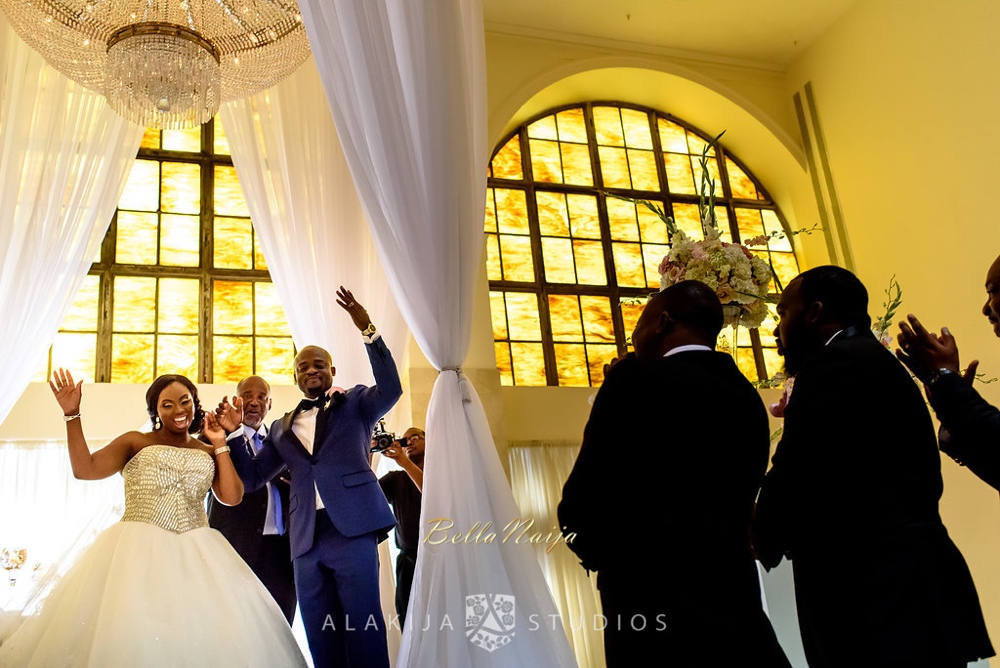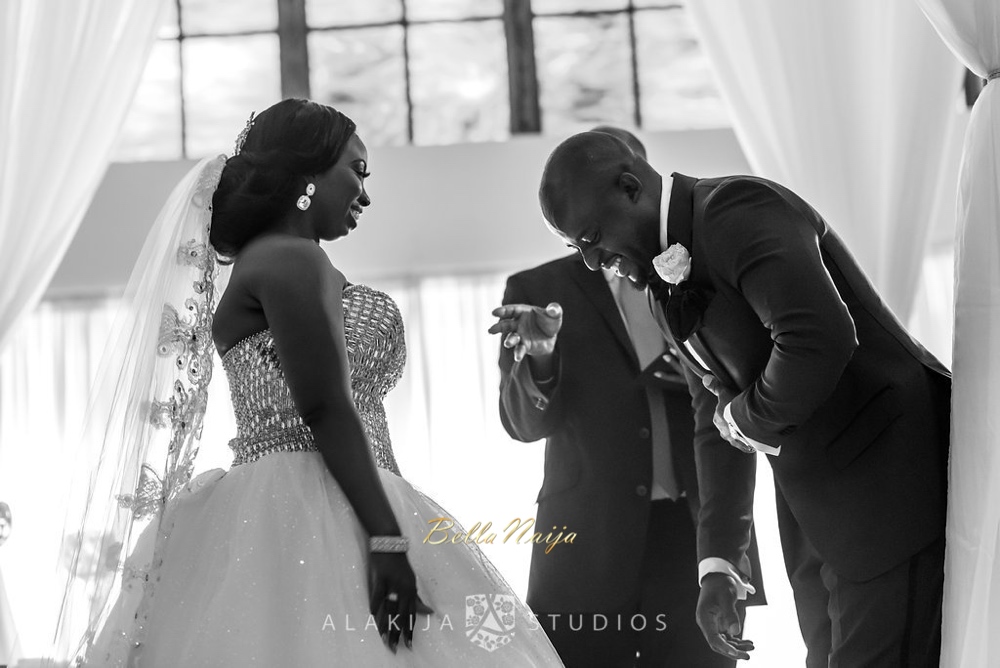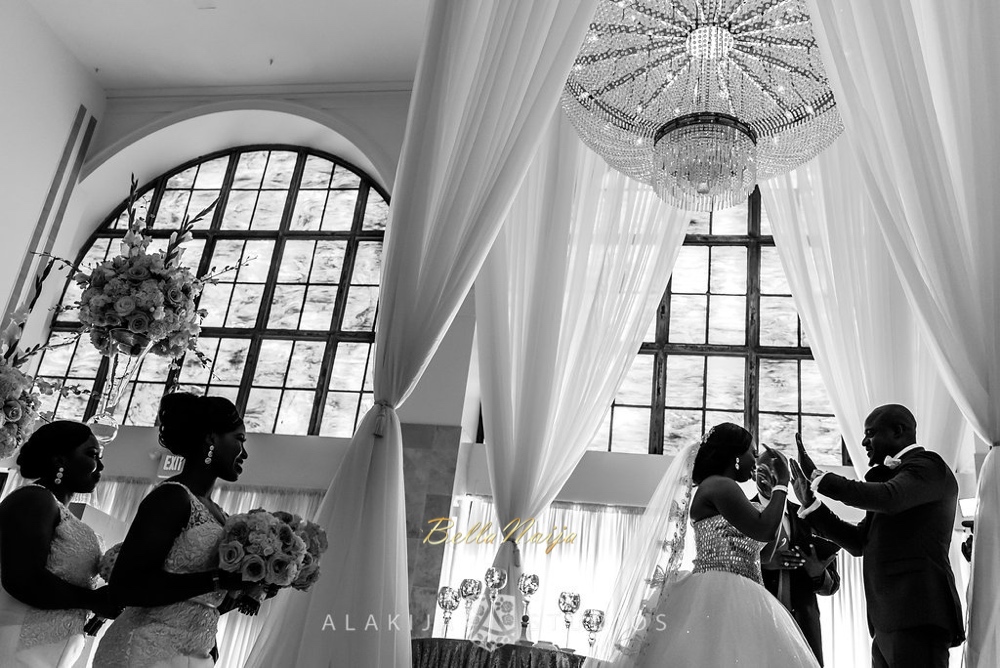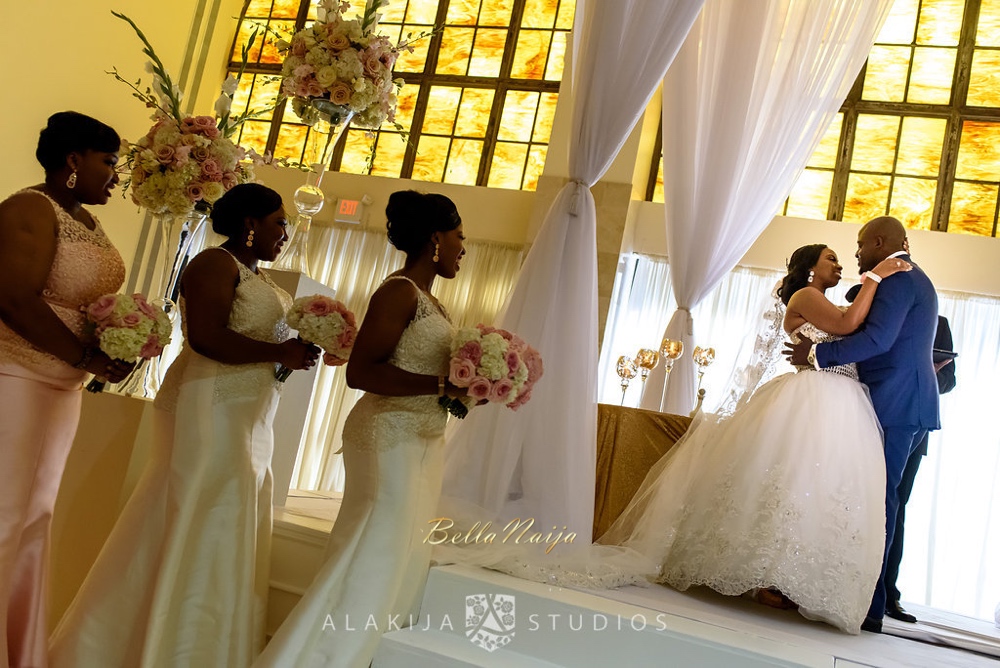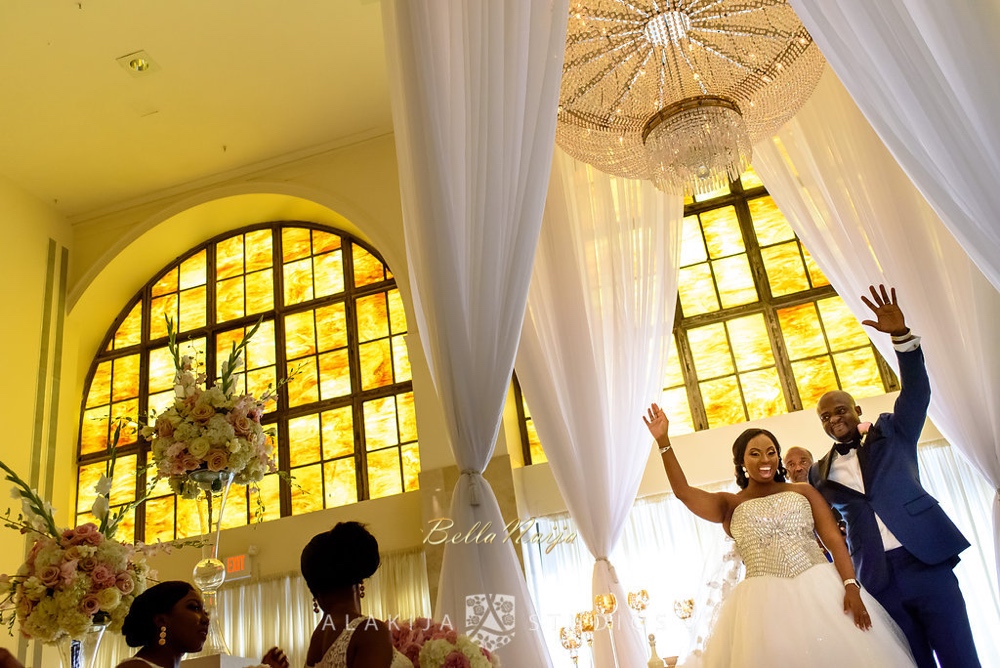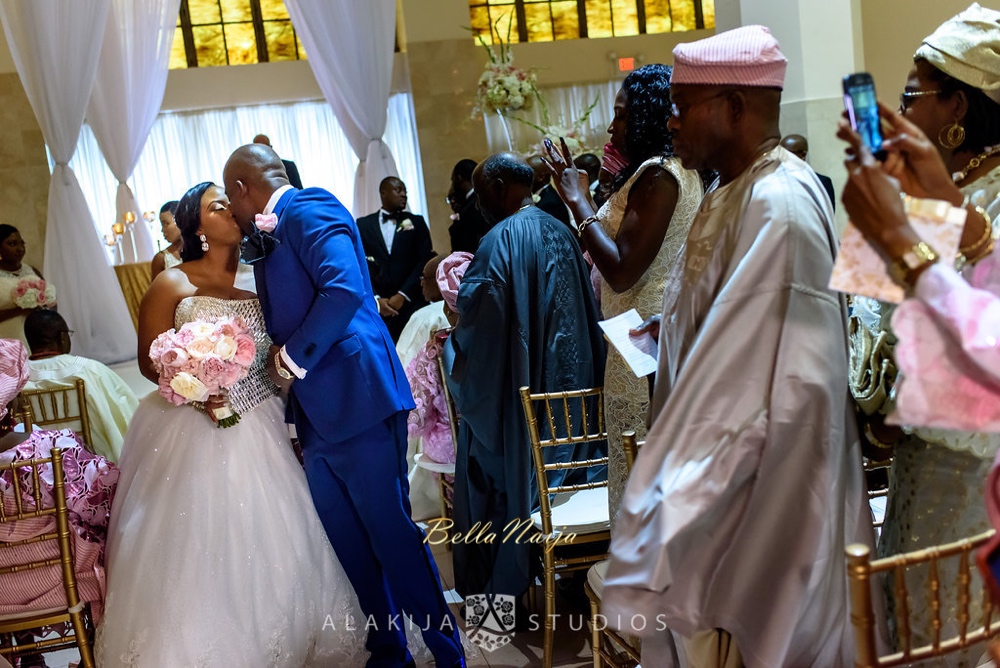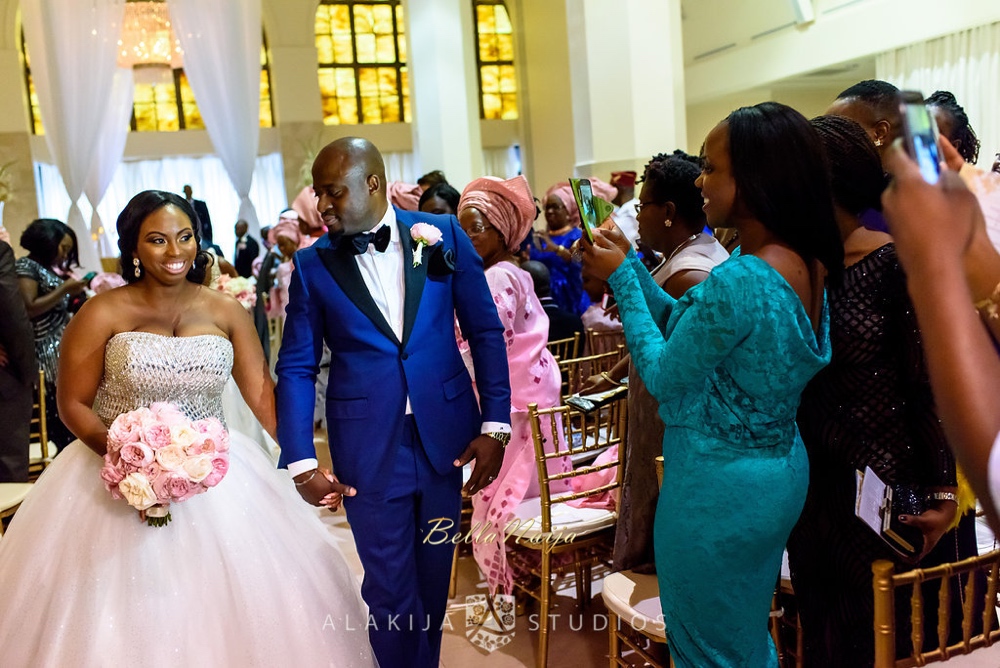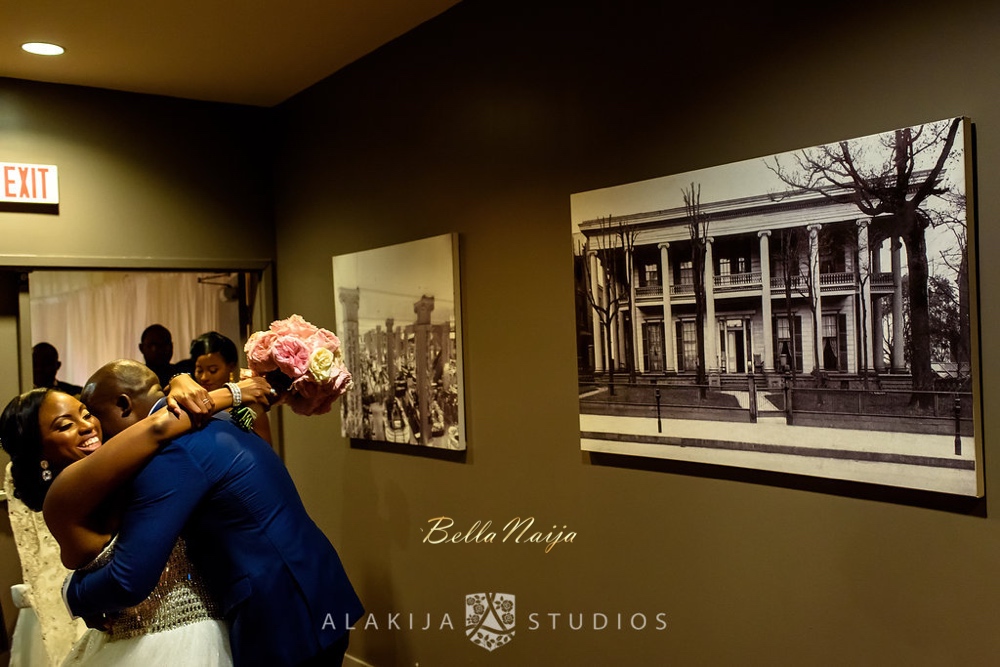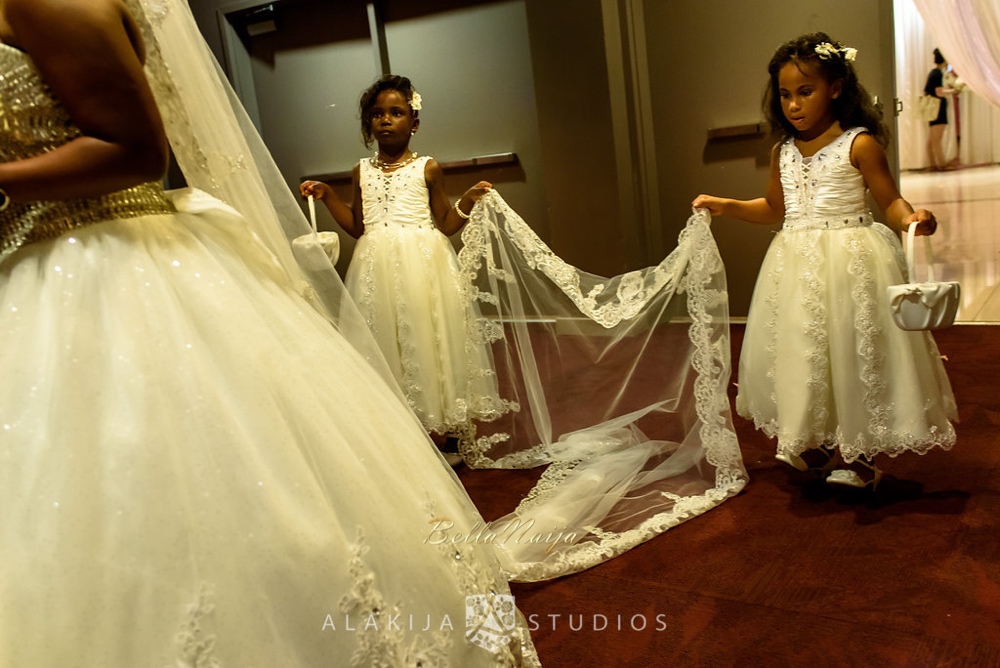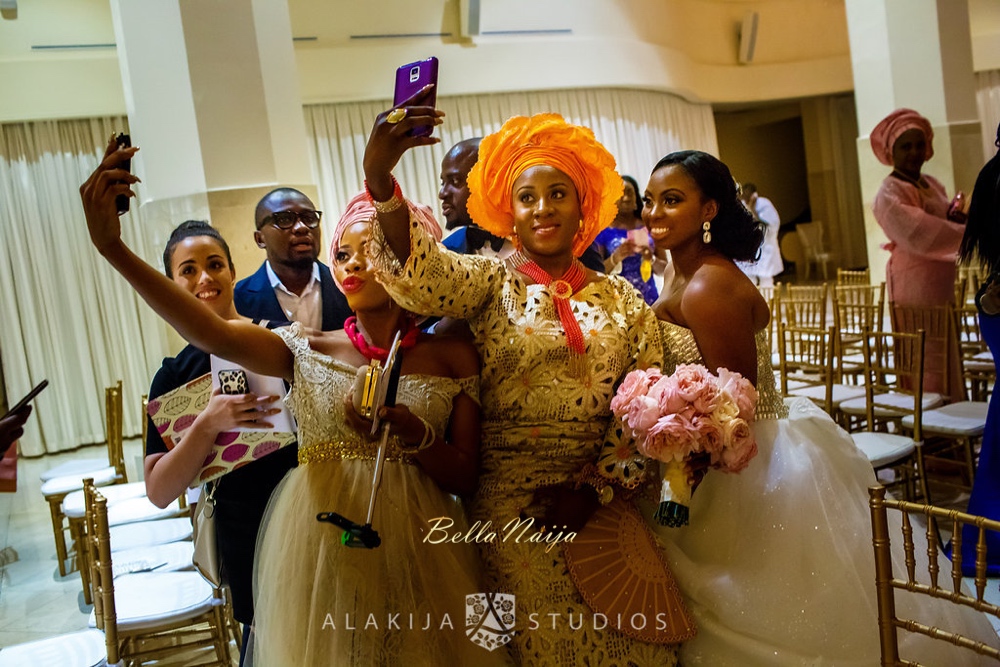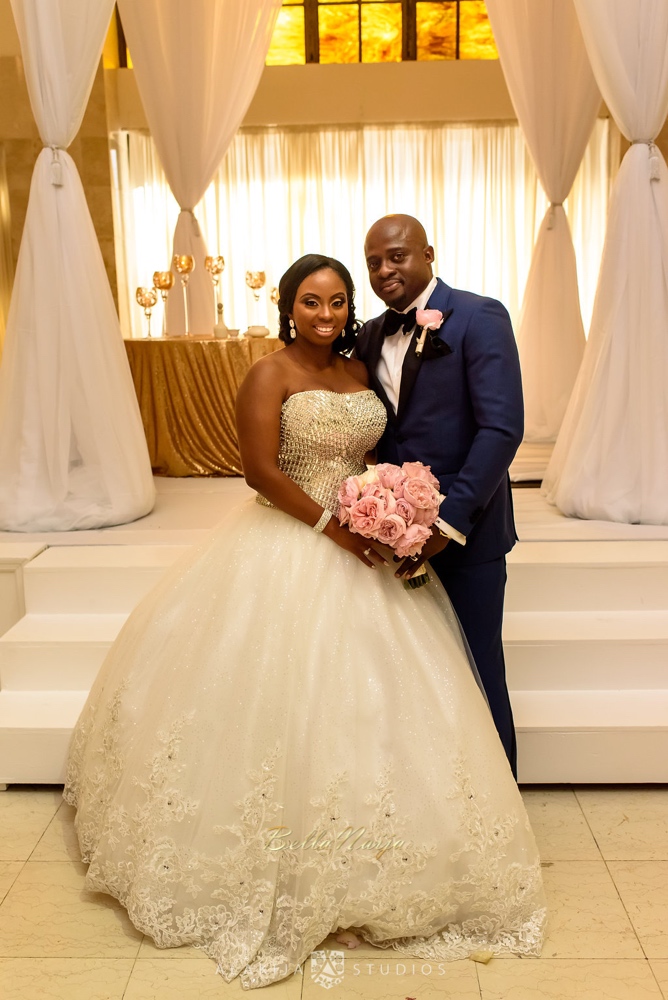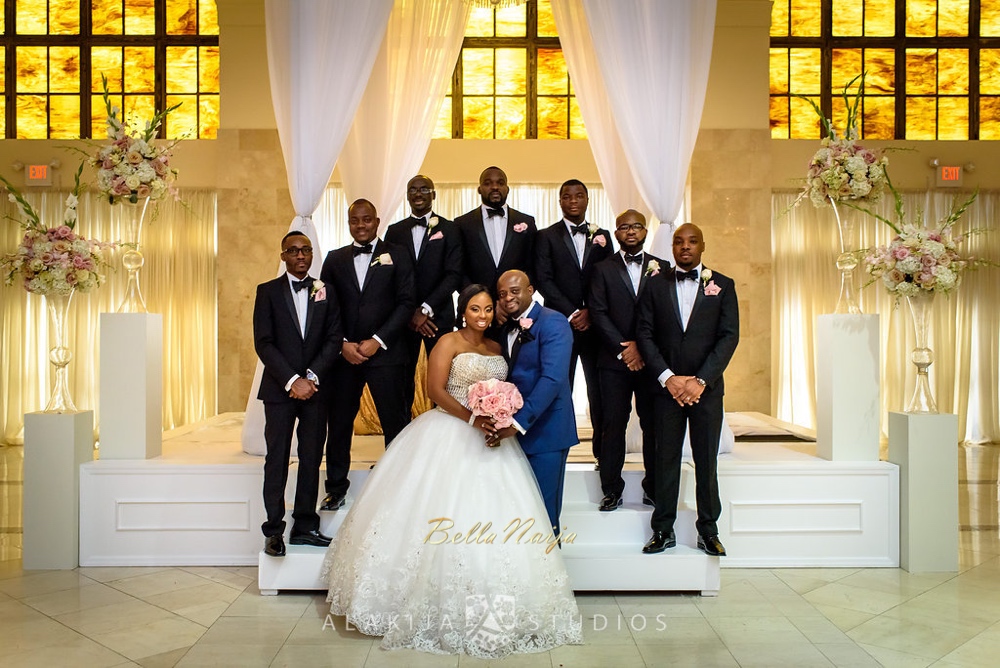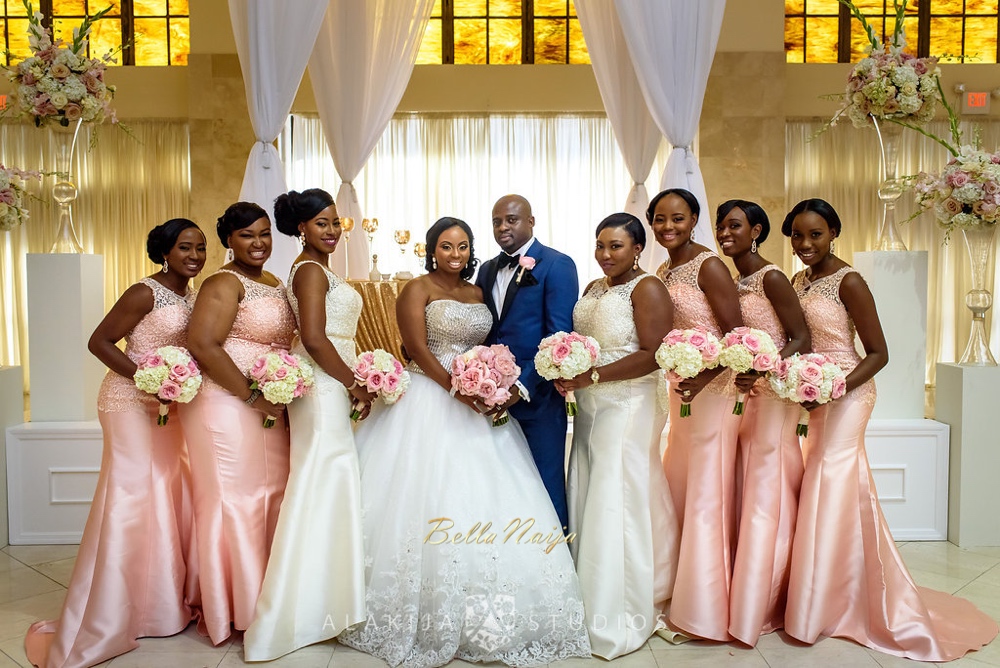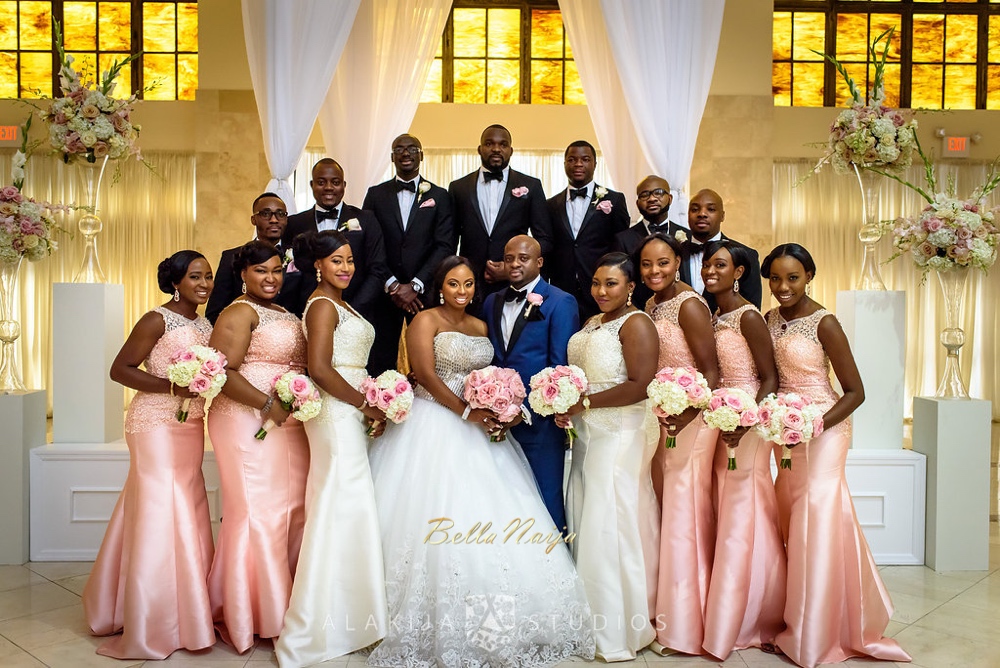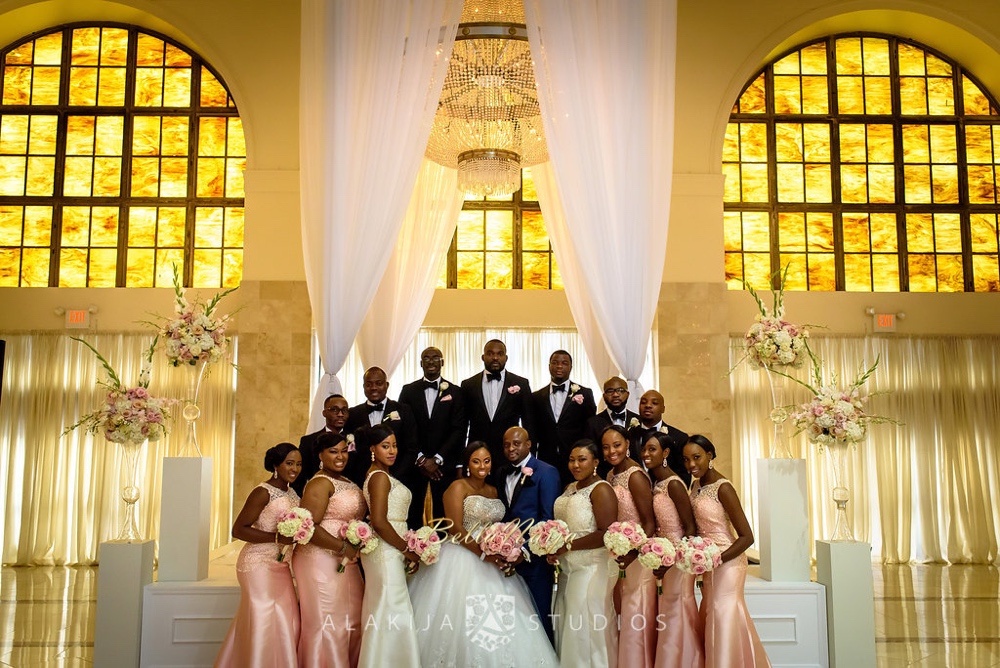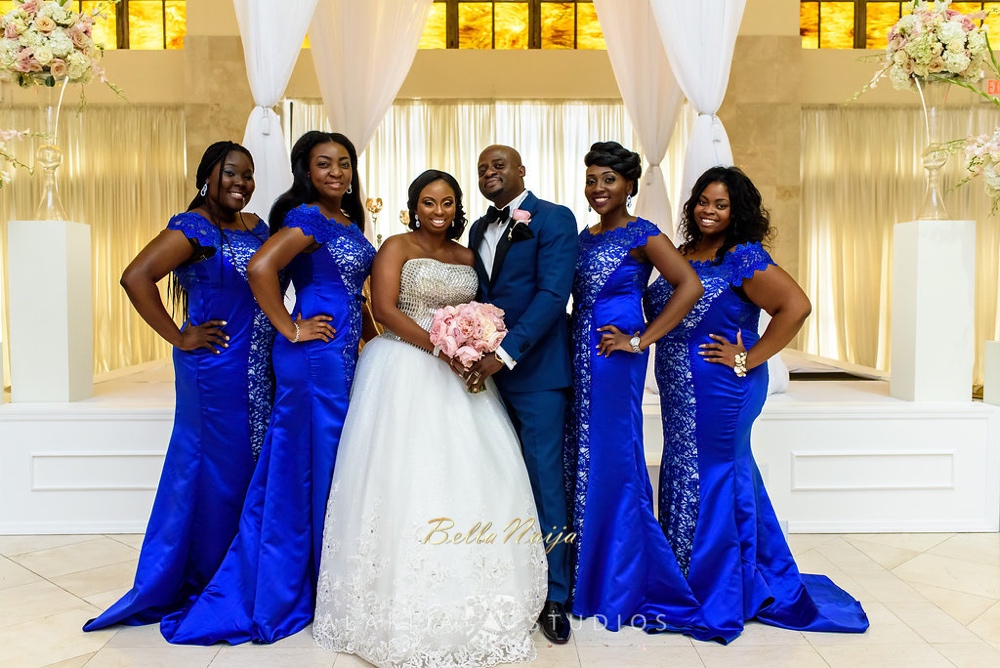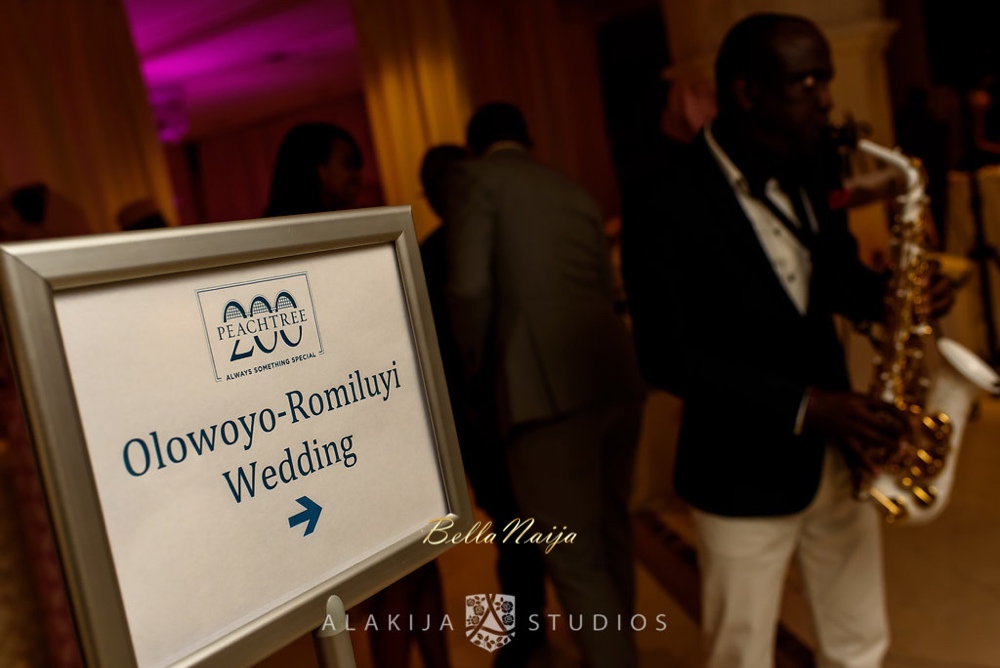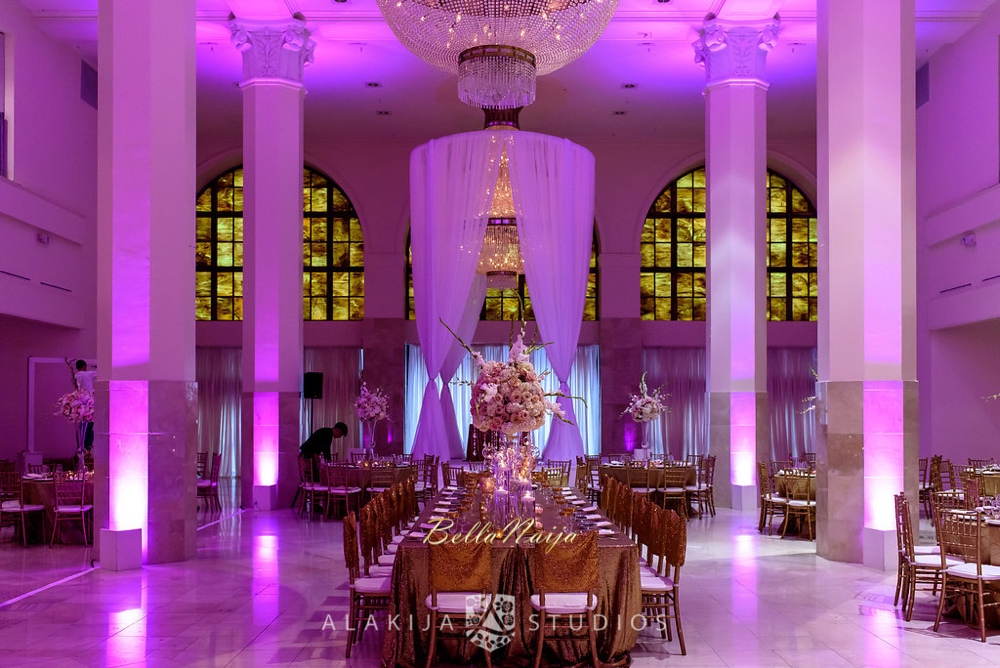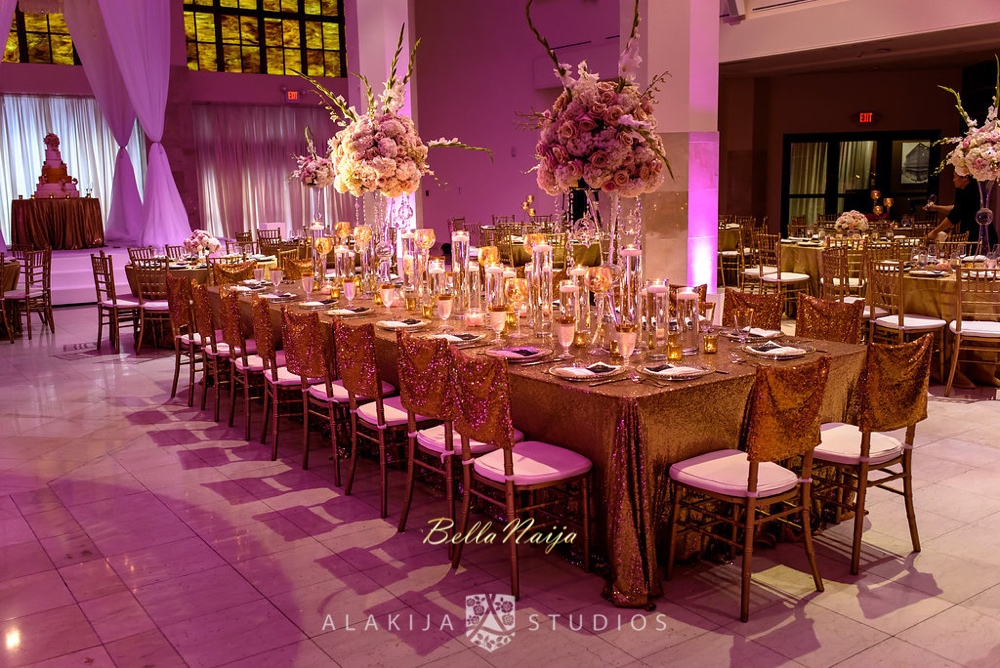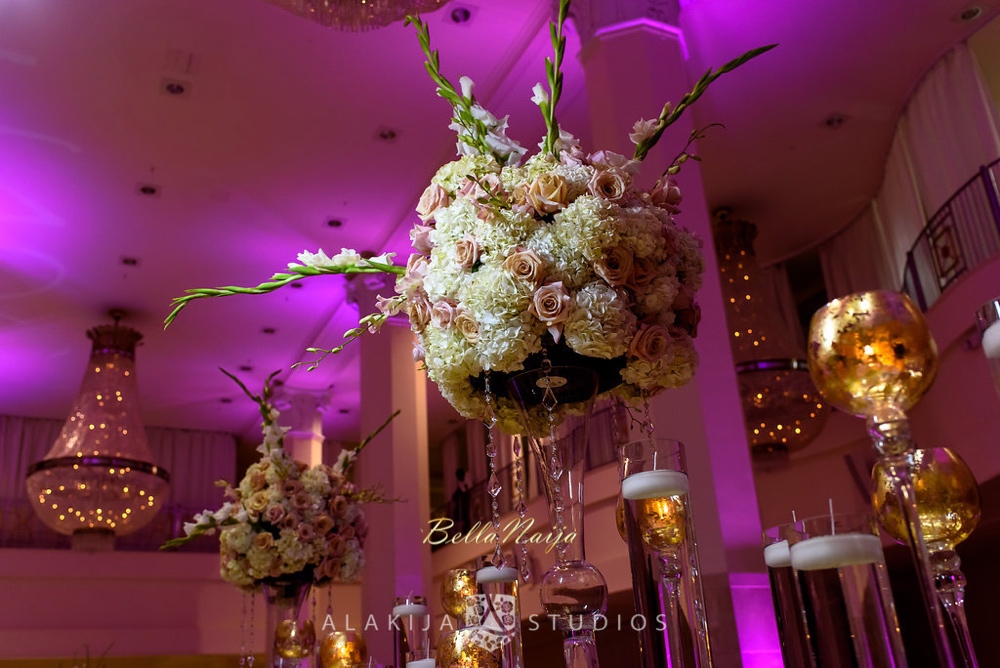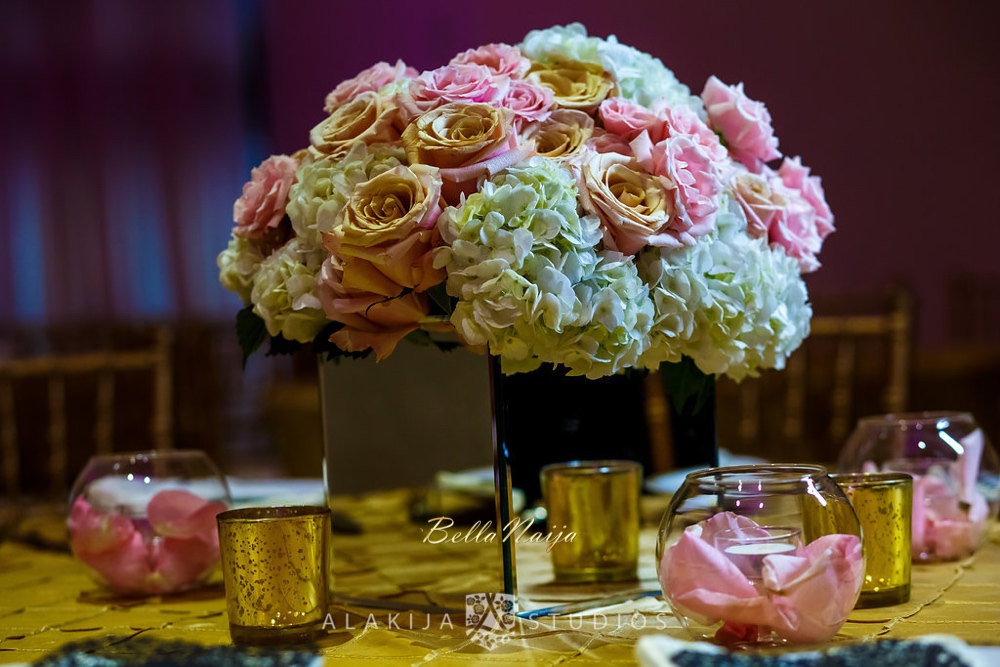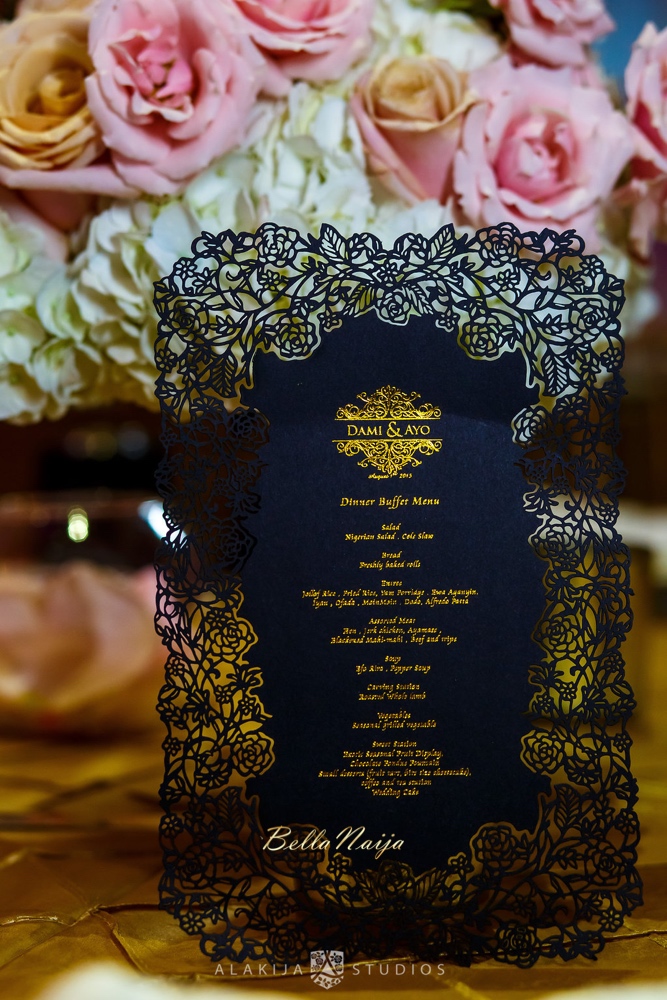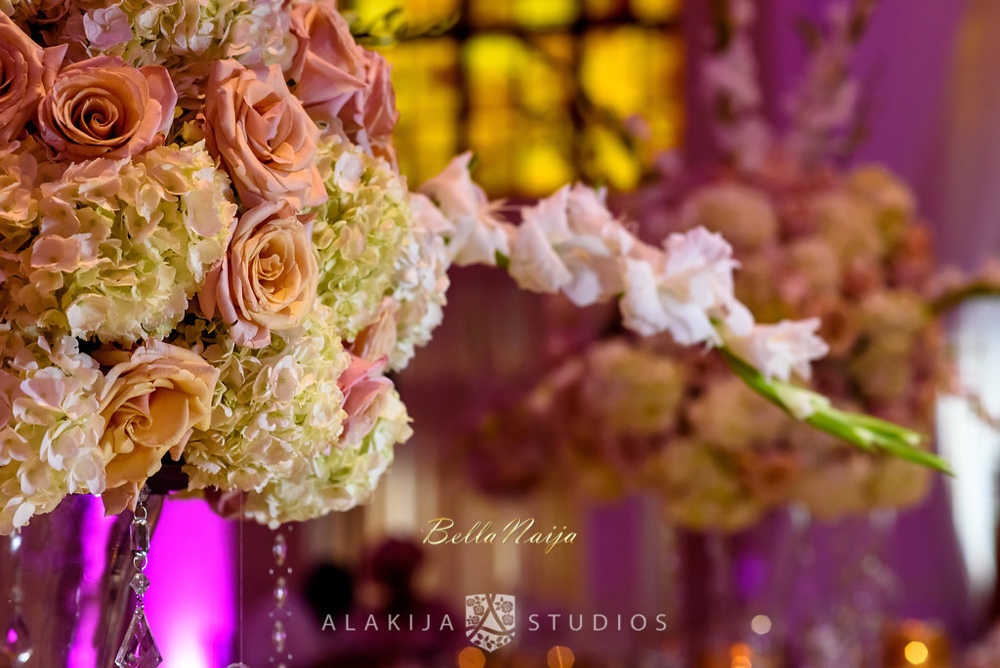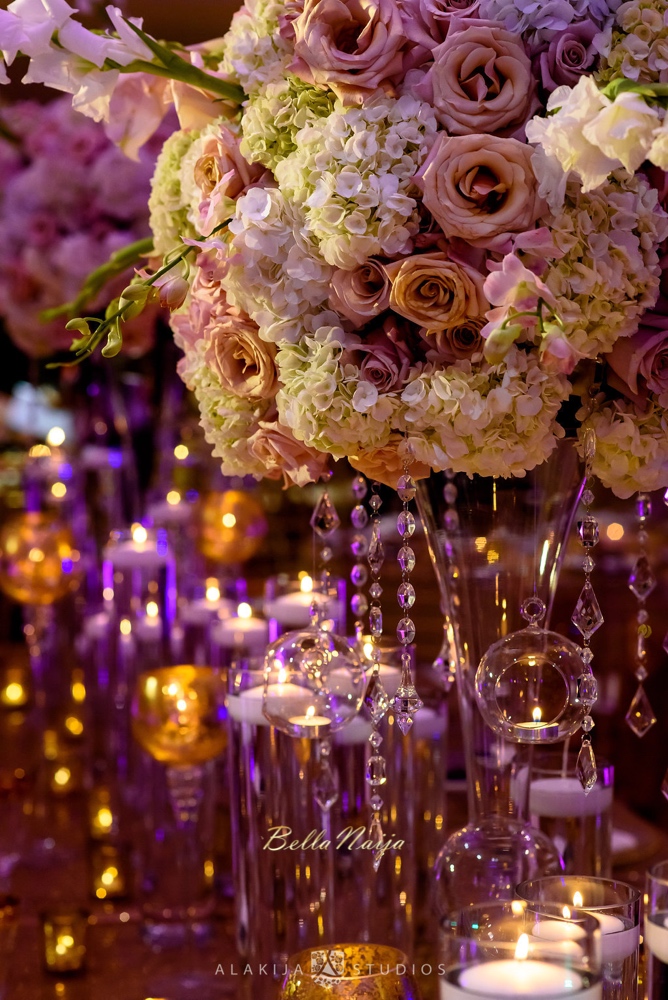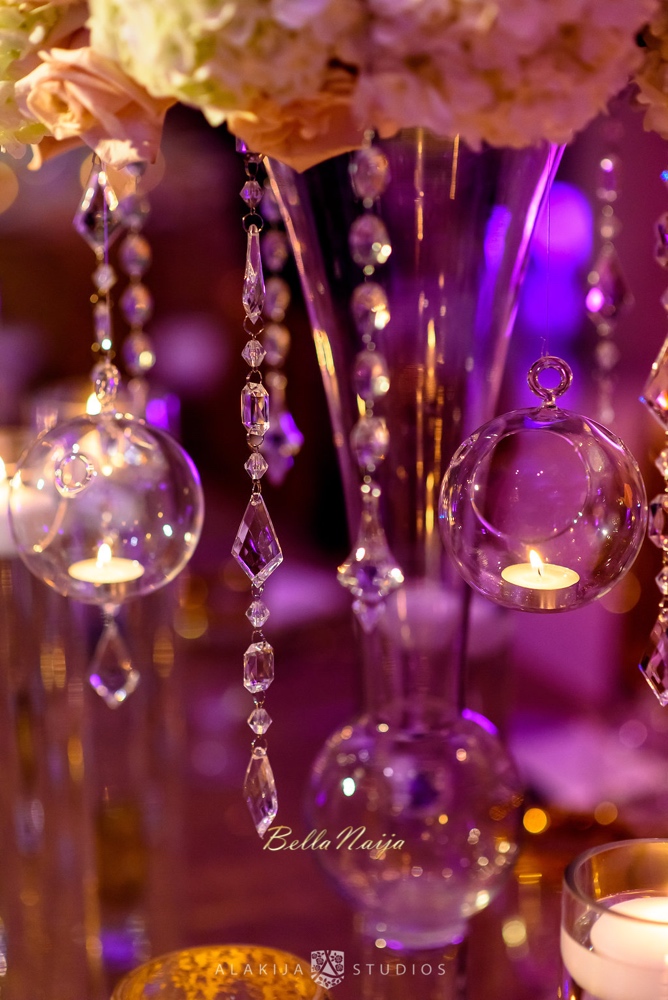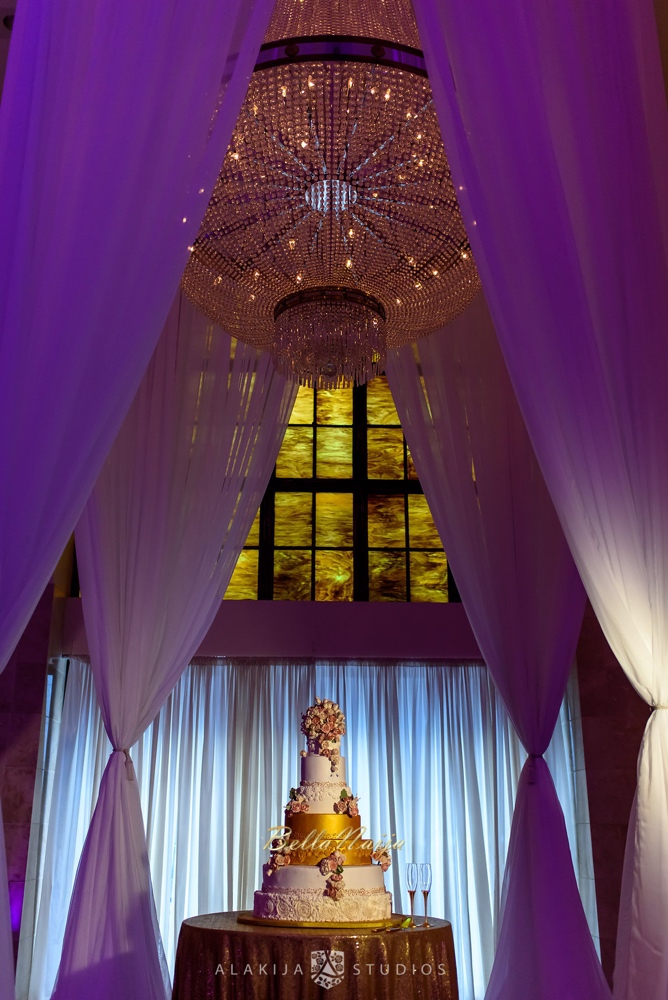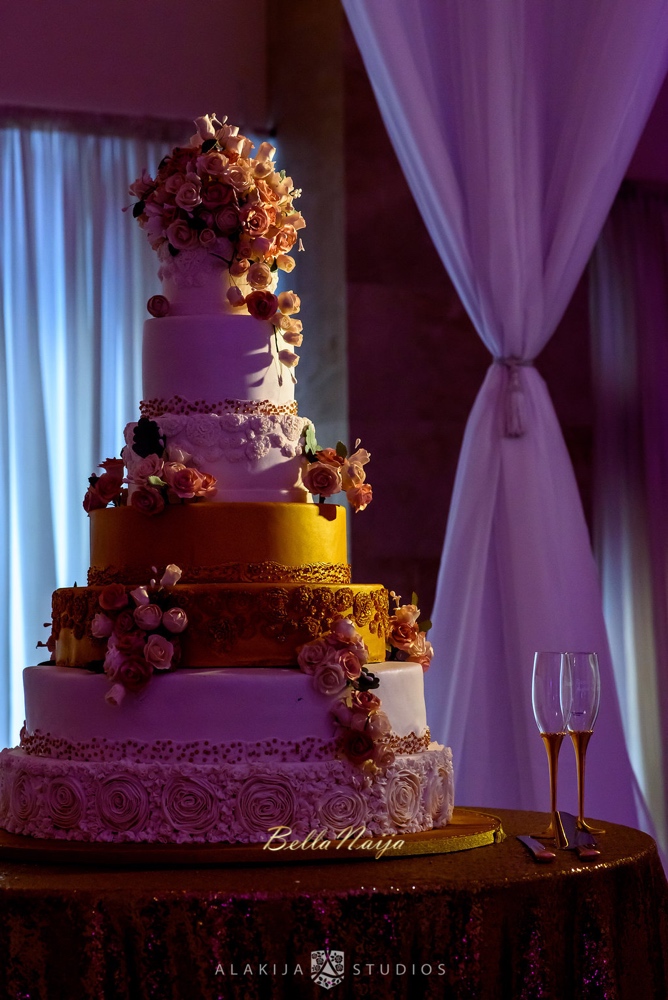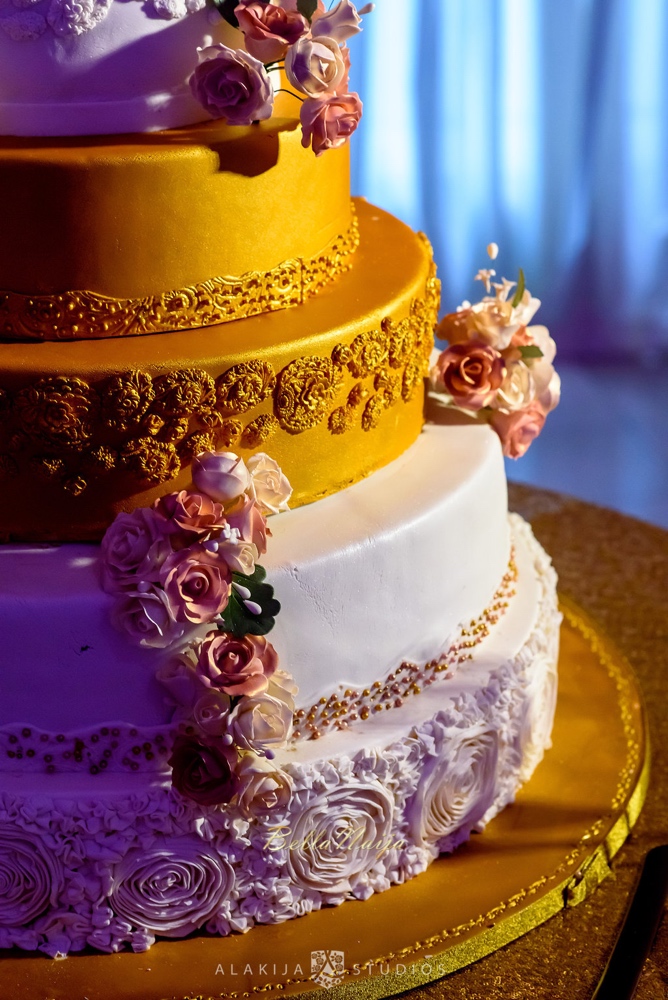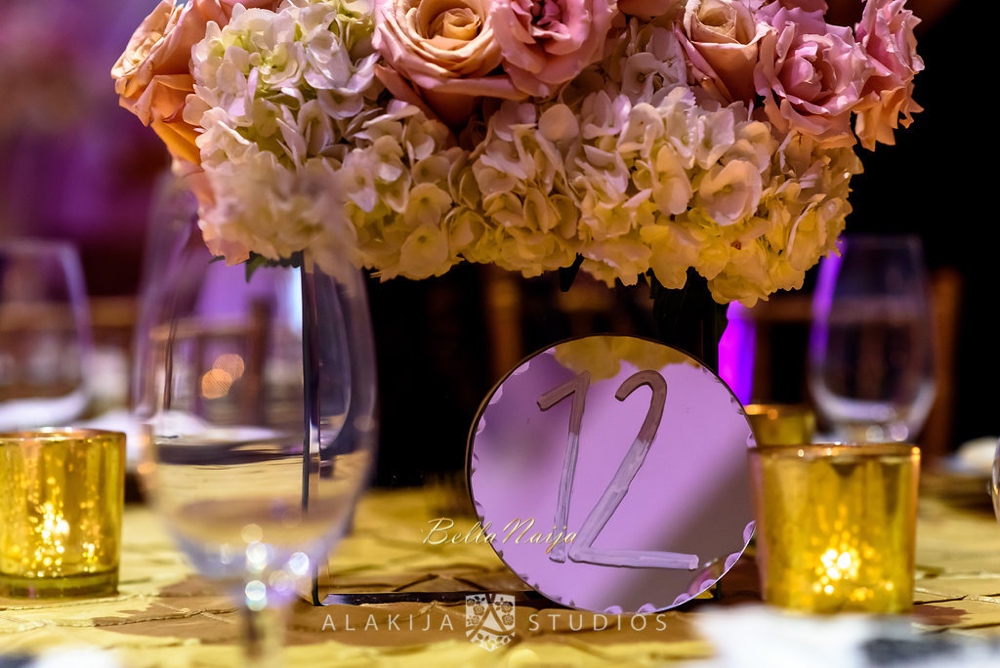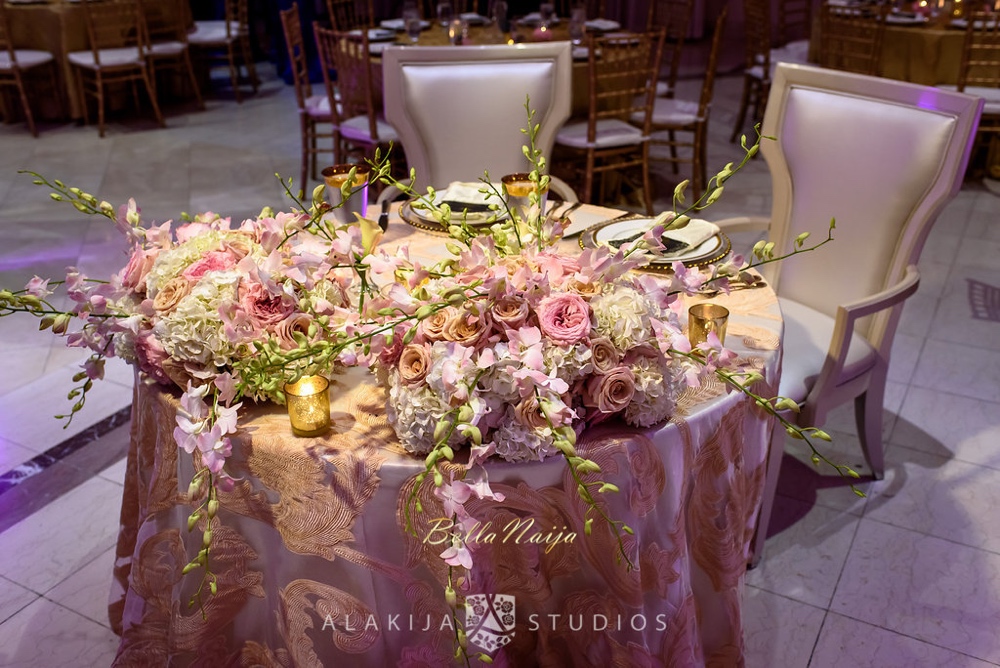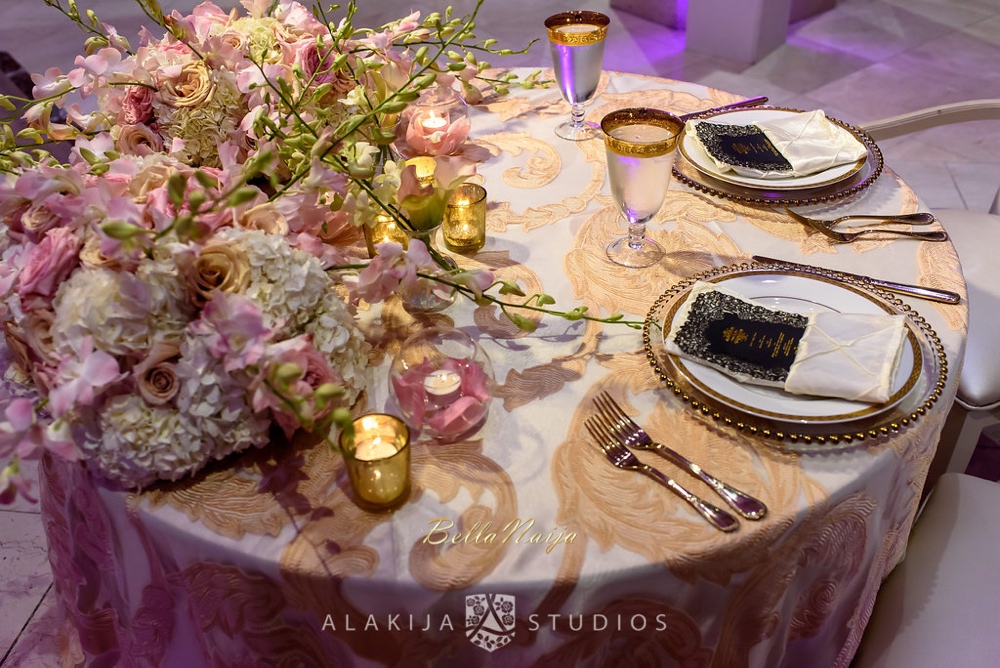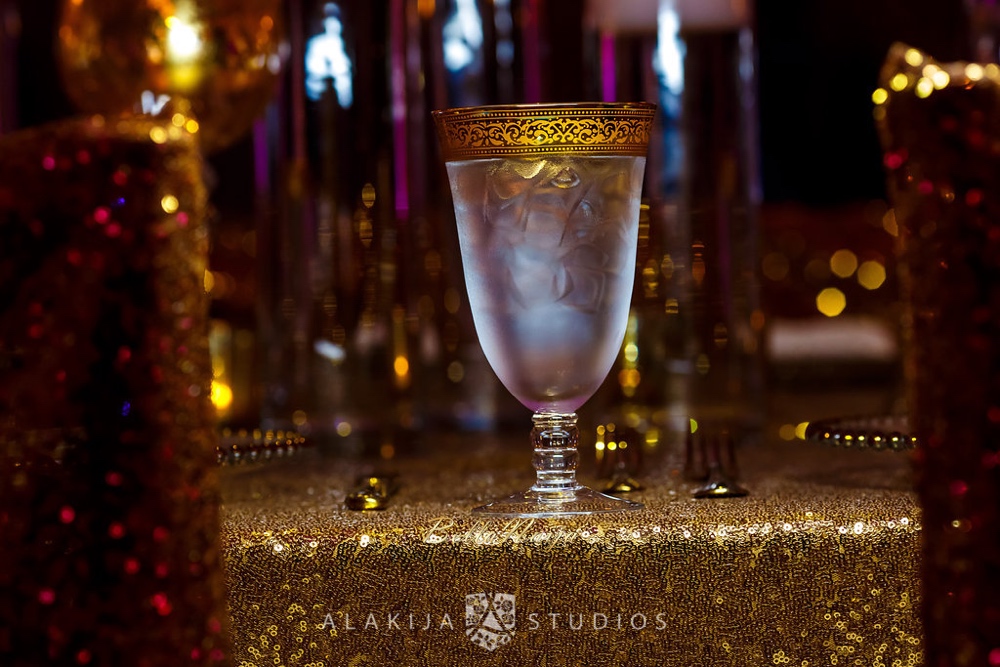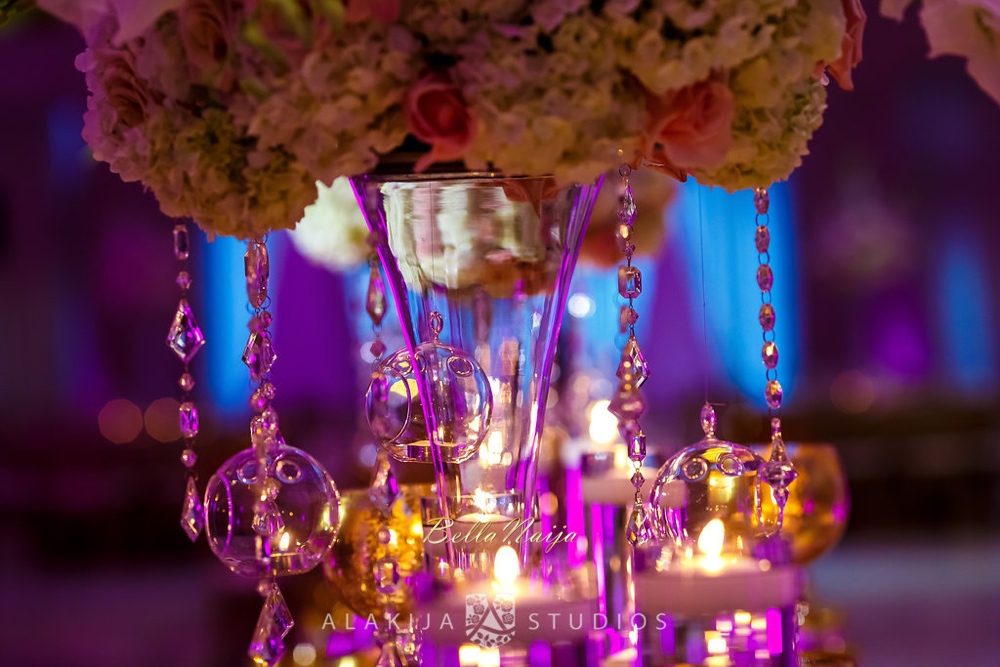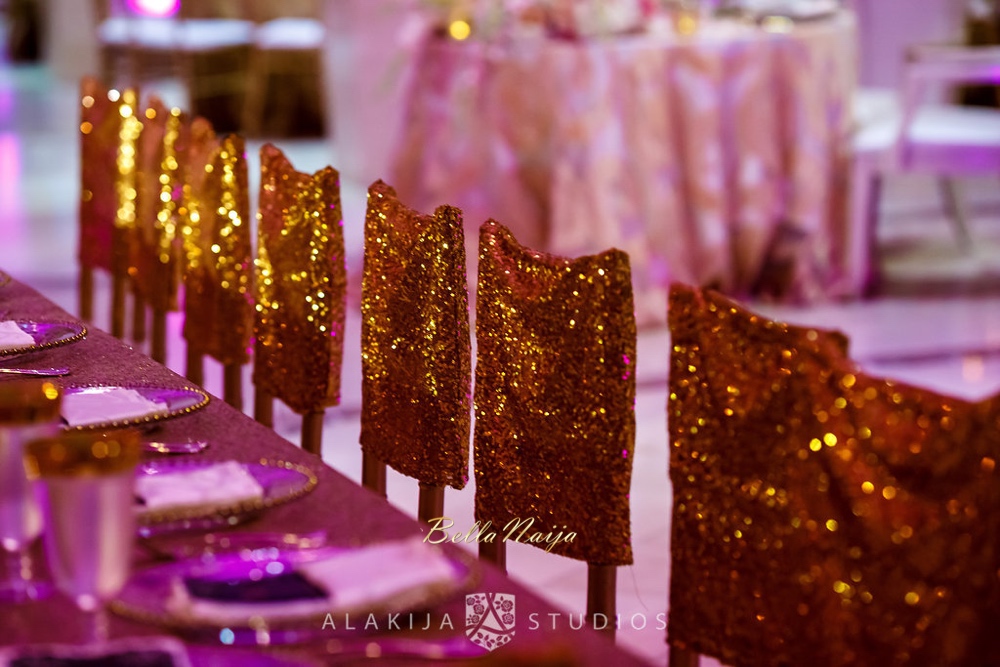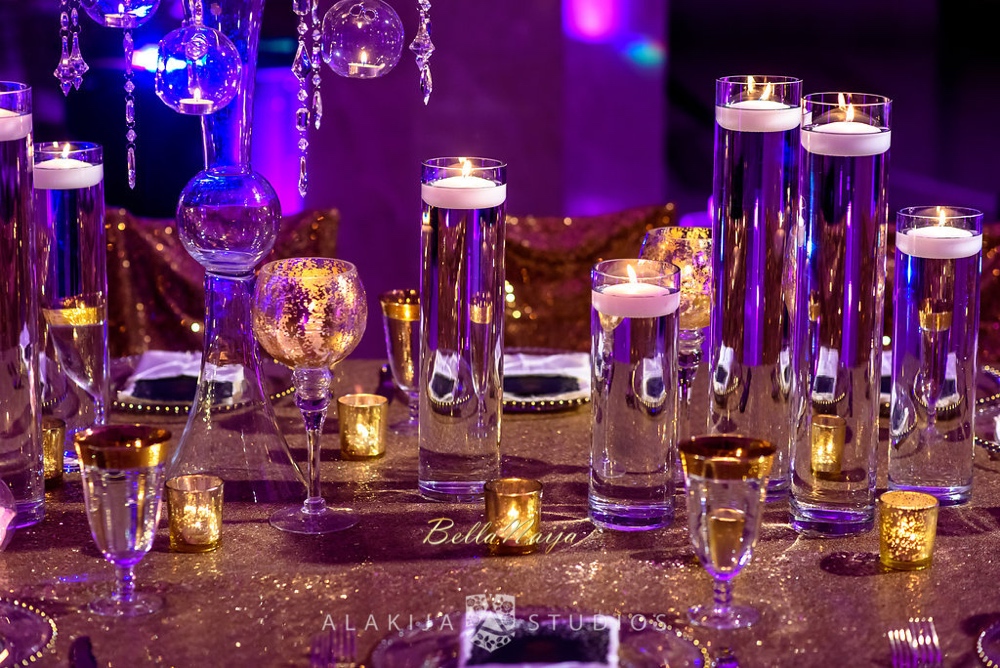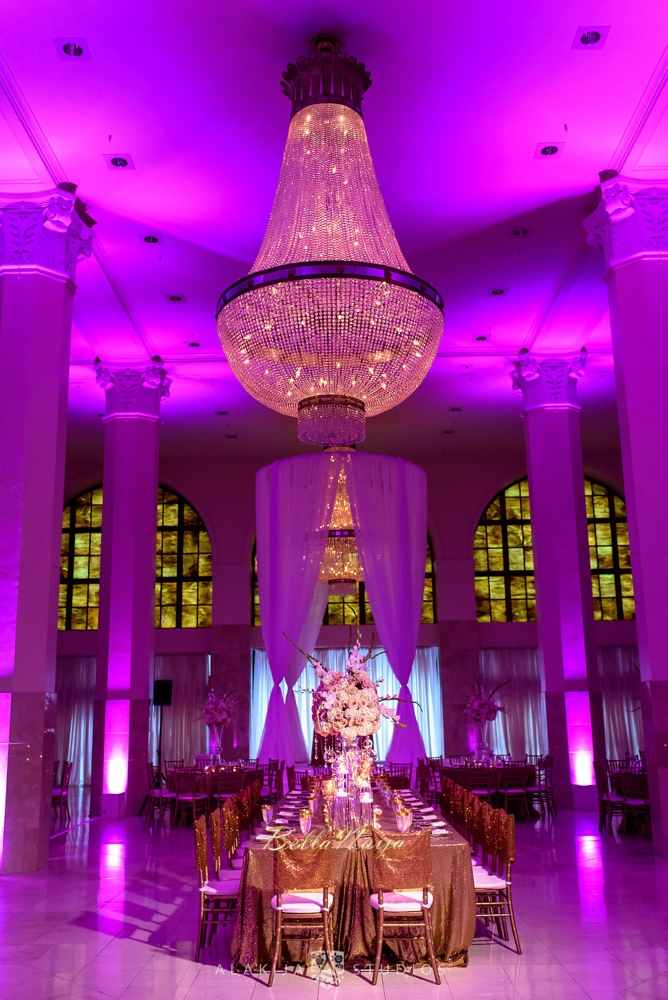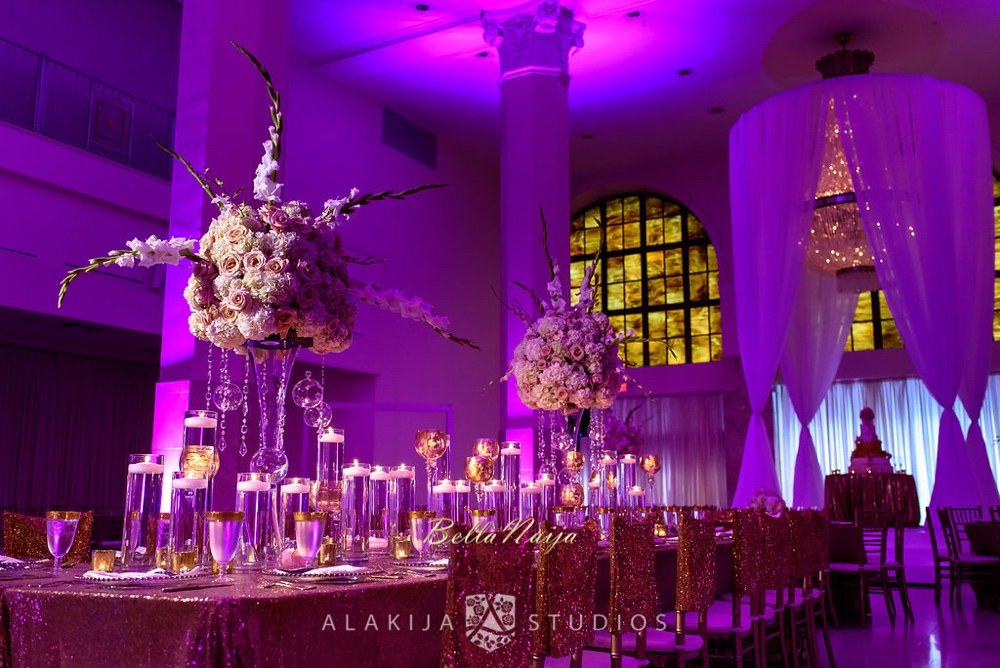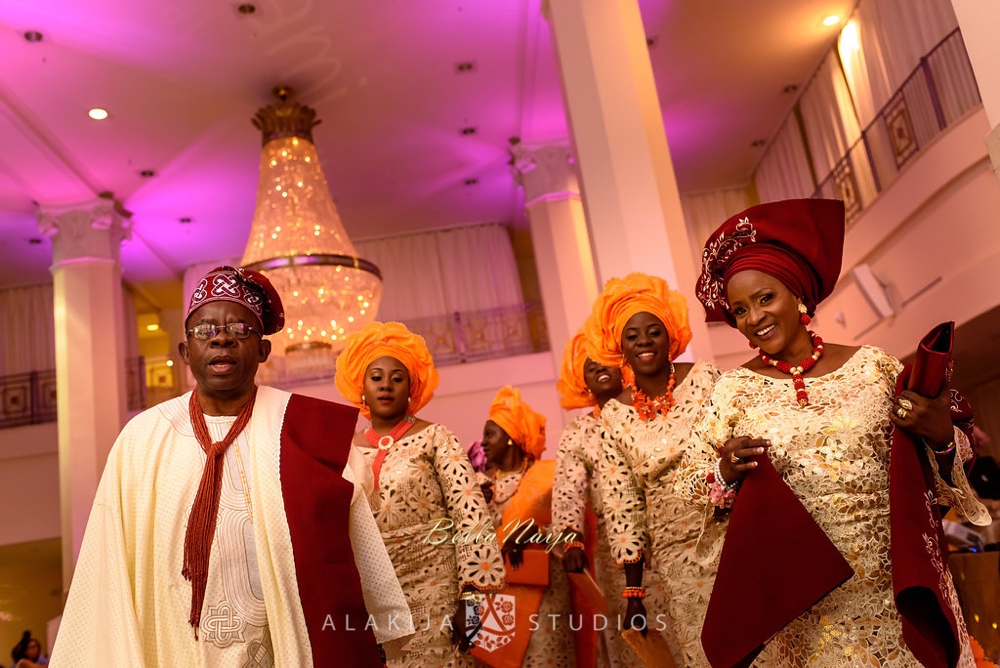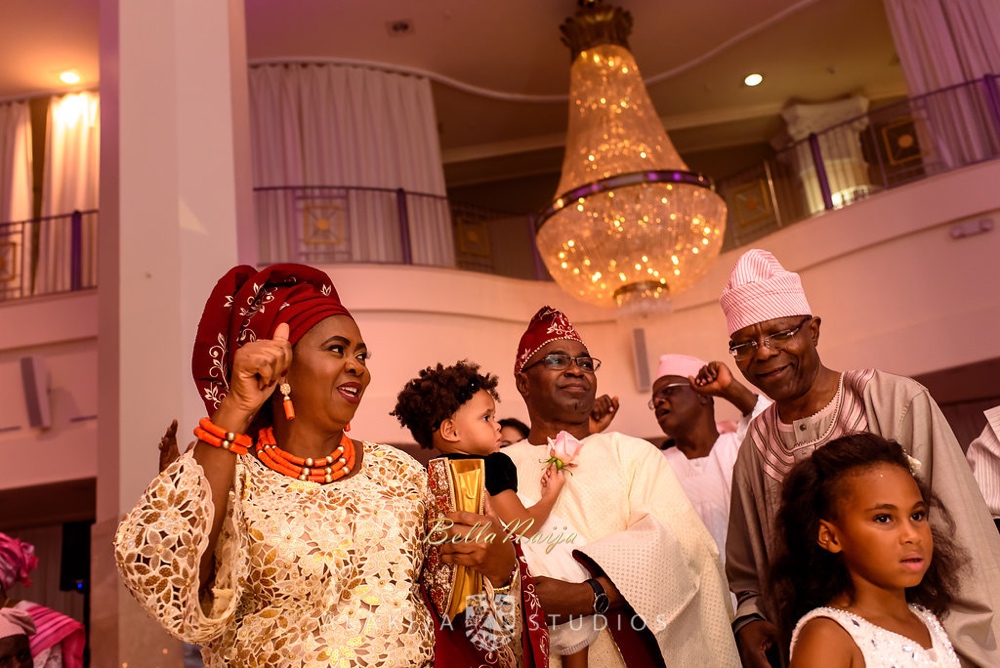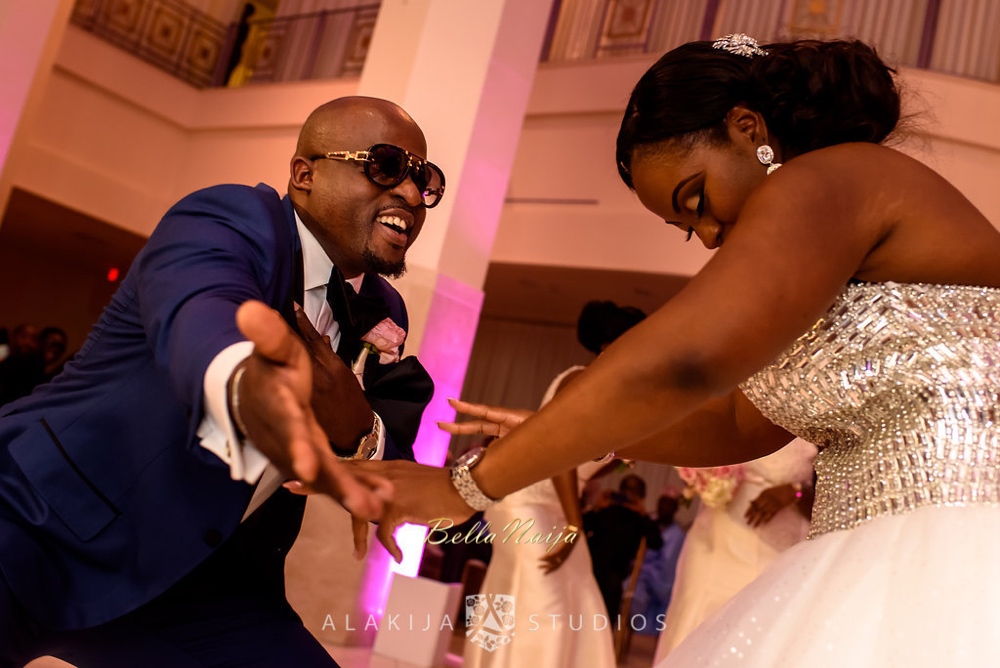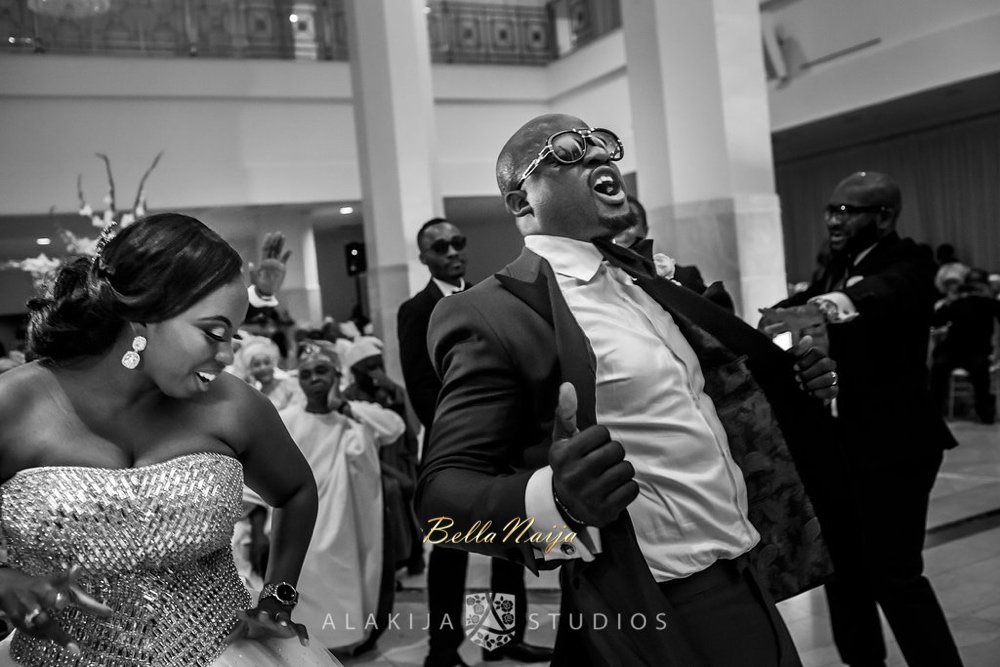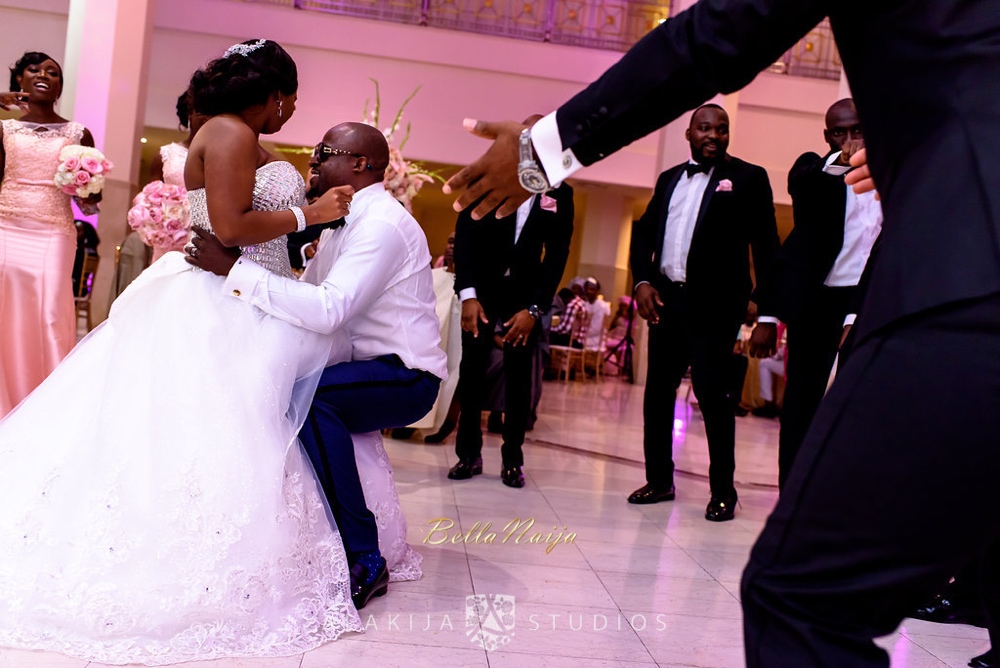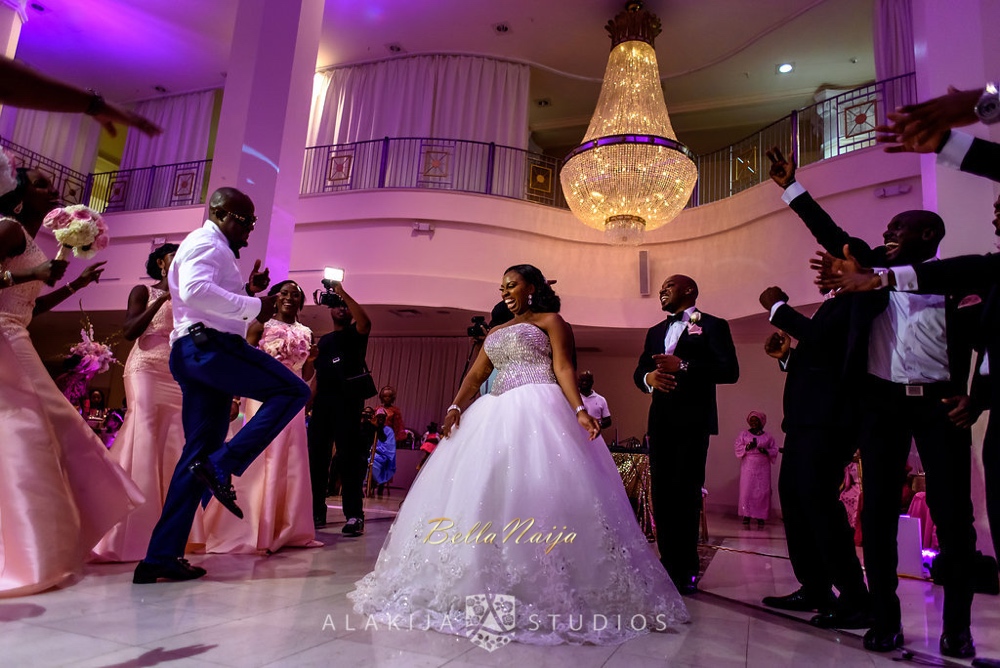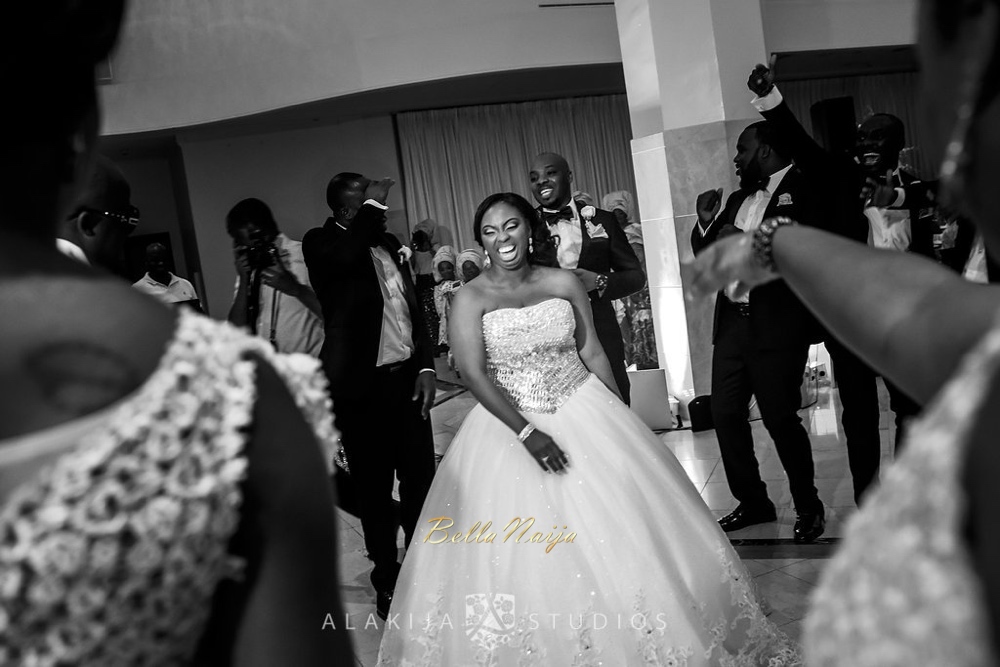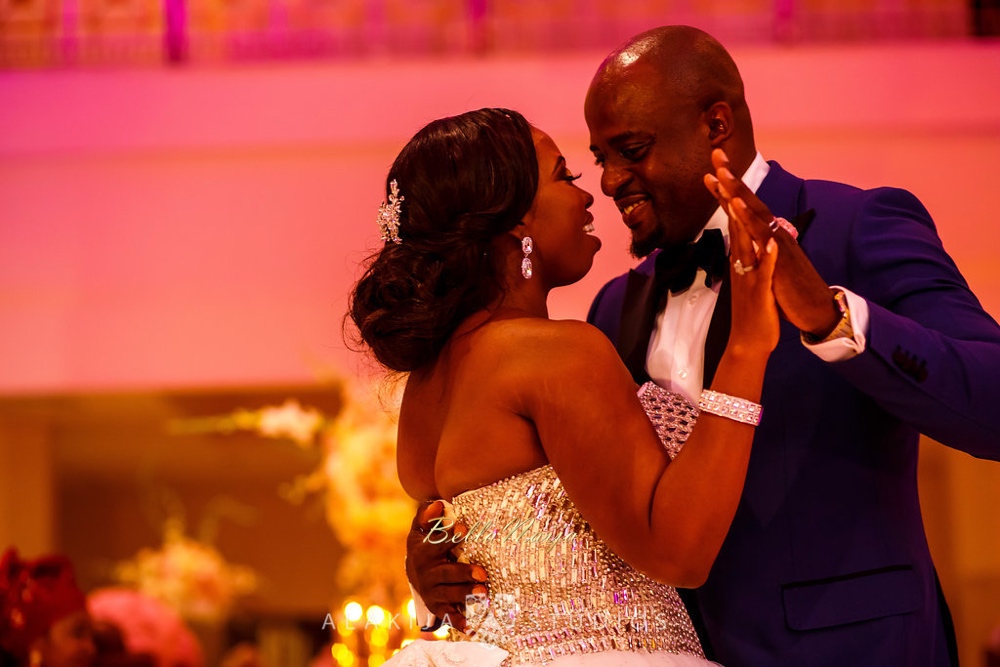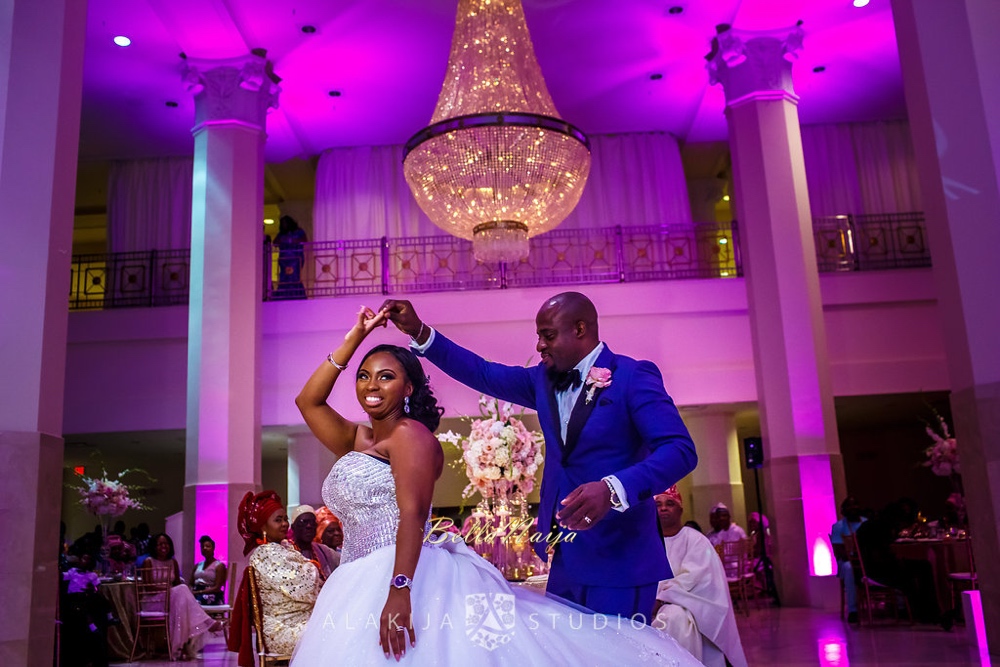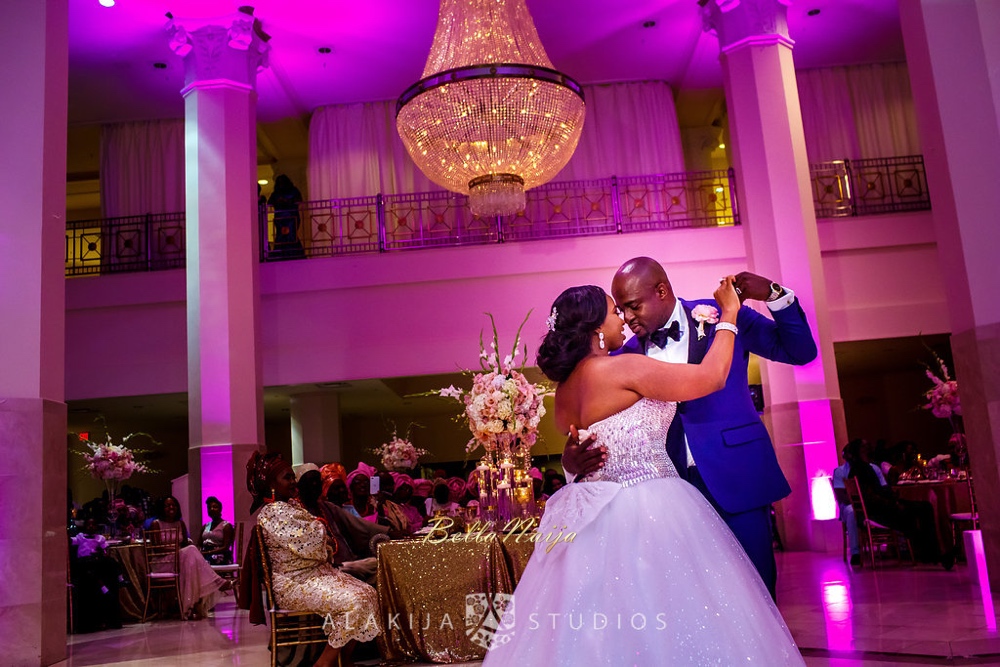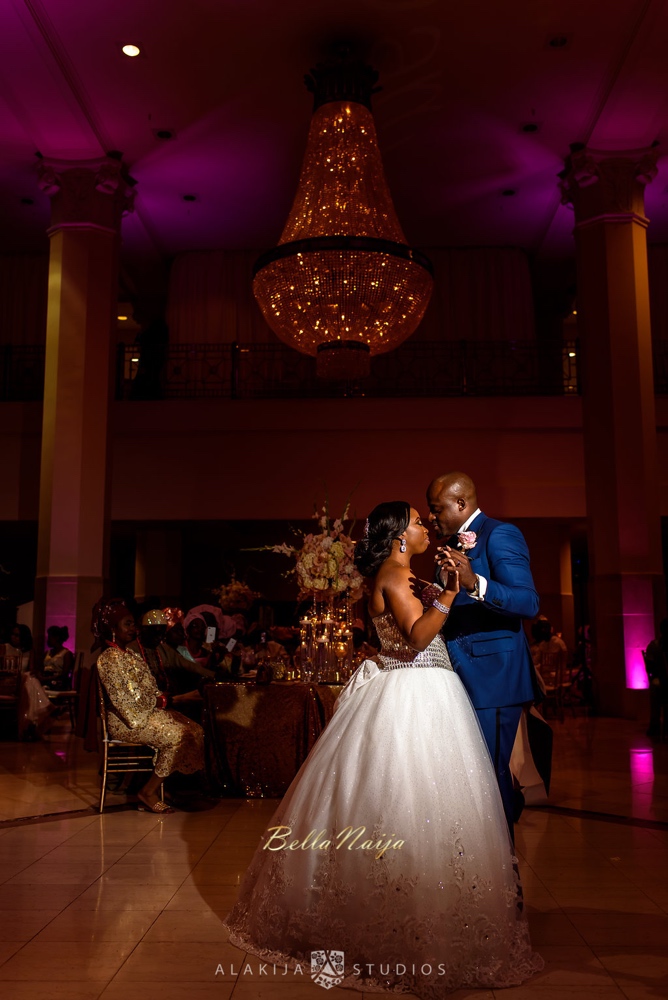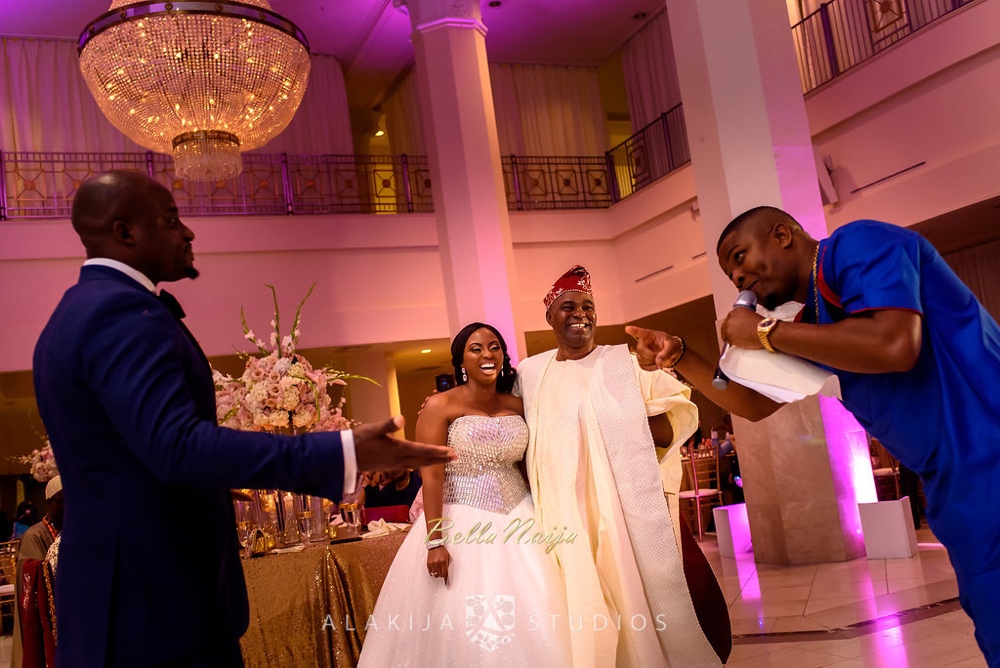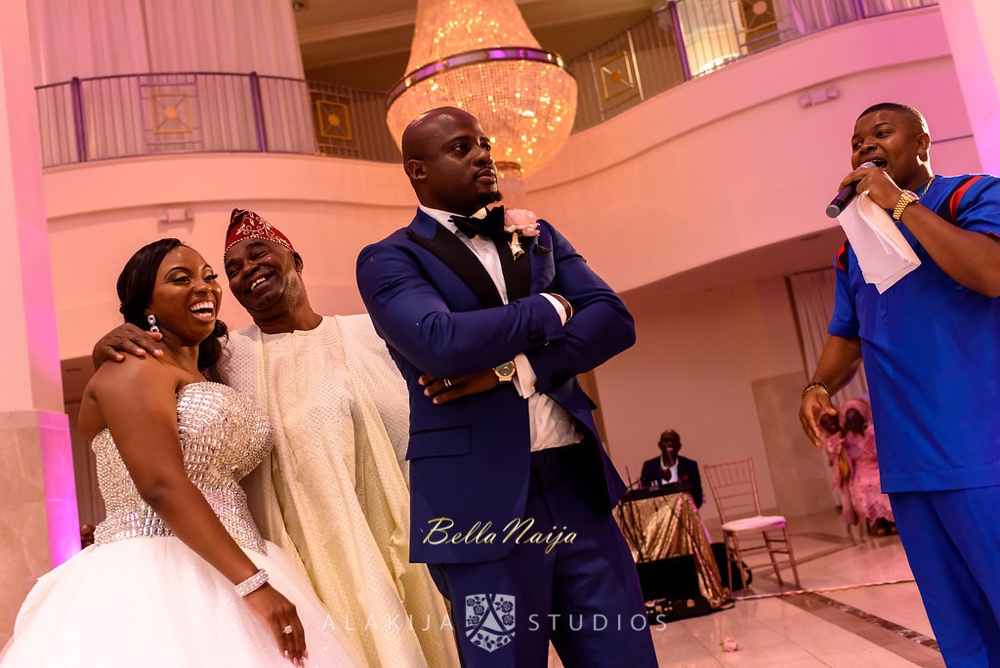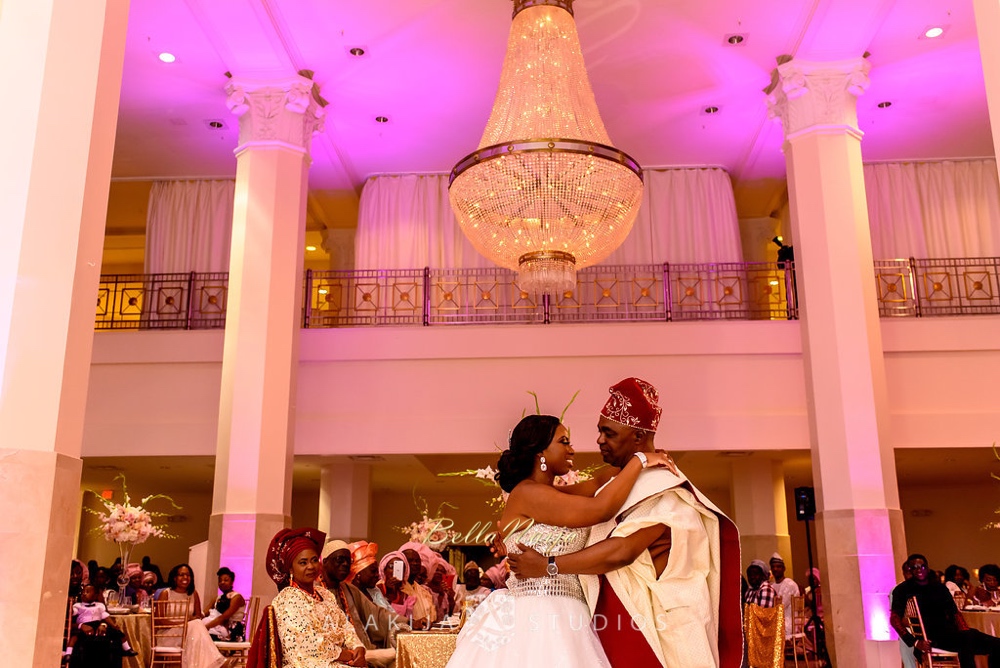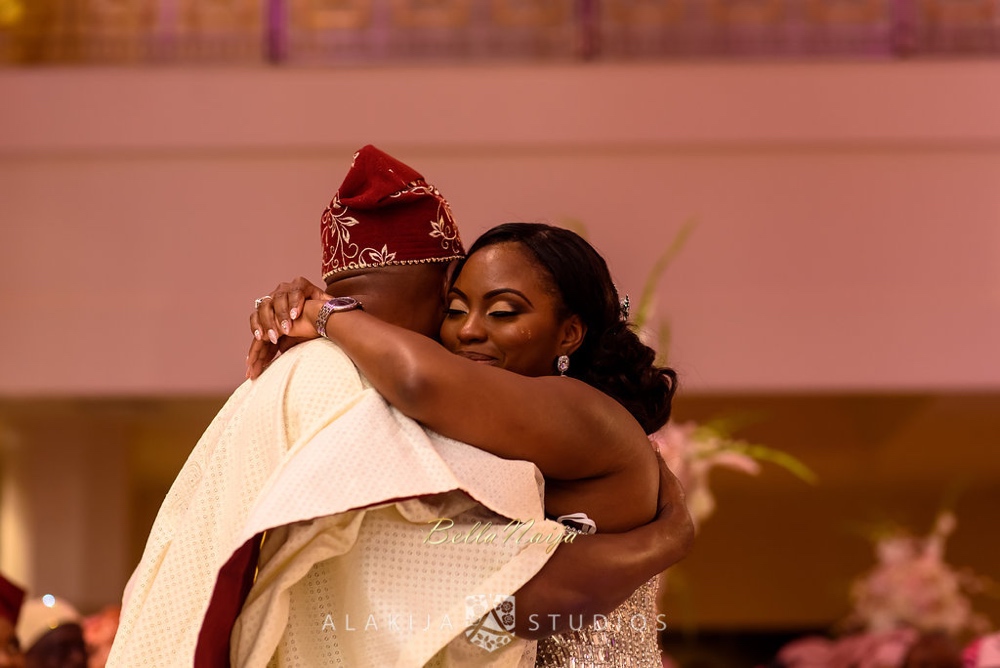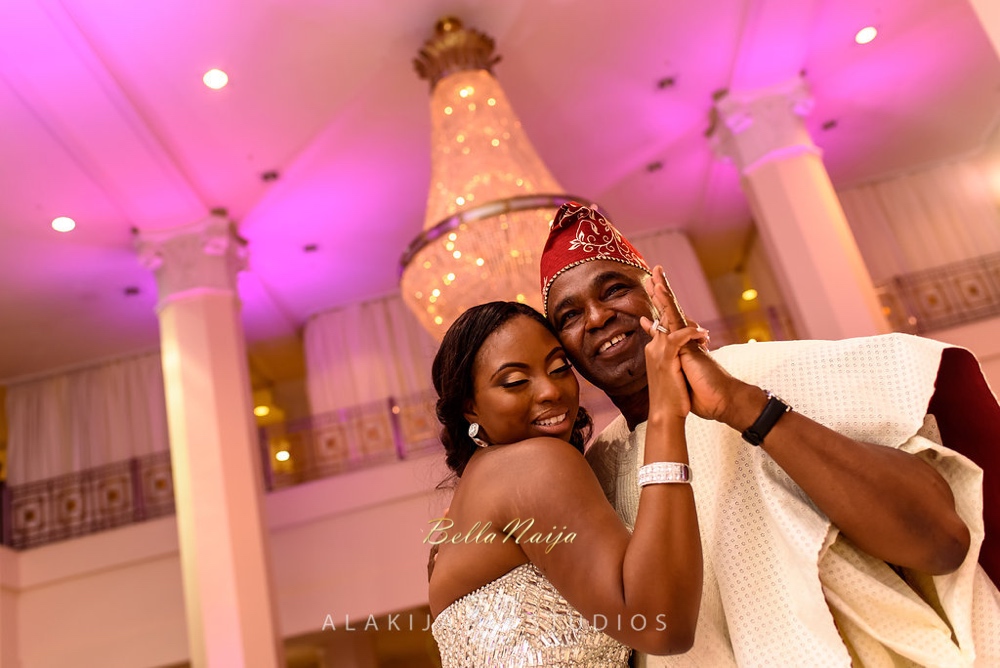 "Another precious moment for me was the father – daughter dance during the reception. It was so emotional for me. I had no idea I would end up crying ! I will have to blame it on the song 🙂 " Chrisette Michele – Your Joy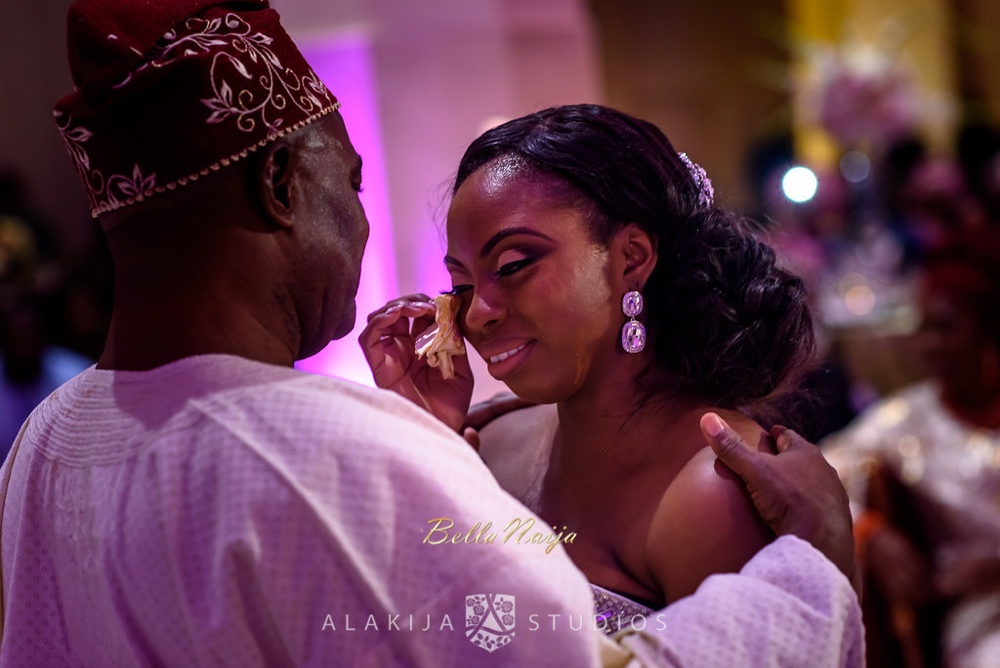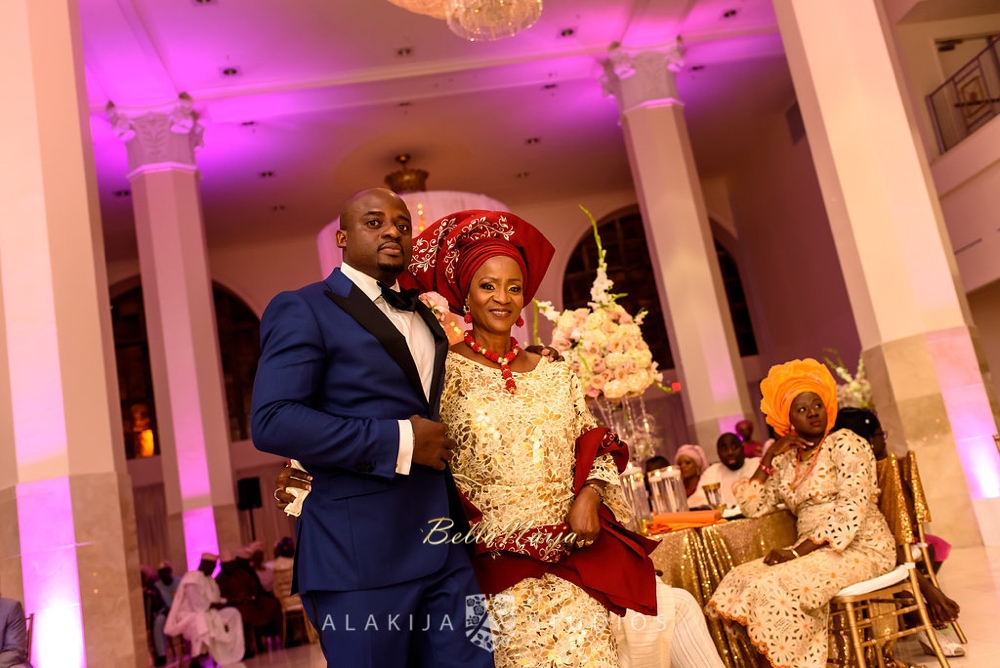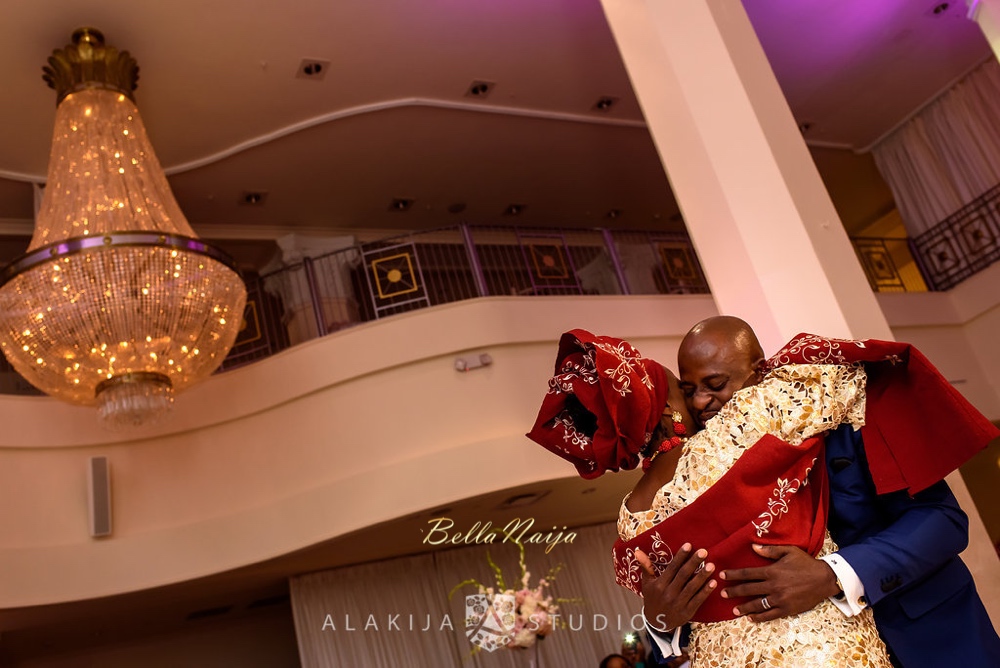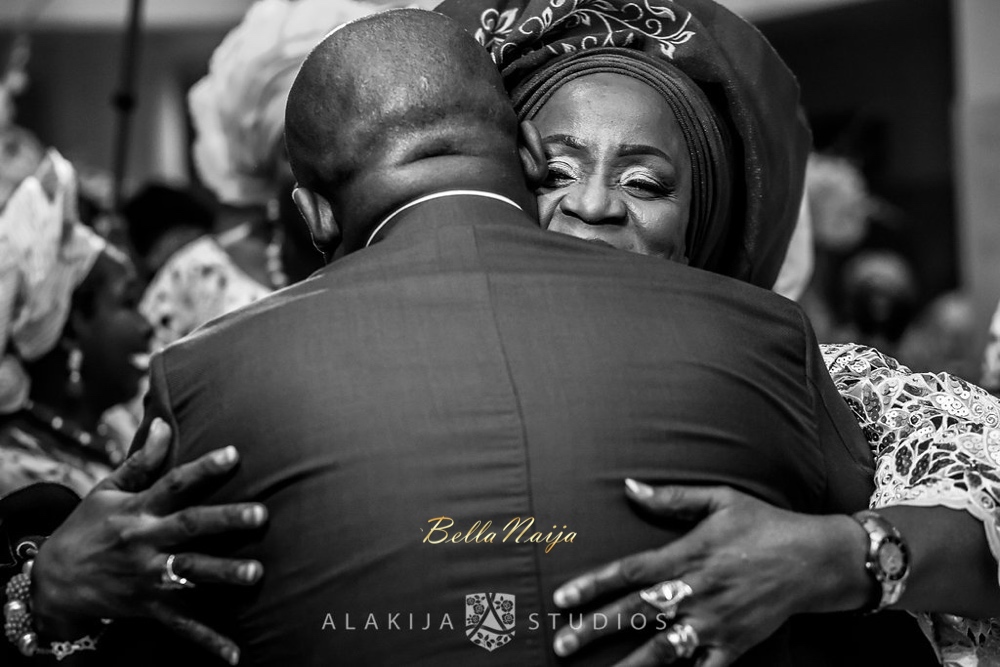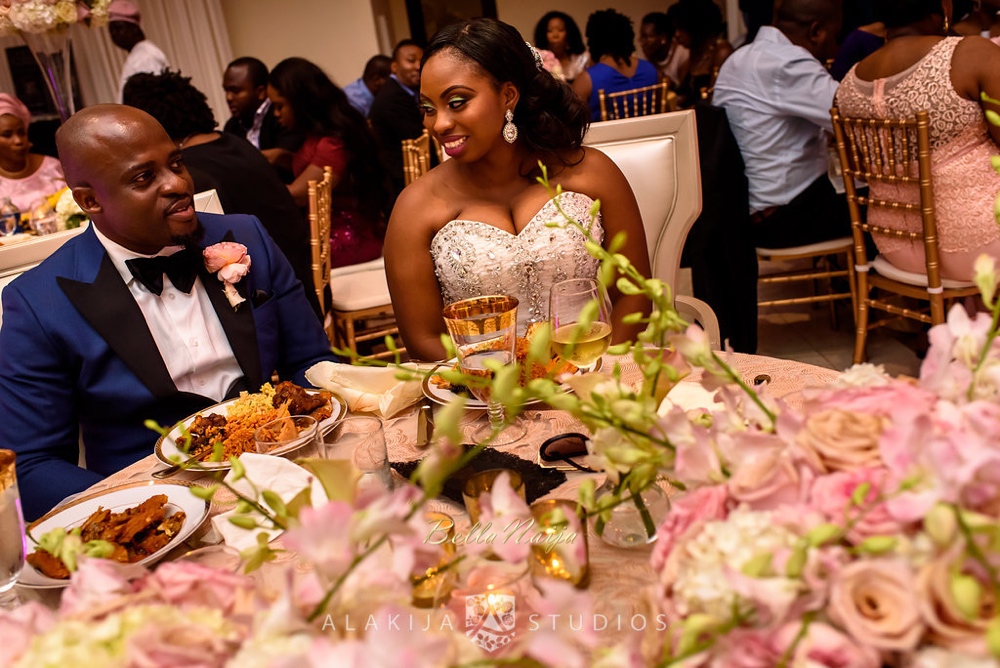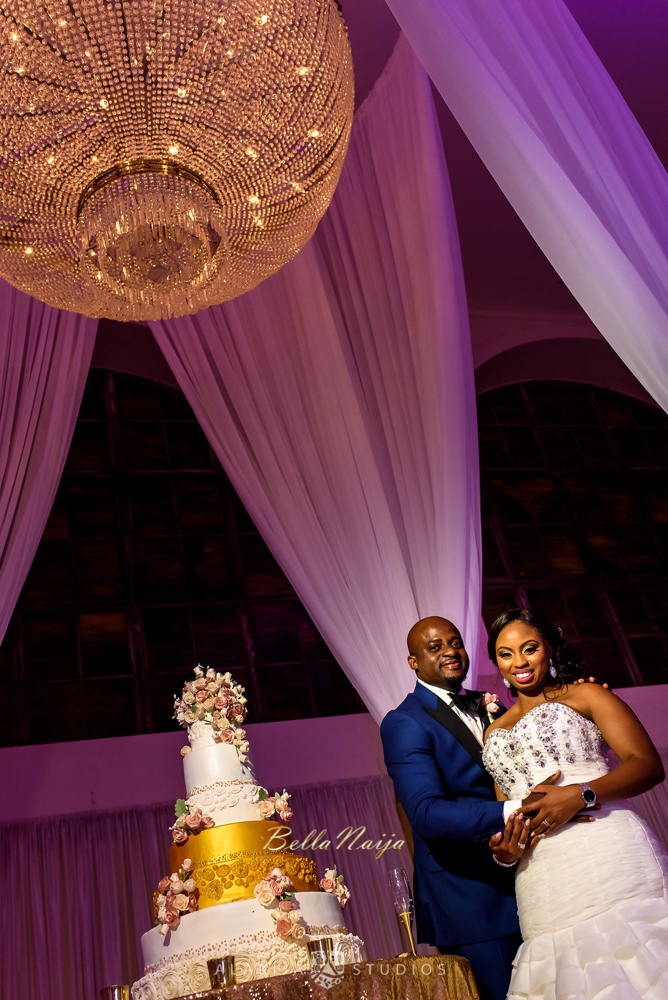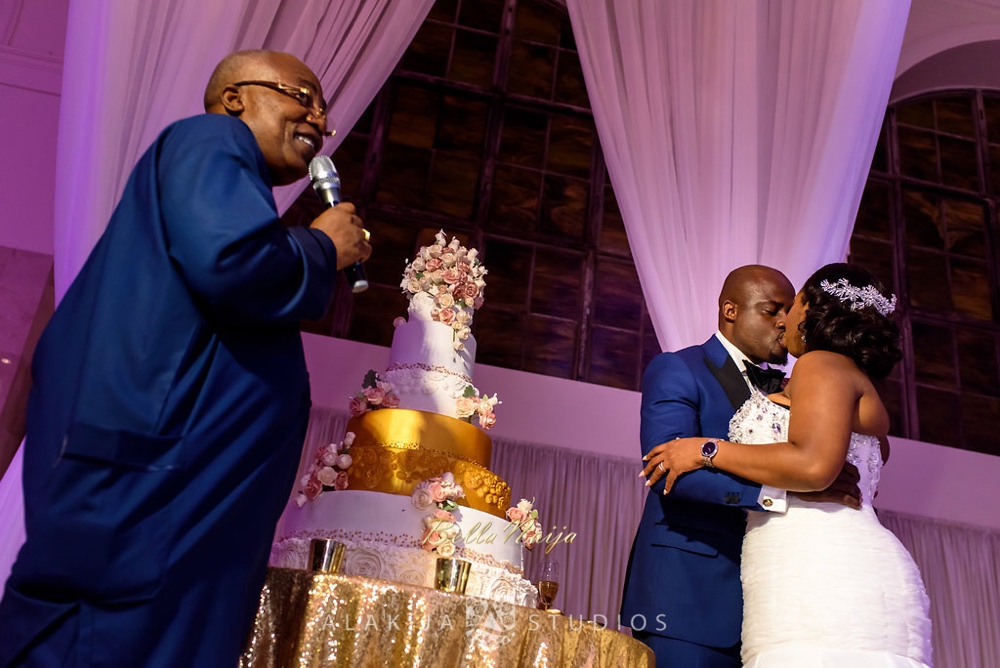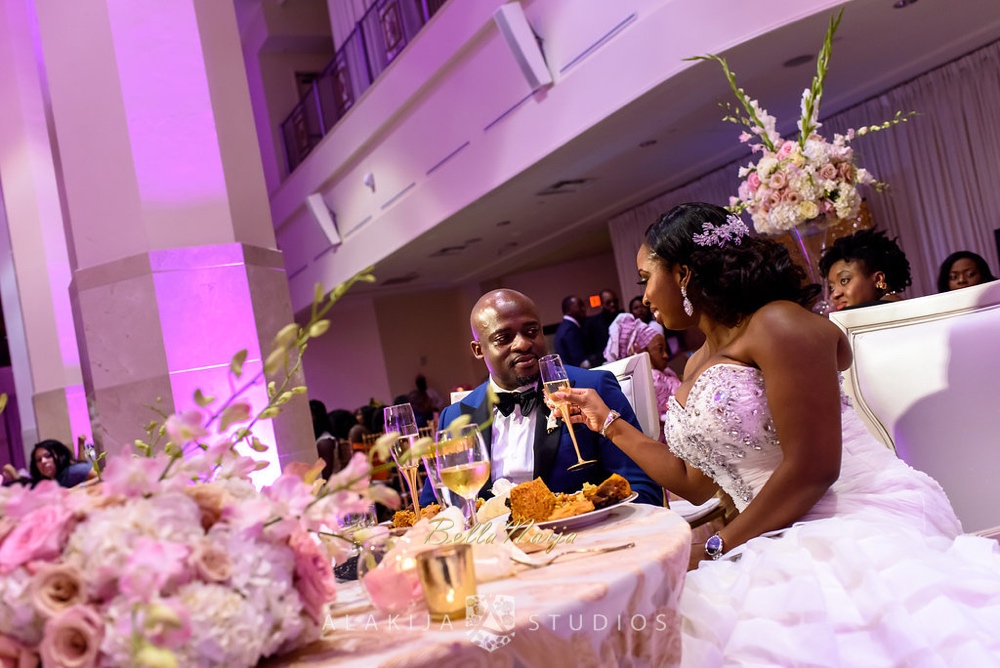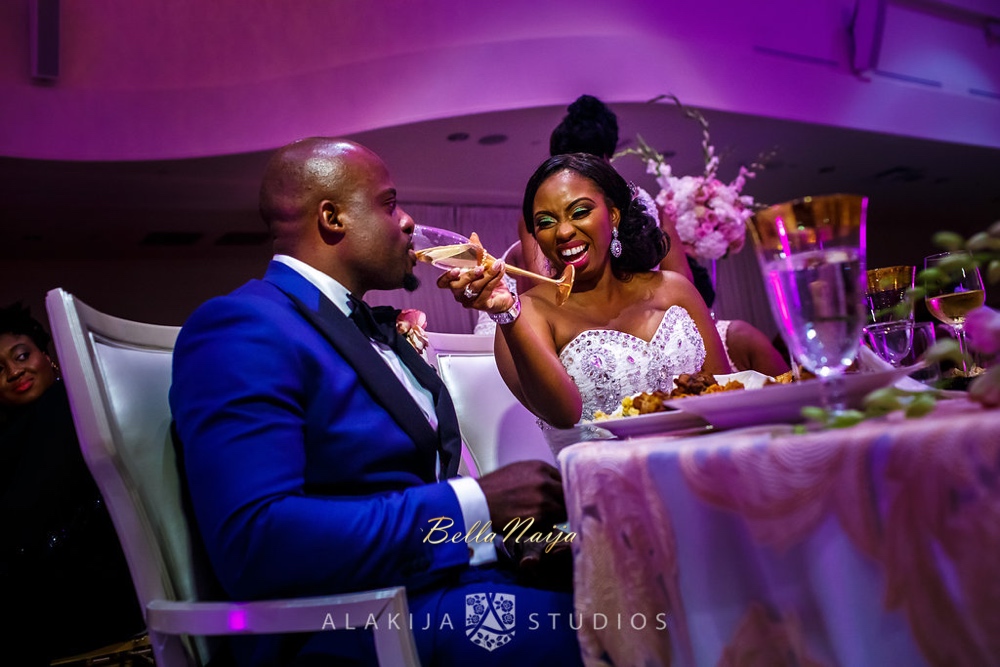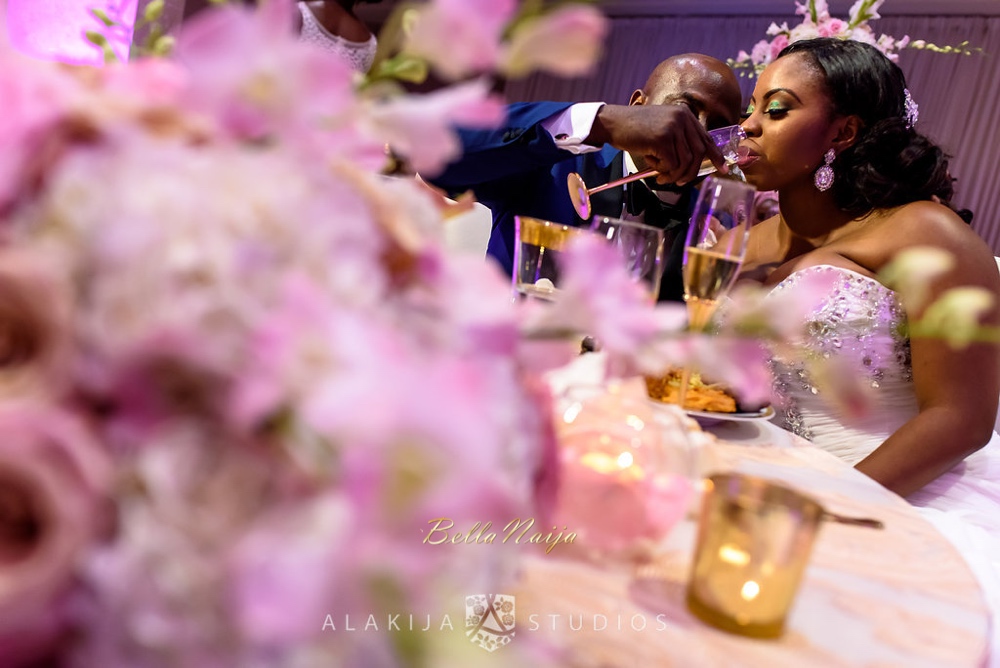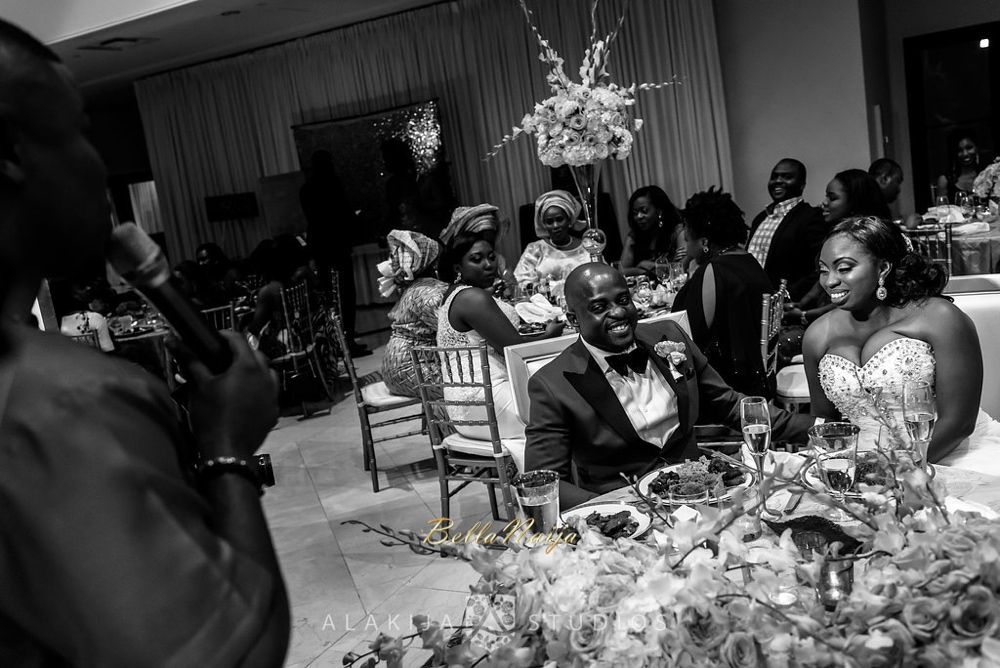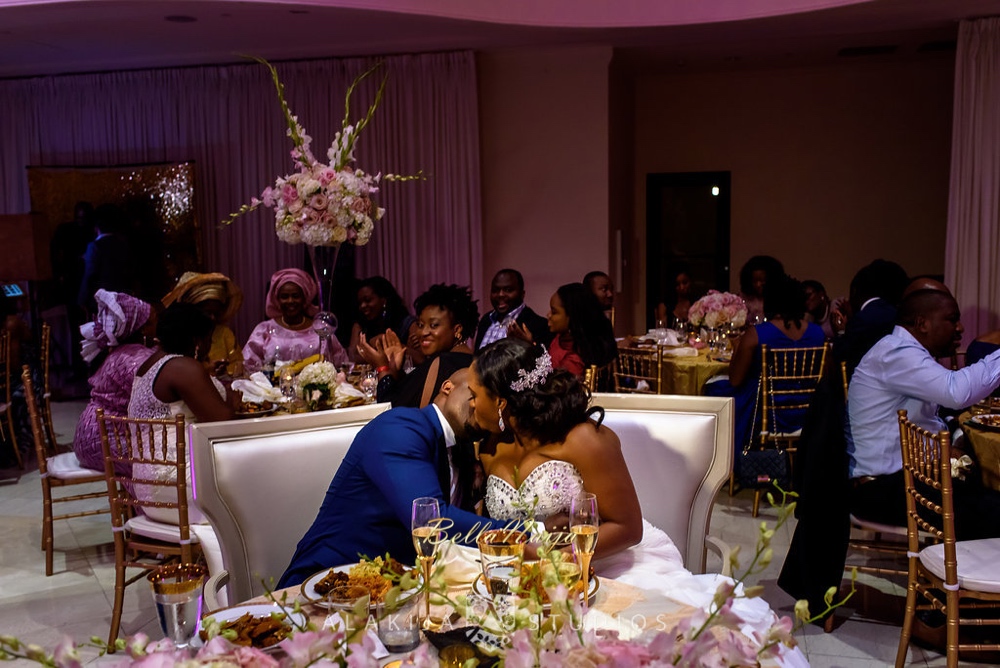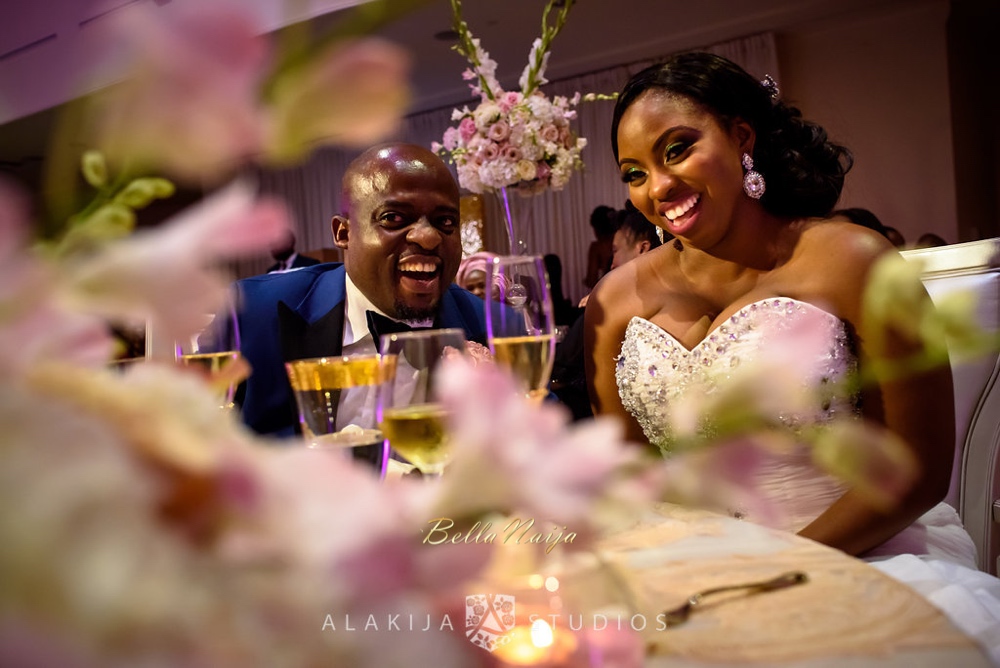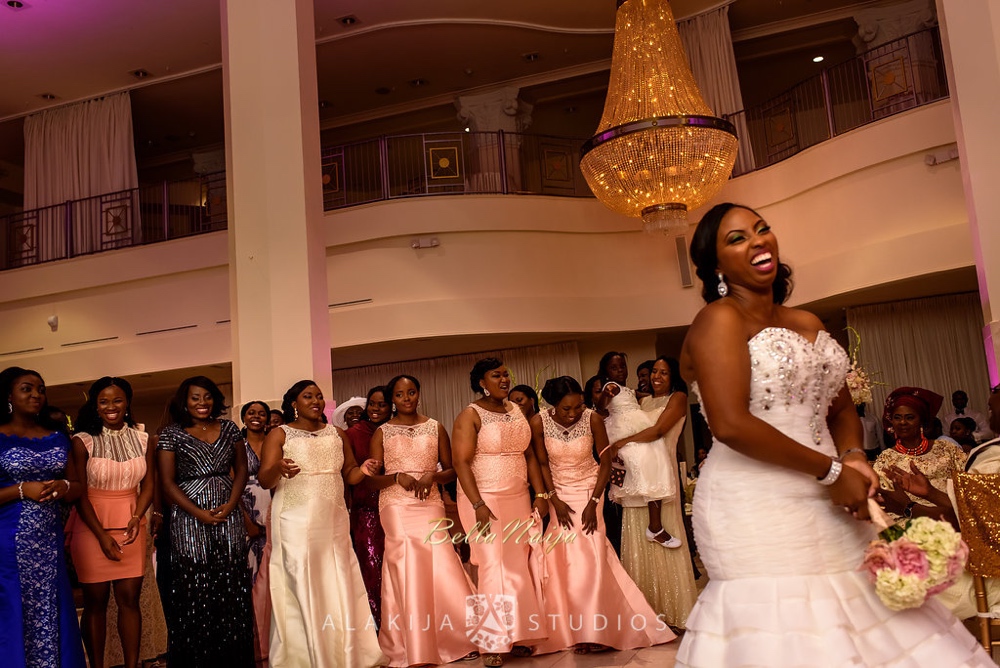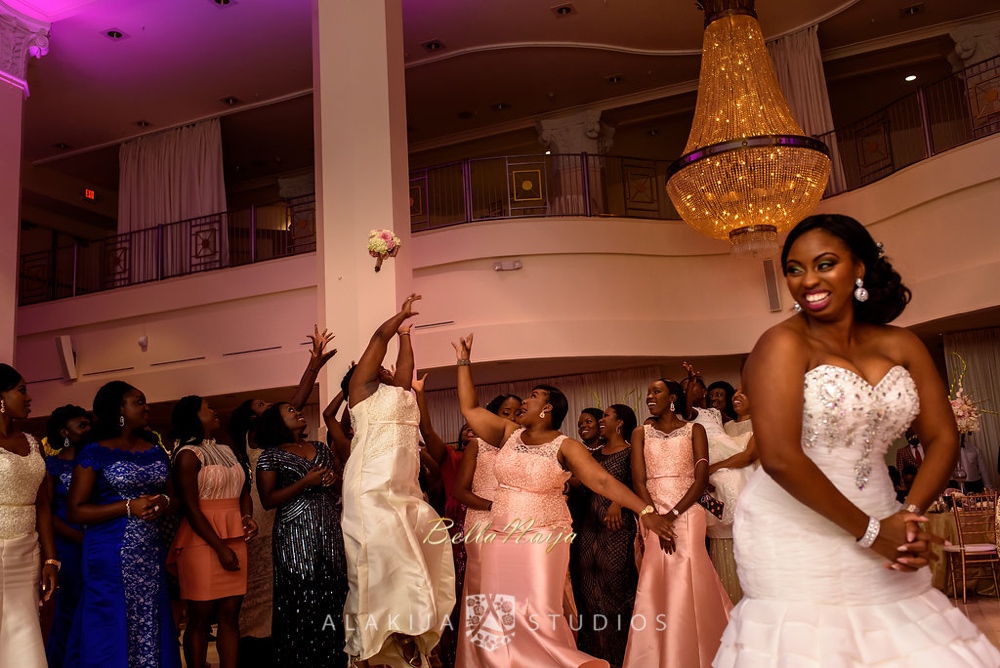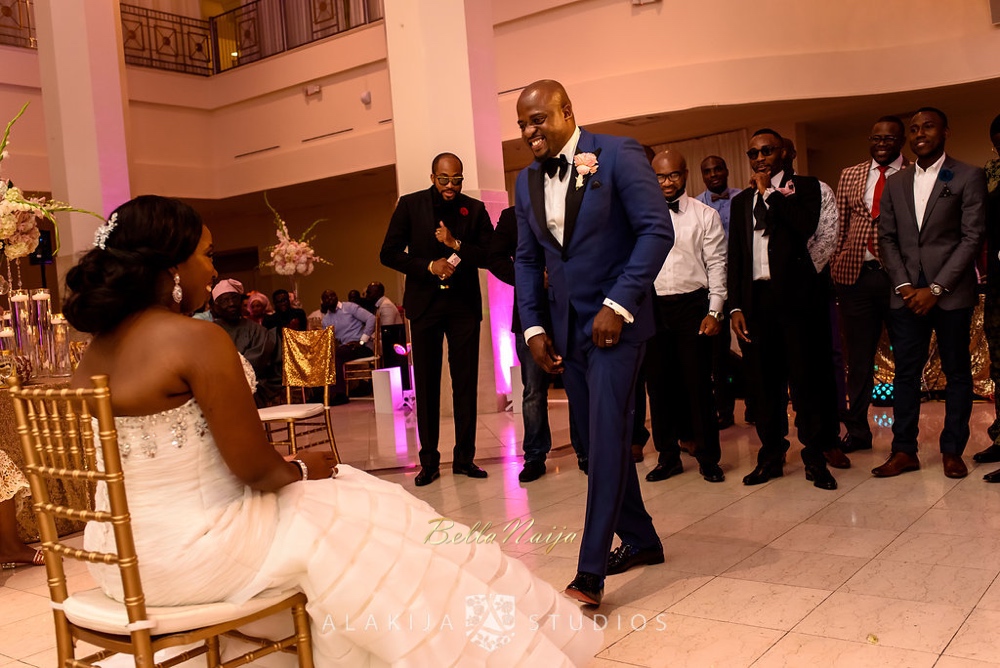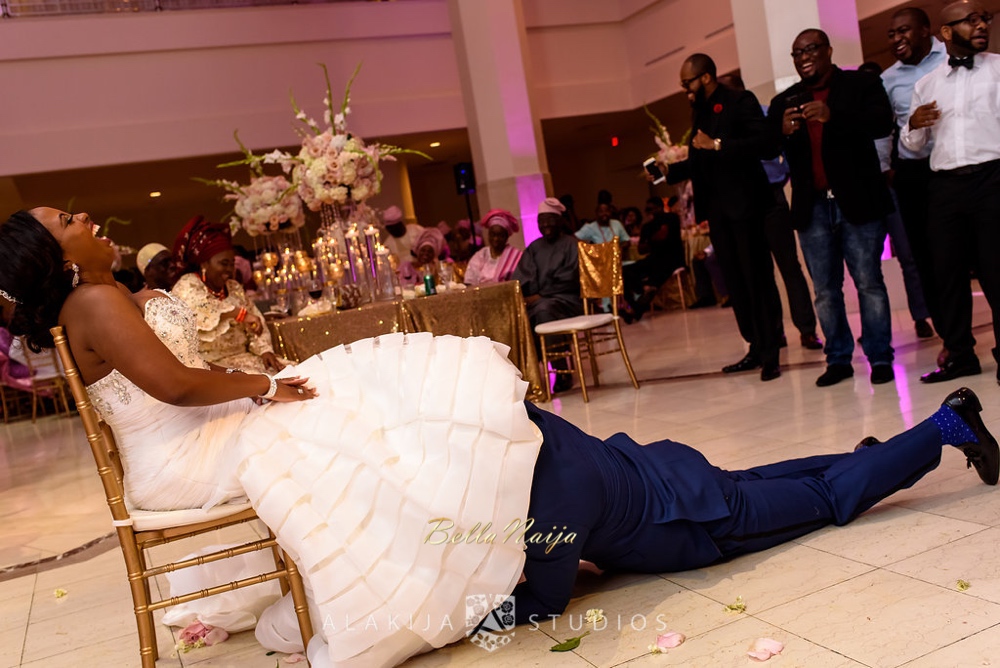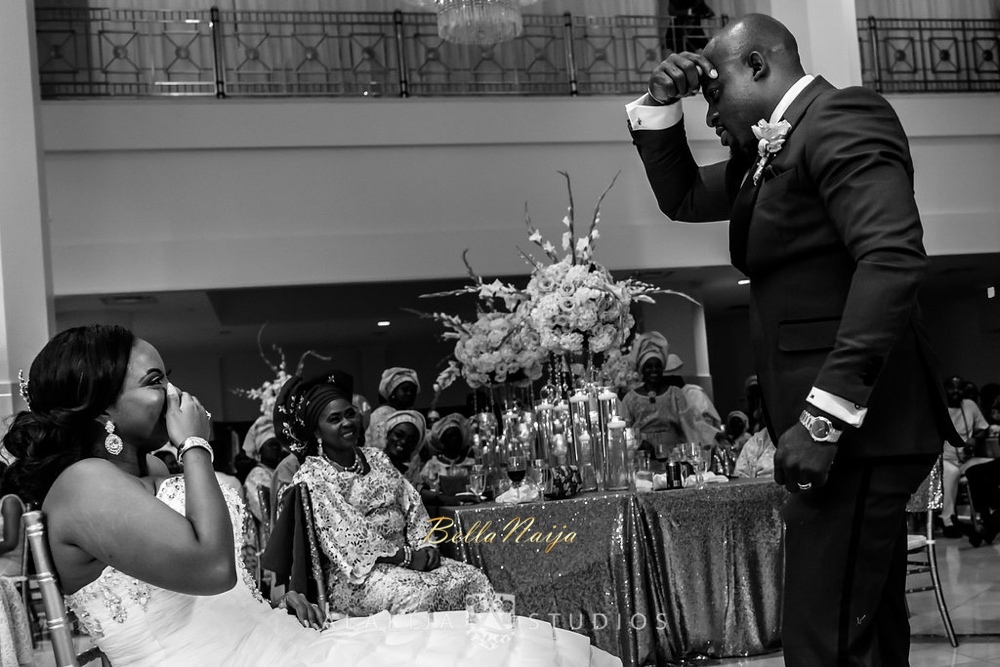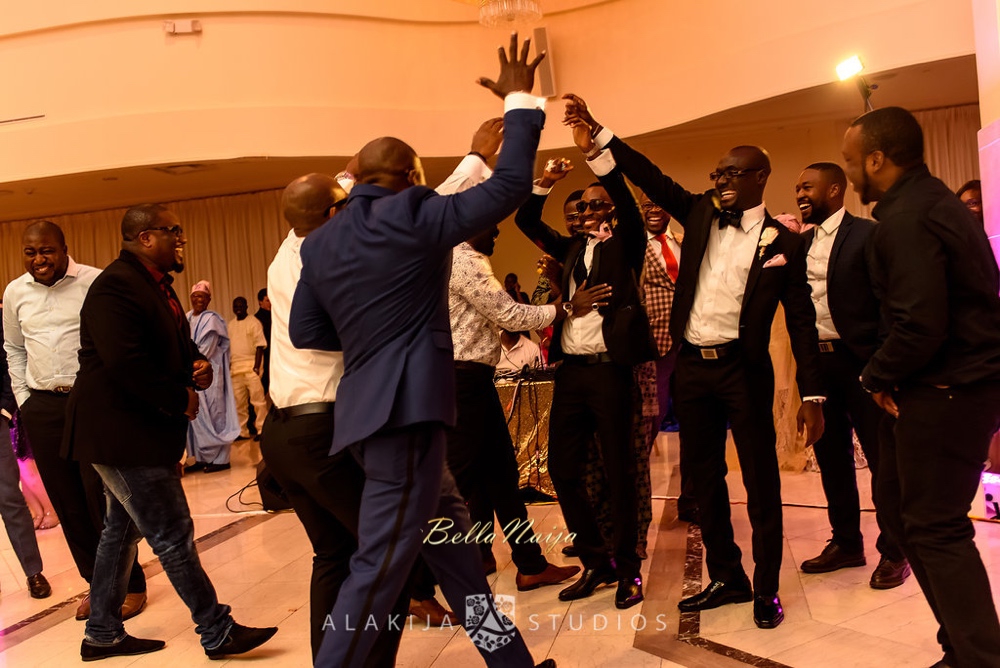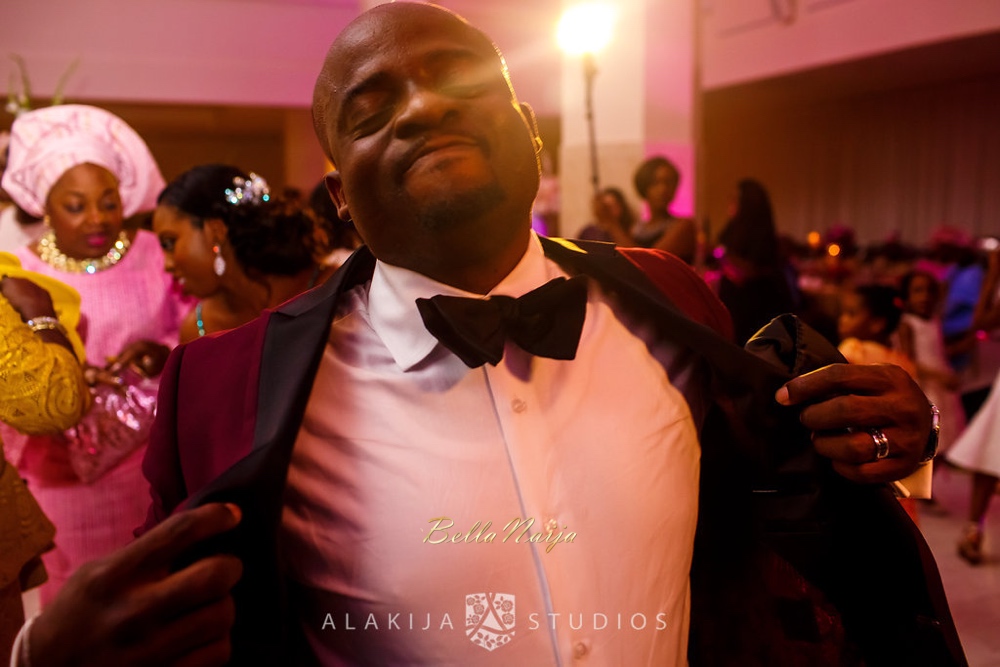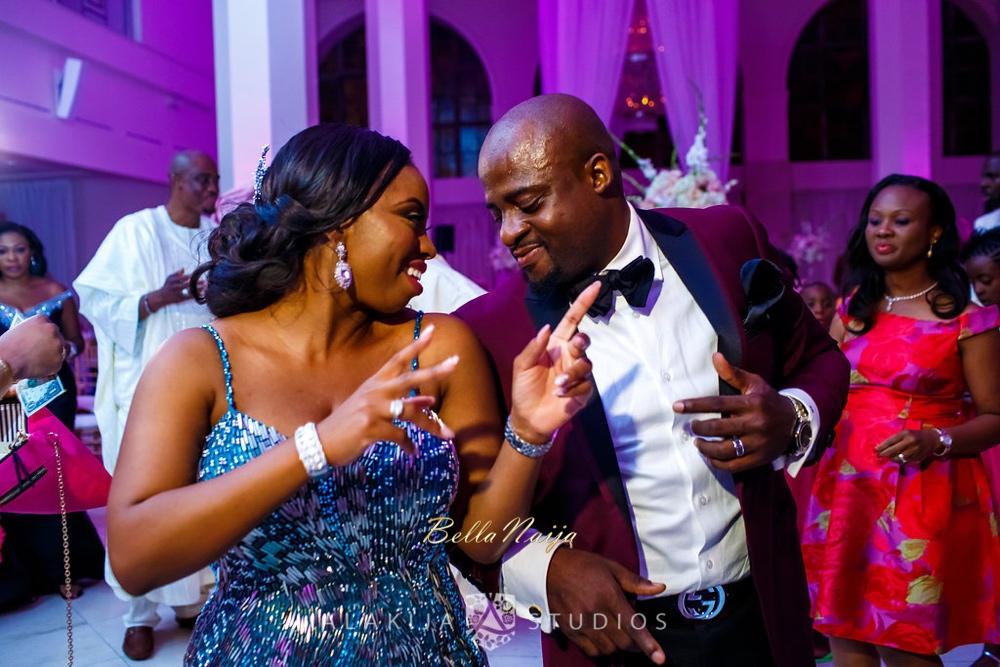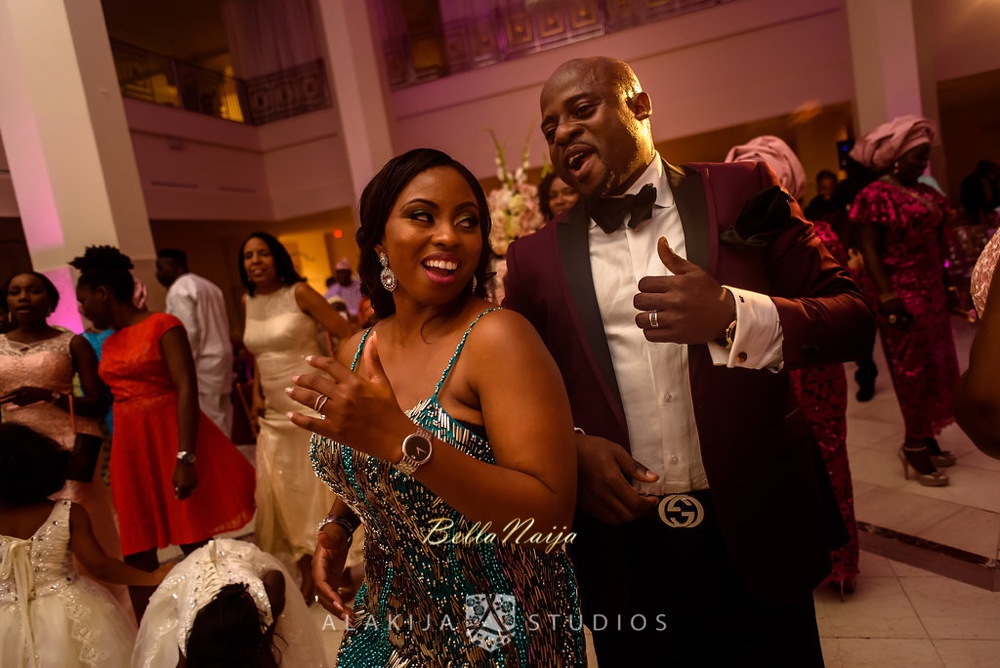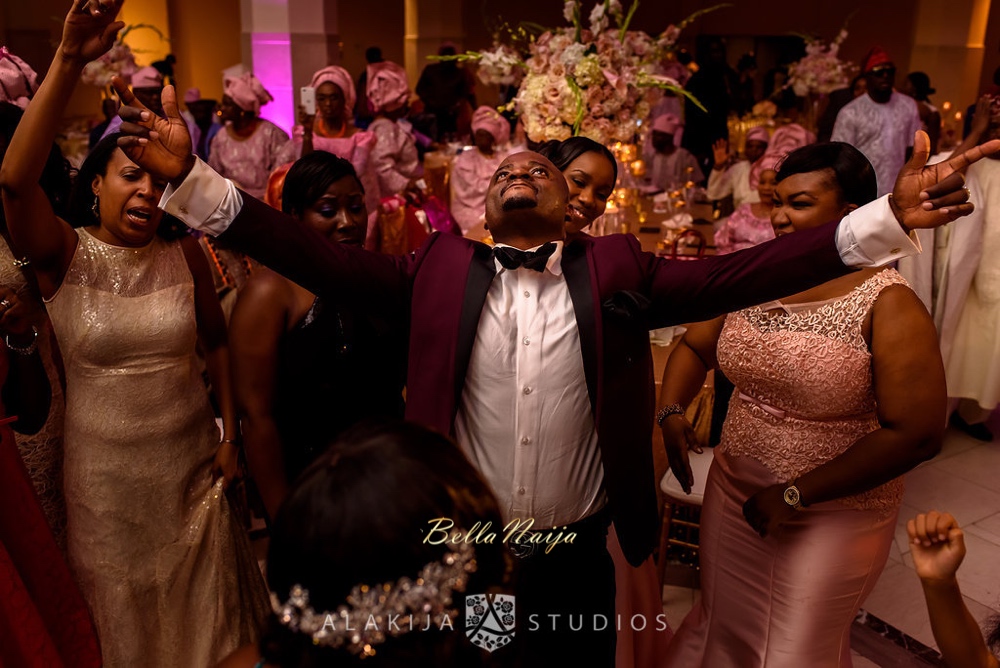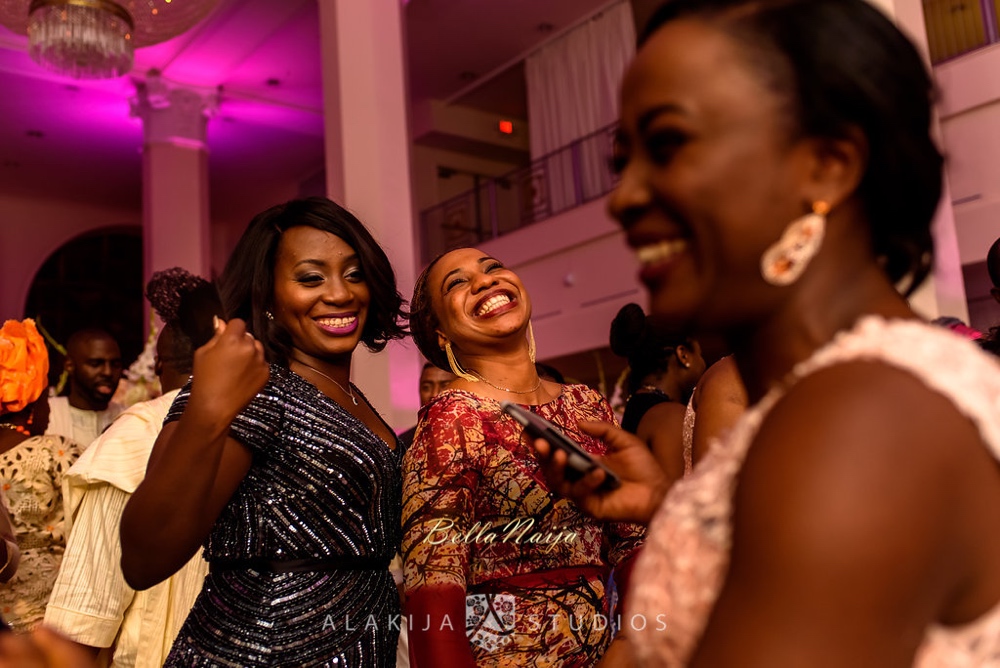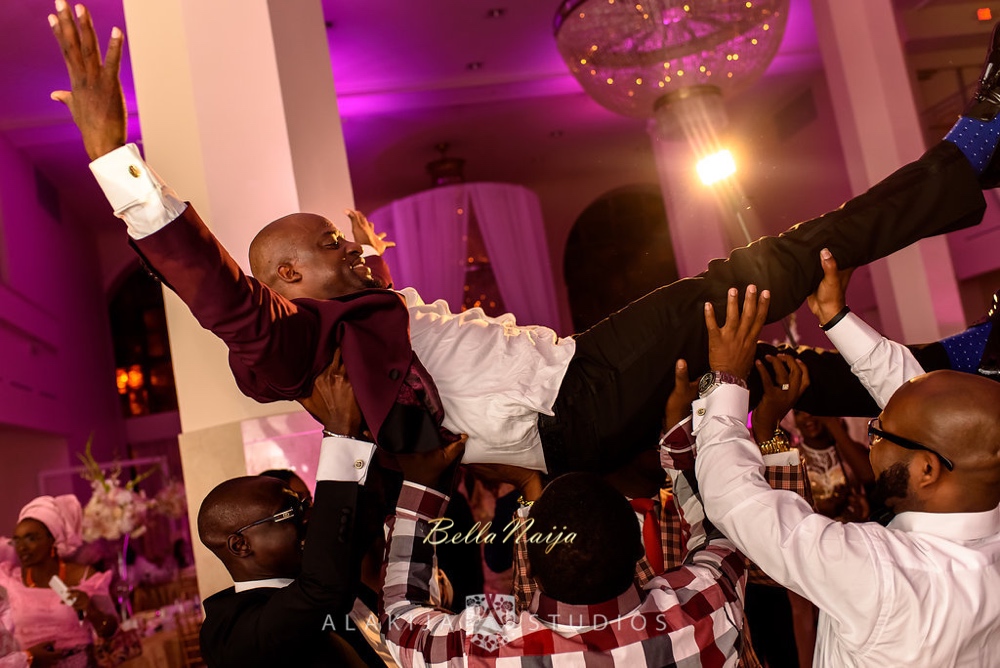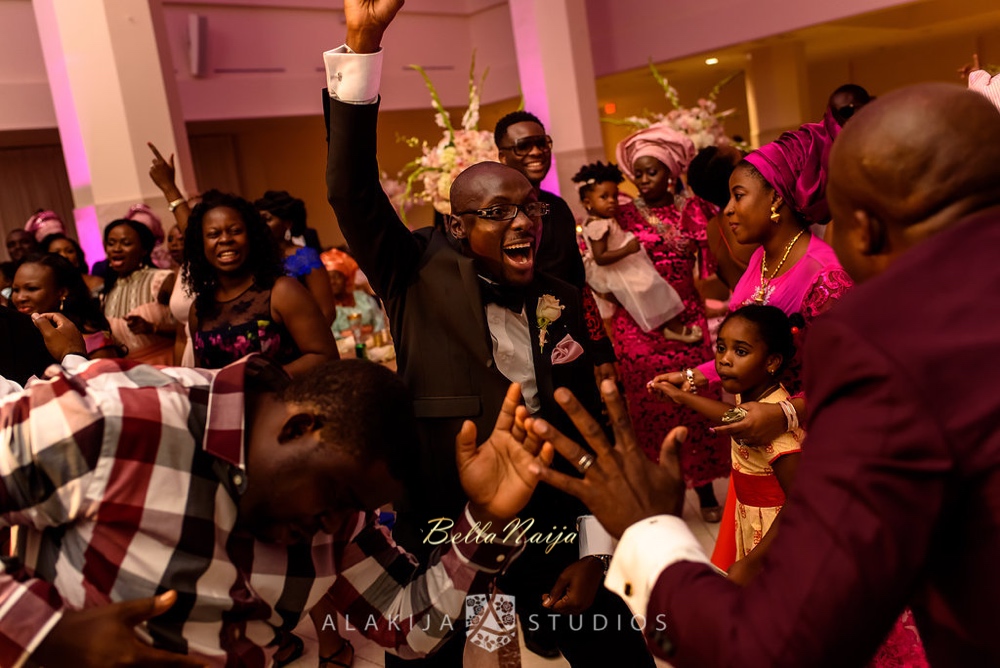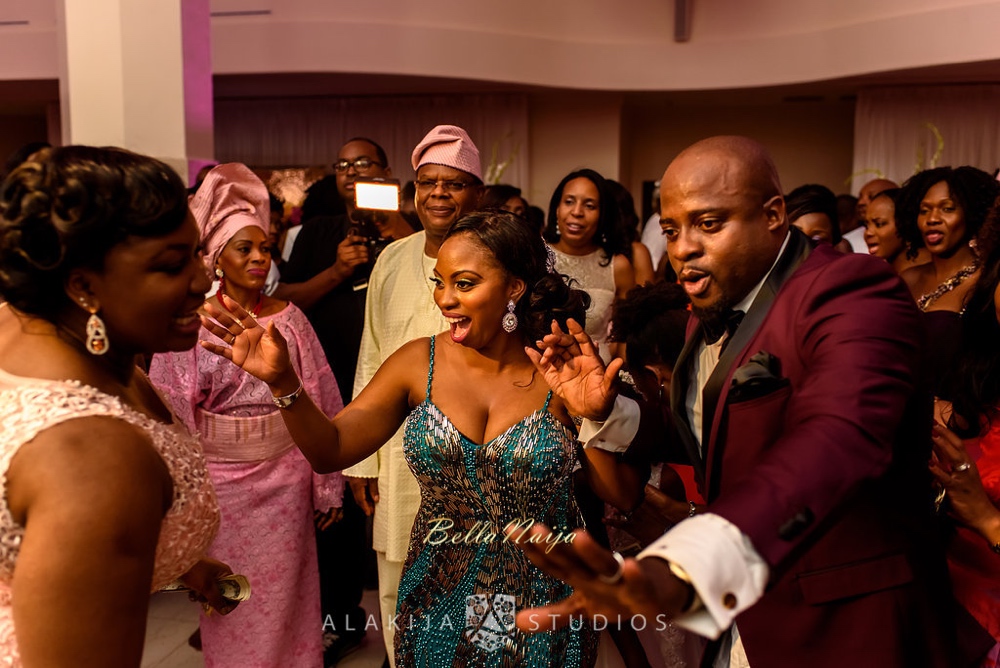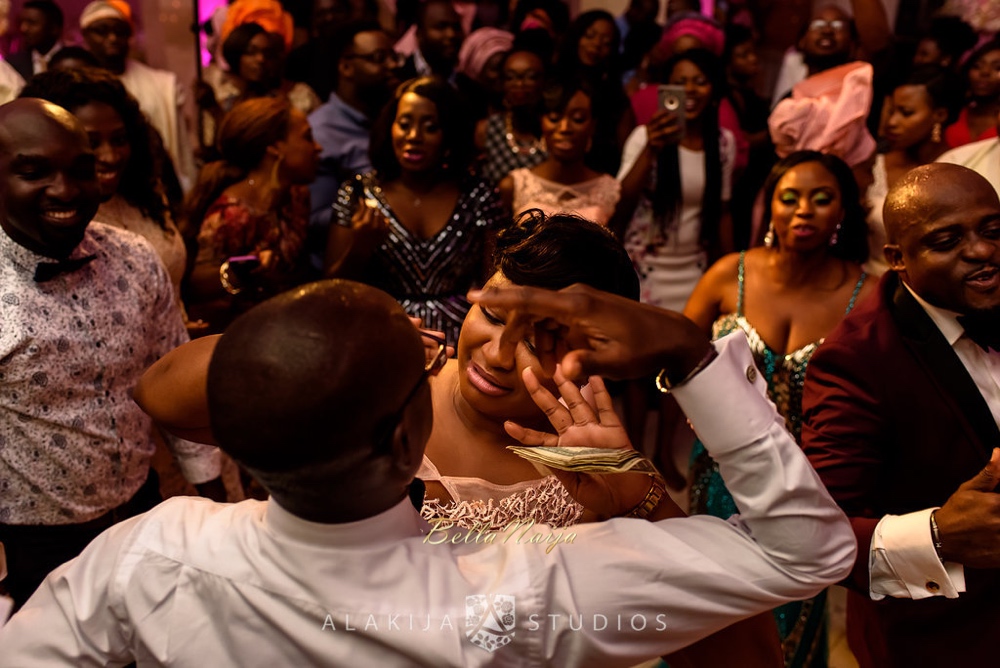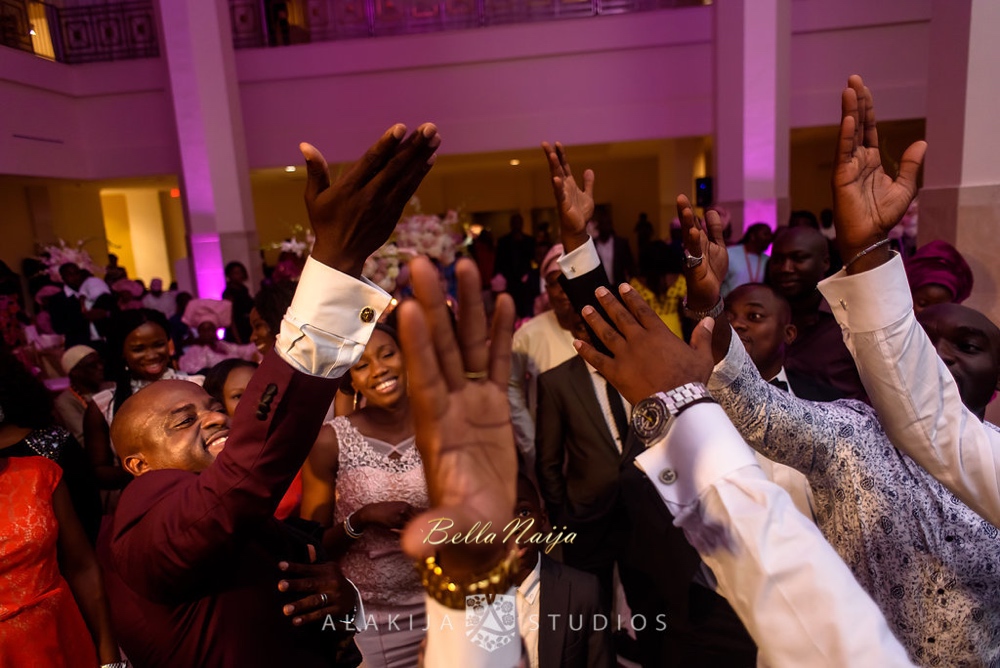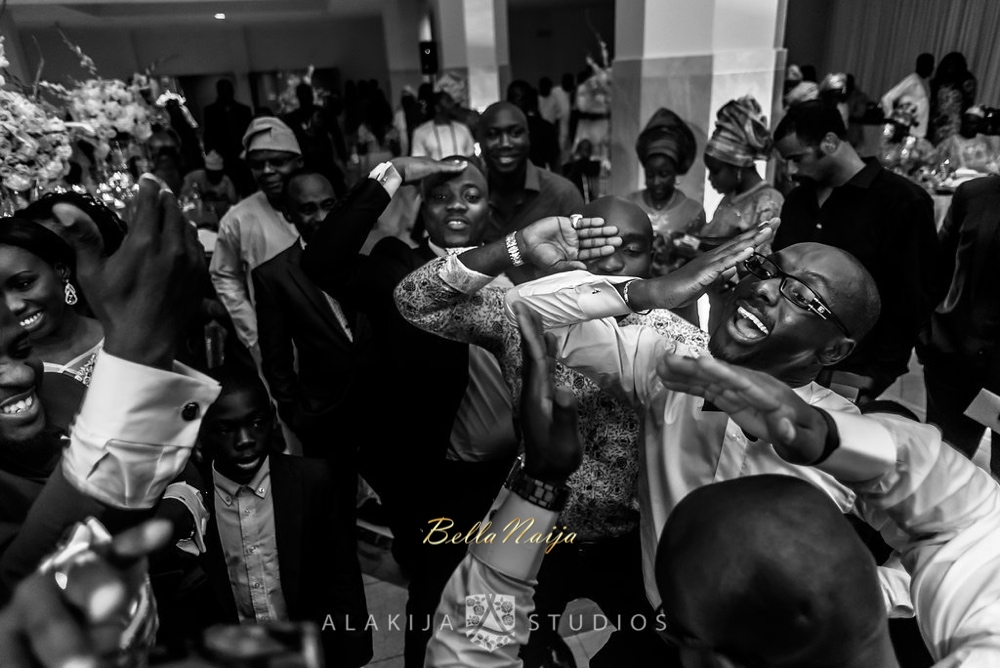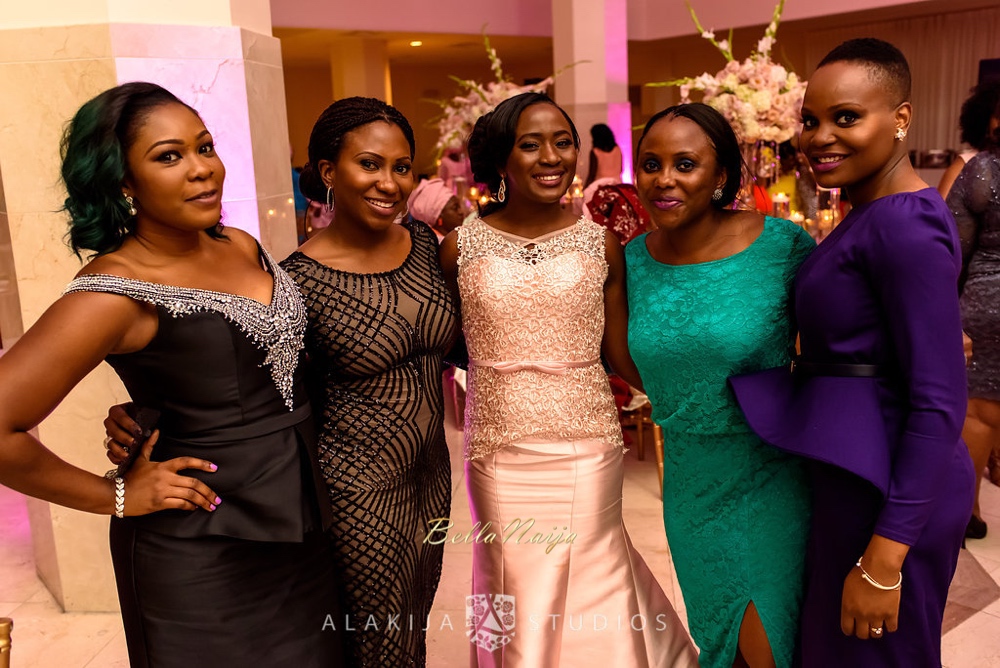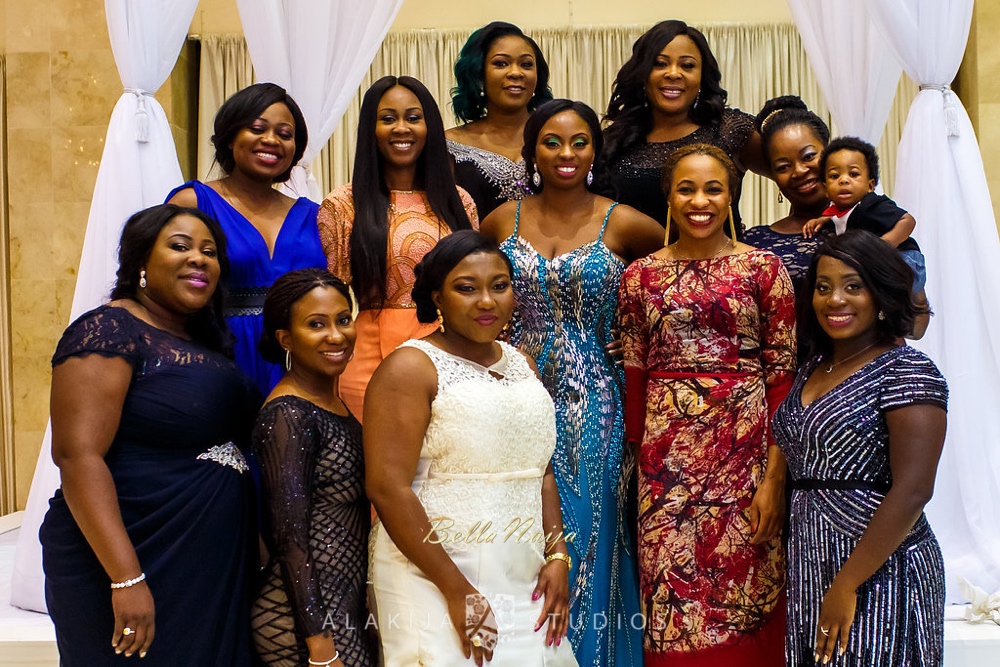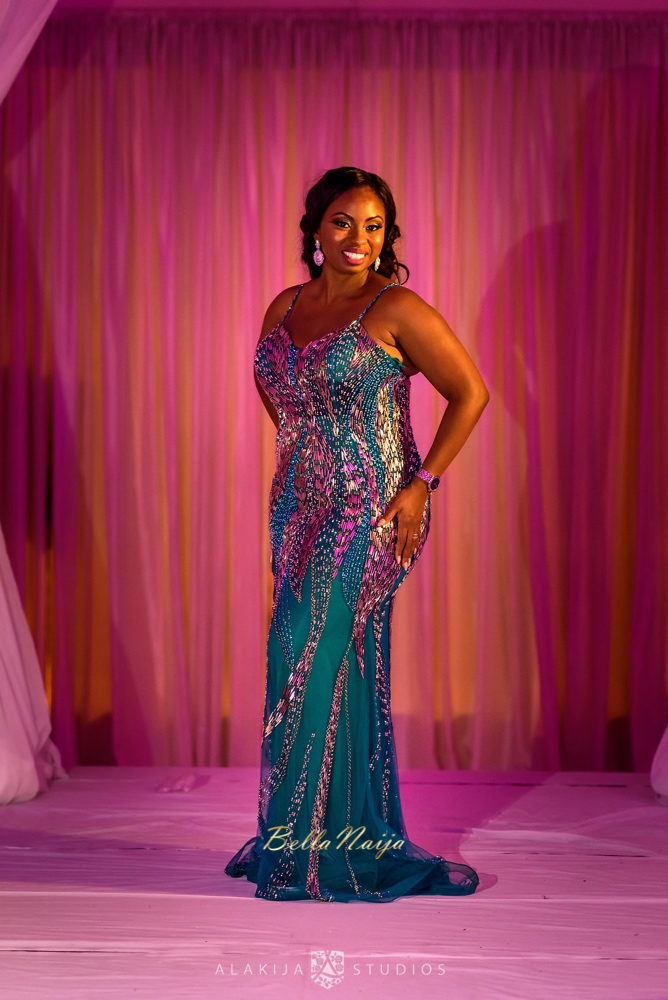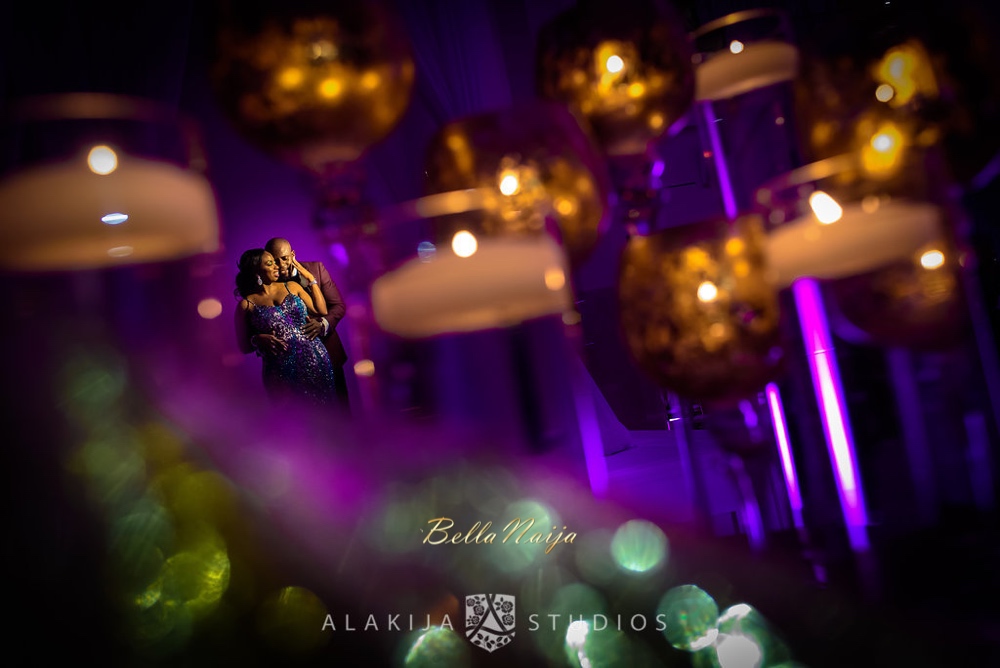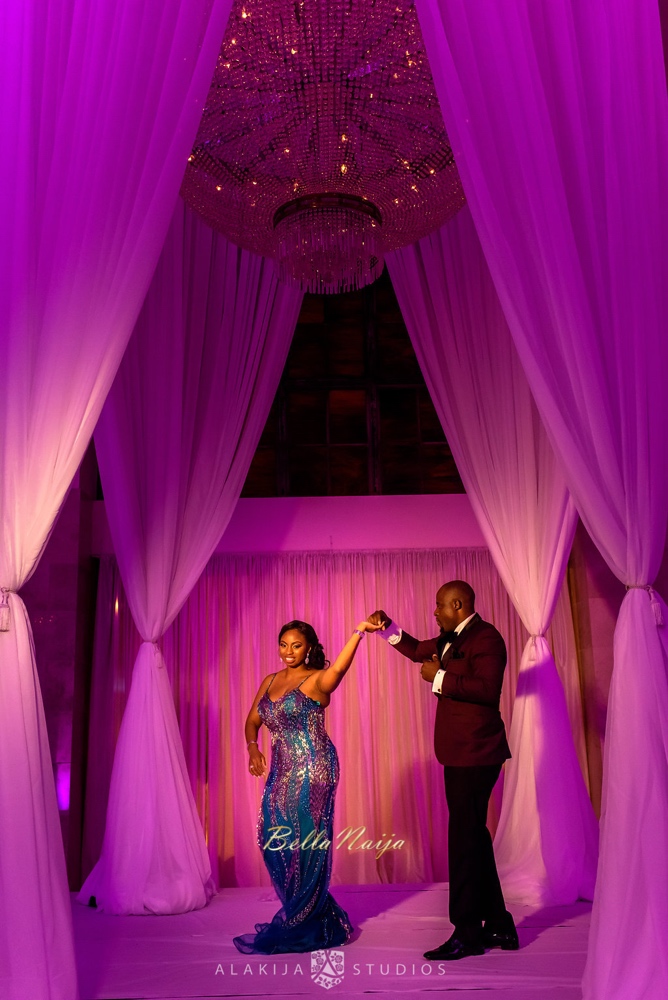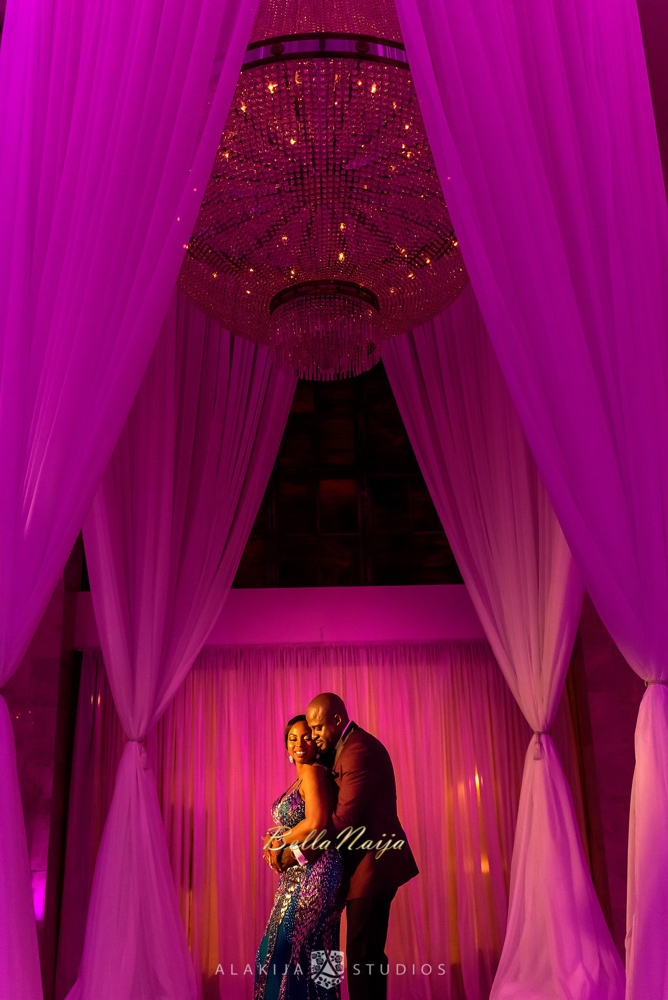 ***
Photography: Jide Alakija for Alakija Studios | www.alakija.com | @alakijastudios
Bride's Review: "He is hands down the BEST wedding photographer ever!"
Wedding Info – Dates, Venues, Colours
Traditional Wedding: July 31st 2015 | The Biltmore | Emerald Green and Gold
White Wedding: August 1st 2015 | 200 Peachtree Event Center | Blush Pink and Gold
Wedding Attire
Bride's Three Wedding Dresses: Custom Made by Orient
Bride and Bridesmaids Makeup: Makeup by JayTee
Bridal Bouquet: Blush & Ivory Flowers – garden roses, spray roses, and blush peonies by Victoria Brown
Bride & Groom's Shoes: Christian Louboutin
Wedding Ceremony and Reception Suits: Miguel Wilson Collection
Groomsmen's Attire: Miguel Wilson Collection
Bridesmaids Attire: Blush Pink mermaid dresses, Custom Made by Orient
Aso Oke: Bisbod
Vendors
Traditional and Wedding Cake: Ivel Cakes
Wedding Planner and Décor: Victoria Brown
Traditional and Wedding Food: Meeting Pointe Catering