BellaNaija Style presents Collection Conversations, a weekly round up of all the collections and look books from African designers featured on BN Style from the previous week. Collection Conversations features Eki Ogunbor & Richard Akuson sharing their individual thoughts on featured collections from the previous week.
So let's begin!
***
Richard: Let's start with IamISIGO
Eki: Ok. Go ahead
Richard: From the word Go (that's the first time I ever came across IamISIGO's brand) I've always been a fan of the poetic nature of the brand but never the aesthetic, approach and design. Majorly because the items just felt like those extremely creative pieces that will never be worn either because they're not meant to or are just meant to be appreciated for their art value, like a museum piece.
I say this quite lightly for a lack of a better fitting reference. But with this collection, you can tell that it has finally dawned on the designer that the point of making clothes beyond editorial beauty and artsiness is to sell those clothes and have people wear them comfortably. You can see that because the cuts in this new collection are very easy and practical.
Their use of pastel hues is quite commendable too which really makes this the brand's most commercial and accessible collection yet and to me, that great! And I commend Bubu for finally waking to reality.
You know, you can get editors to swoon and gawk at your craftsmanship and depth with those poetic, abstract and really out of the ordinary collections, but the most important question always boils down to this, "Are people buying? Is it commercial and are they able to mix and match with your pieces?" You know, very important self assessing questions.
Out of curiosity, I tried to see what other editors thought about the collection so I looked at 2 or 3 blogs (that I quite respect their style of fashion writing) and I could see that we all agreed on the fact that this is quite a commercial collection. However, one of the writers sees that as a flaw because he thinks it's too commercial, but I see that as a success. Finally a buyable IamISIGO collection. And not just that, in many instances, Bubu (Ogisi) still made some really fashion forward pieces in this collection. Such as that onesie and some others.
So, for me the success of this collection is the brand's ability to finally strike a good balance between creative, boundary pushing ideas and practicality with a mix of commercialisation.
Yea, pretty much that's it.
Eki: What are the 2/3 blogs you read the reviews from, do you remember them?
Richard: Yes, but I'll rather not
Eki: ? ok
Richard: What are your thoughts on IamISIGO?
Eki: So yes this collection is a lot more wearable than their others and I like the colours used. My fave is the blush dress with a brown belt and some of the blouses
Richard: Oh I love that too it's my second favourite after that onesie
Eki: That being said, I definitely see how every other person may not appreciate this collection especially because of the styling. When people can't see themselves wearing it when they get a first look at the pieces (and most times that's in the lookbook), then it doesn't help reactions/acceptance.
Richard: Oh yes, some flaws with the stylist. I was going to go there after you but lol, you went there!!!!! I also feel we have overdone that lazy-flat-mule-wearing styling especially here where it kind of drags the collection. This collection because of it's striking simplicity, needed some elevation somewhere somehow.
Eki: Initially when I saw it I was taken aback, reminded me of the first time I saw Kanye West's designs but I looked over a few more times and it all made sense individually not really together… If that makes sense. And I like collections like that with items you can wear multiple ways.
Oh I see @ 'lazy-flat-mule' Lol. But you can't wear heels with these clothes na, they're really casual or what would you suggest
Richard: Eki, I totally agree and that's why I was careful not to be specific… Hahahah. But it really needed some sort of elevation, maybe the models looked too unhappy for such simple clothes or maybe some kicks would have made up for the drag. I really don't know.
It just lacks that instant kick you expect from a collection. ?
Eki: Lmao, the models looked too unhappy. Richard ?
Yes that's why I had to look over again cuz I usually like IamISIGO but it certainly wasn't love at first sight for me it's more like an acquired taste Lol
Richard: Oh yes. I get that!!
Eki: Ok ok, xo Asante.
Someone left a comment on the post saying "Can't wait to read Collection Conversations this week. Lol"
Richard: Really??? Let me check abeg
Eki: That made me so happy. I thought people never read this ?
Richard: Me too, especially because they rarely comment. Oh my God I just saw that Lol.
I found xoAsante such a candy treat. I mean, the colours were exhilarating and patterns quite dramatic but somehow they all settle in nicely. Wouldn't you agree?

Eki: Yes and it all ties in with the Barbie theme. The styling for this collection works because it stays true to the theme and it draws your attention in to the pieces in the collection it's probably not how the everyday girl would wear them but it's not boring either. You WILL remember this collection. If not for the clothes, colours and prints then at least for the models and hair. And I think that should be the sim, strive to be remembered so when people want to spend their money they think of you/your name/your brand.
Richard: Absolutely! I absolutely agree with you. Somehow this goofy campaign kind of hits all the right notes in a fun and refreshing way. And by the way, I LOVE the footwear too! Another major key to this collection is the collaborations that they embarked on to achieve the entire collection.  That goes to show how important strategic collaborations are
Eki: Yes!! It's perfect. Almost everything here is a statement piece for an outfit
Richard: Totally!!
Eki: My fave…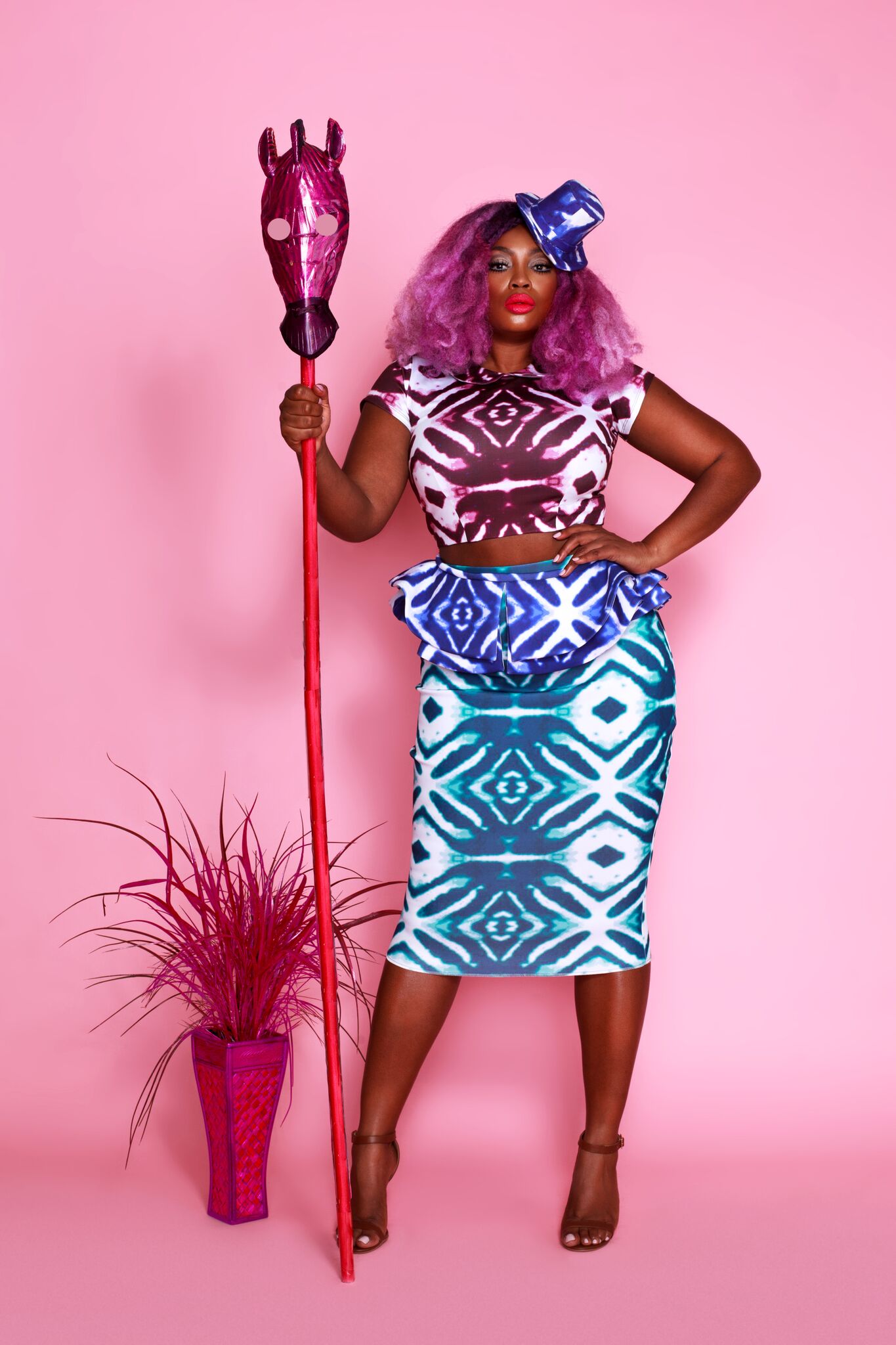 Eki: And I just might wear it all together ?… I juuuuuuuust might. I like the Barbie and Ken moment too Lol
Richard: I know you'll slay in this I just know. Especially with that your killer body ??????
Eki: ?? Ay Richard! ? Thanks o. What's ur fave and would you wear anything the guy has on?
Richard: Hard to pick for the womenswear but I kinda like this one that you picked because I can really see you in it so that's clouded my judgement. But for the menswear, urhmm, I might do the jacket Lol, only because I am feeling a little daring since that my bum shorts adventure (click here if you missed it). Otherwise, this is a little too much for my faint heart but I know tons of people that will do justice to every one these.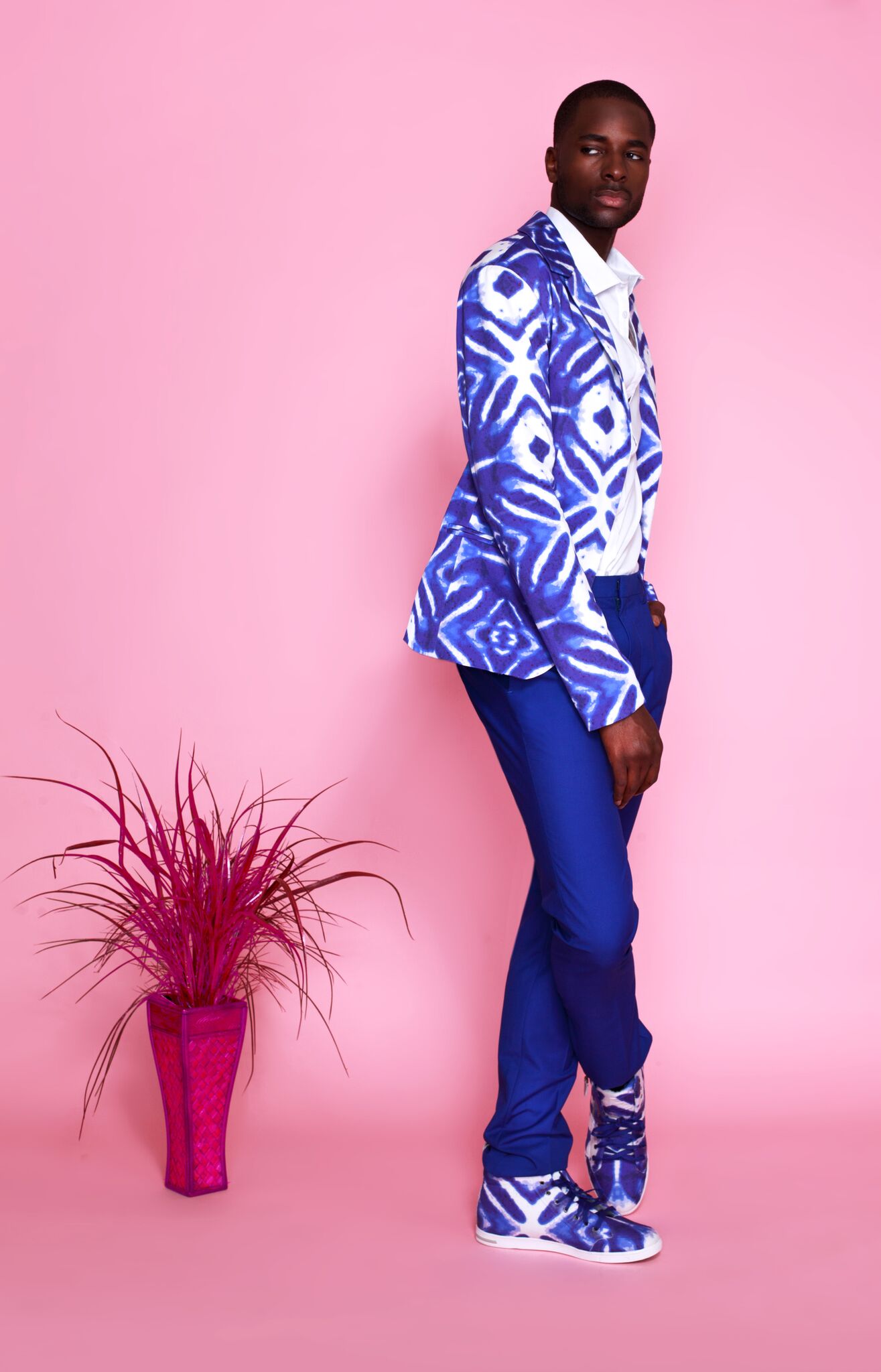 Eki: ? @ clouded Lmao, should they make bum shorts to match this one for you? ?
Richard: Hahahahahhaah. Kai, not so sure biko Lol I'm not sure I am willing or able to relive that day
Eki: ??? way too daring for you ?
Richard: Yes oo Lol
Eki: Bellanaijarians went in tho!
Richard: Lol. They came for my soul
Eki: With pitchforks knives and all. ?????? Richard you have killed me o. They came for you like ☠
Richard: The whole shebang darling!! Grenade and all  But definitely not like the EJ Johnson post I put up (click here if you missed it) That was something else
Eki: ? Whaaaaat!?  ????⚰… That basically sums it up
Richard: Hahahaha
Eki: But still you rise ????
Richard: I rise ooo. Like Garri and Phoenix
Eki: Lol! Like garri, no you didn't! ? Deadest
***
Today's title was inspired by Richard's memorable bum shorts post.
Photo Credits: Ryle Watson | @rylewatson, Tom Saater | www.tomsaater.com, Diqueku | @Diqueku, Brian Molepo, Bernard Okulaja | @sleekben, Lakin Ogunbanwo | @lakinogunbanwo