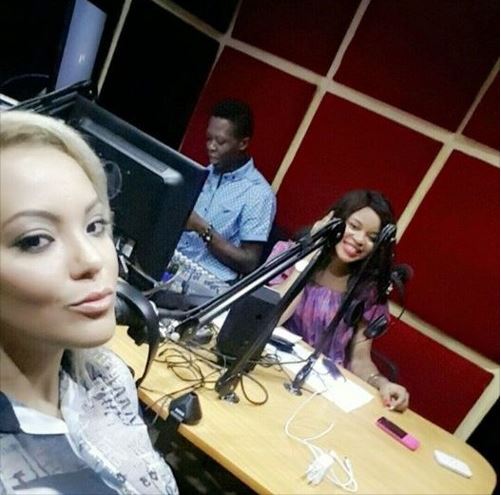 For some days now there's been a lot of drama between Ikechukwu, Terry Tha Rapman, Joy Madaki & Sarah Ofili.
This all stemmed from an interview Ikechukwu granted where he talked about his ex-fiancee Sarah Ofili leaving him for her ex-boyfriend Terry Tha Rapman.
Well, Sarah has now revealed her reason for accepting Ikechukwu's marriage proposal in 2011.
The model, granted an interview to Elsie Godwin for her show 'Crux of the Matter' talked about a lot while speaking on the topic; 'Surviving a Broken Engagement'.
When asked about her engagement to the rapper and asked about who broke it off, Sarah said, she was responsible for that.
When asked on why she accepted to marry him, she said:
"Because of pressure. He proposed in public and I'm that kind of typical ride or die girl, I won't embarrass my man in public even though I felt he put me on that spot and he shouldn't have, but he was smart he knew if he did it privately there was a chance I'll say NO because a day before I had seen a message on my sister's phone trying to help him plan the surprise and pick a ring and I went crazy. I was like HELL NO, don't do it, stop whatever you are planning but he still went ahead to proposed and my family was there our friends.

On the day he proposed, I was talking through my teeth like 'nigga don't do it, nigga get the f**k up' but he did and I said YES, but really I do envy girls that are bold enough to say NO on the spot"
She also added:
"One of my major mistakes was thinking I could fix him, I was like okay maybe in time he will change and things will change"
When asked if the accusations were true she said of the rapper and actor who is in his 40s –
"I don't want to really talk about it cause my lawyers are handling it, like I really don't care about that person I even thought he was in a retirement home, I mean when you are that old trying to remember to take your medicine for your memories, I think that's what happened he must have forgotten to take his medication I don't know why he does what he does, I mean we are talking about someone who is pathological liar"
Listen to full interview below –