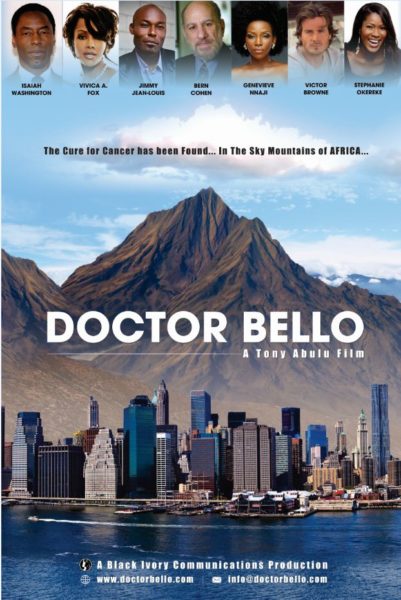 "The Cure for Cancer has been found in the sky mountains of Africa and an American Oncologist will risk everything to get it."
That's the synopsis for Tony Abulu's new movie "Doctor Bello". Just a few hours before the AMAAs which took place in Lagos last week, the cast and team behind this movie gathered at the Radisson Blu hotel in Victoria Island, Lagos for a media event to introduce the movie to the press and stakeholders.
Filming kicked off last week and BN spotted Genevieve Nnaji with co-star Isaiah Washington and fillmaker Tony Abulu. "Doctor Bello" is the first movie project financed with support from the Nigerian Intervention Fund for the Arts and NEXIM Bank.
Brilliant cancer specialist Dr. Michael Durant is emotionally troubled, wrestling with the traumatic loss of his 10 year old daughter from cancer. Immersing himself in his work from the hospital, away from his wife who blames him for their child's death, he forms an unlikely bond with a sick, loving, but rambunctious seven year old boy Sam, the son of a rich Jewish couple who are major contributors to the hospital's cancer research fund.

Unfortunately, Sam's health deteriorates drastically, and soon, he slips into a coma, with only a few days to live. Dr. Durant becomes desperate, willing to risk anything to save the child's life. A surreptitious Nigerian Nurse convinces him to seek the help of Dr. Bello, an uncertified Nigerian Doctor, known in Brooklyn-African underground as a miracle worker.

Dr. Bello, an introvert with a controversial past, secretly visits the child at night and administers a strange African potion, replete with incantations and by the next morning, miraculously, the child begins to recover, the cancer speeding into remission.

The hospital medical board immediately orders an investigation and soon the secret is revealed and Dr. Durant is suspended. Dr. Bello is arrested and charged with medical malpractices. Dr. Durant soon falls into depression after his wife leaves him. Meanwhile, Dr. Bello has fallen critically ill in jail and can only be saved by the ingestion of that same potion that can only be found in the mysterious "garden of life" nestled on the peak of Nigeria"s sky mountains.
Vote for someone to experience their star moment on the set of "Doctor Bello".
Grand Prize
Do you have what it takes to appear in an international blockbuster film starring Isaiah Washington, Vivica A. Fox, Genevieve Nnaji, Jimmy Jean Louis, Ben Cohen, Stephanie Okereke and more? If you answered YES, enter the DOCTOR BELLO VIDEO CONTEST for a chance to win a guest appearance in the film. The cameo will be shot during the first week of May in the city that never sleeps, New York!
2nd Prize
Two tickets to the exclusive red carpet movie premiere in Washington DC, and a meet and greet with the cast members of Doctor Bello.
Click HERE for more information. The deadline is the 1st of May 2012.
For more information on the movie, visit www.doctorbello.com