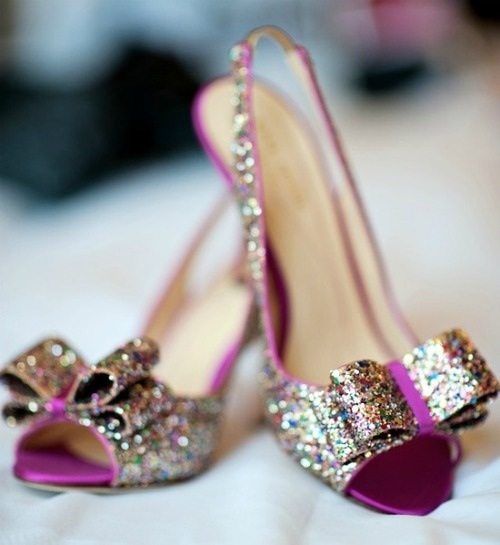 Yay! It's our 1st BellaNaija Weddings social media giveaway!
We're giving away these classic wedding shoes: Kate Spade Charm bow glitter sling-backs.
If you win you can pick any colour & any size!
There are 3 colours:
Pink (multi colored)
Silver
Gold
TO WIN!
=======================
TO WIN: There are only 2 STEPS!
STEP 1: Follow Us On All 3 of these social networks:
STEP 2: There are 2 ways to play – via Twitter OR Instagram.
For Twitter:
Tweet one of these photos (the 2 photos are below) on your Twitter account page and write
"Follow @BellaNaijaWed to win these classics!",
then attach one of these photos to the tweet.
OR
Instagram one of these photos on your IG page & write "Follow @BellaNaijaWeddings to win these classics! #bellanaijaweddings."
We're sorry – if you have a private account we can't see your entry.
We will choose the winner randomly.
You can post any 1 of these 2 photos:
TERMS & CONDITIONS:
======================
Terms & Conditions:
1. This competition is open worldwide – Yay!
2. 1 entry per person. Posting on both your Twitter & Instagram pages won't increase your chance of winning.
3. After we've announced the winner, expect to receive the shoes within 30 – 90 days to allow for shipping & delivery. Of course they might arrive sooner, but just in case!
4. This competition is open from Monday 22nd July to Wednesday 31st July 2013 – it closes at midnight GMT, midnight Nigerian time, 7pm EST.
5. If  the shoes are unavailable in your desired size or color, we will work with you to provide a close alternative.
Added:
6. You can follow on only 2 social networks only if you don't have the other.
7. You must share a pic with the shoes when received.
Thank you & good luck!!!