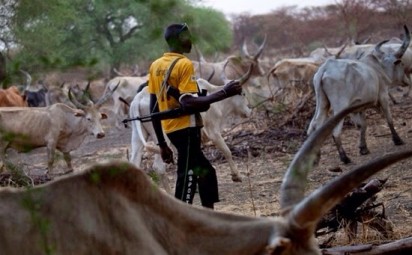 It appears the attacks on Benue state by Fulani Herdsmen are becoming more and more rampant, chasing over 10,000 persons from their hometowns.
Vanguard reports that the herdsmen have taken over Okokolo, Akwu, Ocholonya, Adagbo, Ugboku, Odugbeho, Aila, Agatu, Gwer West, Logo, Buruku, Guma, Makurdi, amongst others.
Sule Audu, representing Agatu constituency at the Benue State House of Assembly has described the attacks as "unwarranted and unprovoked". He said:
What I know is that the Fulanis attacking Agatu are not the normal Fulani that we know in our communities. These are hired Fulanis who come in from outside the country and from the North east.

On the action taken so far by the federal government, I will say I'm totally disappointed with what we are seeing. The invaders and their cows have taken over our villages that they captured. The security personnel that were sent there are not asking them to leave our communities.

As I speak with you today over 100,000 cattle have taken over Agatu land and they are grazing freely on our farmland, while the well-armed herdsmen lay in wait for anyone to come close.

So as the representative of the people I'm pleading with the federal government to do the needful by authorizing the security agencies to chase the marauders and their cattle away from Agatu land.
A victim of the attack, Terungwa Torhemba said, "Our people have been killed, so many cannot be located at the moment, we have also lost all of our belongings, farm produce and farmland to the well-armed herdsmen who have completely taken over our villages. At the moment we have no source of livelihood because they have also converted our farm land as grazing settlements for their cattle."
A 70-year old woman, known as Mama Agnes also decried the lack of action by the Federal Government, saying,"It is only the soldiers who can chase the Fulani herdsmen away from our villages, because they have completely taken over Agatu, and from what we heard, government has not directed the soldiers to do that, it then means that the government wants the Fulanis to occupy our land permanently."
According to Vanguard, the defense headquarters (DHQ) has responded to the statements, saying it is not aware of any killings since they arrived Agatu: "People should not because of interest be emotional and sentimental and give out information just to encourage violence. We are not saying that human life is not important. Even if it is one person that is killed, it is painful and worrisome. However, people who have information about those that are bent on perpetuating this violence should endeavor to give security agencies information so that they are fished out before attacks are carried out and lives are lost. It is when they do that, that we can successfully tackle these issues".
Opiatoha K'Idoma, a pan socio-cultural organisation of Idoma sons and daughters and the Stop Agatu Killings Movement, SAKM, have since called on the Federal Government to come to their aid.