It's Wednesday and it's time for a new edition of BN Style Your Bump, a series where BN Style looks into maternity style from different women to help inspire you! So far we have profiled Chrissy Teigen, Patricia Bright, Kourtney Kardashian, Tamera Mowry, Maky Benson, Blake Lively, Lami Phillips, Nikki Perkins, Lilian Esoro-Franklin, Kate Middleton, Teslimat Yusuf and Kerry Washington – click here to see them glow in style.
For today's edition we have singer, dancer and mother of one, Ciara. The songstress who recently tied the knot with NFL player Russell Wilson in the UK is mother to cute baby Future. Knowing Ciara, her maternity style was a mix of lady like outfits and casual tomboy looks as well with jeans, beanies and over sized, graphic shirts. My all time favourite maternity look of hers' would have to be this dress she wore to the 56th Grammy Awards in 2014.
On that note, we'll start with her dresses in various styles and lengths.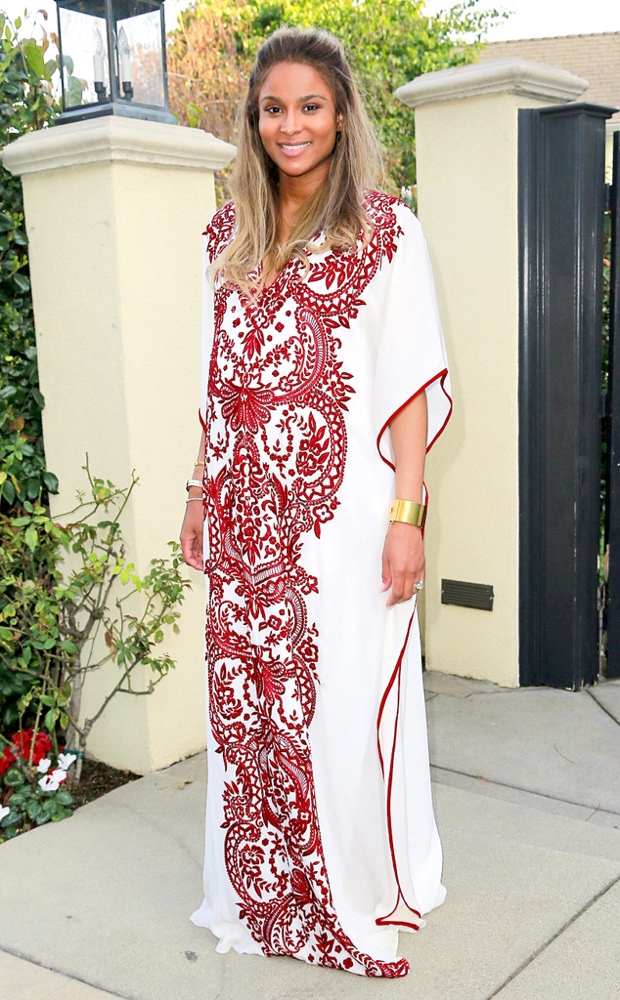 Here she is looking bohemian chic in this embroidered maxi dress (which she wore for her baby shower) and the colourful one below.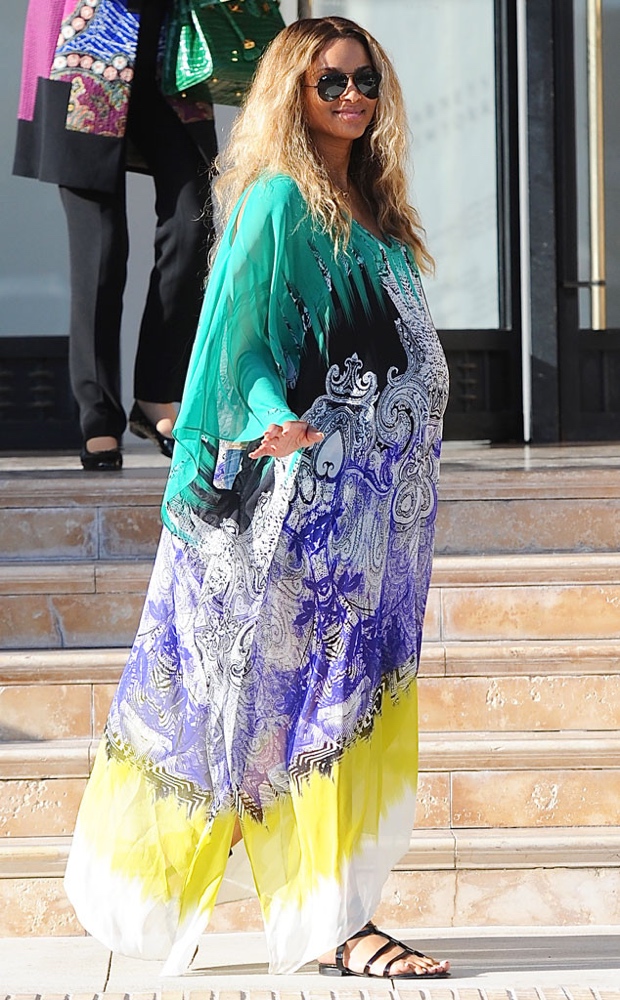 For a sexy take on maternity maxi dresses, she wore this white maxi dress with a plunging neckline and thigh high slit for her performance at Power 106.1's Valentine's Crush concert. The dress also has leather sleeves.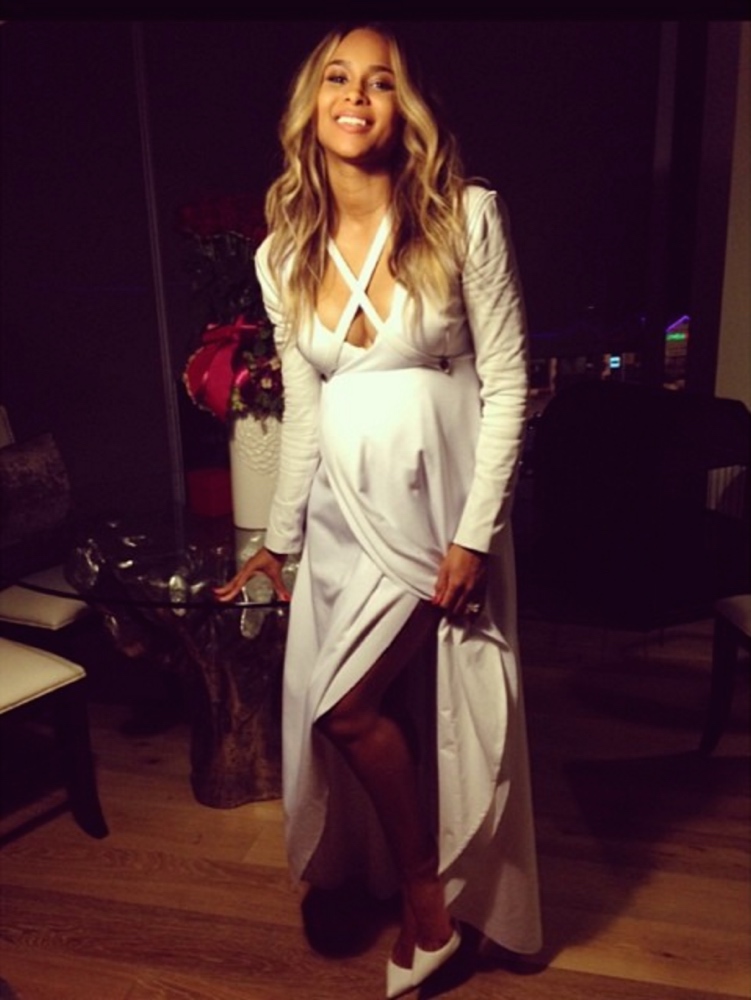 Here she is in this gorgeous picture, rocking sneakers with this casual short dress.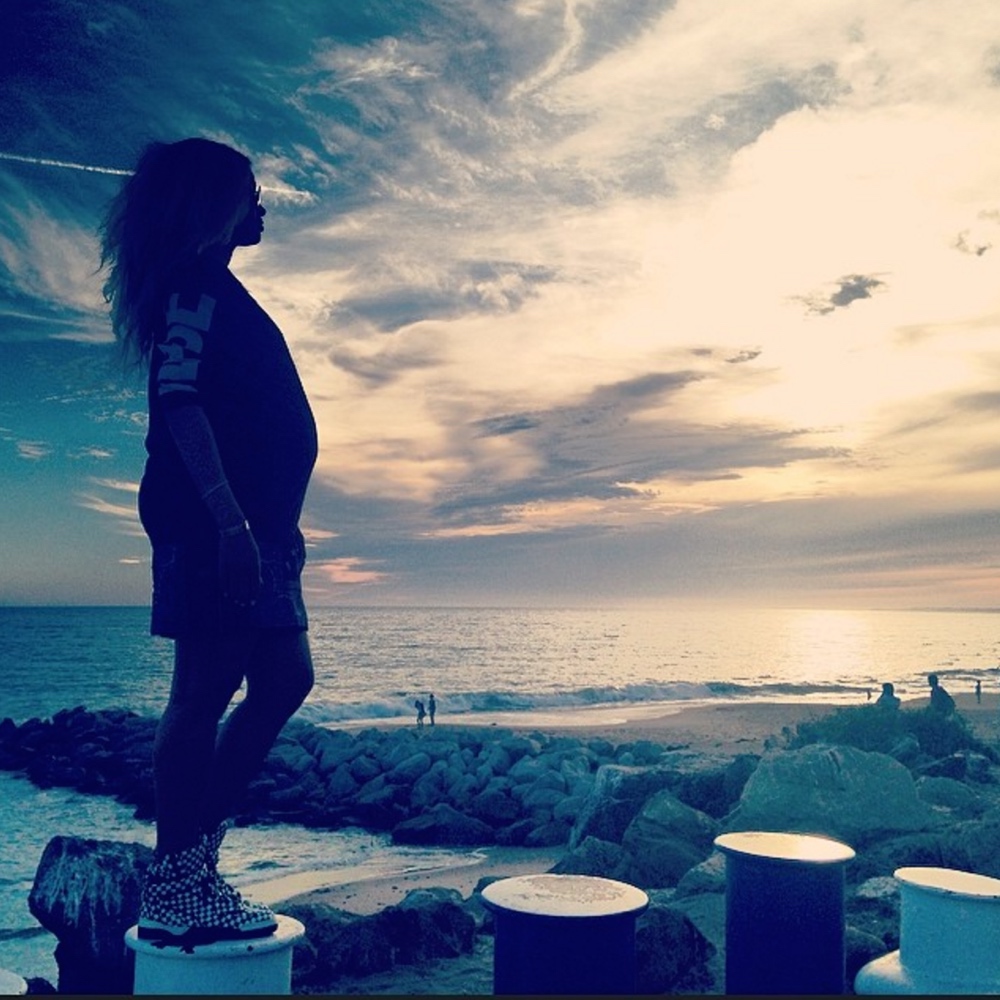 Out with her friend and mother of two, Kim Kardashian, doing some baby shopping before the arrival of baby Future.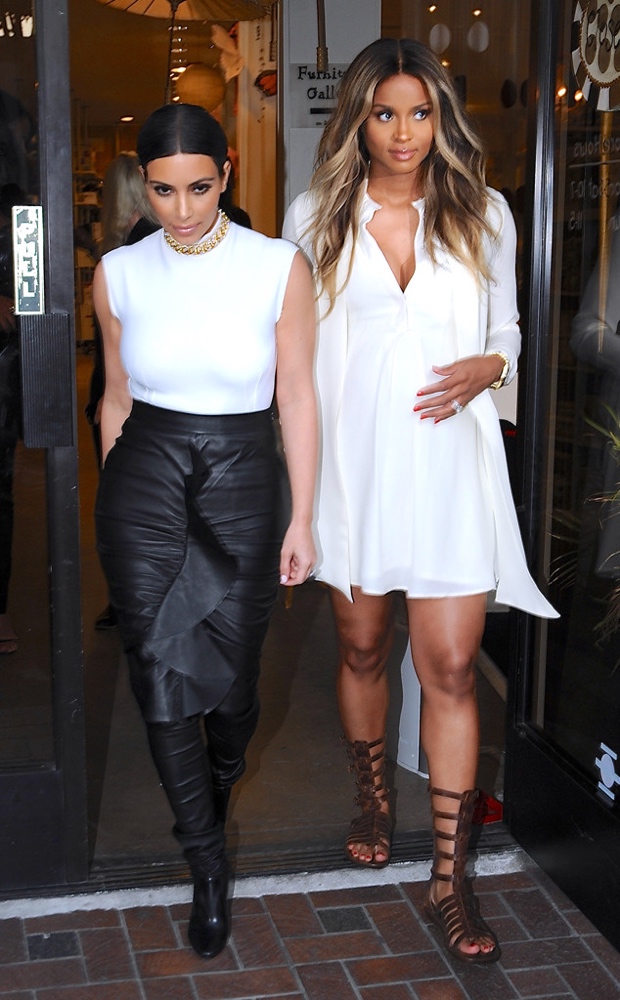 Another comfortable look wearing red flats (matching her red nails) for a pop of colour with this white shirt dress. Maky Benson also loved shirt dresses for her maternity style.
Jackets are always a great addition to a maternity look. Ciara is in good company with her choice of jackets because mothers from our previous features Chrissy Teigen, Nikki Perkins and Patricia Bright loved wearing jackets as well, especially the sleeveless ones.
We'll move to her separates with more jackets, trousers, over sized shirts and beanies. I especially like this pinstriped suit on her with a matching shirt underneath.
Here she is, moonwalking in true Ciara fashion. She loves to dance!
And that's it for another edition of BN Style Your Bump. It's been great so far and we've seen lots of chic maternity looks from stylish mums who style their bumps so well. There are mums who are comfortable in heels, flats, loose dresses or fitted body con dresses. Whatever your case may be, make sure you feel comfortable and you like what you're wearing. Doing this helps you feel confident about your appearance and there's nothing better than a confident woman in a great outfit, it speaks volumes. Like Ciara, don't be afraid to mix things up as well, have fun playing dress up with you bump!
Photo Credits: Jason Merritt/Getty Images, Kevin Tachman/Getty Images, Bryan Bedder/Getty Images, James Devaney/WireImage, Taylor Hill/Getty Images, Kevin Tachman/Getty Images, Ciara, Eonline