One Dr. Isaac Ojukwu, who hailed from Ohuhu in Umuahia area of Abia State, has reportedly committed suicide by setting himself on fire at a hotel apartment – Boundary Plaza Hotel – in the Nyanya area of Abuja, Federal Capital Territory (FCT).
According to DailyPost, the deceased was burnt beyond recognition and parts of the hotel was also razed by the inferno.
The owner of the hotel, Sylvanus M. Itodo (MON), an Associate Professor at Nasarawa State University, Keffi, said that he is still in shock as to why Ojukwu will take his own life.
"We were all sitting together that fateful night (Wednesday night) before he left to watch football match and I also left the hotel premises by 11pm, to go and sleep.

It was around 12am that I received a phone call from one of the boys in the hotel, crying, that my hotel was on fire. Before I could get down here, the flame was everywhere; and it took the efforts of the Federal Fire Service to prevent the inferno from escalating to the surrounding houses," Itodo said.
DailyPost reports that the deceased is married to a German woman and they have children together.
It however stated that for the past five years that Ojukwu had been living in the apartment, none of his family members had visited him.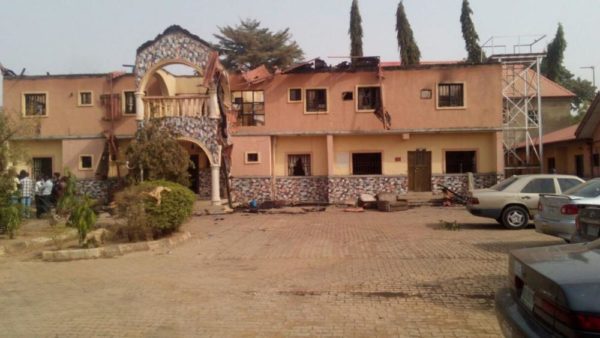 According to an eyewitness who is Ojukwu's neighbour:
We went to watch Arsenal and Bayern match that night, I came back to the hotel and Dr. Isaac came in 5 minutes later. After some minutes, I started hearing strange sound from his room, which is directly opposite my room. He was not shouting loud enough, all I could hear was 'yeh', 'yeh'.

At first, I was scared to open the door, because I didn't know if it was a robbery attack, until I heard and recognised the voice of one of our neighbours, beckoning on Dr. Isaac to open the door and come out, shouting fire, fire.

Then I asked my wife to take my son and rush out of the building while I joined other neighbours and we forced his door open, we met him standing in the sitting room while fire was burning in the bedroom. He was unhurt, we then held his hands and asked him to follow us. All of a sudden, he struggled his way from our hands and ran into the burning room.

At this point, everyone ran back as the inferno had started escalating and all my belongings got burnt. My wife only escaped with my son. I was engaged in the process of rescuing Dr. Isaac, and lost all my belongings in the process.
The Police has deposited the corpse at Asokoro General Hospital, but no family member has arrived Abuja as at press time.
Photo Credit: DailyPost