Folorunso Alakija, Nike Adeyemi, Funke Felix-Adejumo teach about Unlocking Deadlocks in Marriage at ROSGMI Conference| Saturday, Sept. 9th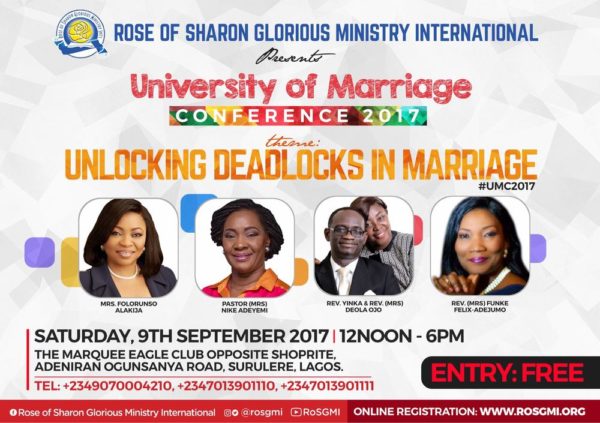 The Rose of Sharon Glorious Ministry International is launching its annual marriage conference which seeks to empower thousands of newly weds and seasoned couples with the tools to build godly, strong and enduring relationships
This year's theme dubbed "Unlocking Deadlocks in Marriage" is designed to help couples navigate the often difficult and challenging terrain of marriage.
Date: Saturday, September 9th, 2017
Time: 12 noon – 6 pm
Venue: Marquee Eagle Club opposite Shoprite in Surulere
Led by the inspirational leader and founder Folorunso Alakija, the ROSGMI seeks to bring its community of worshippers together to lead a more fulfilled and purpose driven life in God. This year's speakers include Nike Adeyemi, Yinka and Deola Ojo and Funke Felix-Adejumo.
Come and experience the power of God in your marriage.
—————————————————————————————————————————Sponsored Content