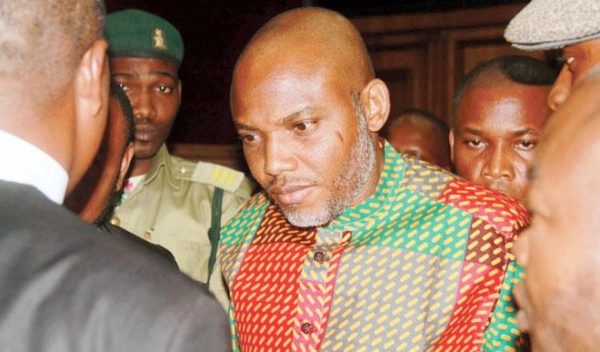 In a letter dated March 24, the leader of the Indigenous People of Biafra, IPOB, Nnamdi Kanu has called on the UK government to ask President Muhammadu Buhari to release him.
Kanu stressed that he's a British Citizen and said that he was wrongly arrested. He also claimed to be a victim of gross human rights violation.
The letter which was addressed to the UK High Commissioner in Abuja by his lawyer, Ifeanyi Ejiofor reads in part:
It is repeating the obvious to state that our client is a full British citizen, by virtue of which position he is entitled to all Rights, Privileges and Protection, guaranteed under the British Laws and conventions.

We are therefore constrained in the circumstance, to formally notify the British Government via this medium, of our well informed reservations, and apprehension, that our client is undergoing persecution in the charge above referred, and deliberate design by the persecutors to frustrate every effort of the Defense team aimed at giving our client a fair trial.

It is the position of our Law, that dual citizenship is a constitutional right of the citizens of Nigeria, clearly provided for under section 28 of the 1999 Constitution of the Federal Republic of Nigeria as amended in 2011. Dual citizenship is not a crime under our Law.
He also insisted that Justice John Tsoho denied him bail on January 29th 2016 "in line with the pronouncement of the President of the Federal Republic of Nigeria in his media chat televised live on December 29, 2015." that he cannot be granted bail because he came into the country without a valid passport.
Source: Vanguard