Looking back at 2016, it is safe to say it is not just any other year, but THE YEAR!
From Day 1, we had stories that made waves on social media and the internet.
This list will cover mainly politics, sports, and general news stories that trended on the internet.
From coups to international wars, and shocking turn out of events, these are the stories that drove conversations (in the categories listed above) in 2016.
Zika Virus
The World health Organisation (WHO) in February 2016, declared Zika Virus a World Health Epidemic.
In October 2015, the disease was linked to microcephaly, a birth defect that prevents the baby's brain from growing to its normal size. It was also linked to the Guillain-Barré Syndrome, a disease that affects the nervous system in such a way that the person's immune system attacks nerve cells.
The outbreak of the virus threatened the 2016 Summer Olympics which held in Brazil as the disease had spread rapidly across the Americas with over 20 countries in the two continents reporting local transmission. It was also prevalent in Brazil.
The disease is spread mostly by the bite of an infected Aedes species mosquito.
Experts have said that outbreaks might be seen in areas that did not experience the epidemic this past year.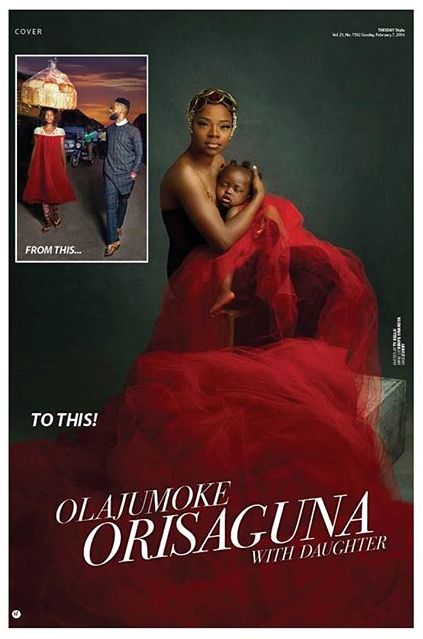 Who remembers the "God of Olajumoke" prayer points? I know you do!
Ty Bello was have a shoot with Tinie Tempah on the streets of Lagos for a ThisDay Style cover feature. During the shoot, this lady was walking around with her goods (Bread) for sale and happened to walk into a shot.
It was such a great image that Ty decided to include it in the final selection.
Everyone started asking if she was a model, forcing Ty to go in search of her.
Long story short, she was found, had a couple of other shoots, landed modelling gigs, and is the face of many brands.
She also got an apartment, Trust Fund for her 2 kids, and a scholarship for herself.
The model also got a feature on CNN, Huffington Post, and Buzzfeed. She was also Google Nigeria's Most Searched Person between January and March.
Say this with me, "Dear Lord of Olajumoke, 2017 is my year". But you must be doing something productive just like her, before favour can "locate you".
David Cameron's Fantastically Corrupt Statement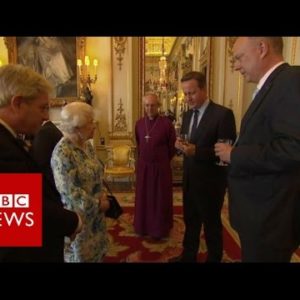 As the U.K prepared to host world leaders for its Anti-corruption summit in May this year, Prime Minister David Cameron was caught on Camera, telling Queen Elizabeth that leaders of some of the most fantastically corrupt countries would be in attendance.
He was talking to Queen Elizabeth II and Archbishop of Canterbury Justin Welby at an event in Buckingham Palace to mark the monarch's 90th birthday when he said 'two of the most corrupt countries in the world' are coming to a key London summit this week.
He was discussing with a small group of people which also included Commons Speaker John Bercow and Leader of the House Chris Grayling as well as Queen Elizabeth II and the Archbishop of Canterbury when he said
'We had a very successful cabinet meeting this morning, talking about our anti-corruption summit. We have got the Nigerians – actually we have got some leaders of some fantastically corrupt countries coming to Britain.' He then added – 'Nigeria and Afghanistan – possibly two of the most corrupt countries in the world.'
While the Queen made no comments, Archibishop Welby shook his head and responded 'But this particular president is actually not corrupt… he is trying his best.'
Speaking at the summit, President Buhari told the audience that he does not need an apology from Cameron, only return of Nigeria's looted funds stashed in the U.K.
President Buhari also cheekily said "Yes" when asked if Nigeria is indeed corrupt.
Leicester City FC's Premier League Victory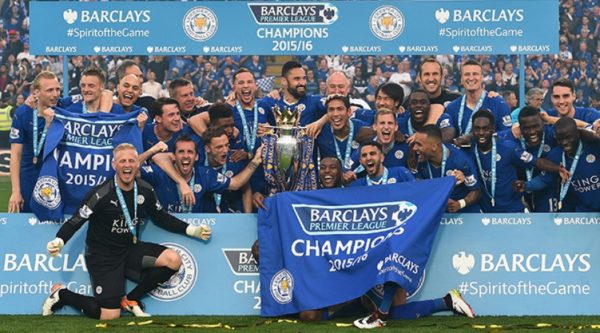 In what can be regarded as one of the great sporting stories of all time, Leicester City FC won the 2015/16 Premier League title for the first time – A classic case of "started from the bottom and now we're here".
The feat has been described as a "fairytale" and the "most unlikely triumph in the history of team sport" for Claudio Ranieri's side.
The team lost only 3 games during the season.
One of the top stories of 2016 is definitely the decision of majority of UK voters for Great Britain to leave the European Union.
In what seemed like an unexpected reality, the world woke up that Friday morning (June 24) to the news that 51.9% of eligible U.K voters decided to leave the European Union.
The citizens complained of the rising immigration and the lack of jobs because foreigners are grabbing the opportunities.
This vote led to Prime Minister David Cameron's resignation. It will take another couple of months or more to finalise the deal… or throw it away!
On the night of July 15th 2016, some top military officers in the Turkish government decided to carry out their plan to overthrow President Recep Tayyip Erdogan saying that the current government has damaged rule of law, democratic and secular system, hence they are taking over.
They shut down Facebook, Twitter, Youtube, as well as airports, and took over the state run broadcaster.
President Erdogan was whisked away to an underground safe house. He could not make a public announcement to let the people know he was still in charge.
The coup was gaining ground until her made an appearance via Facetime; Social media rescued Erdogan's administration… and some folks were considering stifling it in some place at one point in time.
Erdogan, in the aftermath of the coup called on Nigeria to shut down 17 Turkish International Schools, but that didn't happen.
The Turkish government also held about 50 Nigerian students and deported many as it rounded up thousands of suspects.
Mark Zuckerberg, one of the Worlds Youngest Billionaire, and founder of the most popular social network – Facebook – visited Sub-Saharan Africa for the first time in July.
He landed first in Lagos, Nigeria and proceed to Yaba, which can be termed the Silicon Valley of Nigeria. He went to Co-Creation Hub, met with the Software Engineers, Developers, and Startup entrepreneurs before proceeding to Andela, where he had donated $24m.
After a series of events in Nigeria, Zuckerberg went to Kenya and met with the country's ICT Minister, and then came back to Nigeria to attend the maiden edition of the Aso Villa Demo Day.
His visit to Nigeria is not unrelated to Aquila (a drone that provides internet access to communities) and Free Basics -which provides free information on basic needs of mostly the rural dwellers. Free Basics also uses Aquila to give free internet access to these information.
Free Basics was rejected in India after experts said the company was being shady about the terms and conditions. This is understandably so, as Facebook is solely in charge of what goes up on the Free Basics platform, thus controlling the information majority of citizens are exposed to. Man, whoever is in charge can start a war!
Paul Pogba's Record Signing
Manchester United's record-breaking signing of French International, Paul Pogba is definitely a top story of 2016. The signing dwarfed Cristiano Ronaldo's 80 million Pounds and Gareth Bale's 85 million Pounds signing.
Pogba's performance was not at par with the amount spent on his head in the first few weeks of the deal. He did almost every other thing, like changing of hairstyle and dabbing so well regularly, leaving the most important – scoring goals!
Well, some will say after his rumoured relationship with Dencia, he got back on track (or the field) and started performing.
Olympics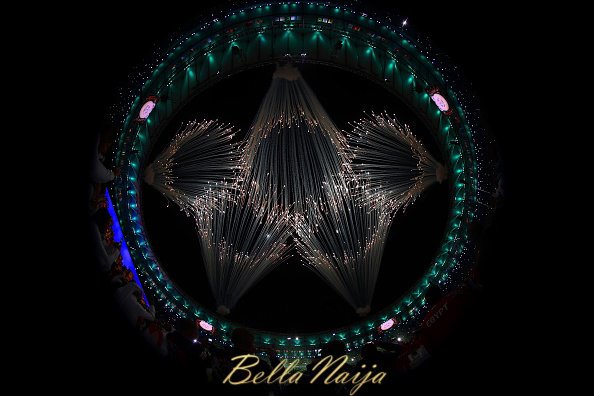 The 2016 Summer Olympics officially known as the Games of the 31st Olympiad held between August 5 and 21 in Rio de Janeiro, Brazil had 11, 544 athletes participating in 206 events in 28 sports.
The U.S. topped the medal table for the fifth time in the past six Summer Olympics, winning the most golds (46) and most medals overall (121). Great Britain finished second with 67 medals (27 golds). China finished third with 70 medals (26 golds). Host country Brazil won seven gold medals, its most at any single Summer Olympics, finishing in thirteenth place. Fiji, Jordan, Kosovo, Puerto Rico, Singapore, Tajikistan, Ivory Coast and Vietnam each won their first gold medals, as did the group of Independent Olympic Athletes (from Kuwait).
Kenya topped the African chart with 13 medals (6 golds, 6 silvers, and 1 bronze). Nigeria's Dream Team VI brought home the bronze medal despite facing tough challenges before and during the competition.
Immediately after the Olympics came the Paralympics where the physically challenged treated us to an amazing sporting event.
The Nigeria contingent also made us proud, bringing home 8 gold, 2 silver and 2 bronze medals. At the end of the event, Team Nigeria was number 1 in Africa, and 17th in the World.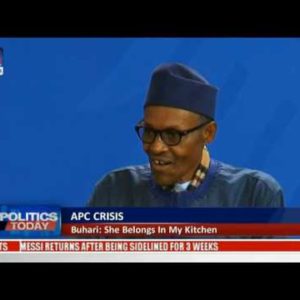 You see, old people do not care about filters, whether in their words or Instagram posts. Almost all Nigerians in Nigeria felt the pinch of the economic downturn and the Buhari presidency this year.
After Aisha, his wife, got tired of his leadership style, and the fact that she "does not know" majority of the people in different positions in the administration.
Aisha left the kitchen, the living room and the other room, to air her grievances to the world through a radio interview on BBC.
Buhari, on the sideline of a meeting in Berlin, Germany, towed his wife's path and replied her on live TV.
This prompted discussions all over the world on the issue of feminism, gender roles and patriarchy. I personally think Buhari, as well as other people (men and women) his age hold the same view; Not that women are weaker, but that gender roles of a couple of decades ago make the woman the caretaker of the home. I wrote about it a couple of months ago.
While the Presidency dismissed it as a joke, I personally think that was too expensive; and to think that the joke was made beside Angela Merkel.
Brazil Impeaches First Female President Dilma Rousseff
The Senate first suspended the leader for 6 months in May, but finally impeached her in August, saying that she broke budgetary laws.
They accused her of tampering with figures to disguise the size of Brazil's budget deficit during her 2014 re-election campaign.
Her conservative former Vice President Michel Temer, who ran the country since her suspension in May, was sworn-in to serve out the remainder of her term through 2018.
Rousseff denied any wrongdoing and said the impeachment process was aimed at protecting the interests of the country's economic elite and rolling back social programs that lifted millions of Brazilians from poverty during the last decade.
Again, "The West" was blamed.
Donald Trump Wins U.S Presidential Election
Undoubtedly the most unexpected news of 2016, this New York real estate mogul, Donald Trump, with no political experience whatsoever, defeated former first lady, former presidential aspirant, and former secretary of state of the U.S., Hillary Clinton.
If the election were to be in Nigeria, Clinton would probably be preparing for inauguration into the nation's highest office because she had almost 3 million more votes than Trump.
The U.S constitution, however differs in this regard. It is not by popular vote, it says, but by the Electoral College.
Trump's victory was sealed by the Electoral College December 19.
While Trump was accused of being a racist and fueling racism, Clinton was accused of being corrupt and a war monger.
Personally, I can't wait to see what a Trump presidency would look like. I honestly have no view on what to expect.
In a similar development, during the countdown to the U.S. Presidential Election, hackers gained access to sensitive Democratic Party's documents which they subsequently released. The documents marred the party's candidate, Hillary Clinton's campaign after it revealed that Bernie Sanders was short-changed during the primaries.
It even led to the resignation of the party's chairman, Debbie Wasserman Schultz. Protests also held in Philadelphia where the party's convention took place following the revelation.
Few weeks after Donald Trump won the election by the Electoral Vote and Days after the Electoral College confirmed him as the President-Elect, President Barack Obama announced that the U.S. will take tough action against Russia.
Days after the announcement, Obama expelled 35 Russian diplomats, closed down 2 compounds, sanctioned 4 individuals and 5 companies.
"These actions are not the sum total of our response to Russia's aggressive activities. We will continue to take actions at a time and place of our choosing, some of which will not be publicized," Obama was quoted as saying.
Putin has said that he will delay expulsion of 35 U.S Diplomats in Russia, a move Trump has hailed.
Samsung Galaxy Note 7 Blowing Up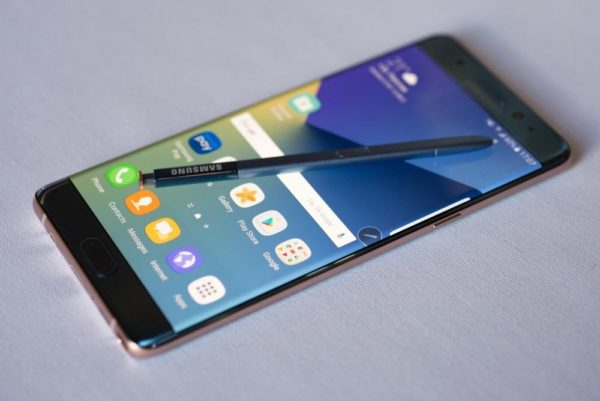 Samsung Electronics Co. Ltd. halted sales of its Galaxy Note 7 smartphones in October and told owners to stop using them.
The company said in statement in Seoul that it was investigating reports of fires from the phone by consumers.
The reports of fires quickly went viral and airlines gave it a sentence in their routine security speech before takeoff.
"Consumers with either an original Galaxy Note 7 or replacement Galaxy Note 7 device should power down and stop using the device," the company had said.
21 Chibok Girls Released by Boko Haram
In a negotiation that was mediated by the International Committee of the Red Cross and the Swiss Government, 21 of the 219 abducted Chibok School girls were released by Boko Haram terrorists.
The federal government said that the terrorists are willing to negotiate the release of the remaining girls, adding that no ransom was paid for the 21 girls' freedom.
In a related development, the last Boko Haram stronghold in Sambisa forest – Camp Zero – was overrun by the Nigerian Army and Nigerian Air Force. The Camp fell on December 22nd, a wonderful Christmas present to the country.
However, factional leader, Abubakar Shekau, in a video, days after the fall of the bastion, said that the group is still strong and are fighting.
ISIS named a new leader for the sect which had earlier pledged allegiance to it (ISIS). Abu Musab al-Barnawi (the new leader) is the son of the slain leader Muhammad Yusuf, and we've not heard much about him. His faction is probably the one that entered into negotiations with the federal government.
10-Year-Old Fake U.S. Embassy Busted in Ghana
After issuing legitimate visas to the public for 10 years, this fake U.S Embassy in Ghana was shut down following a joint operation by the Assistant Regional Security Officer Investigator (ARSO-I) at the real U.S. Embassy in Accra, the Ghana Police Force, Ghana Detectives Bureau, and other international partners.
Investigations revealed that the Embassy was operated by Ghanaian and Turkish citizens who spoke English and Dutch.
While nothing was directly said about the involvement of U.S citizens, it's a no-brainer that corrupt officials (U.S citizens) at the real U.S. Embassy were paid to look the other way, as well as obtain legitimate blank documents to be doctored.
The fake embassy also had clients from Togo, Cote D'Ivoire, and other neighbouring countries.
Hmmm… It's 14 days to when the money-doubling scheme is expected to come back so that participants can request for help and get it.
MMM – Mavrodi Mondial Moneybox – was founded by Sergey Mavrodi, a former Russian public servant who was arrested for fraud.
The scheme started in Nigeria around November 2015 but became popular mid-2016. On December 13th, participants were heartbroken with the news that withdrawals would be frozen for one month over "heavy workload on  system".
One good thing about MMM is that you are warned beforehand to put in your spare money.
You have to give it up for the participants. These guys are really optimistic about the return, and it somehow makes me think it will, with the amount of devotion. You know, once the platform allows people to make withdrawals in January, you begin to ask yourself which people will provide the help for others to make withdrawals, since the platform has no central account. If participants can turn this devotion to releasing their money in the longest month of the year in Nigeria (January), then the platform may just come back.
We'll have to see how it goes.
One truth about this scheme is that dozens of participants have to lose, for every one person to gain from it. I don't think I can live with that.
**
I know I said 16, but this final story is equally important. It has been a top story for the past couple of years and we pray it ends soon.
Aleppo/Boko Haram/ISIS
This is for all the tragic events that occurred this year, and a call for peace in the world.
The carnage wrought by the on-going war all over the world leaves one wondering about what gains there are in it compared to the losses.
Millions of civilians, soldiers, women and children have lost their lives because political and rebel leaders want their own interests to be accepted by the other party.
It's just ironic that it costs more to fund wars (and its aftermath) than it is to eradicate poverty. Defence and Security Departments in almost all economies in the world get one of the biggest sums of money in the world.
Man, securing himself from himself, and no discovery of aliens yet.
#PrayForTheWorld
There you have it guys! Cheers to a better and more positive 2017 for everyone of us.