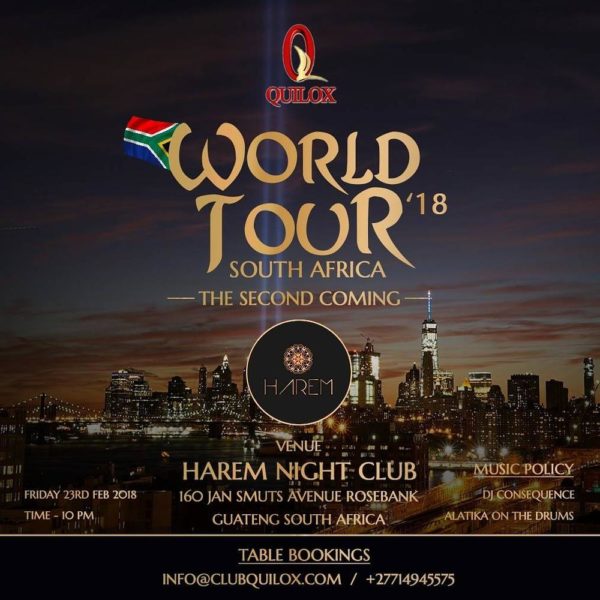 In 2017 luxury nightlife brand Club Quilox took the nightlife industry by surprise as it organized the first ever world tour in Africa's nightlife history. It started in Ghana, then it proceeded to New York, then Atlanta, next stop was the United Kingdom, when everyone thought the world tour was done for the year it went to Dubai and its last stop in 2017 was South Africa. The Quilox world tour has had various celebrities; Davido, Tiwa Savage, Peter (P square), DJ Spinall, DJ Stevie J, Special Spesh, Eva, 2face, Sound Sultan and many more, also the crème de la crème of the social stratosphere in attendance.
In celebration of Black History month, the Quilox world tour would start from the motherland Africa! It will begin where it stopped "South Africa", last time we had a luxury party in Johannesburg and an all-white party in Cape Town. This year we hit you with a luxury party themed "The Second Coming", the A team consisting of Shina Peller, DJ Consequence, Alatika, and Hype Man Kole would be storming Club Harem in Johannesburg, South Africa for yet another electrifying world tour experience
Date: Friday, February 23rd, 2018
Time: 10.00 pm
Venue: Harem Night Club, 160 Jan Smuts Avenue, Rosebank Gauteng, South Africa.
For further information and table bookings, call +27714945575 or email us at [email protected]
Last year we brought the storm, this year we are coming with full force, South Africa is about to see nightlife like never before. Don't just hear the stories, be a part of greatness.
For more information, contact Quilox on Instagram, Twitter & Snapchat (ClubQuilox). You can also send an email to [email protected] or call 08140090009
———————————————————————————————————————————————————
Sponsored Content