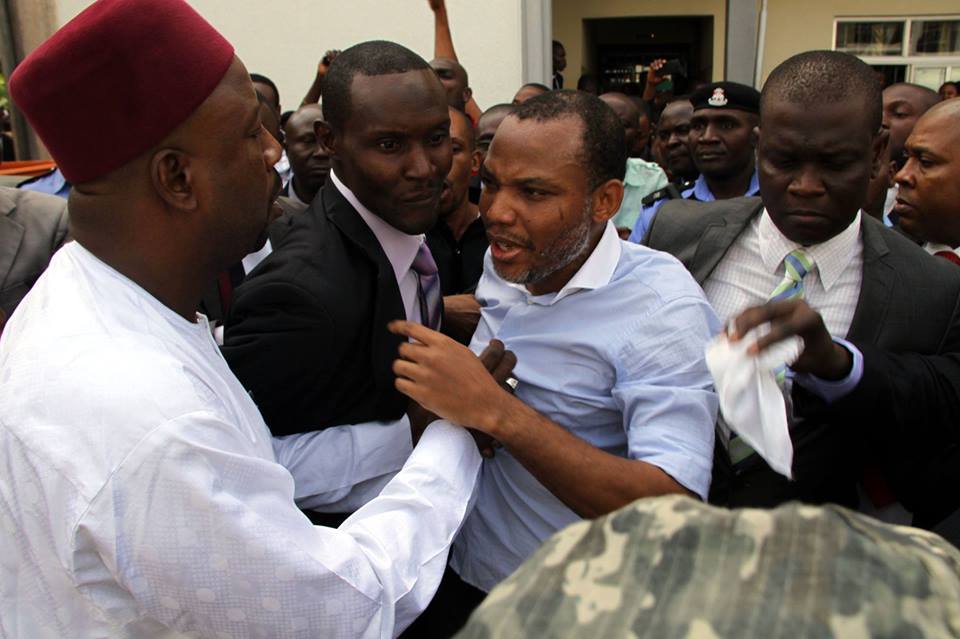 Magistrate of the chief magistrate court, Wuse zone 2, Abuja, Shuaibu Usman, on Wednesday discharged Nnamdi Kanu, director of Radio Biafra and leader of the Indigenous People of Biafra (IPOB), on all counts of criminal conspiracy and ownership of an unlawful society brought against him by the federal government, Cable reports. However, the case is now being sent a higher court.
According to the report:
The government through its agent, the Department of State Services (DSS), had elected to withdraw the case at the lower court for a higher court, which has jurisdiction to entertain charges bordering on terrorism, to take over.

The DSS has held Kanu for at least 90 days despite an order of the magistrate court granting him bail in October. After the lower court granted him bail, the secret police got an order of the federal high court, Abuja, to keep the leader of IPOB in detention. But his lawyer, Vincent Obetta, filed a counter application, seeking bail for the accused person.

Adeniyi Ademola, justice of the federal high court, Abuja, is expected to rule on the bail application on Thursday. A wave of protests, engineered by IPOB, had swept through the southeast a few days ago owing to the continued detention of Kanu. IPOB is demanding an immediate and unconditional release of its leader.