It's now our annual tradition at BellaNaija Weddings to present our predictions for wedding trends that'll take over 2016!
Thanks for being a part of the BN Weddings family, and thank you once again for getting us to 1 million followers on Instagram!
These were our predictions for 2013 | Here was our recap of 2013 | For our 2014 predictions, click here | Lastly, click here for the 2015 edition
Here's our list for 2016 – enjoy & be inspired!
***
1. Next-Level Wedding Hair
A lot of hair 'artists' have emerged in the past year and we love it! In 2015, brides were very innovative with their hairstyles, and we see you getting even more adventurous this year. Like Solange Hair and Beauty Shop who used two brooches to create this contemporary masterpiece on bride Nkiru, or Charis Hair who made a criss-cross pattern with bride Tola's hair!
See this natural hair inspired shoot by Dionne Smith by clicking here!
2. Previously Unchartered Destinations for Nigerian Weddings
By now, Dubai and Cape Town weddings are staples for Nigerians, but lately couples are going to previously unchartered destinations for their weddings.
Bride Ajibola went to her maternal grandfather's country of Lebanon for her luxe wedding. The itinerary was comprehensive, giving the guests a week they'll never forget. For the unforgettable day, the bride wore custom couture Elie Saab, there were life-size candles, fireworks, an aisle built over a pool of water, Olamide performed, and the wedding cake was so tall it was cut with a sword, amidst many more treats. The guests partied well into the morning.
Other unique destinations for Nigeria-based couples we have heard about lately include Macau and Costa Rica. Don't want to go too far? Consider destinations within Nigeria such as Calabar or take a quick flight to Accra – the Ghanaian city is becoming a popular destination wedding hub for Nigerian couples.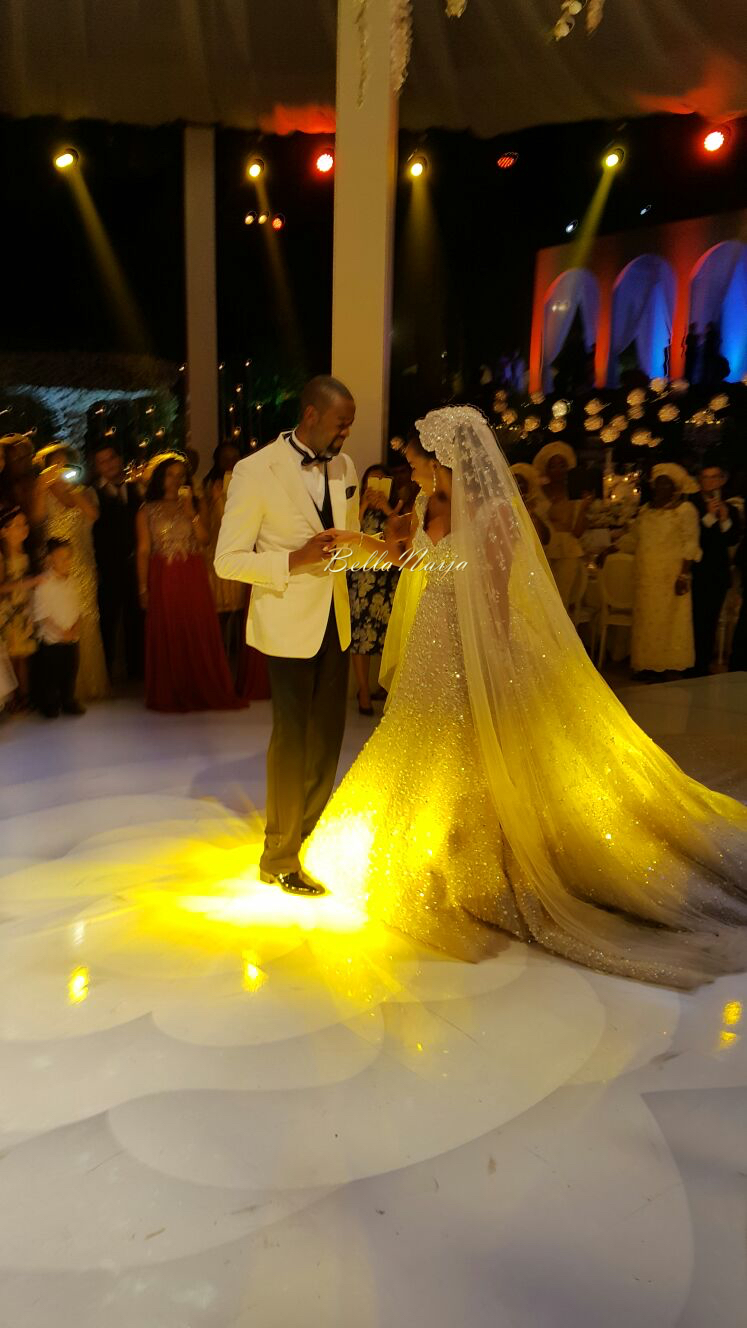 3. Jumpsuits
This is for the bride that's not afraid to make a style statement. Brides usually wear it for their court wedding or at their receptions, because of religious restrictions with trousers. Celebrity bride Dolapo Sijuwade wore an amazingly detailed jumpsuit by Lebanese designer Krikor Jabotian for her white wedding reception (see more here).
Nowadays, guests are rocking it for aso ebi as well.
4. Beaded Brides from Head to Toe
Brides nowadays are decked in custom attire beaded from headwrap to shoes.
5. Next Level Aso Ebi
Just a few years ago, aso ebi for men was restricted to caps, but nowadays groomsmen are usually all in the same fabric.
For kids, the love for traditional wear is not only for Independence Day at school, but also family photo shoots and for going to church and weddings with mum and dad.
At Princess Jennifer and Henry's wedding, everyone in the wedding party was well coordinated, as the bride and her mum are designers – Rare Vogue Couture.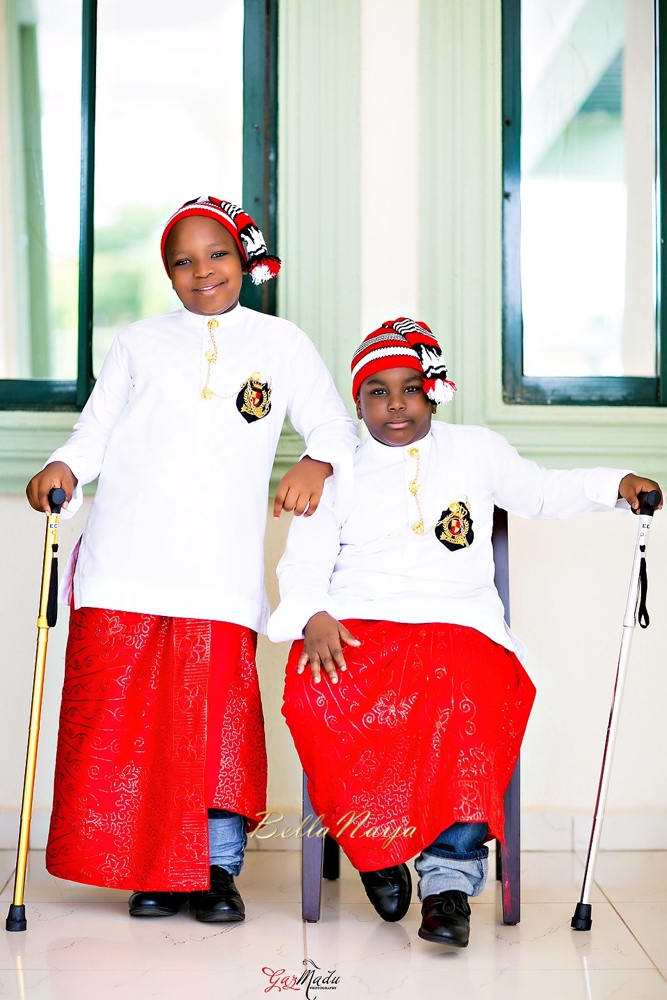 See their beautiful Anambra wedding by clicking here!
While with women, you might mistake some guests for the bride in their show-stopping dramatic aso ebi styles, including long trains, capes and the like.
For more #AsoEbiBella, click here!
6. Elegant Registry Weddings
You can make your court wedding more than a mere formality by having a bit more fun with it. CEO of The Nail Bar in Abuja, Ameera treated her family and guests to a short and sweet ceremony in a hall owned by a Chinese restaurant, followed by lunch catered by the venue.
The Wedding Guru made a stunning floral arch as the focal point, while the lunch had low centerpieces and candles for an intimate feel.
7. Black and More Black for Brides and #AsoEbiBella
Oh yes! Black is no longer restricted to the groom or male guests at weddings. Brides are now wearing all black. Also as predicted in 2014, black is also making a comeback for guests – #AsoEbiBella as well. Click here and here and here for more #AsoEbiBella in black.
Bride Fatima wore all black for one of her wedding looks.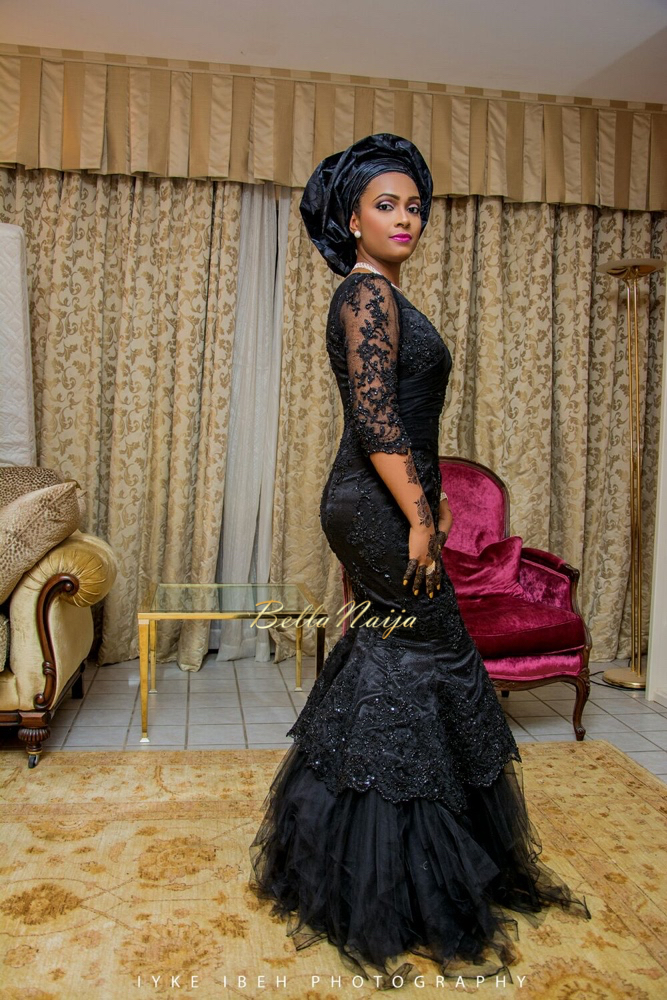 See Fatima and Salihu's Dubai pre-wedding shoot by clicking here!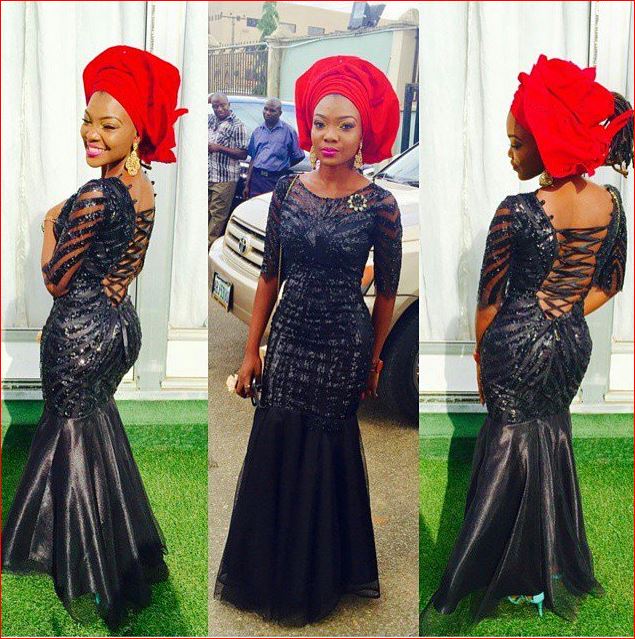 8. Statement Bridesmaids Gear!
Brides and their friends are making matching statement gear for their big days. They are great keepsakes, and a cute way for the bride's friends to stand out.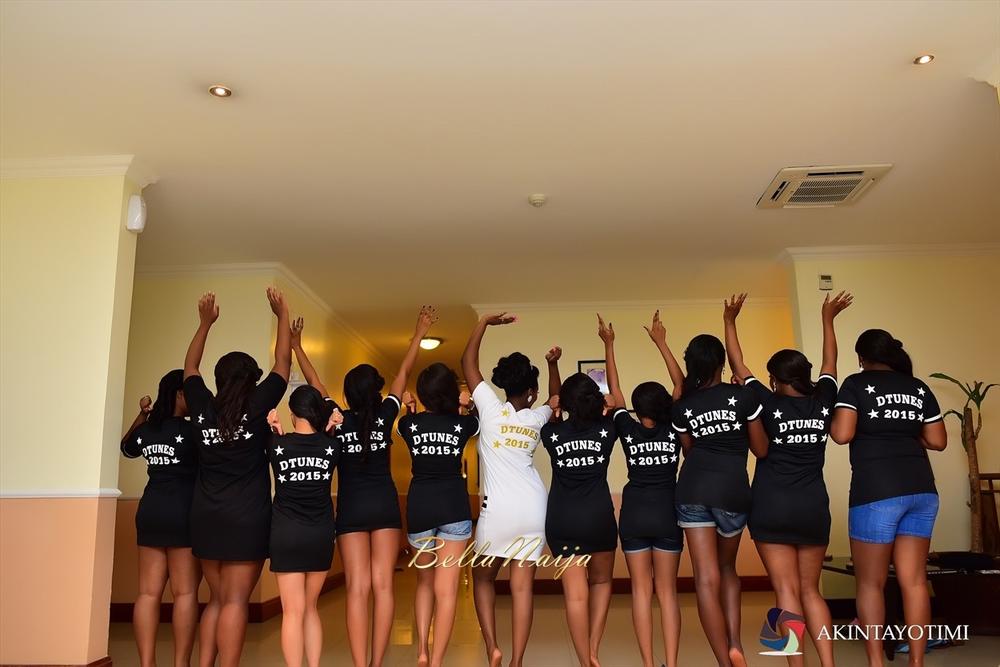 See Dunni and Tunde's #DTunes2015 wedding here!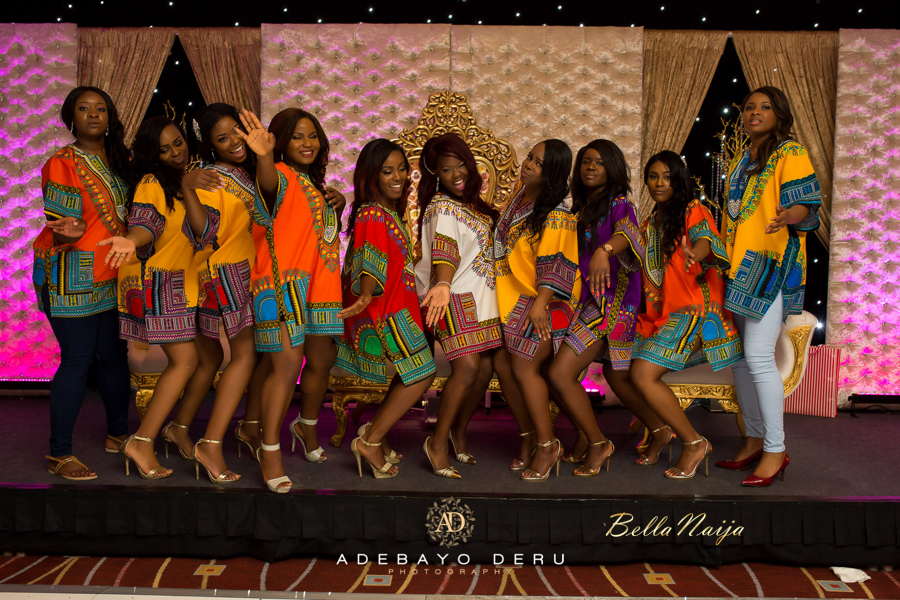 See Wura and Ose's luxe and lively wedding, planned by the bride here!
9. Ain't no Party like a Wedding After Party?!
Banky W might have sang 'Lagos Party' for the nightlife but nowadays clubs have got nothing on wedding reception after parties. The best part? The cocktails and food – small chops, fro-yo, you name it is free! Nowadays weddings are ending later than ever (many past midnight) and couples give away fun souvenirs to their friends, like power banks, custom sunglasses and many more. There are also many dance-floor surprises like confetti and balloon drops and even indoor fireworks!
After Party Video in slow-mo ? see all the money-spraying, jumping and dancing on the smoky dance floor!
See Dami and Wale's Ibadan and Dubai wedding here!
See Tiese Abiodun and Jide Aboderin's Outdoor Ikot Ekpene and Lekki, Lagos Wedding here!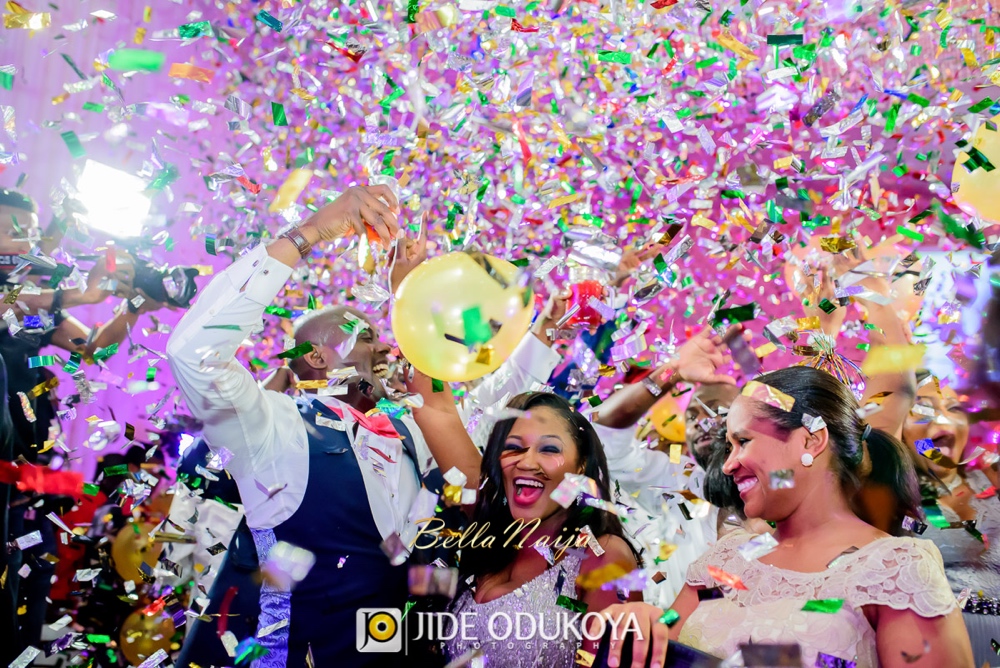 See Folake and Danny's wedding planned by 2706 Events here!
10. Creative Wedding Videos
Cinematography is Nigeria has taken a big leap in the past year, and 2016 will be even better. The use of drones and the rise of creative pre-wedding and wedding day music videos have made video a must-have for weddings. Here are just a few!
Ibukun and Tolani made a pre-wedding music video for Woju by Kiss Daniel, complete with choreography!
See their pre-wedding photos and love story here! Plus, their wedding was featured on CNN! Click here to watch the videos.
This kiss cam by Lanre Esho Films is oh so cute! Click to watch.
11. Feathered Fans
We are by no means saying this is a new trend, but it's been on fire lately with traditional brides, regardless of ethnic group. The usual practice is to get a fan that matches the colour of your outfit, or white, which goes with everything.
See #BBNWonderland bride Fimisade's wedding and love story – he was her first and only love – here!
See #BBNWonderland bride Victory's wedding and love story – they met at NYSC Camp – here!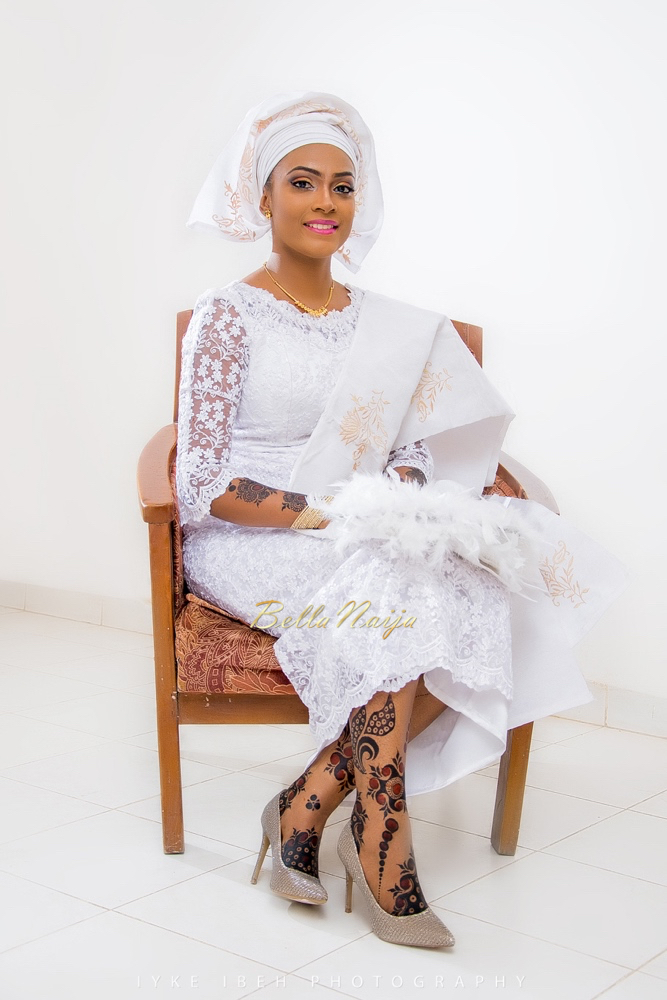 See Fatima and Salihu's Dubai pre-wedding shoot by clicking here!
12. Super Small Weddings
The 'average' size of a Nigerian wedding in the country has about 300-500 guests. Nowadays, some couples are ditching all the wahala and opting for intimate affairs. The best way to do this successfully is to get married on a weekday, and to give people short notice.
Designer Oseyi "Ozzy" Etomi decided to get hitched on a Monday, and she did it three days later, on Thursday! She still managed to get professional makeup done and had a great time in her family compound with their nearest and dearest.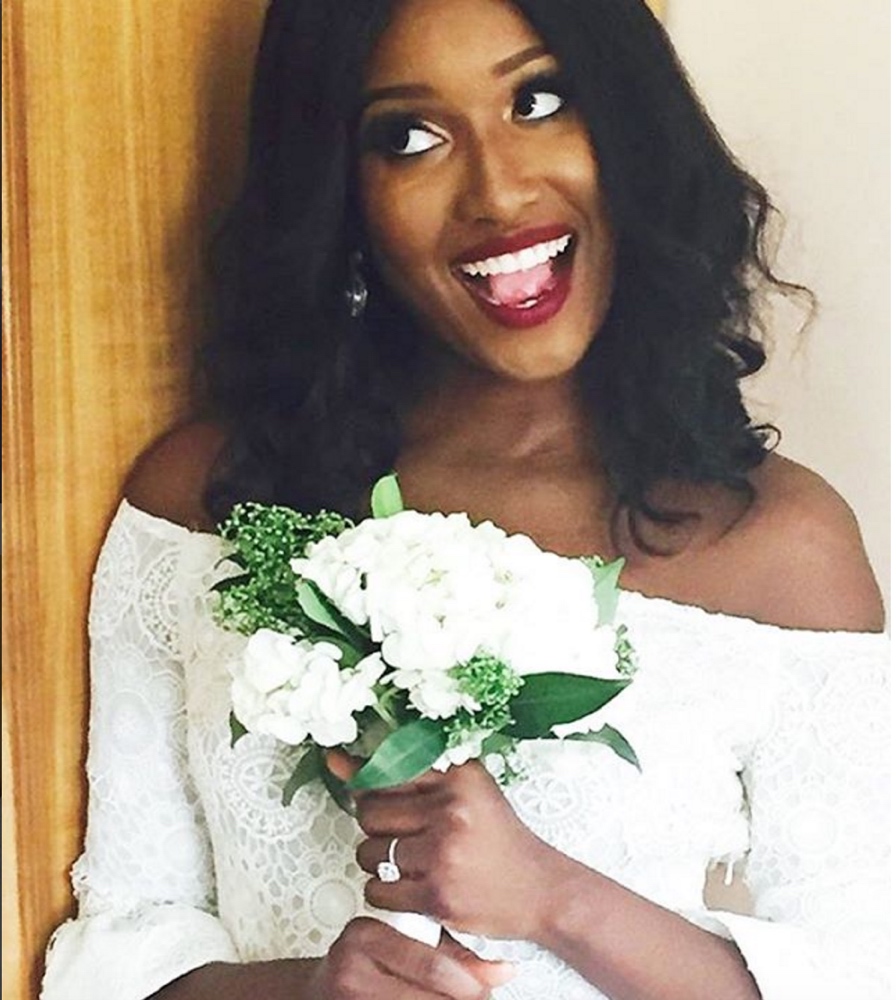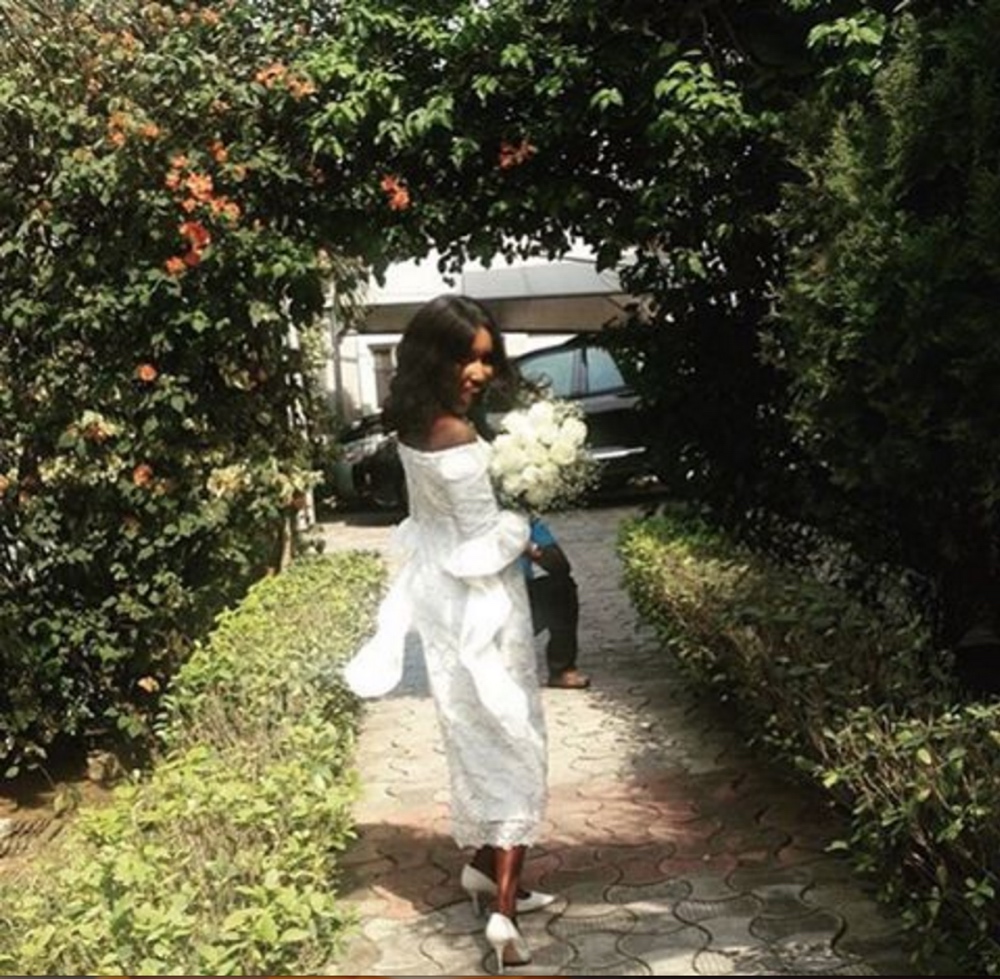 Beautiful bride and photographer Titi Ajagbe recently had a pink garden wedding on a Tuesday.
14. Artistic Touches
Nowadays couples are adding artistic touches in their wedding paperie (save the dates, invites etc.), at bridal showers and even on the day itself, with live painting.
Bride-to-be Mide's friends painted her at her bridal shower! Click here to see the pretty garden day.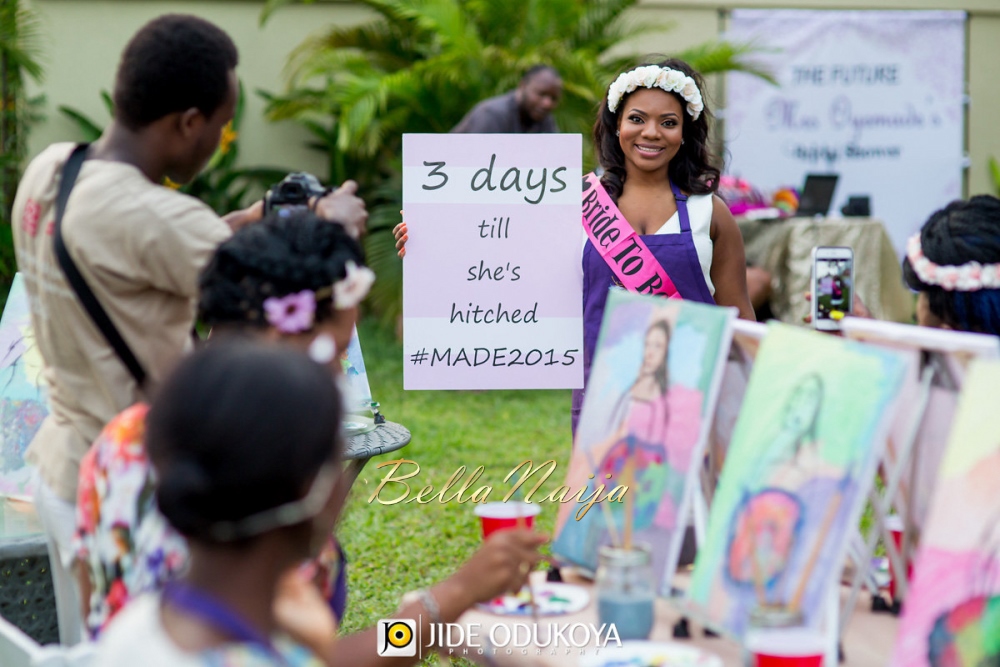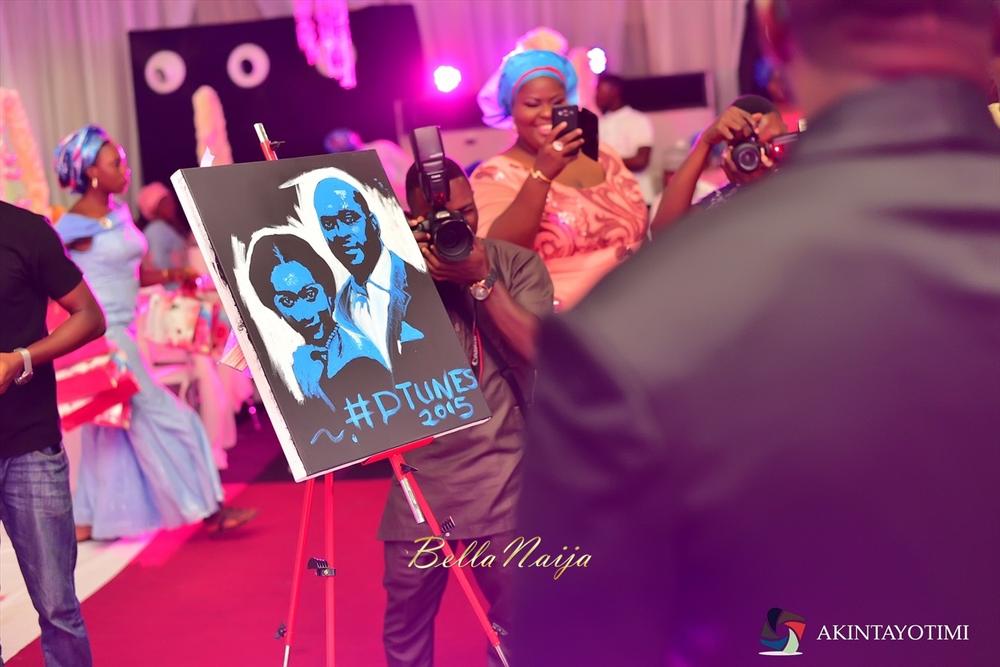 See Dunni and Tunde's #DTunes2015 wedding here. | Read the BTS of the process by clicking here.
15. Traditional Attire Redefined!
This year, we will see the redefinition and refreshing of traditional attire from gele to aso oke. It started out as a niche trend but 2016 is the year that unique gele as pioneered by Abeke Makeovers goes further mainstream.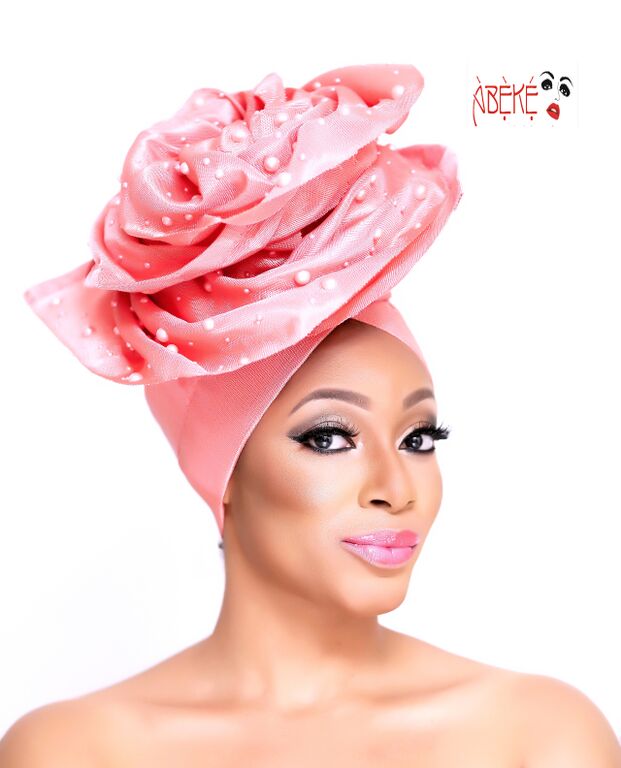 For beloved aso-oke which is worn by brides all over the country the South West to the Central Nigeria (Kogi) and even in the North has been redefined by designers. The 'komole' version by veteran Nigerian designer Deola Sagoe is especially popular – the bell-sleeved blouse and wrapper have laser cut details.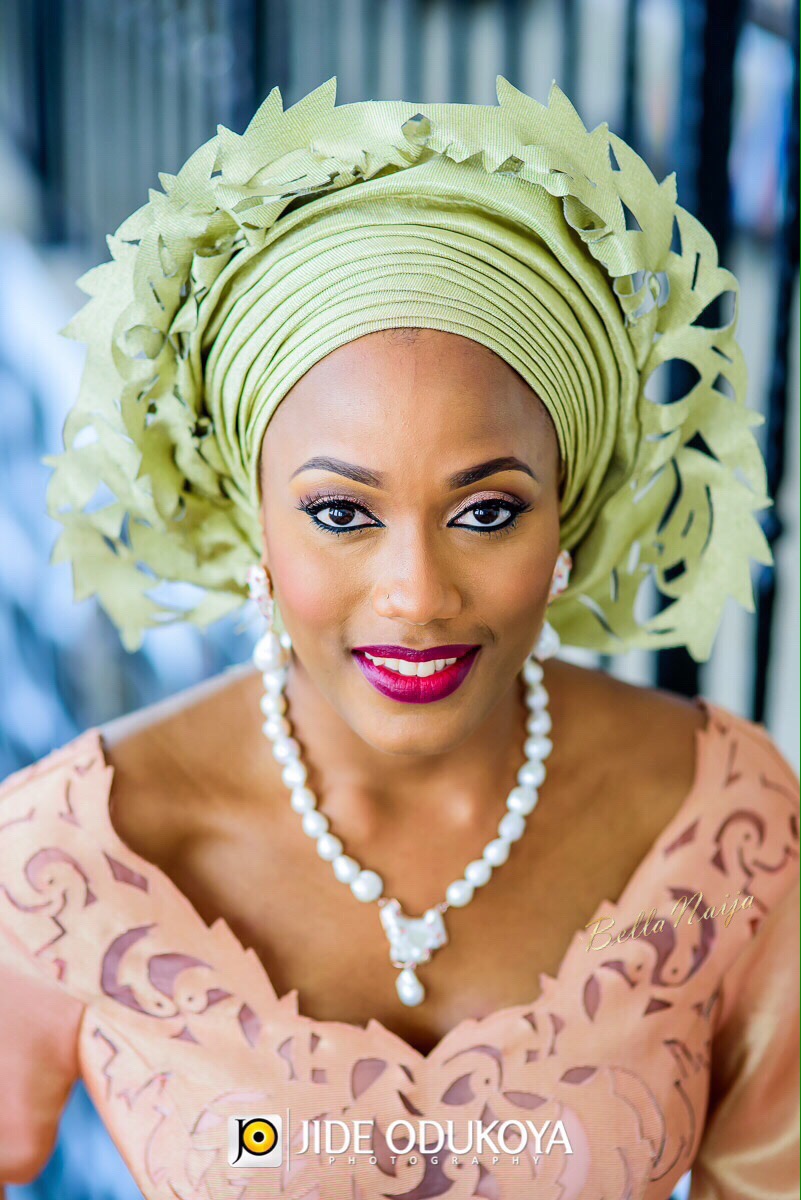 13. Grooms – stand out from your Groomsmen..and Best Man!
We are doing 'ojoro' here as we would like this to be a trend for 2016. Why do some grooms match with their best men? This makes it super confusing in photos. Just like there is only one bride, we feel it should be clear there is only one groom.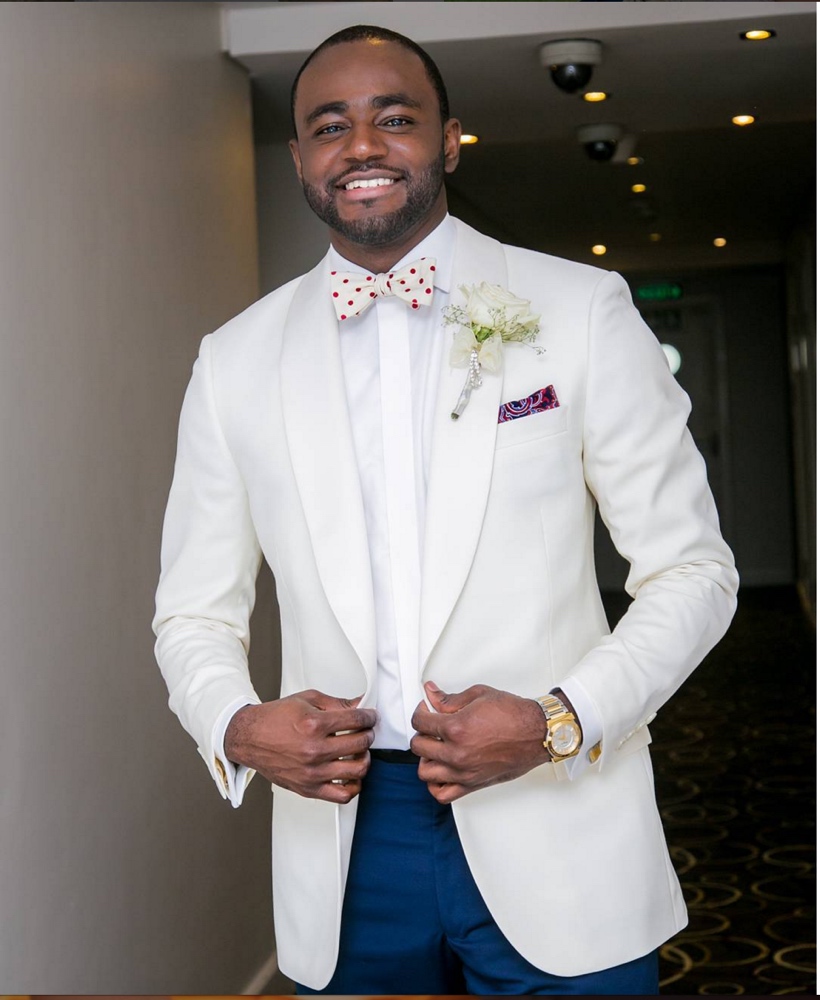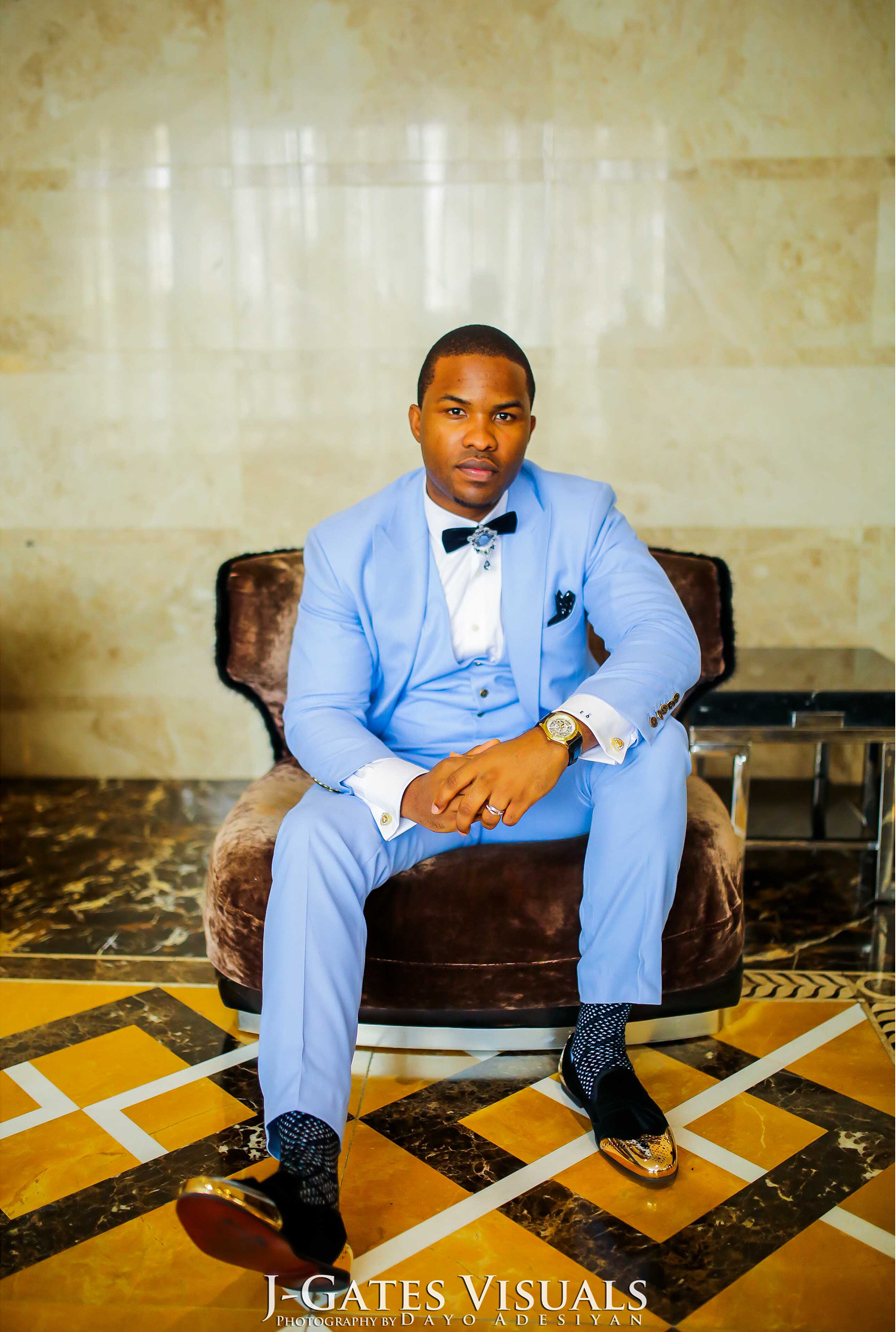 16. You Tell Us in the Comments!