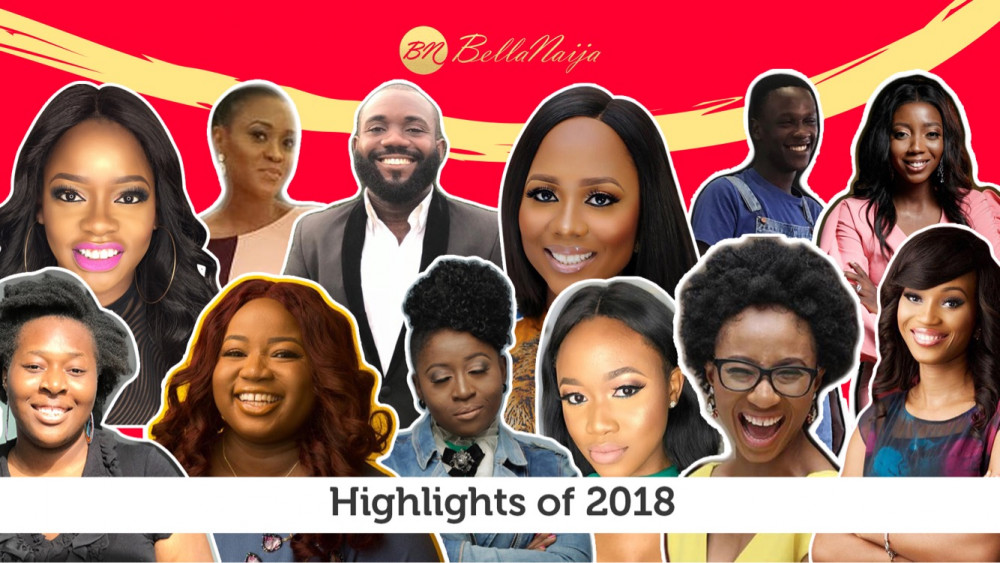 2019 is here… already! It's been an amazing year and we can't help but be grateful for what the BellaNaija team achieved in 2018.
Through the ups and downs, we remain strong. So, we are going to use this opportunity to celebrate our successes and milestones…because if we don't, who will?
This practice helps preserve our hope for a better 2019 and a brighter future. In this regard, the BellaNaija Team has come together to give ourselves a pat on the back for the things we've achieved this year as a team and in our personal lives.
Without you BellaNaijarians, none of this would have been possible. This post is as much a thank you to you as it is a positive reflection for us as a team.
Here goes a list of some of our notable moments in 2018.
The #StopFGMNow Campaign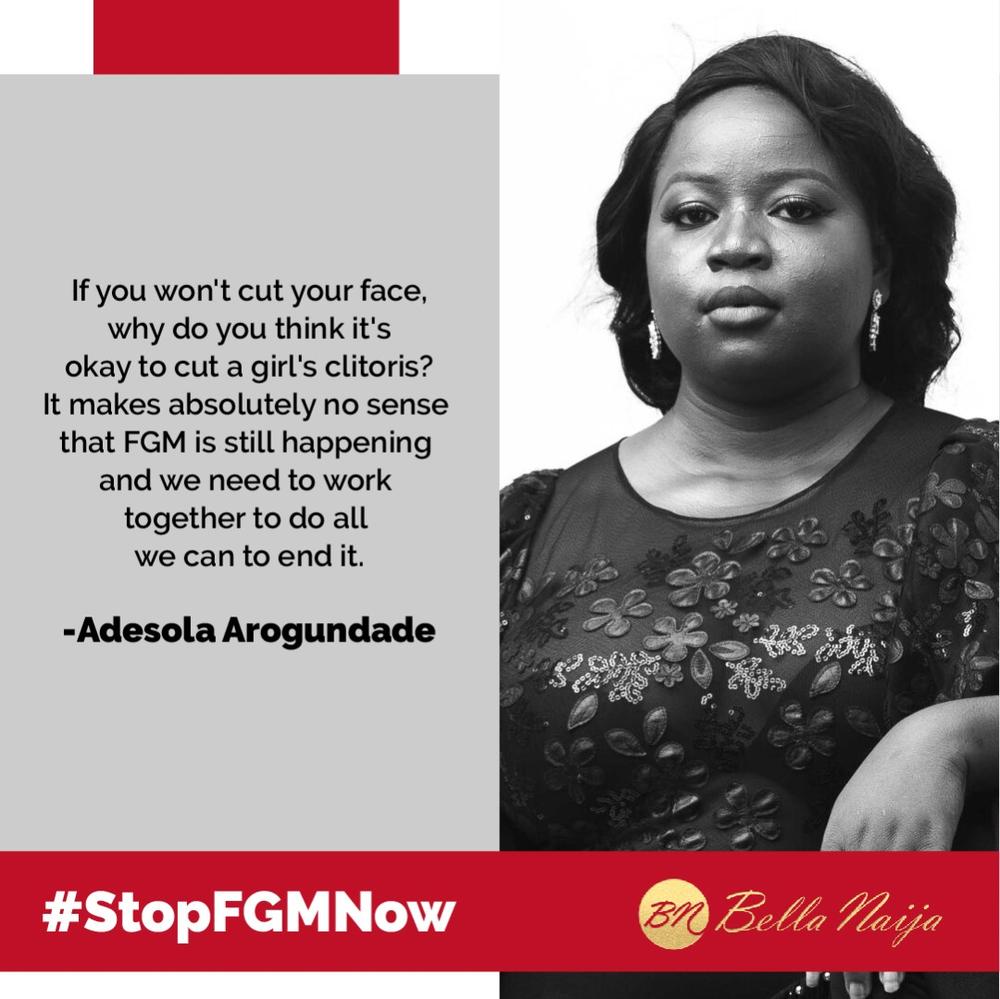 At BellaNaija HQ, we started the year fully pumped to lend our voices to things we were passionate about and putting an end to Female Genital Mutilation was one of them.
The #PVCitizen Campaign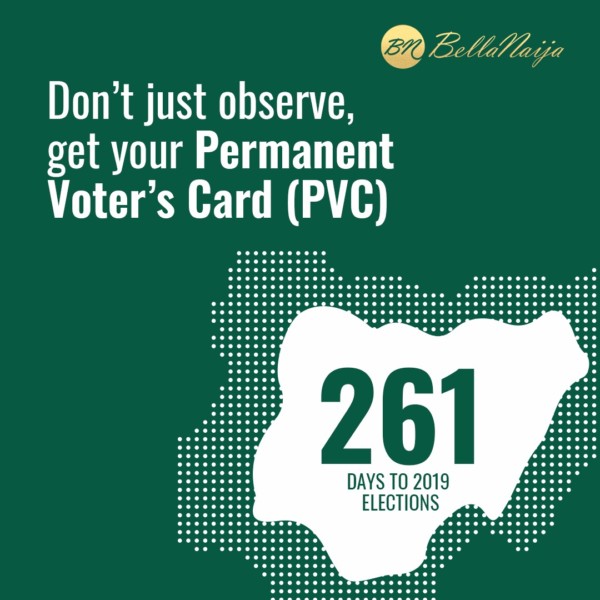 With the 2019 elections coming up, 3 team members at BN independently kick-started the PVCitizen initiative where they urged every Nigerian citizen above 18 to get their Permanent Voters Card.
BN was very glad to support as media partners and hope everyone who is reading this and lives in Nigeria got their PVC. Make sure you vote oh! You're a real G! Your vote is your voice. Let's be the change we want to see in our society.
Bill & Melinda Gates Annual Letter
To make up Bill and Melinda Gates' Annual Letter for 2018, BellaNaija's founder Uche Pedro, alongside 9 other persons asked the philanthropic couple 10 tough questions.
BellaNaija Weddings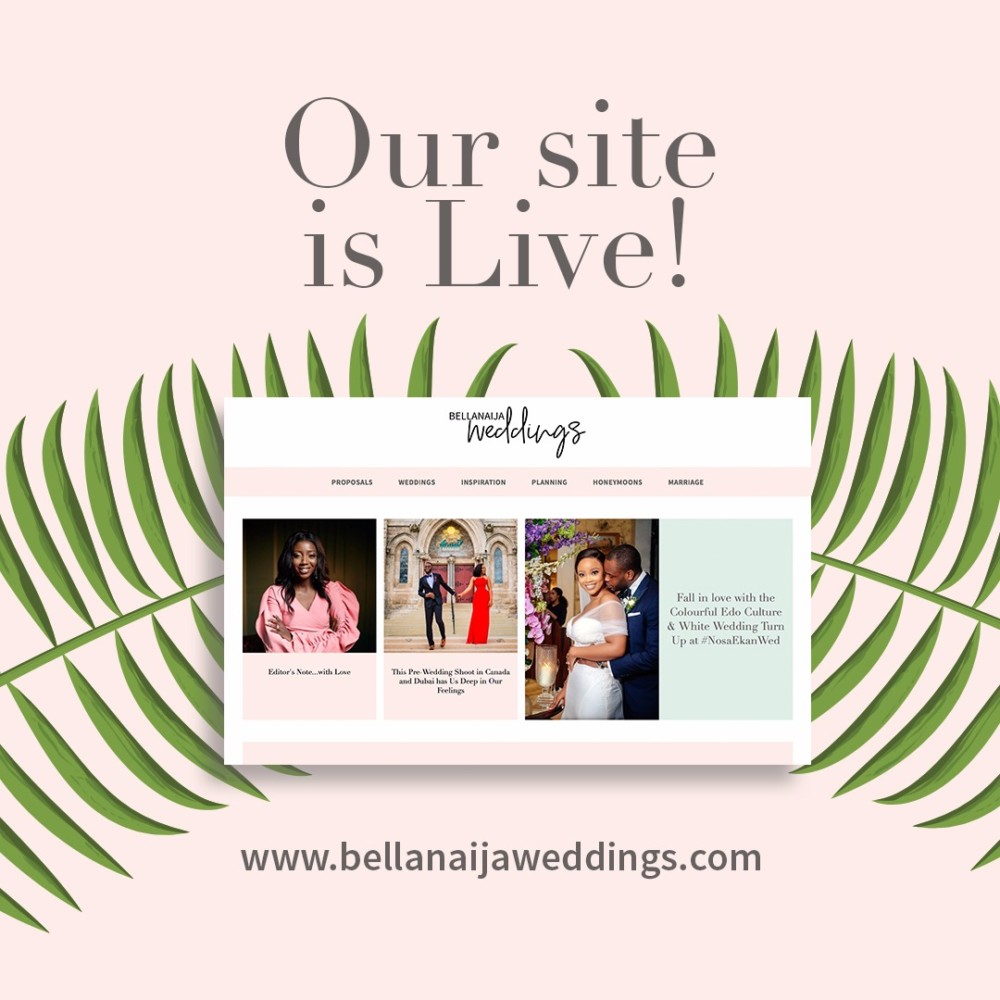 12 years after the very first wedding feature was published on BellaNaija, Africa's No 1 Media Tech company, BellaNaija Weddings launched – www.bellanaijaweddings.com.
BellaNaija Weddings is where you'll find real-life wedding experiences that showcase creativity, love, and beauty in all its splendour, the best vendors in the continent, wedding planning tips and tricks, and the latest in wedding style and beauty trends. We connect brides, grooms-to-be, wedding enthusiasts and beauty seekers to a world where dreams imagined become dreams fulfilled.
Whoop! BN Weddings is LIT! You can visit the site to get your wedding fix when you finish reading this.
Achievements and Awards
Speaking Engagements & Masterclasses
SMWxBNStyle18: BellaNaija Style hosted 2-panel sessions at Social Media Week 2018

Mary moderated BellaNaija Style's Ideas, Influence and Income Panel

Uche spoke at and moderated the International Day of the Girl Child at the US Mission in Nigeria
Mercy moderated the Future of Weddings in Africa Panel at Atinuda
Adesola spoke at Connect Nigeria on "The Business of Blogging"
Adesola moderated a Panel on "New Ways of Music Promotion" at MeetsMedia 
#TeamBN at #JANLEADCamp 2018: Obehi mentored 5 young girls at the Junior Achievement Nigeria program

Mary spoke at Godrej Nigeria Workshop

Mercy convened the TEDxLagos event and BellaNaija was a media partner
Uche completed the Women's Mentorship Workshop with the US Consulate
Adesola spoke on her journey in media to Ren San & Co.
#JumiaSMW2018: Rose Umane spoke on "Social Media vs E-Commerce…Where is the Real Money?"
Adesola spoke at Nirmala Leadership Accelerator
Adesola moderated a panel at #SMWLagos
Uche was a keynote speaker at #ADICOMDAYS2018 in Abidjan
Uche inspired entrepreneurs at Startup Grind's March Edition
Social Media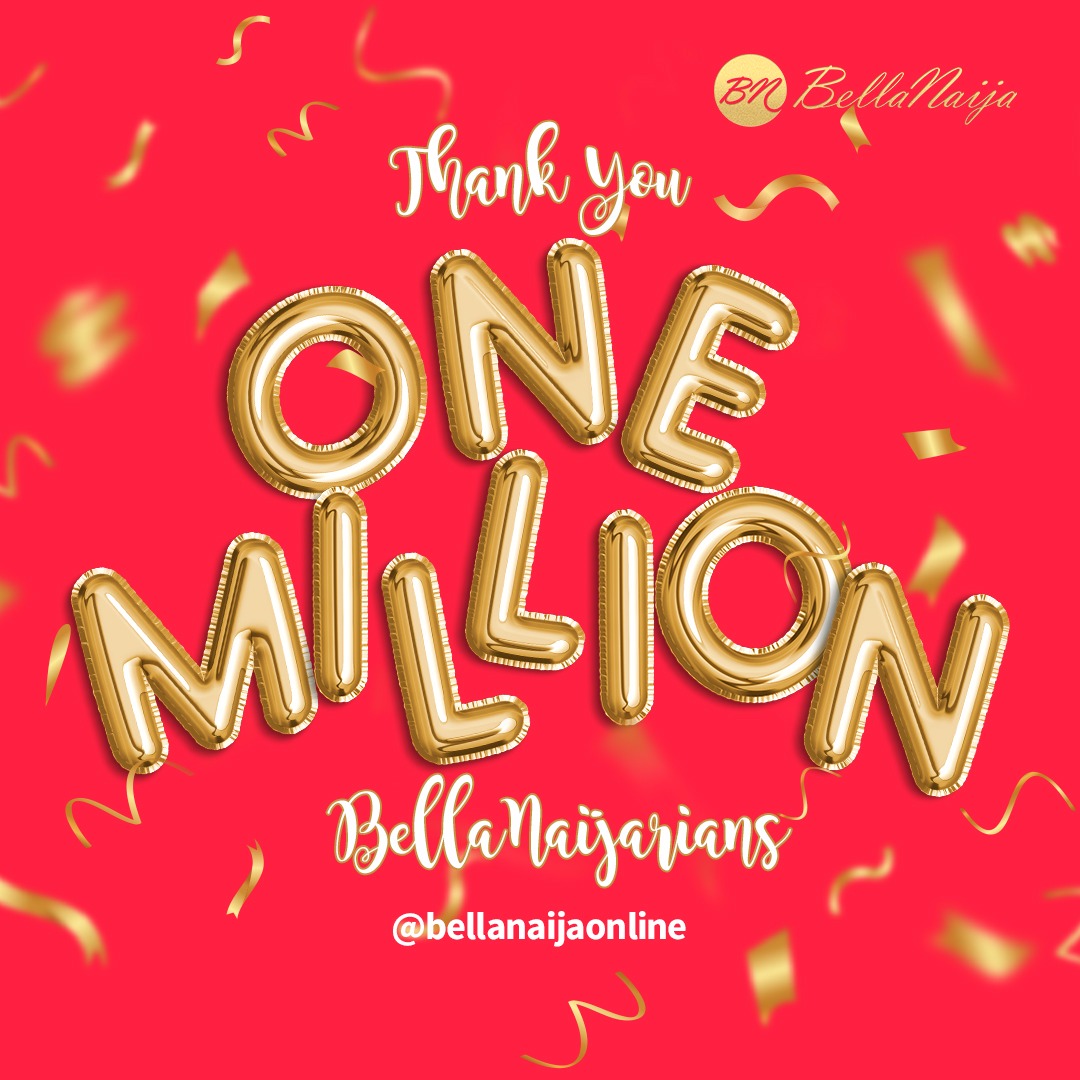 BellaNaija Notable Mentions
View this post on Instagram
Travel Opportunities & Collaborations
Content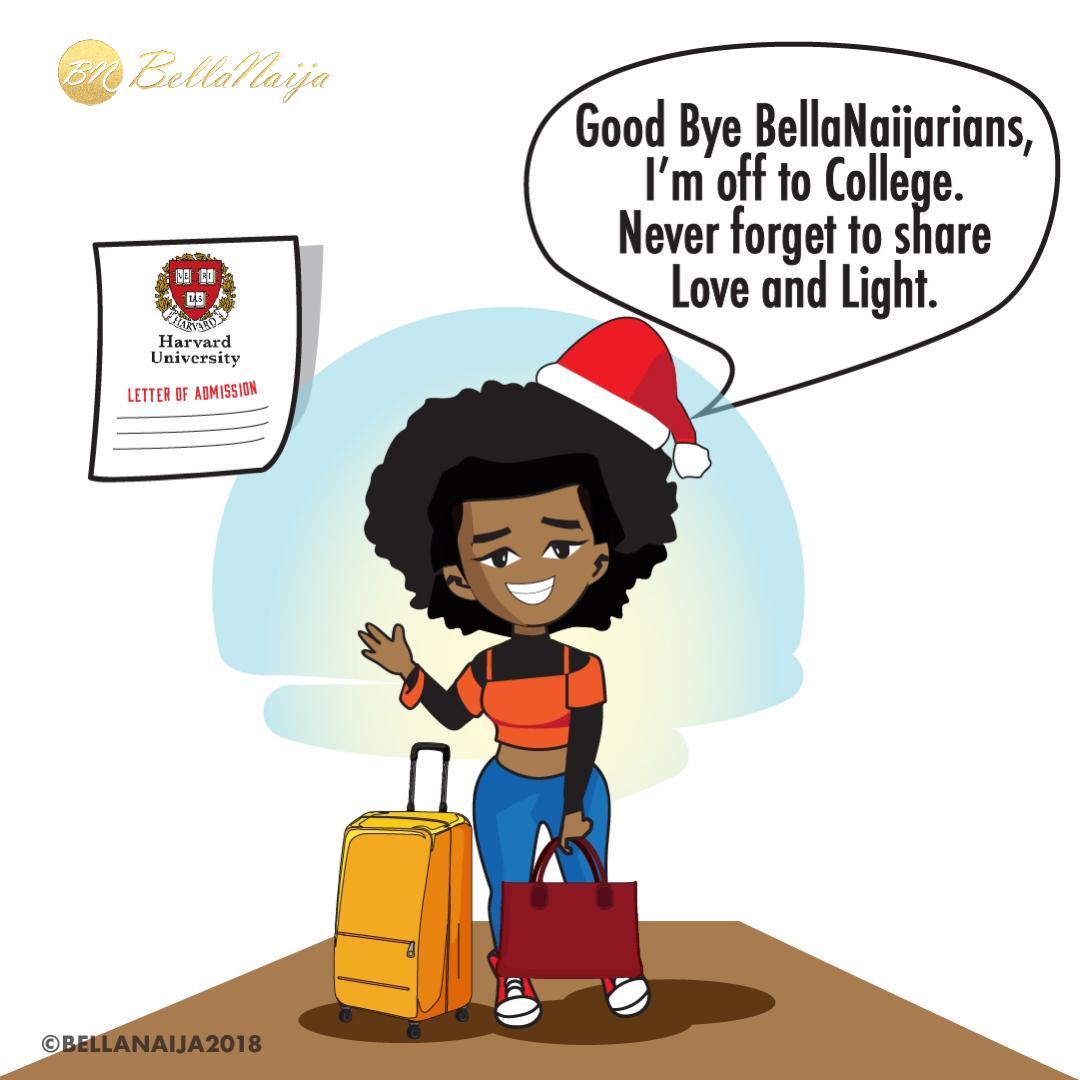 Niyi was the plug with Events This Weekend | #BNRSVP
Shoutout to the social media team on their outstanding coverage of #BBNaija, The Royal Wedding, 2018 World Cup and 2018 MBGN
The editorial team frequently updated us with BN Red Carpet Fab posts for every event
Niyi and Aderonke launched BN Literacy Drive
We put smiles on the faces of people with our BN Sweet Spot
The features team also kicked off BN Breast Cancer awareness Campaign – I Beat Breast Cancer
Niyi and Aderonke started This Is Why I Serve which celebrated members of the Nigerian Armed Forces 
BellaNaija Style team, Isoken, and Mary and kept us updated on the latest style trends
Mercy and Tomi gave us all the feels with BellaNaija Weddings
Special thanks to the business team, Rose, Sophia, and Obehi for holding it down on the business side
And last but not the least, Julian, who helped with the organisation and execution of our projects. She also managed the office and ensuring the well being of everyone at BN HQ! Really, where would we be without you, Jules? We love you!
BN Team
We spoke to a few members of the BellaNaija team about how 2018 has been for them and what they expect from 2019 and we love the positivity!
Uche Pedro, Founder/CEO BellaNaija says:
Gratitude. I'm grateful for everything that happened in 2018 and everyone who made it happen. God bless you.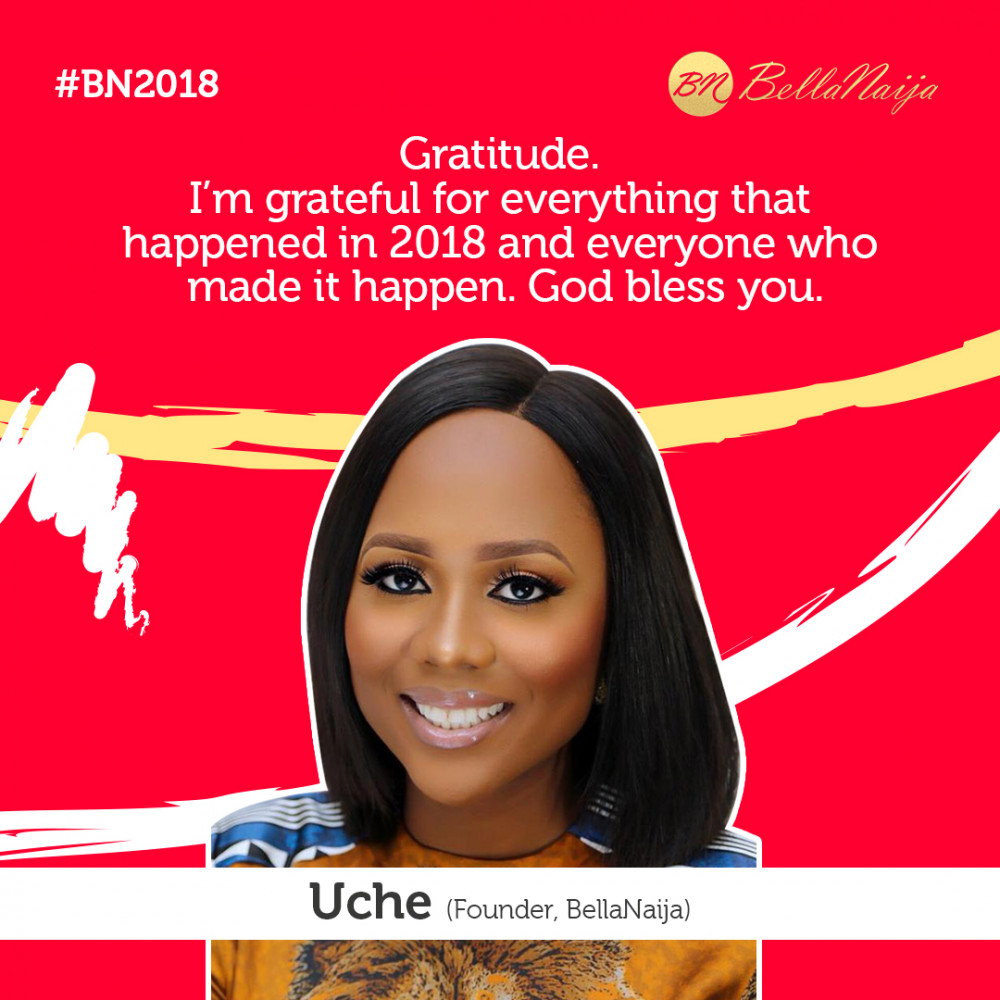 Aderonke, BellaNaija Features Ninja says:
This year has been great for us at BellaNaija. At the beginning of the year, we set out to go out of our comfort zone, to tackle issues head-on while maintaining a house style, but stepping out of the shadows. I'm delighted to see that we did over and beyond my expectations, but this really wouldn't have been possible without the support of the entire BN team, but most especially Nkem and Niyi. And Orunor, even though he is a thorn in my flesh.

In 2019, it is my desire that we take up more space and increase our reach in terms of human rights, child and women advocacy and poverty alleviation. Using tech and social media, our team is going to continue to show the light that exists in this world.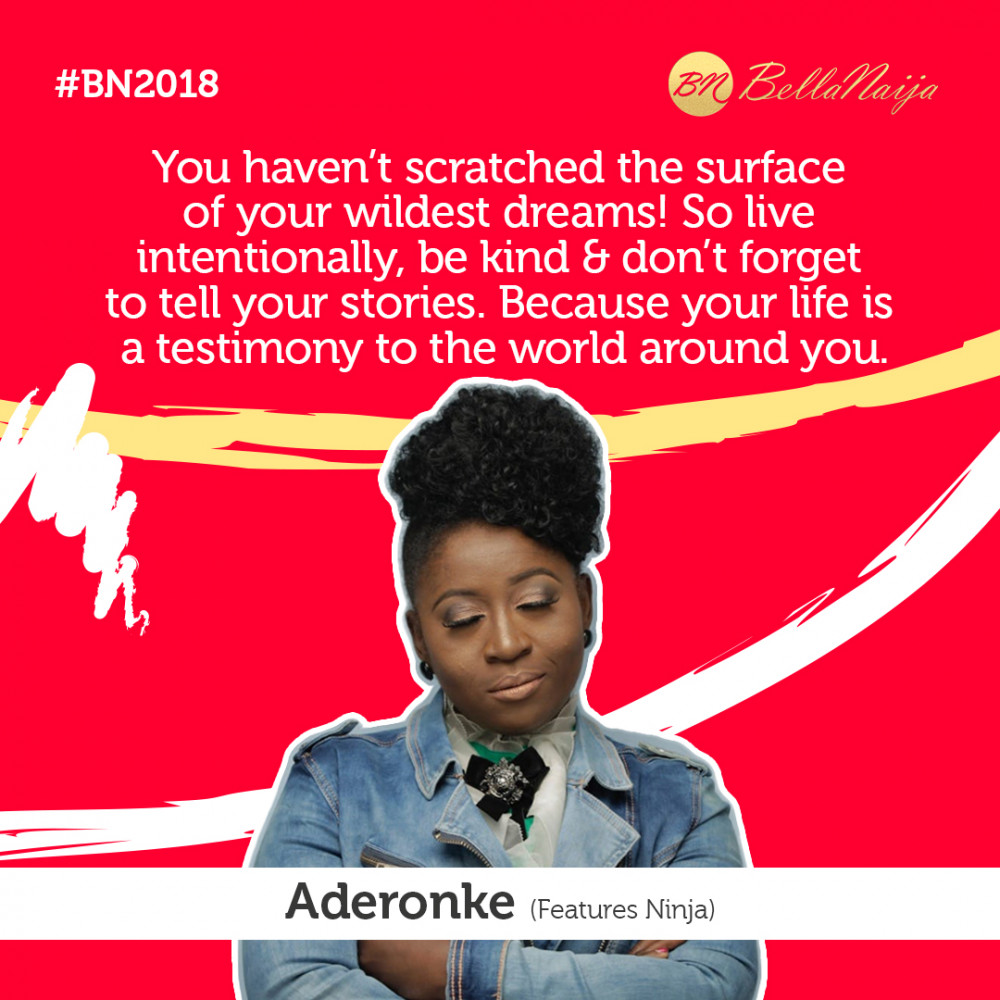 Adesola, BellaNaija Showbiz/Events Editor says:
2018 has been a year of constantly pushing myself to be more than I can be – physically, emotionally, and mentally. It has been a year filled with so much and I'm really happy to still be here, being able to have a retrospective look on things. I'm really excited about 2019 because it's going to be a year filled with amazing opportunities. I'm going to create those opportunities, and make the best of them. 2019 is my year of deliberate action. Let's go get it!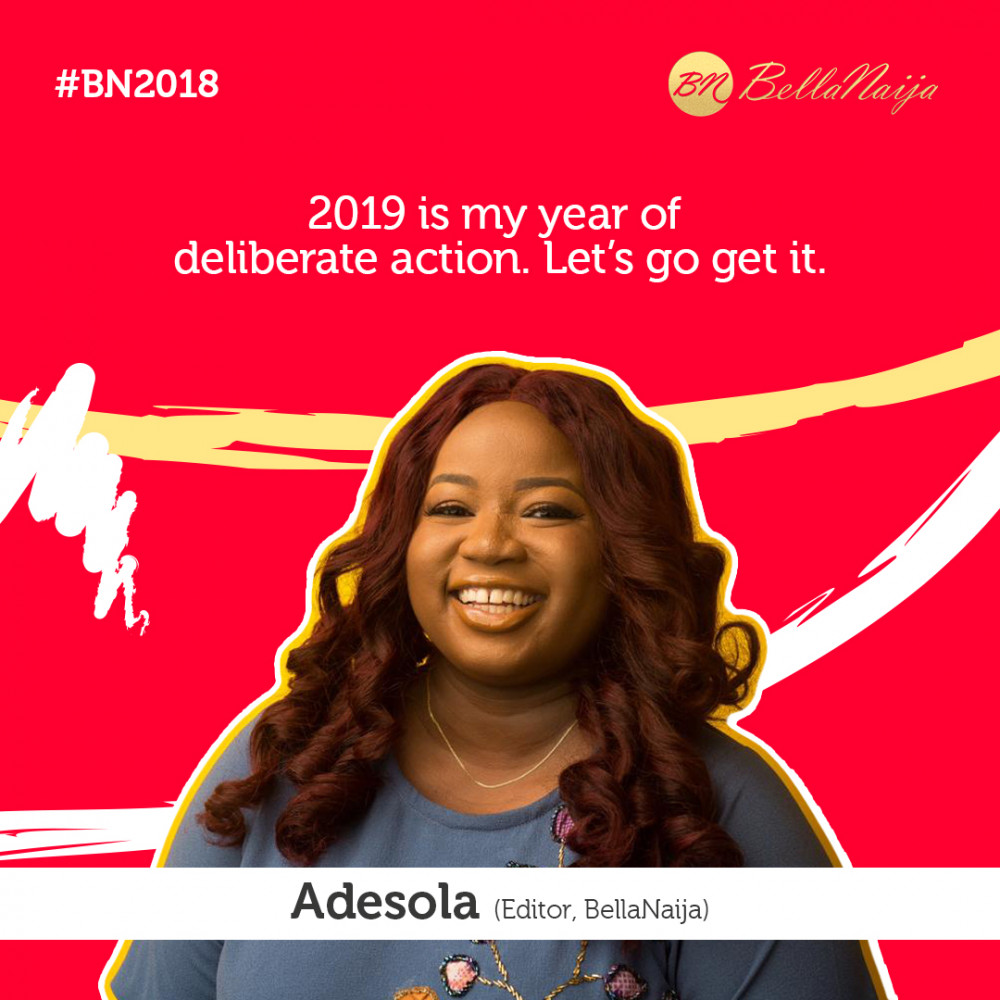 Isoken, BellaNaija Style Editor-at-large says:
2018 was an immensely fulfilling year, and I enjoyed the challenges of working a 100% remotely with the team. 2019 is all about growth, audience development and really connecting with and tapping into our global BellaStylista community. Super stoked for fresh opportunities and partnerships in the New Year!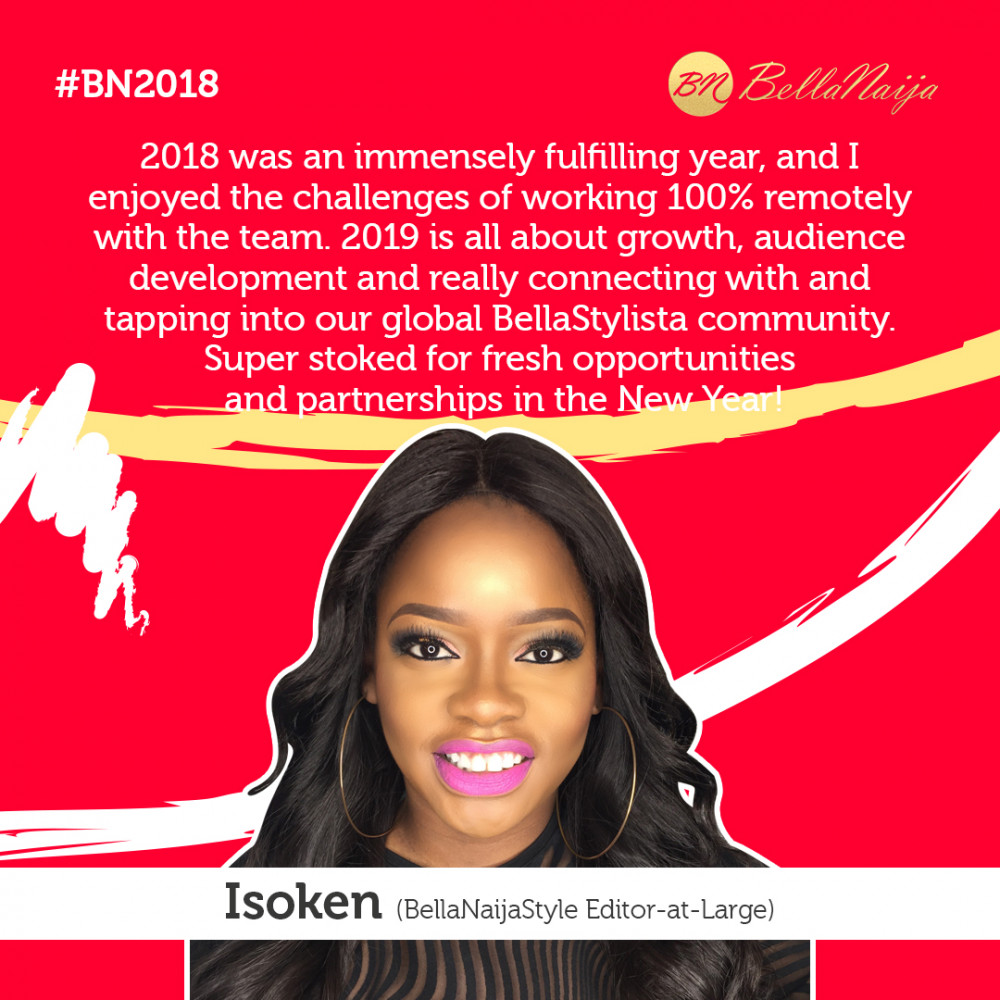 Mary, BellaNaija Style team member says:
Wow, 2018! I'm so excited about how far we've come! BellaNaija Style turned one this year and is already leading the industry. There have been so many wins in 2018 and many lessons learned – I'm grateful to have been front and centre during it all. From ground-breaking interviews to hosting panels sessions, speaking at a workshop and working with major brands – it's been an amazing experience.

Sending out accolades to my team members for being total rockstars. Shout out to our BellaStylistas and BellaNaijarians that keep supporting us online and offline. 2019 is coming with so much more fun, fabulous, fashion content, so get ready!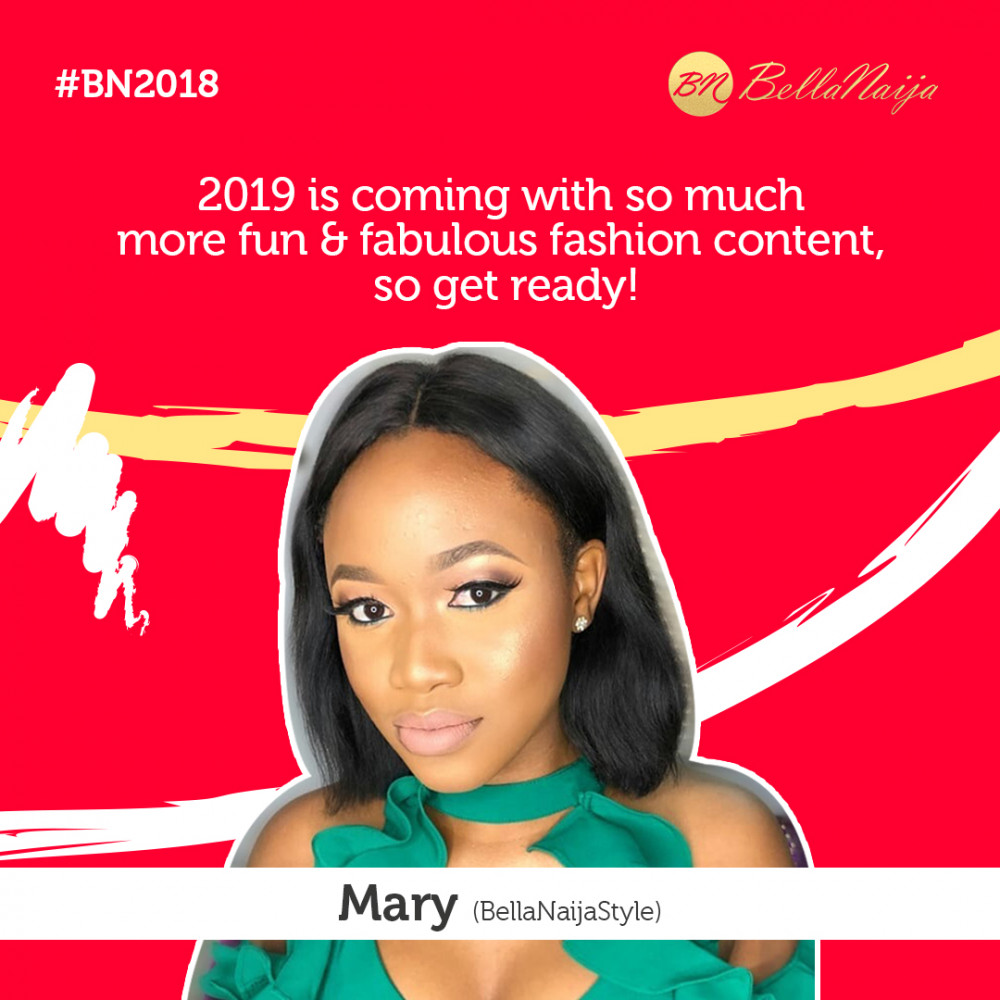 Mercy, BellaNaija Weddings Editor says:
2018 was definitely a year of growth! Excited about the conversations we started that continually shapes the wedding industry in Africa. It has really been an incredible year.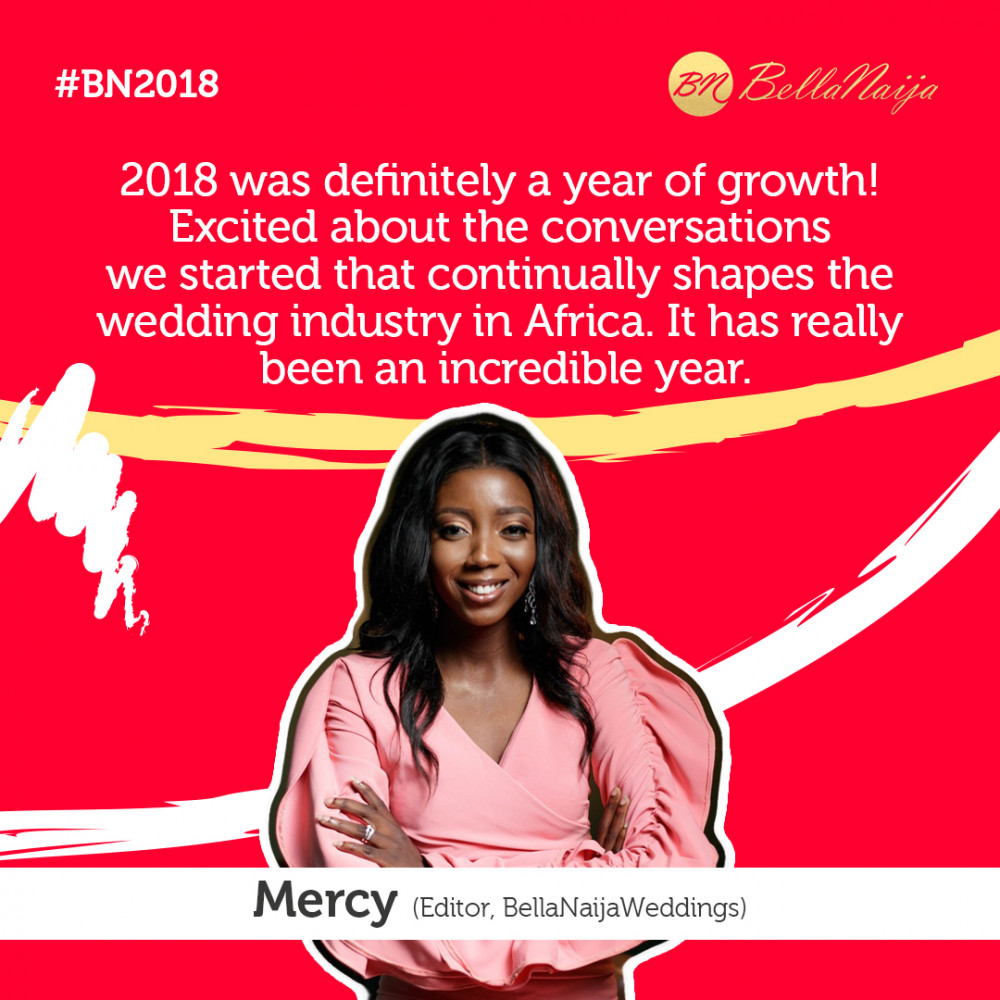 Niyi, Features team member says:
2018 was a year of trying new things, testing new grounds, making new discoveries, and expanding one's boundaries.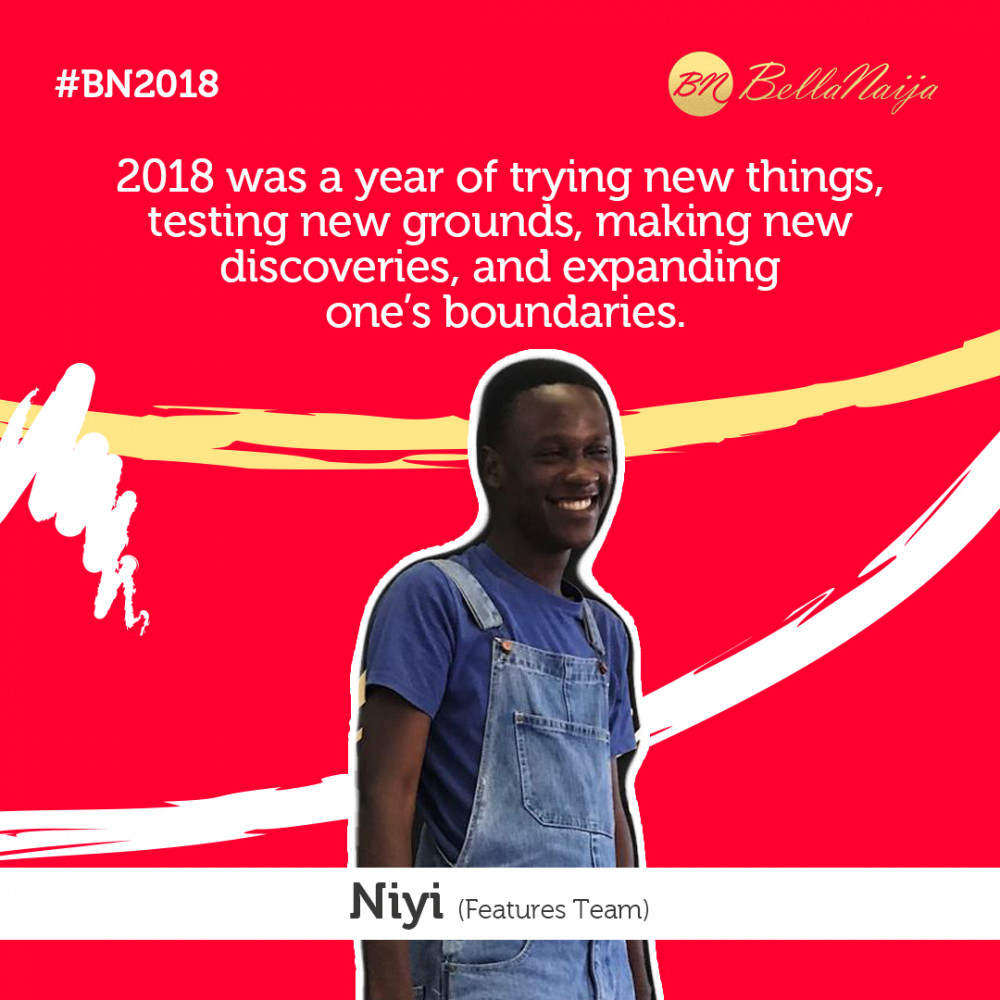 Muna, Editorial team member says:
2018 was a year for learning and unlearning. For growth, living and doing things afraid. I'm excited to see what 2019 has to offer me.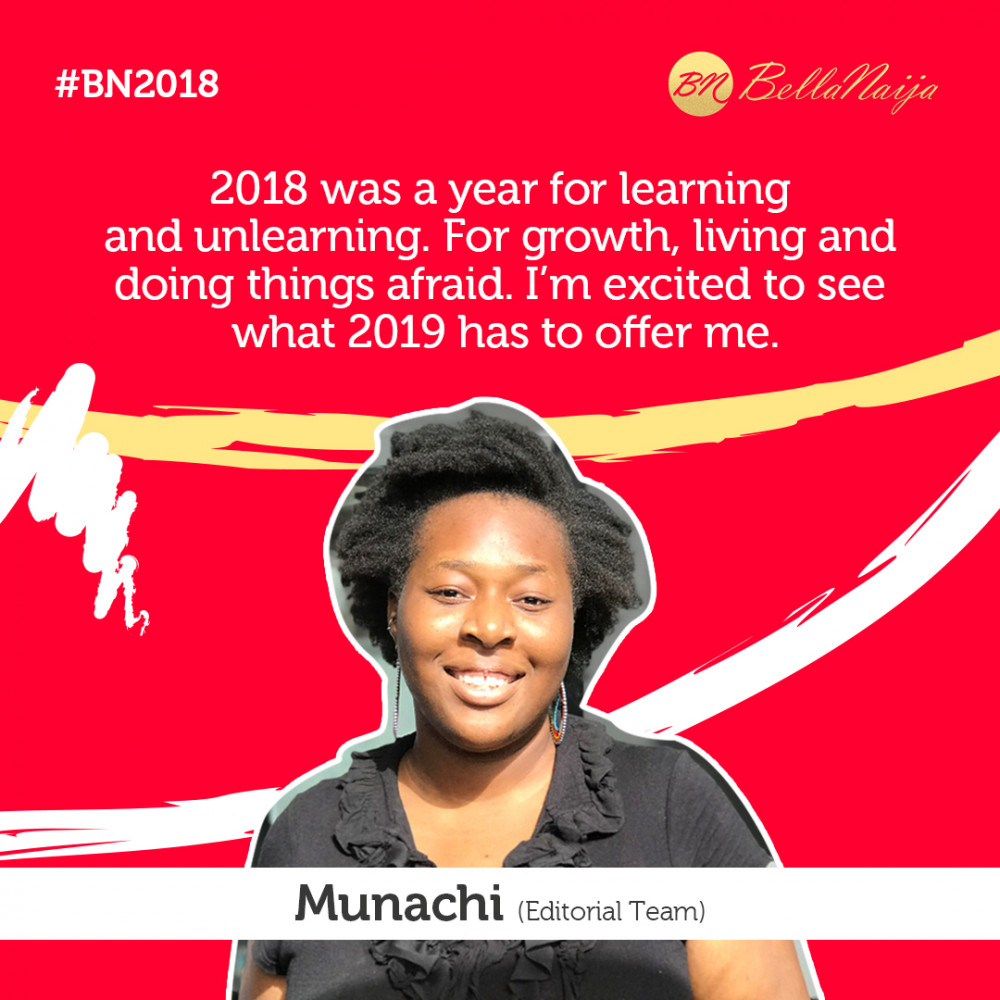 IK, BN News Guy says:
I'm really excited and thankful that I'm here, at the end of this year, writing this. Here's to more wins in 2019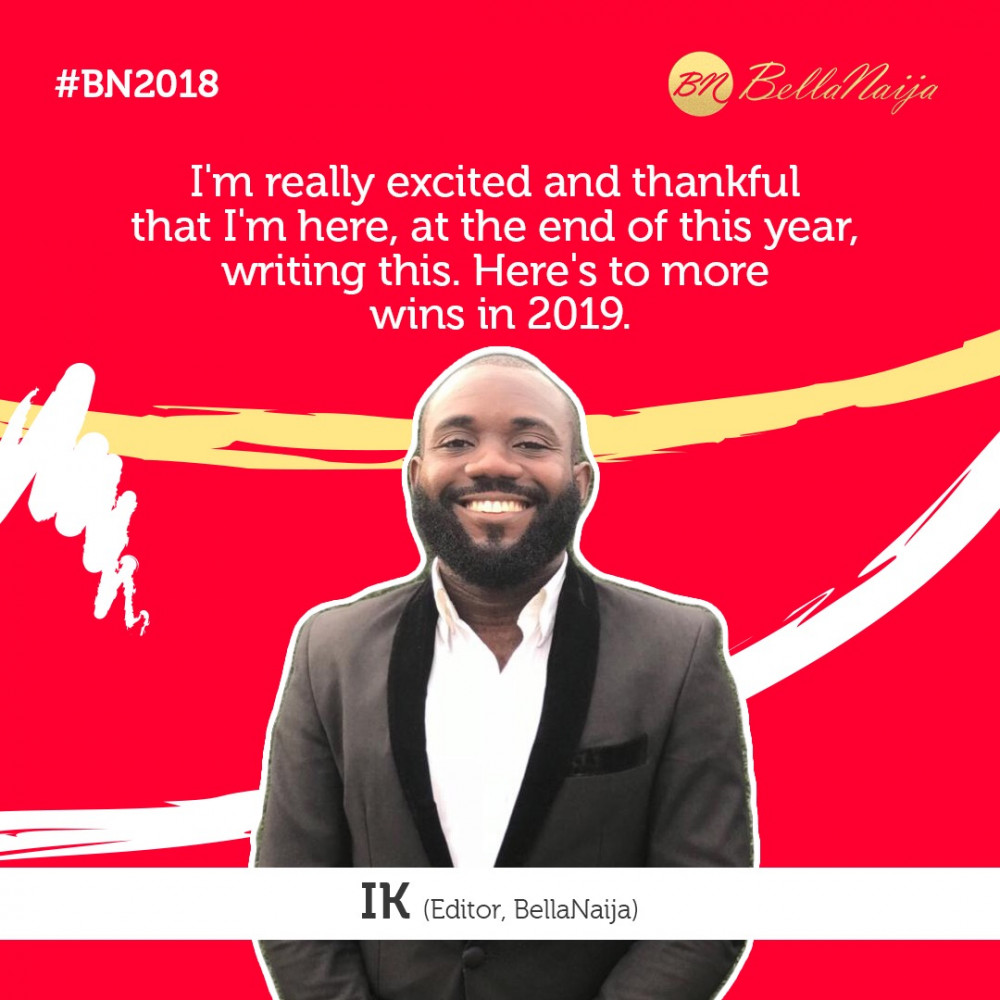 Rose, Business Development team lead says:
I am grateful for 2018. It was a year of growth for me. I look forward to 2019 and all the amazing things it has to offer. I am hoping 2019 will be the year of 'more' for me. More goodness, more happiness, more focus on my growth, more for BellaNaija and all its platforms and definitely more for BellaNaija readers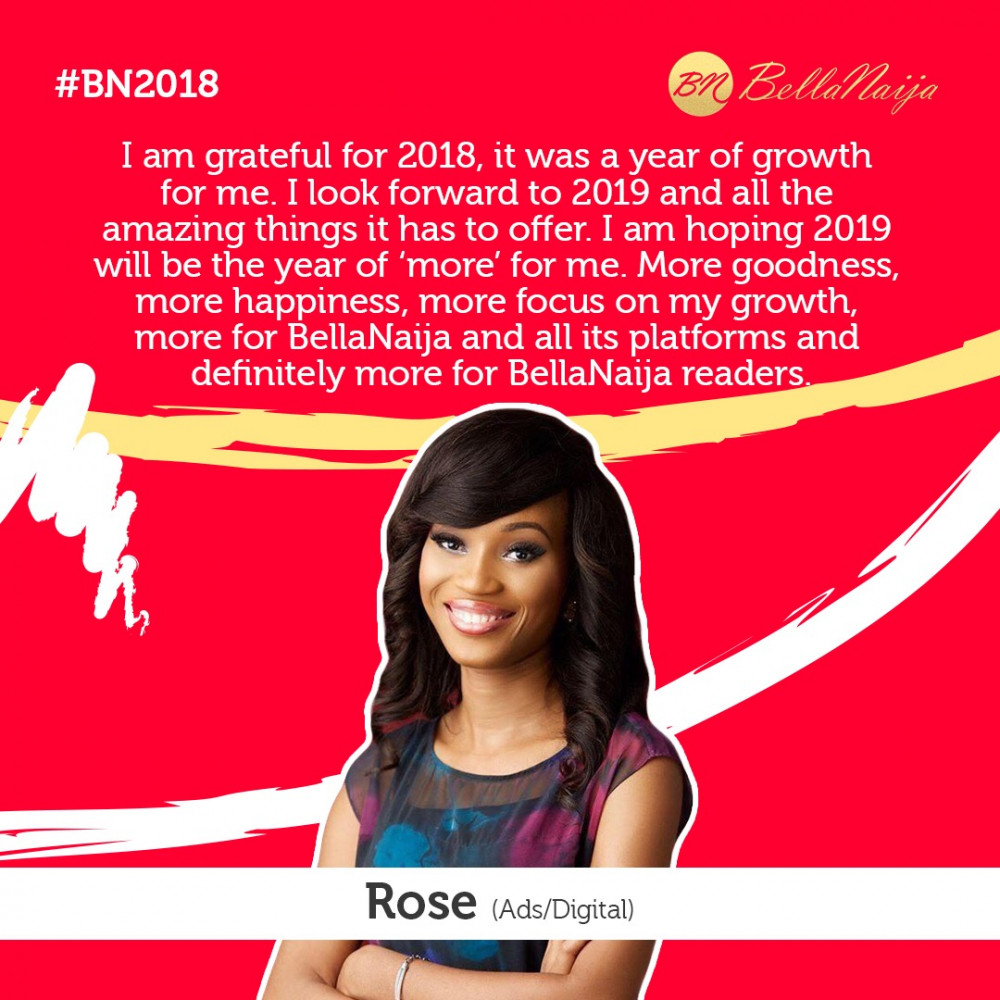 Obehi, Ad Sales team member says:
 2018 was a year of gratitude and appreciation for every step made. For 2019, I look forward to more growth, peace and love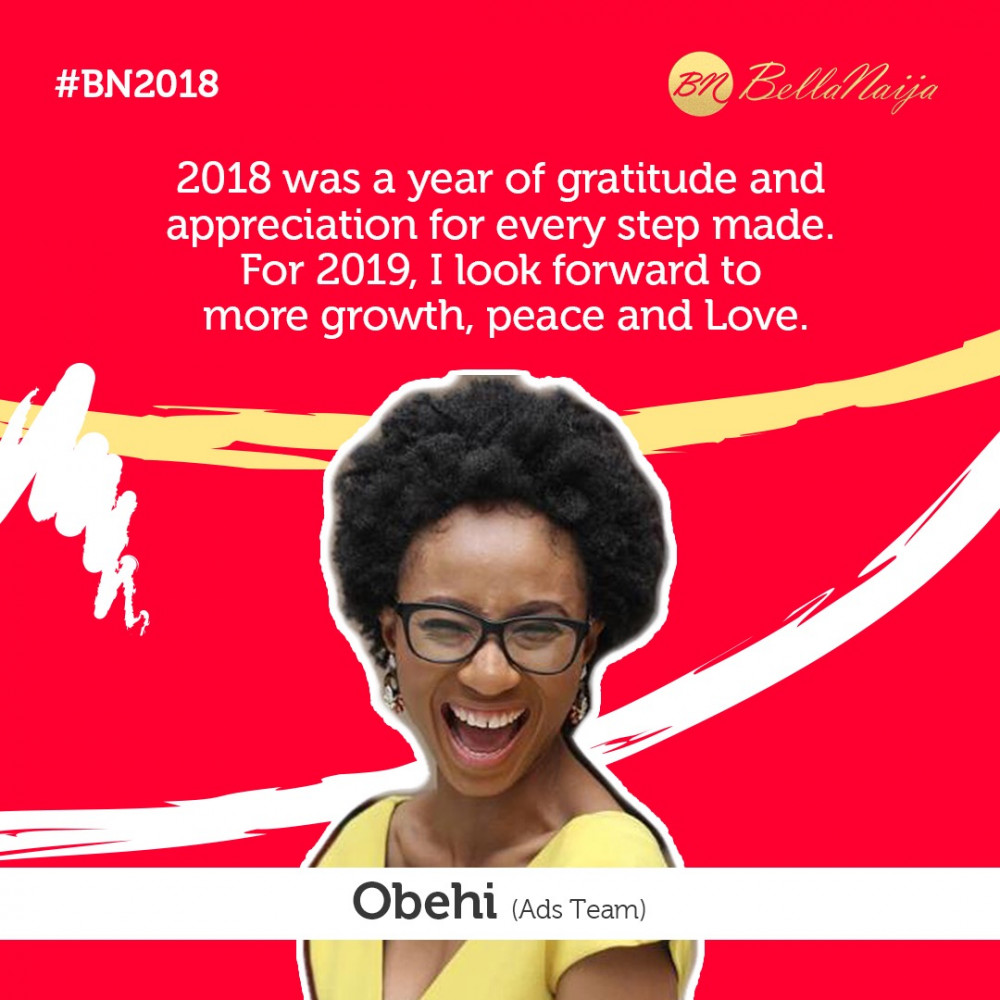 Julian, Chief Whip and Manager of All things Team says:
2018 was a year of growth and appreciating life.

For the growth of the team members and for BellaNaija as a brand. And also appreciating the lives of everyone that helped shaped 2018 – Team members, clients and every BNer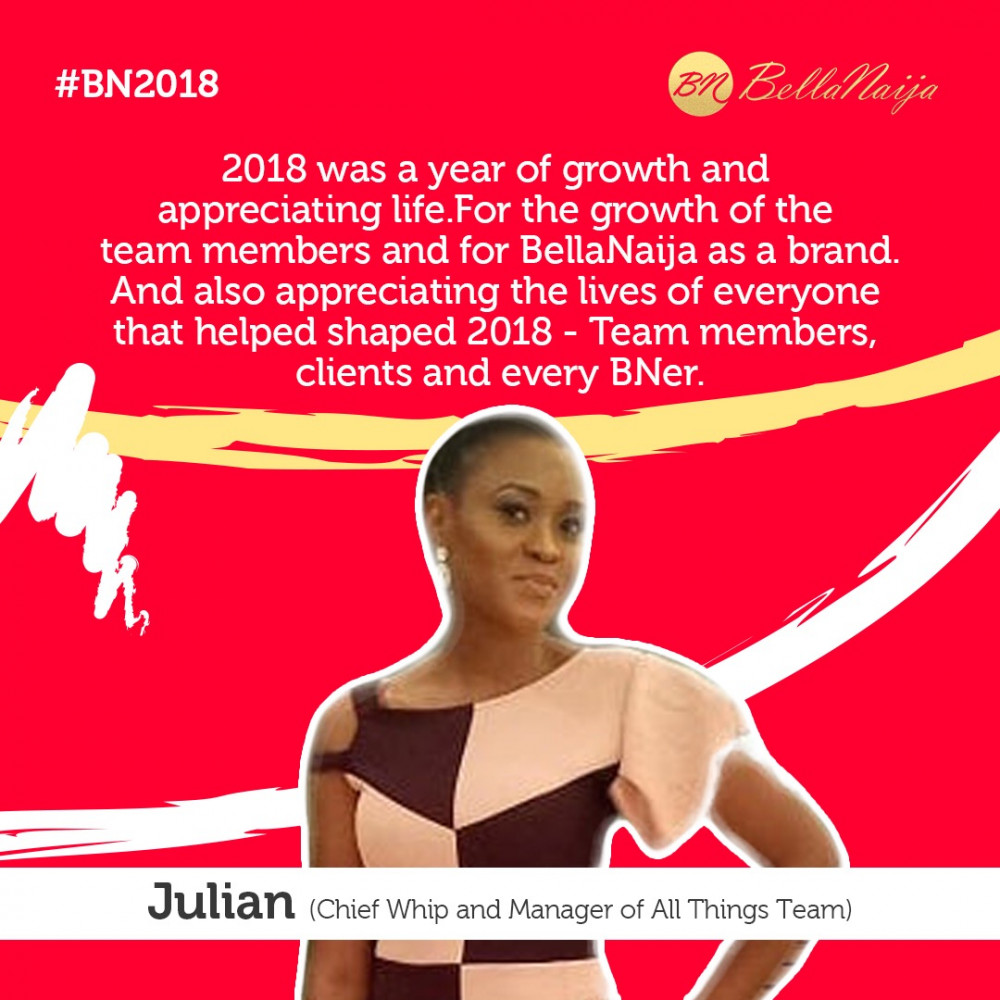 ***
A special heartfelt thank you goes to our contributors; BN Contributors have been consistent and dedicated. You guys have lent your voices to important issues – for enlightenment, entertainment and elucidation.
To everyone who has read our posts, shared our posts, commented on our posts – across all platforms, we say thank you. We really couldn't have made it through the year without you. Thanks for being a part of the BN family.
BellaNaijarians, thanks to you for being a part of all our success stories in 2018. Let's make 2019 another remarkable year of progress, excellence, and positivity.
Let's do it together!